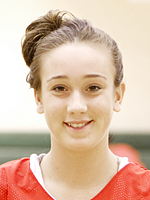 Michaela Mabrey
Guard
CLASS: 2012
Holmdel, NJ

Hometown

Manasquan

High School
33

Overall Rank

10

Position Rank
ESPN Player Evaluations
Blue Chip Fall - Oct '10: The 5-10 Maybrey continues to impress with her aggressive overture and ability to produce points. She is masterful at breaking down a defender. Not often will you see her forced any particular direction as she is skillful enough to keep the defense on its heels. And if not keep them on their heels, drop jumper in their faces, as she did time and time again from beyond the arc in Philly. Her ability to keep the defense honest on the outside allowed her inside players to establish great position and get isolation situations from the block. With talented post production on the menu, the Demons are fierce contenders. (Howe)

USJN DC-July 10: If the key to a player's success is effectiveness, then this 5-10 combo guard is the epitome of the word. With the ball in her hands, she can create offense off the drive, the pull up or the long ball unlike many players you've seen. Her ability to finish any shot with a defender virtually glued to her face is uncanny and even had a few opponents smiling in spite of themselves. While no one specific skill or physical aspect of her game may set her apart, it's the sum of all her skills that makes her such a threat. In addition, her focus and relentless approach may set a new standard. With their already small roster thinned out due to injury and illness over the course of the event, the Demons ultimately found themselves ultimately playing with only five players. Mabrey continued to produce play after play despite being a defensive focus. She creates off the dribble effectively and utilizes and reads screens like a Rhodes Scholar. Her athleticism is sound and her listed 5-10 seems legit. The capacity to play either the off guard or the point is there and she may just be the kind of player you'd much rather play with than against.

Nike Regional Skills Academy-May 09: Michaela Mabrey makes plays. The 5-8 guard from St. John Vianney and the New Jersey Demons plays a smart and efficient game that usually ends up producing good results for her and her teammates. Her fundamental skills combined with a good first step allow her to create shots or opportunities for her teammates. Her speed and quickness are not lacking, but you find yourself waiting for her to elevate upward. Her leaping ablity isn't on par with her other athletic traits but she finishes well anyway. Her active play leads to her being a contributor both offensively and defensively. She anticipates well and gets her hands on the ball, leading to turnovers and transition opportunities. Mabrey may be a little under the radar and is worth a closer look.
Notes
Club Team: New Jersey Demons