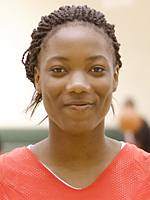 Tasia Butler
Wing
CLASS: 2013
Waldorf, MD

Hometown

North Point

High School
73

Overall Rank

12

Position Rank
ESPN Player Evaluations
USA U16 Trials-May 11: Terrific athlete with a lot of upside. She can be one of the elite perimeter defenders in the class and at 6-1 she can mix it up defensively in the post if you need her too. She has all the speed and quickness you can ask for but her offense is hit and miss. She seems comfortable settling for jumpers when that's not currently a strength of her game. She can be explosive with the ball and when she gets more consistent at reading the defense and attacking when there is a chance to get to the rim, she'll be more effective in the half court. Her shooting for isn't bad but it isn't consistent and neither are the results. Still a ton of potential but as she moves into her junior year it is imperative that she learn to find mismatches and exploit them without forcing thing that aren't there. (Hansen)

This lean, athletic wing is almost a complete package%u2026almost. She's got impressive athleticism, sharp ball skills and a focused effort at both ends of the floor. However, the perimeter shot is starting to become a glaring weakness in her game for opposing defenses to exploit. She has no trouble creating looks off the dribble or even from some aggressive cuts but anything more than a lay up is a low percentage shot at this point. If she gets a handle on her form and puts in the time and repetitions the results could add a dimension to her game that would make her the match up nobody wants. On the defensive end she continues to leave no doubt that you're going to have to work for everything you get and even then it may not be what you want. If the shot comes around, line up. (Lewis)

Deep South Classic-April 11: Beginning to show more and more confidence and maturity in her game. The combination of size, athleticism and skills has her evolving into a top tier threat. Looking stronger and getting out in transition both offensively and defensively. The perimeter shot is still somewhat of a mystery but her ability to finish inside is sound. As a defender her length and footspeed put her in position to be a legitimate stopper. (Lewis)

Nike Nationals-July 10: One of the best potential defenders among all underclassman. Has the size and strength but the quickness as well. Combine that with sharp anticipation and good things will happen at that end of the floor. Offensive skills had a moment or two but still need some refinement to tap into the potential that's there. (Lewis)

USJN DC-July 10: All the physical attributes are there and the refinement of her skills is starting to become more and more evident. At moments you can see glimpses of the potential that she has and to what level her game is heading. She still has to sharpen her court instincts and become more of a reaction player but the tools are all in place. She hit several jumpers but the shot is by her head and has a bit of a forward motion. Nothing drastic but something that needs some attention. Physically she could be a beast of a defender if she chooses to embrace that role with her quickness and strength. (Lewis)

Boo Williams-April 10: One of the top athletes in the class who has an explosive first step. She needs to learn to read the defense and react to it still as she has the tendency to force the action even when help-side defense is set. She is starting to shoot the ball better but it is an area that needs to continue to be developed.

Showtime Nationals-July 09: versatile wing who can play inside and outside; good size; mid-range jump shop is improving and has the pull-up jumper now.

Nike Regional Skills Academy-May 09: What Tasia Butler of Team Unique is doing before entering the ninth grade is impressive enough. However, what she might do in the future with her club teammates and North Point High School (Md.) teammates is even more exciting to think about. The 5-11 wing has the physical tools to be the focus of many opponents' scouting reports. She has the speed and quickness to defend any spot on the perimeter. She can play at the front of the press or the top of a zone. That same speed gets her out in transition offensively and she moves effectively in half-court sets as well. The ability to create her own shot is coming and she already has a pull-up she can count on. Her jumper needs to be more consistent, but the form is already in place. Butler is one of those players with all the tools, who can be as good as she's willing to be.
Notes
Club Team:: Team Unique