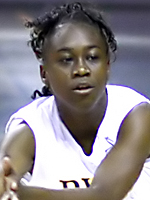 Linda Stepney
Point Guard
CLASS: 2011
Norfolk, VA

Hometown

Lake Taylor

High School
68

Overall Rank

15

Position Rank
ESPN Player Evaluations
Nike Nationals-July 10: One player who probably doesn't get her due on the Boo Williams roster is this 5-6 point guard from Norfolk, Va. With top -shelf quickness and athleticism, she attacks in the halfcourt and pushes the ball in transition. Her ballhandling skills allow her to navigate traffic and create looks for her talented teammates as well as herself. Throughout the summer her decision-making and effectiveness were on a new level for her and should have the folks at West Virginia excited to put the ball in her hands. Stepney's jumper is effective both spotting up and pulling up off the drive and her shot selection is demonstrating a better understanding of opposing defenses. The pace at which she pushes the ball keeps both her teammates and opponents on their toes and is essential to an effective running game. Her quickness serves her just as well defensively both on the ball and off. She does take a risk or two at times but often has the speed to recover without paying a price.

USJN DC-July 10: Definitely assuming the role of a true floor leader. Pushing the ball and setting the pace for a roster missing key components. Her speed and quickness combine with sharp but conservative ballhandling to make plays on the break or in the halfcourt. The consistency on her shot seems to come and go a bit but for the most part was reliable. Defensively she's aggressive on ball and has good vision on the weakside. (Lewis)

Boo Williams-April 10: Quick and athletic point guard with the ballhandling skills and decision making to run any team effectively. Penetrates almost any time she wants and has both the pull up and the ability to finish in traffic. Seemed more and more comfortable on each possession and took ownership of both the good and the bad.

Boo Williams Christmas Classic-Dec. 09: Has the fundamentals and intangibles to be an excellent point guard in college. Shows leadership and confidence on the floor. She tends to slash to the basket at times when a pull up jumper would be a better shot.

Boo Williams-April 09: One of the most skilled guards in the 2011 class in the region. She has a great feel for the game, runs the team, gets everyone involved, strong pull-up jumper can create and get to the basket in traffic. Size is an issue at 5-5.
Notes
Club Team: Boo Williams Elite