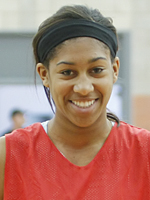 Alyson Beebe
Post
CLASS: 2012
Santa Maria, CA

Hometown

Saint Joseph

High School
13

Overall Rank

4

Position Rank
ESPN Player Evaluations
WCP Spring-May 11: Good build, wide shoulders. Will run, defend, rebound. Still putting it together offensively - when/where to score. Does all of the little things on the floor. (Clay)

SoCal Sectionals '11: The concern for young inside prospects is a tendency to plateau. They, after all, don't get to go on highlight-reel jags like their perimeter colleagues. Their development path can be far more mundane and, paired with a need to grow into their considerable bodies, can be daunting. It therefore is encouraging to view someone like Beebe who, already ranked No. 13 in this class, seems to have learned a thing or two since the last viewing. Eschewing a big girl's tendency to stand in the post, "look big," and wave for the basketball, Beebe is a constant whirl, passing out of the post, and re-establishing position or flashing to the ball after it has been rotated to the other side of the court. She also snatches rebounds and almost instinctively shields the ball with her elbows and body. Moreover, it seems almost second nature for Beebe to combat triple-teaming, smaller defenders by staging the ball high on her inside finishes. She already has shown an ability to combat taller defenders, or inside defensive stunts, by receiving the ball at the elbows and turning for jumpers or slashes to the rim. Beebe can throw the ball once in a while out of impatience and, against Serra in the IIIAA championship fouled out with 6:39 to play. Her last two fouls were the result of very light contact and both called by the same official. That, plus her coach's dubious decision to put her back in within seconds of drawing her fourth foul, would tend to let her off the hook. (Nelson)

Nike Nationals-July 10: Playing more aggressively than a month ago and demonstrated some effective spin moves deep in the paint with authority. Additionally showed a little more ballhandling than in the past both from the elbow and from out in the short corner. Scored well going to the middle and showed great extension and elevation. Still faded from contact on the baseline attack but got to the line on multiple occasions. (Lewis)

USA U17 Trials-June 10: Beebe's play over the trial was at times lackluster as she was often pushed around by the bigger post players. She found herself out of position offensively due to inability to maintain position. This displacement also caused her to be out of position for rebounding chances. We would like to suggest her base improve through strength training and her development in the transition game stick with the high post trail until her strength improves. Beebe did display the ability to rebound out of her area, but that was when no box out was applied. (Powell)

Nike Skills-May '10: Easily one of the top interior prospects in the 2012 class. She's continued to show steady improvement and advancement in both her basketball and physical skills. Her length and fluidity make her ideal prospect at the forward spot but she's adept in the low post as well. This time out she put the ball on the floor more and created some of her own looks from the high post. Down low she keeps it high on the catch and finishes effectively in traffic. There is a tendency to play a little soft at times and avoid some contact but it's not an issue that would concern any recruiters.

Boo Williams-April '10: With Chelsea Gray gone the California Storm have a new look, and the focus of their attack is budding star Beebe. Her 6-3 frame is starting to fill out and where she was once pegged as a forward prospect she is starting to show the ability to play the post. Her athleticism makes her a threat to get out and finish on the break but what is most impressive is the development in her postup game. She was matched up against some impressive post defenders this weekend and she showed more poise on the blocks than from anywhere else on the floor. She took her time and wasn't afraid to challenge the likes of Elizabeth Williams or Krystal Forthan. Her baseline turnaround jumper has become her go-to move on the left block. She is emerging as a bonafide star in the 2012 class.

Nike Skills-May '09: Alyson Beebe was definitely in the group of players that could not be outworked. The St. Joseph (Santa Maria, Calif.) forward's peers may have been able to work as hard as she did, but outworking her this weekend wasn't in the cards. Athletically, it is all there for her -- good lift, length, strength and she really worked at new skills and wasn't afraid to make mistakes. If she maintains her current work ethic and develops her perimeter skills, she will be a solid swing player. Developing a consistent shooting stroke will help unlock her game offensively. The limitations now seem to be at her base where she jumps towards the basket instead of elevating more upright, which flattens her shot out. She has the athleticism to shoot a real jump shot, so time will tell if this area of her game develops.
Notes
Notes are not available.