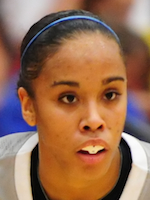 Marjorie Butler
Point Guard
CLASS: 2012
Knoxville, TN

Hometown

Webb School Of Knoxville

High School
63

Overall Rank

11

Position Rank
ESPN Player Evaluations
PBR Super 64-July 2011: Butler continues her impressive play from the spring and is offering up some of her best and most steady play ever. If the definition of a floor leader is someone who makes those around her better she accomplished that and then some in Frisco. She pushed the ball at every opportunity but still made good choices and controlled the tempo when needed. She was able to look for her own opportunities but was much more content to make her looks secondary to those of her talented teammates. Defensively she's evolving into one of the more aggressive on ball defenders teams will face and isn't hesitant to take a chance or two. (Lewis)

EBA Super 64-June 11: Demonstrating the maturity and command of the court that is the result of extensive work and playing time. Appears more fit than at any time in the past and is in constant attack mode. Her first step and explosiveness appear to have reached a new level effectiveness allowing her to create opportunities in transition or the halfcourt. The ballhandling and passing are much more refined and she's more adept in setting up both her passes and penetration. Aggressive at the defensive end, she's not hesitant to put a body on an opponent or mix it up if things get physical. (Lewis)

Nike Nationals-July 10: Butler had some moments but is still struggling to find consistency in her play. Her ballhandling has steadily improved and her decision making is advancing. The addition of Massengale and Cason limited minutes for her but her effort was there any time she's on the floor. Defensively she works hard and does a good job of turning opposing ballhandlers. (Lewis)

Nike Regional Skills-May 10: She appears a little smaller than her listed 5-8 on the court but she has a solid build which allows her to play through more contact than a lot of smaller guards. She had an up and down weekend but was fearless. She was willing to take any shot or attack any gap. Her activity led to some mistakes in the live play but ultimately showed more confidence than she did during the spring viewing period. She can get her shot off quickly but has some forward movement in her form which leads to some streaky results. She is one of the few young guards that attacks the defenders body when going off the dribble and in the right system her fearless style will be a great fit.

Nike Regional Skills Academy-April 09: Playmaker Marjore Butler of Webb School in Knoxville, Tenn. was often found at the front of the line at most of the station work and leading the break during the 5-on-5 play. She was very good in the mid-range shooting drills and took a business-like approach during all the skill competitions. She has a strong, athletic frame and penetrates well to the basket. She will need to develop her jump shot, but she's only a freshmen and her work ethic appears to be there. We expect a bright future for the Volunteer State youngster.

Boo Williams-April 09: She has a mature business like approach to the game, never takes plays off, excellent range on her jump shot and overall very solid point guard skill set.
Notes
Club Team: Tennessee Flight Silver