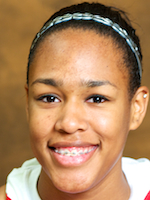 Kristina Nelson
Post
CLASS: 2013
Buford, GA

Hometown

Buford

High School
39

Overall Rank

5

Position Rank
ESPN Player Evaluations
EBA Super 64-June 11: Nelson is at that point that it's time to step out of the shadows of teammates and demonstrate the game she can bring to the table. There are still some mechanical aspects to her play and often things are still a thought rather than a reaction, but the potential is obvious. Down low the tools are there to create her own looks and the touch to finish. She does tend to have her mind made up before reading defenders at times and occasionally finds her way into helpside traffic. Her touch from the high post makes her a threat and demands respect from defenders. She's got sound hands and finds her way to rebounds both offensively and defensively. On the defensive end she's more than willing to mix things up and get physical with opposing bigs. She'll have to watch her physical conditioning to be in the best position to take advantage of her potential. (Lewis)

Peach State Holiday-Dec. 10: The 6-foot-3 high school sophomore has a college-ready body. She's a true center and has a strong presence in the paint at both ends of the court. Nelson is a smart enough low post defender with the ability to block shots but doesn't pick up silly fouls, a trait that plagues a lot of young centers. For her size, Nelson moves and runs the floor well. She boxes out and hits the boards at both ends. She could improve on her offensive rebounding production. On the offensive end she is an effective low post scorer in the paint. She has the ability to knock down the short jumper. She is a good free-throw shooter. She needs to further develop her low post and face up game and continue to gain strength. She needs to stay low and drop her hips while posting up to gain the best possible position in the paint. She has nice upside. (Beverly)

All SE Invitational-Oct. 10: Looking leaner and more fit as well as playing that way, too. Running the floor effectively if she's not making the outlet and looking for the ball on the post up. The hook still looks good but she'll need to add to her bag of tricks as she faces older and equal size defenders. Made a couple of drives from the elbow that looked like a potential weapon down the road. (Lewis)

Nike Summer Showcase-July. 10: While she's only entering her sophomore year Nelson is beginning to show signs of inconsistency that could give a coach gray hair. Her post up skills and potential on the block have been evident many times and been impressive at that. At other times there's a tendency to settle for what the defense gives her rather than fight and demand the ball. There's a world of potential that could make her a real force should she find the ability to make an impact from tip to buzzer. Not a player to underestimate. (Lewis)

Midwest Showdown-May '10: While the Georgia Ice has had more than their share of attention over the past year this is one of their players that's due for quite a bit more. The 6-3 post is already establishing herself as the kind of go to option that any player would love to have wearing the same uniform that they wear. Her size and solid build allow her to post up effectively as well as hold the position despite the pushing and shoving of opposing defenses. She gets a target up, wants the ball and, better yet, she knows what to do with it on the catch. Her ability to read defenders is advanced for her age and the quickness of her attack gets her some high percentage looks low in the paint. Nelson has the ability to draw the foul and get herself to the line multiple times almost every game. She runs the floor well for her size but got beat in transition a time or two by not seeing the floor as she got back defensively. (Lewis)

Boo Williams-April 09: Has a college post body now, excellent touch around the basketball, moves well in the paint and finishes.
Notes
Club Team: Georgia Ice