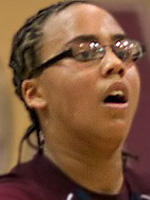 Makayla Epps
Point Guard
CLASS: 2013
Lebanon, KY

Hometown

Marion County

High School
37

Overall Rank

10

Position Rank
ESPN Player Evaluations
Battle in the Boro-July 11: Offered up a better performance than at the USA Basketball trials back in June. Appeared to be in better condition and in turn created a fast paced and effective tempo. Her hesitation and crossover are efficient at drawing almost any defender off balance or out of her staff. Sees the floor well and has no reservation about giving it up to a teammate with a better look then her own. Finished well on the floater and pull up but struggled to find consistency from the perimeter. Will need to knock it down to force continued tight close outs that will allow her to attack. (Lewis)

Deep South Classic-April 11: Playing her usual creating and attacking style. Found options for both herself and her teammates. Seems to be looking more and more for her own opportunities and keeping defenders on their heels. Took over down the stretch of one game and produced when needed. Played much more aggressive on the ball defensively and contained penetration. (Lewis)

Raatz Fence-Jan 11: It seems as though we've been watching Epps forever, and that might be because she's in her fourth year of varsity play already. That much exposure can often lead to higher expectations as time goes by, but the 5-8 sophomore point guard is still finding a way of meeting those standards. Appearing physically stronger, she's attacking aggressively and using her first step and body to get by and seal off defenders. One question mark might be her preference for the right side off the drive. She can and will go left, but was more inclined to pull up or dish the ball rather than take it all the way to rim. She's utilizing a floater more on penetration that's forcing defensive rotations to get there quicker or pay the price. As has been noted many times, improvement of her perimeter consistency will ultimately be a key in maintaining her penetrating attack. Off the ball, she seems more active and is cutting effectively on her own or off screens. Against DuPont Manual's aggressive defense she still finished with 18 points on 5-of-8 shooting. While she got to the line 13 times she only connected on seven of them and produced only one assist offset by three turnovers. (Lewis)

Pickerington North-Dec. 2010: Playing strong, physical game at the point. Always attacking and creating but seemed to be hesitant to some degree in this event. Her form and stroke still look sound but the consistent touch still seems to be evading her. Has the ability to take over but was willing to give it up at the end of a win that was much closer than it should be. (Lewis)

Battle in the Boro-July 10: Epps continues the steady advancement of her impressive skills to the elite level. Her strength, speed and acceleration make her a challenge for any opposing defender to stay in front of. While her ballhandling is sharp, it's her first step that creates her penetration and open floor opportunities. She showing more of an inclination towards the pull up but floats a little bit making it more difficult than it should be. Her passing decisions are sound but occasionally she'll hang on to it a bit too long. She's strong and aggressive on ball defensively and does a good job in helpside situations. (Lewis)

Nike Regional Skills-May 10: One of the smaller guard and 5-9 may be a stretch but has more strength then most guards her size. She has obviously been to the weight room before and her shoulders warn any overplaying defender that she will get by them. She has some funk to her game but doesn't get caught up in playing with the ball. She seems to have fun playing ball, even against elite competition when the pressure is on. She doesn't have a lot of length which has led her to compact shooting form, which is good, but lifting her release point just a couple of inches would really help her. She has the strength to release the ball high and with longer, taller guards closing out it should allow her to get shots off without rushing either.

Nike Regional Skills Academy-April 09: Going into her third season of varsity basketball next season, Makayla Epps is an old pro for someone who has yet to enter her freshman year. The Kentucky native and Marion County High School star has the maturity and court concepts of someone much more experienced which makes her future all the more promising. A true point guard at 5-6, she's got impressive quickness and speed as well as the ability to get off the ground. She has an attacking mentality and constantly forces defenses to rotate on her penetration. Her pull up is an effective weapon but settled for too quickly at times. There's range on her perimeter shot that forces defenders to close the cushion ultimately leading to even more penetration and long nights for the opposition. Size could come into play somewhere down the road but the skills and athleticism already in place minimize the problem it might become.
Notes


In her own words: Meet Makayla Epps