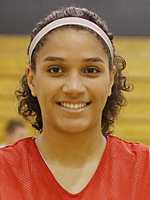 Kalpana Beach
Guard
CLASS: 2011
Westlake, OH

Hometown

Westlake

High School
—

Overall Rank

26

Position Rank
ESPN Player Evaluations
Battle in the Boro-July 10: Something seems to have stalled in the progress of this promising wing. She's still got the size and agility that everyone noticed at a young age and she still plays with focus and intensity. The skills are there but aren't producing the same results that were starting to come regularly. She's active at the defensive and still comes away with her share of boards. A jump start might be necessary. (Lewis)

Run for the Roses 2009: The 6-0 wing from the SMAC Lady Ballers keeps demonstrating that it is possible to advance your game very quickly in a short period of time. Making that even all the more impressive is the fact that she was already a pretty talented recruit. She's showing more elevation on her jump shot these days and seems to be developing into a strong perimeter threat. Her physical play is surprising when you consider her lean build. There really seems to be a defensive focus and it's getting some very effective results. In a very talented class, Beach is one worth keeping a close eye on.

Nike Regional Skills Academy - Indianapolis - 2009: She can create off the dribble and her long and lean build allows her to slash into the paint and use her size effectively. There still seems to be a mechanical aspect to her game to a small degree at times, but other moments highlight a fluid movement that could have her competing on the highest level down the road. Her mobility combined with her impressive size allows her to be a strong and imposing defender against smaller guards. There are a lot of tools in place already and lots of promise with growth and refinement.
Notes
Club Team: SMAC

Second team all-state, 2010