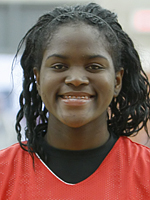 Chairese Culberson
Wing
CLASS: 2011
Berkeley, CA

Hometown

Berkeley

High School
46

Overall Rank

7

Position Rank
ESPN Player Evaluations
EBX Showcase-Oct. '09: The Oakland forward is 6 feet of stone pillar. Her picks alone will toss an unfocused defender into another dimension. Because of her power and athleticism, Culberson has fits of being unstoppable inside, even against taller opponents. She may seem to some as a little on the short side for the forward position, but she occupies a lot of space inside and can hold it. Moreover, Culberson not only can dish it out, she can take anyone's best shot and still deliver.


Nike Regional Skills-May '09: In a gym full of potential, Berkeley High's Chairese Culberson may have set the standard for "what might be". While standing 5-10, she has the strength and wingspan of a player with greater size. Her frame is broad and has the potential to be a college strength coach's dream. Athletically she has the speed and quickness to defend any position in the backcourt but physical make up to move some small forwards off the block. She can play inside if needed right now, but her future lies on the perimeter. Her ballhandling gets her to the rim and she isn't afraid of contact once in the paint. The touch on her jump shot is going to have to soften and come along considerably but the form is already there. All the tools are in place and how far she'll go is up to her.
Notes
Club Team: Cal Ballaz

First team all-state, 2010 ... As of Feb. 2010 she remains open but Cal, Washington, UC-Santa Barbara lead.