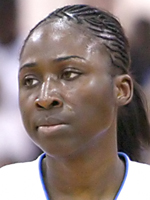 Sydney Wallace
Guard
CLASS: 2011
Duluth, GA

Hometown

Duluth

High School
45

Overall Rank

11

Position Rank
ESPN Player Evaluations
USJN DC-July 10: One of the teams that consistently improved over the course of the summer was the FBC Southeast Elite. When this 5-8 guard from Duluth, Ga., is on her game, she and her teammates are tough to compete with. Wallace has impressive individual skills combined with eye-catching athleticism that makes her a challenge for any defender. Her court instincts allow her to read defenses and attack while still making good decisions with the ball. She's not hesitant to get into the paint and take a few hits from bigger helpside defenders and still find a way to finish or get to the line. Her pull-up was her most reliable weapon throughout the event and might serve her well down the road in the self-preservation department. As an on-ball defender she's quick and aggressive while forcing opposing guards to want to give it up in a hurry. She's still a risk taker at times but seems to have found a way to choose her spots and still recover if she doesn't come up with the pick. Wallace is a senior who's shown consistent advancement in her game and may still not have revealed just how good she might become down the road.

Battle For The Boro-July 10: Impressive and effective individual skills. She combines those with her speed and quickness to become one of the stronger one on one players in the class. Her stroke and jumper keep defenders closing out and playing her straight up. Making better decisions and starting to make those around her better players. Very active and aggressive defender with good anticipation. (Lewis)

Boo Williams-April 10: Quick and athletic with a wiry build. Impressive one on one skills. Sees the floor in halfcourt sets as well on the break. Has a good stroke and a deadly pull up. Active defender but takes chances at times.

Midwest Showdown-May 09: If you carry the nickname "Kobe" you have some big shoes to fill. Watch Sydney Wallace for a game and you get an idea of where she gets the name from. The scoring guard from Southern Elite has the rare ability to finish tough shots. She separates from the defense and is always ready to pull up on them. Even with defenders jumping out on her she was able to finish a high percentage though some of her misses were way off because of the degree of difficulty. She's not short on swag so when she learns when and where to make those plays she will take her game to the next level.
Notes
Club Team: FBC Southeast