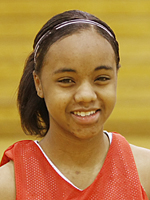 Charon Sweeney
Point Guard
CLASS: 2013
Toledo, OH

Hometown

Rogers

High School
—

Overall Rank

29

Position Rank
ESPN Player Evaluations
Nike Skills Academy Indy-April 2012: FAST! Pushes the tempo, slight frame but always seems to be a step ahead of the comp. Plays too fast at times with the ball, has to learn to switch gears. (Clay)

Braggin Rights-Dec. 10: Anything Cha'ron Sweeney may be lacking in size she more than makes up for in production. Wishfully listed at 5-3, she's a whirlwind of action on the floor that makes her a challenge for virtually any defender. Her quickness and speed put her in position to operate on the break or in the halfcourt without an obstructed view on almost every possession. Getting to the rim seems to be something she can do at will, and if the rotations are there she's adept at delivering the ball and collecting the assist. At times she's been effective from deep on the perimeter but has struggled with consistency at others. As an on-ball defender she can stay in front of almost any opposing point guard and has the foot speed to turn them time and again. (Lewis)

Nike Nationals-July 10: Shoots the ball very well, excellent form..attacks the basket and has quick feet along with superior ball-handling skill. (Bodine)

Nike Summer Showcase-July 10: There may not be much size in place but the speed and quickness are there. She pushes the ball at every opportunity and is the catalyst coaches look for in the transition game. Her range is deep and the touch is effective when she has time. Often there is a rush on her release due to size issues but she still connects at a solid percentage. On ball she's an active defender but again size could be an issue down the line. (Lewis)

Braggin' Rights-Dec. 09: Tiny ... Quick ... Everywhere on the floor ... one to watch.

Nike Regional Skills Academy-May 09: One of the shortest players in the building this weekend was 5-2 guard Charon Sweeney who will attend Ohio's Toledo Start High School next year. But sleep on this kid for one possession and expect to look silly. She has blinding foot speed and she doesn't hesitate to blow by anyone ill-prepared for her. She also uses her lack of height to her advantage by keeping the ball incredibly low, even in change-of-direction moves. She also has a very quick yo-yo style crossover and she comes out of it with a great burst. Her shot has a bit of a fling to it, but she gets it off quickly -- a must for a player her size. Sweeney made a decent amount of those shots, when defenders backed up. On the other end of the floor, she is a feisty on-ball defender. She can turn most point guards with ease and has quick hands to snatch away any unprotected dribbles. Of course the concern is her ability to defend bigger guards in the half court as well as finishing in traffic when that speed gets her into the lane.
Notes
Notes are not available.