Alexis Thompson is a 14-year-old freshman prodigy on the links, the youngest golfer ever to qualify for the U.S. Women's Open. Nicholas Thompson, 26, is a former college star now on the PGA Tour. Curtis Thompson, a 16-year-old junior, has had the quietest career of the three to date. And he might just be the most talented of the siblings.
"They're very competitive amongst themselves," says Scott Thompson, their father. "When they go out to play, the three of them, I'm telling you, the battle is on. Their matches can get tight."
While Nicholas is off on the tour, Alexis and Curtis are home-schooled phenoms who live on the 12th hole of the TPC at Eagle Trace in Coral Springs, Fla. At press time, Alexis -- who shared the second-round lead of the Navistar LPGA Classic in Prattville, Ala., with Lorena Ochoa and three others -- was No. 4 among girls and Curtis No. 28 among boys in the American Junior Golf Association Polo Rankings. But their styles, and stories, were very different until recently.
YOU GO, GIRL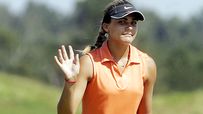 Follow 14-year-old Alexis Thompson's progress as she competed in the Navistar LPGA Classic in Prattville, Ala.
• Tournament recap • Scoreboard
Curtis was a natural-born golfer, dominating the youth ranks with a game that was as much feel as technique. "Up till about the age of 12 he was a world-beater," says Scott. "This kid was just drumming people."
As a result, Curtis mostly skipped the 13-15 age group, a move his father now thinks may have been premature. In a sense, Curtis forgot how to win. Last winter may have been the lowlight. Not only was Curtis going through a growth spurt -- he has grown seven inches in a little more than a year -- but he had just started to work out and his muscles had yet to adjust.
"I couldn't hit a drive on the planet," Curtis says. "It was just not fun."
Alexis was the complete opposite. The game didn't come as naturally, but she practiced tirelessly until her swing was a well-oiled machine. It may not have been as pretty as Curtis' stroke, but it was much more consistent. She started winning at an early age and never stopped.
"Lexi won at every level," her dad says. "In boys' golf, that's a little tougher to do."
Perhaps her biggest win came at the prestigious U.S. Girls' Junior last summer, though that's not what she's most known for. Alexis made headlines when she first qualified for the U.S. Women's Open at the age of 12 years, four months and a day, beating the previous record set by former St. Andrew's star Morgan Pressel.
Alexis failed to make the cut in 2007, but she became a sensation all the same. She qualified again in 2008, but her nerves got the best of her once more. Standing over the first tee shot, her knees were literally shaking. She just missed the cut after bogeying three of the last five holes.
She made the cut at the Open for the first time this past summer and entered the final round just five strokes off the lead, ultimately finishing 34th.
"This year I wasn't nervous at all," Alexis says. "I just went out there and didn't really stress anything."
In the process, she became a fan favorite and a media maven, giving interviews to several newspapers, including The New York Times, and various golf publications.
While Alexis has been on the national radar for some time, Curtis has used a tremendous 2009 to put himself on the map. He won the Verizon Junior Heritage in February, then captured the Laredo Energy Junior in April. Alexis won both events on the girls' side.
"He's learning how to use his brain on the golf course and harness his temper a little bit, kind of tunnel that energy for good," says Nicholas. "He's always had the shots. Since he was 8, you knew he had talent. I didn't have the talent he has, I just worked hard."
Nicholas was the "guinea pig" of the family. Through his junior golf experiences, the Thompson family learned which tournaments to go to and how to navigate in the world of country clubs. They moved to TPC in 1996 to give him more course access, and Curtis and Alexis have reaped the benefits.
"I think Curtis and Lexi, the success they're having is largely attributed to the success Nick had," says Scott. "They know it can be done and they work hard at it."
Hard work has never been an issue. A typical day for Curtis entails waking up at around 6:30 a.m. and hitting some drives, followed by practicing chip shots and putts. Then he'll eat lunch and go back at it until dark.
Thanks to home-schooling, the Thompsons can tailor their education around practice and tournaments. But there are drawbacks, too. It can get kind of lonely. Curtis competed for the Coral Glades team last year in part to see his friends. He liked playing for the school and wound up finishing third at the Class 2A state tournament.
"Some of the competition is not real high, but then again you run into a lot of people that you might have forgotten about a ways back, and you might meet some nice kids," he says. "When you're home-schooled, finding people to hang out with is pretty important."
That shouldn't be a problem at the next level. Curtis will almost certainly go to a top-tier college golf program. At press time, he was considering Texas A&M, Florida State and Georgia Tech, Nicholas' alma mater.
For Alexis, the future is not so certain.
"Lexi could go one of two ways," Nicholas says. "She could either go professional in a couple years or could be looking at college."
"I don't see her going to college," Curtis says, predicting his sister will go pro at 17.
While her brothers are happy to speculate, Alexis has grown tired of trying to look into the crystal ball.
"I'm like, 'I don't know, I'm in ninth grade,'" she says. "I haven't even thought about it. I'm taking it one grade at a time."
More like one win at a time. And now that her brother is in a good frame of mind, he's started to follow suit. Curtis might not be the least heralded of the Thompson kids for long.
Lucas O'Neill covers high school sports for ESPN RISE Magazine.