Parlauf Relays
Saturday, February 4th, 2012
At West L.A. College
All athletes competed unattached.
Hand timing.
8000 Meters Five-person relay format.
---
By Rich Gonzalez
Editor, ESPNHS/DyeStatCal
(February 4, 2012) -- Overheard in recent days were two Southland coaches questioning the prediction that Carson High's boys sprinters would post outstanding relay times this year.
"Who else do they have besides Elisha (Toler)," one asked aloud.
"Not enough," the other replied.
Well, maybe they do have others after all.
Competing in Saturday's annual Parlauf Relays at West Los Angeles College, Carson smoked the meet record by nearly 20 seconds to win to win the boys competition, where each of the top three teams bettered the meet's previous best performance.
The parlauf relay is a unique test of speed and speed endurance in which five-person relay teams have members each carry for 200-meter segments before passing on to a teammate. By the conclusion, each person will have done eight of the 200m bursts for a total of 1600m, or just short of a full mile.
While distance contingents have won the competition a majority of the times in recent years, the setup still caters more toward sprint crews, especially ones that are in very good shape and have the discipline to execute the eight intervals with quality management of effort and recovery.
The Carson quintet of Elisha Toler, Lorne Abby, Tywon White, Roye Love and Kymoni Bellamy combined to record an 18:38.7 clocking for the 8,000-meter relay in easily taking down the 18:58.2 meet record established by Redondo Union last year. Redondo Union (18:53.6) placed second this time out while Peninsula (18:57.1) also beat the previous record.
Abby is Carson's top short sprinter from a year ago, when he clocked 11.01 for 100 meters and 22.22 for 200 meters. Toler is the long-sprint specialist with his 49.14 performance last spring. With both on the relay, the Colts clocked a seasonal best 42.16 in the 4x100 last year.
The girls competition showcased another duel between sprinters and distance runners, with the dashers again prevailing.
St. Mary's Academy won the girls challenge by just over 10 seconds over runner-up Redondo Union. St. Mary's had Summer Buckley, Aliyah Hale, Sierra Peterson, Kennedy Hardemior and Rachel Toliver combine to clock 21:12.2, safely ahead of Redondo Union's distance-dominated 21:22.7.
St. Mary's Academy posted a sensational time of 46.46 in the short relay during the season last year, with Buckley and Peterson among the top returnees from the team's sprint arsenal.
---
Photos courtesy of Bob Leetch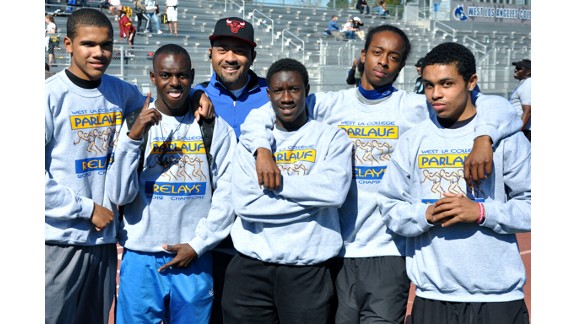 Carson's record-setting sprint crew.
BOYS HEAT 1
1) Carson 18:38.7 (Elisha Toler, Lorne Abby, Tywon White, Roye Love, Kymoni Bellamy) ***MEET RECORD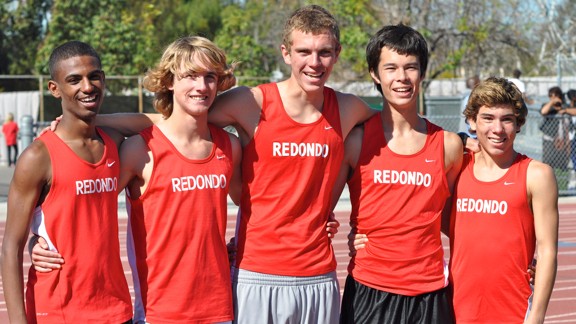 Redondo Union's boys distance runners gave it a strong go, but placed second.
2) Redondo Union A 18:53.6 (Garrett Klatte, Will Tait, Dagmay Demsas, Tyler Caracoza, Evan Malone-White) 2nd All-Time
3) Peninsula A 18:57.1 (Stephen Sansom, Brennan Megeff, Reo Miranda, Gabriel Michaek, Hayden Hinsch) 3rd All-Time
4) Redondo B 19:26.9
5) Gahr 19:34.9
6) Peninsula B 19:55.8
7) Wilson 19:57.9
8) Hamilton B 21:28.3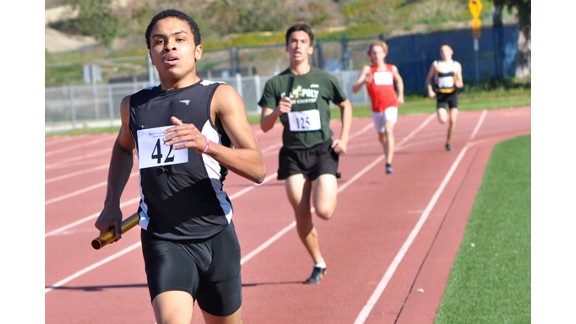 Mid-race action in the boys competition.
BOY'S HEAT 2
1) New Image B 19:53.4
2) Wilson B 20:02.2
3) Peninsula B 20:41.5
4) Wilson C 20:53.9
5) Quiet Fire 20:55.9
6) Redondo C 21:25.6
7) Miguel Contreras A 22:04.1
8) Miguel Contreras B 22:32.4
*** Previous Record - Redondo Union A "unattached" 18:58.2 (Evan Malone, Garrett Klatte, Tyler Caracoza, Jordan Washington, Dezhan Bland)
---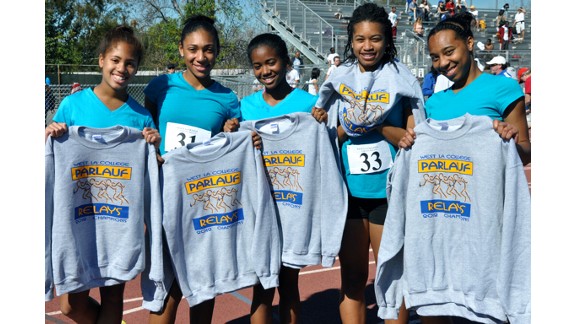 Girls sprinters from St. Mary's Academy proudly show off their champions sweatshirts.
GIRLS HEAT 1
1) St. Mary's A 21:12.2 (Summer Buckley, Alyiah Hale, Sierra Peterson, Kennedy Hardemior, Rachel Toliver) 2nd All-Time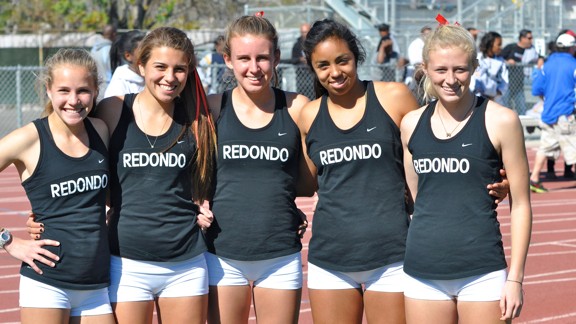 Redondo Union's distance girls yet again fared well in this fun yet challenging speed workout.
2) Redondo Union A 21:22.7 (Cara Ulizio, Kayla Ferron, Aniqua Villegas, Rachel Bush, Lyndsey Mull) 5th All-Time
3) Speed City 22:12.8
4) Wilson 22:35.9
5) Silverado 22:37.5
6) Peninsula 22:47.8
7) Carson 22:54.5
8) Redondo C 23:39.8
9) St. Mary's B 23:51.5
10) St. Mary's E 24:27.3
11) Gahr/Redondo 24:57.5
12) City of Irvine 25:13.4
13) City of Irvine 26:30.6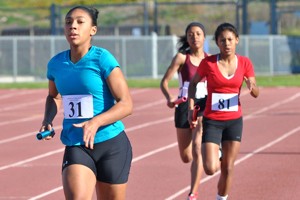 GIRLS HEAT 2
1) Redondo B 22:13.4
2) Wilson B 22:51.7
3) Culver City 23:08.6
4) Quiet Fire 23:40.1
5) Redondo D 24:05.9
6) St. Mary's C 24:23.4
7) Wilson C 24:24.5
8) Redondo E 25:07.4
9) Culver City B 25:15.8
10) St. Mary's D 25:19.1
11) Miguel Contreras 27:29.2