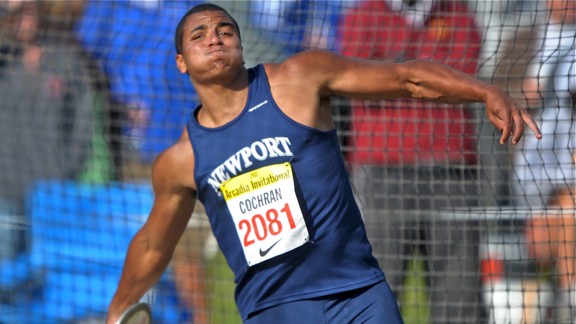 Newport Harbor's Ethan Cochran lets loose in the discus during an attempt last April.
---
(RANCHO SANTA MARGARITA, Calif.)
-- Throws coach
Tony Ciarelli
promised good things out of the Newport Harbor High camp this season, but we weren't expecting prolific marks this early.
Santa Margarita opened the season with a freshman vaulter carrying quite the pedigree, so we knew anything was possible at any time.
But when both storylines intersected on the opening weekend of the CIF-Southern Section outdoor season, it created some jaw-dropping outcomes at the Eagle Invite at Santa Margarita High School on Saturday.
Newport Harbor's Ethan Cochran and Santa Margarita's Kaitlyn Merritt posted the most impressive marks -- among several -- in an uncanny show of excellence as the local invitational season officially got underway.
Cochran unleashed a towering throw of 200 feet, 10 inches to win the boys discus competition, possibly the first 200-footer in California history to occur on the first weekend of an outdoor season. He also became the Golden State's 30th prep 200-foot performer in the history of the event, easily outpacing any other state in that category.
Cochran, a recent UC Berkeley signee who came into the meet with a lifetime-best of 195-04 with the 1.62-kilogram implement (he'd gone over 200 feet last summer with the lighter implement used at the IAAF's World Youth Championships), moved to 24th on the all-time California list with his winning mark. For good measure, Sailors teammate Steve Michaelsen also opened the season with a bang in recording a lifetime-best 180-06 performance to improve by nearly a yard over his prior best.
Newport Harbor also flexed its muscle in the shot put competition, where Cochran won in 57-04.00, Michaelsen was second in 55-10.00 and teammate Javier Venegas took third in 55-07.00. A trio of teammates all at 55-feet-plus on opening weekend? Highly impressive.
Merritt, who previously established age-group national records in her junior high days, added another with an age-14 national record with her clearance of 12 feet, 10.25 inches in the pole vault competition. The mark also shattered former Orange County sensation Allison Stokke's freshmen state record and moved her to third on the all-time ninth-grade national list.
Merritt, who debuted at 25th all-time California high school list, has three more weeks to improve on her age-group national record before turning 15 on March 27th. Eclipsing the national frosh record is a bit tougher task. Louisiana's Morgann Leleux owns the mark at 13-02.00.
As is often the case at this meet, several "vault girls" kicked off the year in fine fashion. Including Merritt, a grand total of five girls went 11 feet or higher in the competition, including the Mater Dei trio of Julie Johnson and Renee Greene (both at 11-06.00) and teammate Isabela Lozowski (11-00.00).
A littany of additional head-turning marks were achieved at the limited-invitation meet, which featured eight schools in this latest edition.
St. John Bosco's sprint unit threw down a nasty early-season time of 3:21.65 to win the 4x400 against a slew of programs with fine traditions in the event. Mater Dei (second in 3:24.00) and Notre Dame of Sherman Oaks (3:25.83) also motored to great opening times.
While Notre Dame dash dazzler Khalfani Muhammad's time in the 100-meter dash might not seem too out of the ordinary for him, the fact that it came while battling a stern headwind was very notable. The Knights senior ripped a 10.77 while faced with a 0.8-meters-per-second headwind. Using time-testeed empirical data on wind conditions conversions, Muhammad's clocking already seems to indicate the ability to rival his lifetime-best 10.55, set last summer.
Muhammad came back later to win the deuce in 22.15 (+1.0 mps), just edging out St. John Bosco's Michael Rogers (22.19).
Murrieta Valley's Loryn Nichols threw down the state's first sub-12.00 clocking in the girls 100 meters, purring to an 11.99 with a +2.8 mps wind at her back.
In the distances, St. John Bosco's Danny Martinez -- who will likely announce his college destination within the next 10 days -- won the 1600 meters in a fine 4:19.81.
---
Licensed to EPI Sports, Inc - Contractor License
HY-TEK's Meet Manager 3/3/2012 07:57 PM
Eagle Invitational
Hosted by Santa Margarita HS - 3/3/2012
Online Entries/Results by episports.com
Results
Event 1 Girls 4x100 Meter Relay Junior Varsity
================================================================
School Finals
================================================================
Finals
1 Santa Margarita 52.11
2 Mater Dei 52.17
3 Notre Dame (So) 54.07
4 Murrieta Valley 54.78
5 Esperanza 55.01
6 Tesoro 55.89
7 St. Joseph 59.96
Event 2 Girls 4x100 Meter Relay Varsity
================================================================
School Finals
================================================================
1 Mater Dei 49.52
2 Murrieta Valley 49.70
3 Santa Margarita 49.89
4 Notre Dame (So) 52.04
5 Tesoro 53.87
6 St. Joseph 55.07
Event 3 Boys 4x100 Meter Relay Frosh/Soph
================================================================
School Finals
================================================================
1 Santa Margarita 46.01
2 Tesoro 46.41
3 St. John Bosco 46.87
4 Esperanza 49.12
5 Newport Harbor 49.22
-- Mater Dei DQ
Event 4 Boys 4x100 Meter Relay Junior Varsity
================================================================
School Finals
================================================================
1 Santa Margarita 45.51
2 Mater Dei 46.09
3 Murrieta Valley 46.27
4 Notre Dame (So) 46.97
-- Esperanza DQ
Event 5 Boys 4x100 Meter Relay Varsity
================================================================
School Finals
================================================================
1 Notre Dame (So) 42.66
2 St. John Bosco 42.69
3 Mater Dei 42.91
4 Murrieta Valley 44.62
5 Tesoro 47.98
-- Newport Harbor DQ
Event 6 Boys 1600 Meter Run Frosh/Soph
================================================================
Name Year School Finals
================================================================
1 Carlos Barrios 9 St. John Bosco 4:48.47
2 Nick Moore 9 Tesoro 4:48.80
3 Tomas Ohara 9 Mater Dei 4:51.71
4 Matt Pearson 10 Mater Dei 5:04.16
5 Brennan Doyle 9 Notre Dame (So) 5:04.17
6 Sean Gallagher 10 Notre Dame (So) 5:05.72
7 Josh Park 10 Esperanza 5:07.09
8 Daniel Mendoza 10 St. John Bosco 5:07.44
9 Gabriel Cruz 9 St. John Bosco 5:08.71
10 Christian Garcia 9 Newport Harbor 5:09.79
11 Mitchell Garrett 9 Tesoro 5:09.98
12 Nick Graniere 10 Santa Margarita 5:13.99
13 Andrew Novotney 10 Mater Dei 5:14.81
14 Logan Fry 9 Esperanza 5:16.18
15 Jose Quezada 9 Esperanza 5:19.88
16 Jonathyn Saravia 9 St. John Bosco 5:20.04
17 Avery McCusker 9 Tesoro 5:21.17
18 Javin De La Torre 10 Esperanza 5:27.61
19 Dustin Sandhu 9 Mater Dei 5:33.91
20 Christian Mendoza 10 St. John Bosco 5:35.21
21 Logan Welty 9 Esperanza 5:41.31
22 Jack Launder 10 Newport Harbor 5:44.44
23 Taylor Comroe 9 Santa Margarita 5:47.02
24 Damian Arrellano 10 Mater Dei 6:21.00
Event 7 Girls 1600 Meter Run Varsity
================================================================
Name Year School Finals
================================================================
1 Paige Tennison 11 Newport Harbor 5:10.33
2 Marissa Pluma 9 St. Joseph 5:19.69
3 Hannah Bell 12 Esperanza 5:20.08
4 Ashlyn Rambo 10 Mater Dei 5:28.06
5 Erica Munson 9 Santa Margarita 5:30.72
6 Kazia Mermel 11 Notre Dame (So) 5:31.04
7 Stephanie Lapidus 11 Tesoro 5:31.91
8 Sarah Parsons 11 Tesoro 5:32.86
9 JJ Adams 11 Esperanza 5:36.59
10 Caylie Connelly 11 Santa Margarita 5:37.41
11 Sara Digiovanni 11 Mater Dei 5:40.83
12 Alex Ledesma 12 Esperanza 5:43.88
13 Megan Bartyczak 9 Mater Dei 5:46.05
14 Breann Howell 10 Murrieta Valley 5:48.66
15 Stephanie LaFace 11 Notre Dame (So) 5:49.67
16 Natalie Wilson 12 Mater Dei 5:52.29
17 Gabi Gonzalez 11 St. Joseph 5:53.69
18 Makena Owen 12 Newport Harbor 5:54.77
19 Kendall Donaldson 11 Tesoro 5:58.17
20 Aandraea Aksentijevic 12 Notre Dame (So) 5:58.54
21 Cindy Juarez 9 St. Joseph 5:58.99
22 Maggie Goodson 11 Newport Harbor 6:02.56
23 Emily Yoshinaga 11 Esperanza 6:06.81
24 Katherine Maddox 11 Newport Harbor 6:16.69
25 Morgane Vuillemey 9 Murrieta Valley 6:18.92
26 Catherine McHenry 11 Tesoro 6:20.18
27 Valerie Gonzalez 10 St. Joseph 6:25.45
28 Raeanne Cendejas 11 Tesoro 6:42.94
Event 8 Boys 1600 Meter Run Varsity
================================================================
Name Year School Finals
================================================================
1 Danny Martinez 12 St. John Bosco 4:19.81
2 Jason Engel 11 Santa Margarita 4:29.85
3 Jake Barber 12 Newport Harbor 4:30.62
4 Amar Dholakia 12 Esperanza 4:32.21
5 Baylor Harper 11 Tesoro 4:32.86
6 Dalton Hall 11 Mater Dei 4:35.82
7 Kyler Fisk 12 Tesoro 4:36.18
8 Thomas McGlone 11 Mater Dei 4:37.47
9 Thomas French 12 Esperanza 4:38.18
10 Josh Lopez 10 St. John Bosco 4:38.84
11 Scott Curran 10 Tesoro 4:39.19
12 Michael Hulme 9 Mater Dei 4:39.59
13 Kevin Rodriguez 10 St. John Bosco 4:39.72
14 Chase Vinsky 11 Murrieta Valley 4:39.79
15 Christian Roberts 11 St. John Bosco 4:40.22
16 Matthew Sommer 12 Esperanza 4:42.46
17 Chris Harlan 11 Esperanza 4:43.25
18 Ryan Ogan 11 Esperanza 4:44.20
19 Matt McKinley 11 Mater Dei 4:44.25
20 Brentano Giuliano 12 Santa Margarita 4:45.74
21 Sam Soto 12 Mater Dei 4:48.60
22 Matt Bloch 12 Notre Dame (So) 4:51.00
23 Matt Meredith 10 Notre Dame (So) 4:56.95
24 Jonathan Drinkward 9 Tesoro 4:58.41
25 Joseph Mudy 12 Notre Dame (So) 4:59.64
26 Jack Moore 11 Santa Margarita 5:04.74
27 Scott Gamble 12 Murrieta Valley 5:04.95
Event 9 Girls 100 Meter Hurdles Junior Varsity
========================================================================
Name Year School Finals Wind H#
========================================================================
1 Taylor Sims 10 Tesoro 18.43 -0.5 3
2 Kelly Cunnane 10 Santa Margarita 18.75 -0.5 3
3 Makenna Robinson 10 Tesoro 18.79 -0.5 3
4 Ashley Gillebaard 10 Tesoro 18.84 -0.5 3
5 Alexa Boyer 11 Mater Dei 19.28 -0.5 3
6 Haley Kline 9 Esperanza 19.75 1.0 2
7 Alyssa Yokota 9 Santa Margarita 20.07 -0.5 3
8 Elizabeth Brown 11 Esperanza 20.25 1.0 2
9 Marysol Uribe 12 St. Joseph 20.31 2.1 1
10 Sami Globa 11 St. Joseph 22.45 2.1 1
11 Evelyn Murphy 9 Santa Margarita 22.53 1.0 2
12 Angelica Thai 11 Esperanza 23.70 1.0 2
Event 10 Girls 100 Meter Hurdles Varsity
========================================================================
Name Year School Finals Wind H#
========================================================================
1 Caroline Hilley 10 Santa Margarita 15.29 2.8 2
2 Tatiana Martinez 12 Murrieta Valley 15.80 2.8 2
3 Brittany Hanrahan 11 Mater Dei 16.05 2.8 2
4 Mariah Durian 12 Esperanza 16.86 2.8 2
5 Jelena McNown 11 Murrieta Valley 18.01 -0.3 1
6 Theressa Ghalbouney 12 Notre Dame (So) 18.04 2.8 2
7 Deseree Iona 11 St. Joseph 18.36 -0.3 1
8 Emily Troung 10 Notre Dame (So) 18.48 2.8 2
9 Paige Ruedy 10 Notre Dame (So) 19.10 2.8 2
10 Sam Barajas 12 St. Joseph 19.54 -0.3 1
11 Amy Rich 12 Esperanza 21.89 -0.3 1
Event 11 Boys 110 Meter Hurdles Frosh/Soph
========================================================================
Name Year School Finals Wind H#
========================================================================
1 Tony Simmons 10 Tesoro 16.86 0.8 2
2 Grant Kraemer 10 Notre Dame (So) 17.51 1.7 1
3 Rory Fleming 10 Newport Harbor 17.76 0.8 2
4 Andrew Savage 10 Tesoro 18.39 0.8 2
4 Zachary Frohack 10 Tesoro 18.39 0.8 2
6 Brian Jeannis 10 Esperanza 18.52 1.7 1
7 Noah Demeke 10 Esperanza 18.57 1.7 1
8 David Lugo 10 Mater Dei 18.77 0.8 2
9 Matthew Columbres 10 Santa Margarita 18.98 0.8 2
10 Cole Bowen 9 Santa Margarita 20.02 1.7 1
11 Jacob Rodriguez 10 Esperanza 20.47 1.7 1
12 Dean Davidson 10 St. John Bosco 20.87 1.7 1
Event 12 Boys 110 Meter Hurdles Junior Varsity
========================================================================
Name Year School Finals Wind H#
========================================================================
1 Kyle Barrett 11 Notre Dame (So) 17.30 0.2 2
2 Bronx Reyes 11 Notre Dame (So) 17.76 0.2 2
3 Nate Rodriguez 10 Esperanza 17.93 0.2 2
4 Andrew Robinson 11 Tesoro 18.58 0.2 2
5 Andrew Chittaphong 10 Murrieta Valley 19.47 0.2 2
6 Matt Rodriguez 11 Mater Dei 19.94 0.2 2
7 Bernardo Rabago 11 Murrieta Valley 21.15 0.2 2
Event 13 Boys 110 Meter Hurdles Varsity
========================================================================
Name Year School Finals Wind H#
========================================================================
1 JJ Goeden 11 Mater Dei 16.11 0.3 2
2 Gerard Martin 10 Murrieta Valley 16.89 0.3 2
3 Aaron Fulcher 12 Tesoro 17.00 0.3 2
4 Aaron Paisley 11 Murrieta Valley 17.05 0.3 2
5 Brandon Jett 12 Notre Dame (So) 17.18 0.3 2
Event 14 Girls 400 Meter Dash Junior Varsity
===================================================================
Name Year School Finals H#
===================================================================
1 Natalie Jacobs 9 Tesoro 1:02.83 3
2 Hannah Wetmore 10 Santa Margarita 1:03.93 3
3 Bryanna Wiehe 10 Mater Dei 1:04.52 3
4 Kassidy Freemer 9 Murrieta Valley 1:04.88 2
5 Angie Carreras 9 Mater Dei 1:05.35 3
6 Amy Jackson 11 Esperanza 1:06.50 2
7 Tiffany Costello 9 Tesoro 1:07.41 2
8 Ringnyuh Shey 10 Murrieta Valley 1:09.68 2
9 Kate McFettters 10 Mater Dei 1:10.14 2
10 Celina Pena 10 Notre Dame (So) 1:10.27 3
11 Makayla Petersen 9 Tesoro 1:11.12 2
12 Genoa Calavitta 10 Esperanza 1:12.16 2
Event 15 Girls 400 Meter Dash Varsity
===================================================================
Name Year School Finals H#
===================================================================
1 Alex Gilbert 11 Santa Margarita 58.36 3
2 Lupe Medina 11 Mater Dei 1:00.01 3
3 Rachel Strohmeyer 12 Murrieta Valley 1:00.47 2
4 Camilla Nwokedi 9 Notre Dame (So) 1:00.58 3
5 Tara Radan 10 Mater Dei 1:00.72 3
6 India Hones 9 St. Joseph 1:01.90 2
7 Shannon VanSon 12 Murrieta Valley 1:02.43 2
8 Brooke Von der Ahe 12 Notre Dame (So) 1:04.37 3
9 Christina Nauta 12 Esperanza 1:05.04 2
10 Jordan Facey 12 Esperanza 1:05.05 2
11 Kassandra Hurtado 10 St. Joseph 1:20.22 1
12 Alexandra Black 10 St. Joseph 1:21.22 1
13 Delany Rosas 11 Tesoro 1:21.95 2
Event 16 Boys 400 Meter Run Frosh/Soph
===================================================================
Name Year School Finals H#
===================================================================
1 Mackin Carroll 10 Mater Dei 52.95 3
2 Slater Davis 10 Notre Dame (So) 53.50 3
3 Taylor Aguilera 9 Notre Dame (So) 54.00 3
4 Travis Larson 9 Notre Dame (So) 54.02 3
5 Max Ruhnke 9 Santa Margarita 55.07 2
6 Vince Hernandez 10 Santa Margarita 55.74 3
7 Kamran Tariq 9 Tesoro 55.96 2
8 Gary Grover 10 Santa Margarita 56.21 3
9 Bhavesh Patel 10 St. John Bosco 59.30 2
10 Chase Preston 10 Tesoro 1:01.64 2
11 Matt Rudy 9 Tesoro 1:05.32 2
Event 17 Boys 400 Meter Run Junior Varsity
===================================================================
Name Year School Finals H#
===================================================================
1 Christian O'Conner 12 Mater Dei 53.53 3
2 Weston Brown Murrieta Valley 54.08 1
3 Jon Gill 12 Mater Dei 54.45 3
4 Lucas Roberts 11 Santa Margarita 54.56 3
5 Justin Potter 12 Santa Margarita 55.77 3
6 Carter Young 9 Murrieta Valley 56.17 1
7 Jordan Fisher 11 Santa Margarita 56.44 3
8 Travis Sovronec 11 Tesoro 56.48 2
9 Daniel Matlock 10 Murrieta Valley 56.80 1
10 Josh Eakin 11 Newport Harbor 56.99 3
11 Sean Taylor 10 Esperanza 57.59 2
12 Michael Sofka 12 Esperanza 58.13 2
13 Ron Papile 11 Notre Dame (So) 58.86 2
14 Brian Morales 11 Newport Harbor 1:00.31 2
15 Robert Criske 10 Murrieta Valley 1:00.52 1
16 Rocky Singleton 10 Notre Dame (So) 1:02.66 2
17 Ali Zaveri 11 Esperanza 1:02.86 1
Event 18 Boys 400 Meter Dash Varsity
===================================================================
Name Year School Finals H#
===================================================================
1 Jordan Pitts 10 St. John Bosco 50.70 3
2 Koa Farmer 10 Notre Dame (So) 52.02 3
3 Brody Palmer 12 Esperanza 52.05 2
4 Mychal Traylor 11 Mater Dei 52.19 3
5 Justin Allen 10 Mater Dei 52.40 3
6 Aaron Fulcher 12 Tesoro 52.58 3
7 Jovante Alexander 12 St. John Bosco 52.61 2
8 Chase Lee 11 Notre Dame (So) 54.05 3
9 Jon Bassey 12 Notre Dame (So) 54.18 3
10 Jose Villegas 10 Murrieta Valley 55.16 2
11 Justin Johnson 12 St. John Bosco 55.28 2
12 Khalif Murrell 12 Esperanza 55.56 2
13 Kyle Ohnemus 11 Tesoro 55.82 2
Event 19 Girls 4x800 Meter Relay
================================================================
School Finals
================================================================
1 Notre Dame (So) 'V' 10:28.30
2 Mater Dei 'V' 10:29.52
3 Tesoro 'V' 10:32.56
4 Tesoro 'J' 10:39.67
5 Esperanza 'J' 10:42.26
6 Newport Harbor 'J' 10:43.71
7 Newport Harbor 'V' 10:44.91
8 Esperanza 'V' 10:46.89
9 Murrieta Valley 'V' 10:48.68
10 Mater Dei 'J' 11:01.93
11 Santa Margarita 'J' 11:11.06
12 Notre Dame (So) 'K' 11:13.30
13 Mater Dei 'K' 11:27.93
14 St. Joseph 'V' 11:59.14
15 St. Joseph 'J' 12:49.61
Event 20 Boys 4x800 Meter Relay
================================================================
School Finals
================================================================
1 Mater Dei 'V' 8:29.17
1 Tesoro 'V' 8:29.17
3 Notre Dame (So) 'V' 8:35.62
4 Esperanza 'V' 8:47.45
5 Newport Harbor 'V' 8:50.74
6 Santa Margarita 'V' 8:59.05
7 Tesoro 'F' 9:02.83
8 Mater Dei 'J' 9:16.78
9 Mater Dei 'F' 9:21.71
10 Murrieta Valley 'J' 9:22.19
11 St. John Bosco 'F' 9:23.36
12 Notre Dame (So) 'J' 9:23.83
13 Notre Dame (So) 'F' 9:24.62
14 Santa Margarita 'J' 9:26.69
15 Newport Harbor 'F' 9:58.12
15 Esperanza 'F' 9:58.12
Event 21 Girls 100 Meter Dash Junior Varsity
========================================================================
Name Year School Finals Wind H#
========================================================================
1 Rebecca Thomson 9 Santa Margarita 13.15 1.7 4
2 Jasmine Moss 9 Mater Dei 13.26 1.7 4
3 Jordyn Co 10 Santa Margarita 13.36 0.8 1
4 Sarah Verin 10 Notre Dame (So) 13.52 1.0 3
5 Spencer Bennett 9 Santa Margarita 13.56 1.0 3
6 Michelle McSkane 12 Santa Margarita 13.58 1.7 4
7 Samantha Yeager 9 Newport Harbor 13.61 1.0 3
8 Aspen Moore 10 Murrieta Valley 13.68 1.0 3
9 Allie Bruno 9 Mater Dei 13.78 1.7 4
9 Katelyn McSkane 12 Santa Margarita 13.78 1.7 4
11 Morgan Wilson 9 Esperanza 13.81 1.1 2
12 Ashlyn van der Linden 9 Murrieta Valley 13.94 1.1 2
13 Abigail Ryan 11 Mater Dei 13.96 1.0 3
14 Julia Coloso 9 Notre Dame (So) 14.00 1.1 2
15 Katie Holcomb 9 Santa Margarita 14.03 1.1 2
16 Allison Molstad 11 Newport Harbor 14.14 1.1 2
16 Megan Labar 10 Tesoro 14.14 1.7 4
18 Alyssa Yokota 9 Santa Margarita 14.25 1.1 2
19 Ashley Holmes 11 Notre Dame (So) 14.32 1.0 3
20 Brelynn Maisey 9 Murrieta Valley 14.40 0.8 1
21 Nicole Fitzsimons 11 Newport Harbor 14.64 1.0 3
22 Kelly Fain 10 Esperanza 14.66 0.8 1
23 Arianna Rowlands 10 Tesoro 14.92 1.1 2
24 Jordan Moreno 11 St. Joseph 15.79 0.8 1
25 julissa gutierrez 11 St. Joseph 16.29 0.8 1
26 Tatiyana Takenaka 9 Esperanza 16.49 0.8 1
27 Karina Jiminez 11 St. Joseph 16.81 0.8 1
Event 22 Girls 100 Meter Dash Varsity
========================================================================
Name Year School Finals Wind H#
========================================================================
1 Loryn Nichols 12 Murrieta Valley 11.99 2.8 4
2 Heather Walleigh 10 Santa Margarita 12.34 2.8 4
3 Ruth Stone 11 Murrieta Valley 12.78 1.0 3
4 Emma Radan 10 Mater Dei 12.83 2.8 4
5 Geornay Willis 10 Santa Margarita 12.99 2.8 4
6 Paige Wernil 10 Murrieta Valley 13.05 1.0 3
7 Kassidy Gorman 10 Santa Margarita 13.07 2.8 4
8 Jenna DePillo 11 Santa Margarita 13.09 1.0 3
9 Emily Moss 12 Notre Dame (So) 13.28 2.8 4
10 Mesha Gallego 9 Notre Dame (So) 13.50 2.8 4
11 Taryn Lovett 12 Tesoro 13.53 0.6 2
12 Melissa Petersen 12 Tesoro 13.62 1.0 3
13 Alyssa Conrad 11 Tesoro 13.74 1.0 3
14 Allison Martinez 12 St. Joseph 13.82 0.6 2
15 Ebone Chatman 11 Notre Dame (So) 13.95 1.0 3
16 Mariah Durian 12 Esperanza 14.05 0.6 2
17 Diana Serrano 11 St. Joseph 15.08 0.6 2
Event 23 Boys 100 Meter Dash Frosh/Soph
========================================================================
Name Year School Finals Wind H#
========================================================================
1 Shay Fields 10 St. John Bosco 11.68 1.8 3 11.671
2 Adrian Hernandez 9 Mater Dei 11.68 1.8 3 11.678
3 Justin Cabrera 10 Santa Margarita 11.77 1.6 1
4 Tyus Loman 9 St. John Bosco 11.93 -0.4 2
5 Owen Manning 9 Notre Dame (So) 11.95 -0.4 2
6 Coby Cueva 10 Santa Margarita 12.04 -0.4 2
7 Parker Ginn 10 Tesoro 12.05 -0.4 2
8 Delvon Wingfield 10 Mater Dei 12.08 1.8 3
9 Trey Mitchell 10 Tesoro 12.11 -0.4 2
10 Kyle Sweet 9 Santa Margarita 12.25 1.8 3
11 Nikolas Lyons 9 Notre Dame (So) 12.27 1.8 3
12 Connor McKeen 9 Esperanza 12.32 1.6 1
13 Nick Heston 10 Newport Harbor 12.54 1.6 1
14 Dalvin Jones-Faavae 9 Mater Dei 12.58 1.8 3
15 Andrew Chang 10 Esperanza 12.65 1.6 1
16 Jose Michel 10 St. John Bosco 12.90 1.6 1
17 Harrison Tropp 9 Tesoro 13.10 1.6 1
18 Tyler Koenigsdorf 10 Esperanza 13.22 1.6 1
Event 24 Boys 100 Meter Dash Junior Varsity
========================================================================
Name Year School Finals Wind H#
========================================================================
1 Blake Ducker 11 Mater Dei 11.60 1.4 3
2 Royce Moore 12 St. John Bosco 11.87 1.4 3
3 Blaine Rieger 12 Santa Margarita 12.00 1.9 2
4 Connor O'Brien 11 Santa Margarita 12.09 1.4 3
5 Darian Bryant 11 Notre Dame (So) 12.12 1.9 2
6 Art Ong-Yui 10 Notre Dame (So) 12.19 1.4 3 12.185
7 Nate Rodriguez 10 Esperanza 12.19 1.4 3 12.188
8 Nathan Romo 11 Mater Dei 12.31 1.9 2
9 Kathan Fish 10 Tesoro 12.36 3.1 1
10 Ryan Travisano 10 Esperanza 12.51 1.9 2
11 Austin Reed 10 Murrieta Valley 12.63 3.1 1
12 Brett Mullins 9 Esperanza 12.64 3.1 1
13 Allen Lozano 11 St. John Bosco 12.69 3.1 1
14 Trent Cobbs 10 Notre Dame (So) 12.72 1.9 2
15 Nathan Cooper 9 Murrieta Valley 12.90 3.1 1
16 Brandon Currier 9 Murrieta Valley 13.07 3.1 1
17 Nick Alvear 11 Tesoro 13.10 3.1 1
Event 25 Boys 100 Meter Dash Varsity
========================================================================
Name Year School Finals Wind H#
========================================================================
1 Khalfani Muhammad 11 Notre Dame (So) 10.77 -0.8 4
2 Eric McDaniel 12 Notre Dame (So) 11.00 -0.8 4
3 Bryce Treggs 12 St. John Bosco 11.22 -0.8 4
4 Alex Suchesk 10 Santa Margarita 11.24 -0.8 4
5 Matt Graban 12 Santa Margarita 11.35 1.7 3
6 Nick Holland 11 Notre Dame (So) 11.42 -0.8 4
7 Derrick Ronquillo 12 Mater Dei 11.57 1.7 3
8 Nate Guzman 12 Esperanza 11.71 -0.8 4
8 Cameron Cuevas 12 Newport Harbor 11.71 0.7 2
10 Darren Walker 11 St. John Bosco 11.76 1.7 3
11 Brandon Magpauso 12 Murrieta Valley 11.84 0.7 2
12 Lavon Wright 12 Mater Dei 11.92 1.7 3
13 Jalah Patten 12 Murrieta Valley 11.96 1.7 3
14 Arlandis Hinton 11 St. John Bosco 11.99 0.7 2
15 Joey Biedebach 11 Esperanza 12.01 0.7 2
16 Saxon Sykes Cropper 11 Murrieta Valley 12.16 0.7 2
17 Blake Miyahara 11 Tesoro 12.70 0.7 2
Event 26 Girls 800 Meter Run Junior Varsity
================================================================
Name Year School Finals
================================================================
1 Tiffany Costello 9 Tesoro 2:37.75
2 Erin Barth 9 Newport Harbor 2:42.47
3 Ringnyuh Shey 10 Murrieta Valley 2:43.19
4 Brittney Martinez 9 St. Joseph 2:43.46
5 Berkley Van Oostendorp 10 Newport Harbor 2:43.60
6 Ashley Davis 9 Murrieta Valley 2:44.08
7 Shauna Rinaldi El-Abd 10 Tesoro 2:44.16
8 Loni Byers 10 Murrieta Valley 2:46.36
9 Savanna Forstot 10 Santa Margarita 2:49.61
10 Alea Guirado 10 Mater Dei 2:50.46
11 Katie Gaitan 11 Mater Dei 2:52.15
12 Idalis Gonzalez 9 St. Joseph 2:53.80
13 Brittany Genthret 9 Santa Margarita 2:54.34
14 Mackenzie Leveque 11 Santa Margarita 2:56.72
15 Cielo Zavala-Esquivel 10 St. Joseph 2:58.83
16 Austen Farley 11 Mater Dei 3:02.47
Event 27 Girls 800 Meter Run Varsity
================================================================
Name Year School Finals
================================================================
1 Sarah Porter 12 Santa Margarita 2:20.70
2 Rachel Roesgen 12 Santa Margarita 2:20.82
3 Marissa Pluma 9 St. Joseph 2:26.49
4 Rachel Strohmeyer 12 Murrieta Valley 2:28.45
5 Erica Liem 10 Tesoro 2:30.27
6 Christina Nauta 12 Esperanza 2:32.60
7 Amanda Neverman 12 Murrieta Valley 2:41.29
8 Gabi Gonzalez 11 St. Joseph 2:41.31
9 Danielle Duron 12 Mater Dei 2:47.00
10 Jennifer Hill 12 Tesoro 2:48.04
11 Dominique Duron 9 Mater Dei 2:52.18
12 Kiera Johnsen 12 Mater Dei 2:57.55
Event 28 Boys 800 Meter Run Frosh/Soph
================================================================
Name Year School Finals
================================================================
1 Alec Brower 10 Tesoro 2:19.39
2 Kevin Grossman 10 Esperanza 2:21.09
3 Alberto Chavez 9 Esperanza 2:21.45
4 Christian Meyer 9 Notre Dame (So) 2:21.95
5 Michael Mudy 9 Notre Dame (So) 2:21.96
6 Neff Reyes 9 Esperanza 2:26.51
7 Shawn Trejo 9 Tesoro 2:27.54
8 Christian Colonna 9 Mater Dei 2:29.98
9 Qui Luong 9 Mater Dei 2:30.60
10 Matt Rudy 9 Tesoro 2:31.10
11 Derek Taveres 9 Notre Dame (So) 2:34.19
12 Jonathan Saba 9 Mater Dei 2:35.12
13 Miguel Hernandez 10 St. John Bosco 2:37.90
Event 29 Boys 800 Meter Run Junior Varsity
================================================================
Name Year School Finals
================================================================
1 Logan Myers 10 Tesoro 2:11.02
2 Jorge Matus 12 St. John Bosco 2:12.15
3 Jordan Smith 12 St. John Bosco 2:13.49
4 Ahmad Nawfal 11 Esperanza 2:18.65
5 Carl Carlson 10 Murrieta Valley 2:20.46
6 Armondo deArmas 10 Mater Dei 2:21.83
7 Jake Farwell 10 Mater Dei 2:21.90
8 Derek Reid 9 Murrieta Valley 2:22.14
9 Kevin Llamas 11 Esperanza 2:22.43
10 Kyle Olinger 12 Santa Margarita 2:24.04
11 Chad Sokol 12 Murrieta Valley 2:25.55
12 Travis Sovronec 11 Tesoro 2:27.01
13 Brandon Ayala 11 St. John Bosco 2:27.48
14 Alexander Levia 9 Tesoro 2:29.71
15 Zack Fier 12 Santa Margarita 2:29.79
16 Matt Worden 10 Esperanza 2:32.94
Event 30 Boys 800 Meter Run Varsity
================================================================
Name Year School Finals
================================================================
1 Jason Engel 11 Santa Margarita 1:59.23
2 Danny Martinez 12 St. John Bosco 2:01.94
3 Alex Otero 11 Notre Dame (So) 2:05.34
4 Ryan Nelson 12 Notre Dame (So) 2:06.85
5 Jason Moreno 12 Newport Harbor 2:07.01
6 Josh Lopez 10 St. John Bosco 2:07.16
7 Kyle Tidgwell 12 Notre Dame (So) 2:07.41
8 Garrett Rodriguez 11 St. John Bosco 2:11.89
9 Chase Vinsky 11 Murrieta Valley 2:13.89
10 Kyle Enos 11 Esperanza 2:14.26
11 Rhys Couser 10 Tesoro 2:14.94
12 Jose Villegas 10 Murrieta Valley 2:15.80
13 Ryan Llamas 11 Esperanza 2:15.83
14 Braden Domier 11 Santa Margarita 2:16.53
15 Brian Morales 12 Esperanza 2:22.68
16 Scott Gamble 12 Murrieta Valley 2:23.01
Event 31 Girls 300 Meter Hurdles Junior Varsity
===================================================================
Name Year School Finals H#
===================================================================
1 Taylor Sims 10 Tesoro 48.23 3
2 Alexa Boyer 11 Mater Dei 50.14 3
3 Haley Kline 9 Esperanza 53.18 3
4 Talia Stewart 9 Mater Dei 53.35 3
5 Allie Rowe 11 Santa Margarita 55.40 3
6 Baylee Pfeil 10 Tesoro 56.07 2
7 Evelyn Murphy 9 Santa Margarita 1:00.24 2
8 Elizabeth Brown 11 Esperanza 1:01.95 2
9 Angelica Thai 11 Esperanza 1:04.02 2
10 Sami Globa 11 St. Joseph 1:04.44 2
Event 32 Girls 300 Meter Hurdles Varsity
===================================================================
Name Year School Finals H#
===================================================================
1 Caroline Hilley 10 Santa Margarita 44.98 2
2 Brittany Hanrahan 11 Mater Dei 47.38 2
3 Tatiana Martinez 12 Murrieta Valley 48.30 2
4 Lauren Ekman 12 Mater Dei 49.23 2
5 Mariah Durian 12 Esperanza 50.50 2
6 Emily Troung 10 Notre Dame (So) 50.79 1
7 Paige Ruedy 10 Notre Dame (So) 51.71 2
8 Jordan Facey 12 Esperanza 52.16 1
9 Devin Roybal 12 Murrieta Valley 53.57 1
10 Theressa Ghalbouney 12 Notre Dame (So) 53.71 2
11 Deseree Iona 11 St. Joseph 55.63 1
12 Sam Barajas 12 St. Joseph 1:00.31 1
Event 33 Boys 300 Meter Hurdles Frosh/Soph
===================================================================
Name Year School Finals H#
===================================================================
1 Scott Marquardt 10 Notre Dame (So) 44.14 3
2 Rory Fleming 10 Newport Harbor 45.88 3
3 Cameron Page 10 Notre Dame (So) 46.18 3
4 Grant Kraemer 10 Notre Dame (So) 46.31 3
5 Jacob Rodriguez 10 Esperanza 48.50 2
6 Andrew Savage 10 Tesoro 48.56 2
7 Brian Jeannis 10 Esperanza 49.39 2
8 Cole Bowen 9 Santa Margarita 49.71 3
9 Cameron Cusiter 10 Esperanza 49.96 2
10 Josh Kilmer 10 Tesoro 50.01 2
11 Dean Davidson 10 St. John Bosco 50.56 2
12 Matthew Columbres 10 Santa Margarita 52.83 3
13 Harrison Tropp 9 Tesoro 53.66 1
14 Jake Noblett 9 Newport Harbor 54.76 2
Event 34 Boys 300 Meter Hurdles Junior Varsity
===================================================================
Name Year School Finals H#
===================================================================
1 Kyle Barrett 11 Notre Dame (So) 43.00 2
2 Bronx Reyes 11 Notre Dame (So) 43.74 2
3 Matt Rodriguez 11 Mater Dei 44.03 2
4 Alexander Moret 10 Murrieta Valley 44.06 2
5 Ian Herman 10 Murrieta Valley 44.69 1
6 Arya Mehrtash 12 Santa Margarita 44.87 2
7 Andrew Chittaphong 10 Murrieta Valley 46.30 1
8 Andrew Robinson 11 Tesoro 48.46 1
Event 35 Boys 300 Meter Hurdles Varsity
===================================================================
Name Year School Finals H#
===================================================================
1 Corey Hammond 12 Mater Dei 39.58 2
2 JJ Goeden 11 Mater Dei 40.55 2
3 Jesse Galvan 12 Notre Dame (So) 42.20 2
4 Gerard Martin 10 Murrieta Valley 43.02 2
5 Kyle Ause 11 Notre Dame (So) 43.18 2
6 Aaron Fulcher 12 Tesoro 44.10 2
7 Aaron Paisley 11 Murrieta Valley 44.35 1
8 Cody Page 12 Notre Dame (So) 44.87 2
9 Kale Novak 12 Murrieta Valley 45.12 1
Event 36 Girls 200 Meter Dash Junior Varsity
========================================================================
Name Year School Finals Wind H#
========================================================================
1 Abigail Ryan 11 Mater Dei 28.61 -0.3 4
2 Kaelen Kay 10 Santa Margarita 28.96 -0.3 4
3 Allie Bruno 9 Mater Dei 29.11 -0.3 4
3 Brelynn Maisey 9 Murrieta Valley 29.11 1.4 3
5 Lauren Safady 9 Notre Dame (So) 29.13 -0.3 4
5 Allison Molstad 11 Newport Harbor 29.13 1.4 3
7 Ary'l Burgoyne 9 Notre Dame (So) 29.23 -0.3 4
8 Rachel Weissberg 10 Murrieta Valley 29.42 1.4 3
9 Hannah Mumm 11 Newport Harbor 30.00 1.4 3
10 Megan Labar 10 Tesoro 30.06 1.4 3
11 Kate McKay 9 Mater Dei 30.29 -0.3 4
12 Drew Soriano 9 Murrieta Valley 30.38 1.4 3
13 Sophia Ayala 9 Esperanza 30.82 0.6 2
14 Sophia Neiswonger 9 Santa Margarita 31.38 0.6 2
15 Isabella Colby 9 Santa Margarita 32.10 0.6 2
16 Kristin Nelson 10 Esperanza 32.81 0.6 2
17 Jordan Moreno 11 St. Joseph 32.91 -0.5 1
18 Sierra Sorenson 9 Esperanza 33.61 0.6 2
19 Karla Jiminez 11 St. Joseph 34.22 -0.5 1
20 julissa gutierrez 11 St. Joseph 35.54 -0.5 1
Event 37 Girls 200 Meter Dash Varsity
========================================================================
Name Year School Finals Wind H#
========================================================================
1 Loryn Nichols 12 Murrieta Valley 25.44 1.2 3
2 Alex Gilbert 11 Santa Margarita 26.16 1.2 3
3 Abigail Corn 12 Murrieta Valley 26.97 1.3 2
4 Camilla Nwokedi 9 Notre Dame (So) 27.29 1.2 3
5 India Hones 9 St. Joseph 27.36 1.4 1
6 Mesha Gallego 9 Notre Dame (So) 27.75 1.2 3
7 Paige Wernil 10 Murrieta Valley 27.76 1.3 2
8 Malin Smith 10 Notre Dame (So) 28.12 1.2 3
9 Alyssa Conrad 11 Tesoro 28.97 1.3 2
10 Allison Martinez 12 St. Joseph 29.05 1.4 1
11 Peri Howser 11 Newport Harbor 29.36 1.4 1
12 Melissa Petersen 12 Tesoro 29.56 1.3 2
13 Dianna Singas 12 Esperanza 30.16 1.4 1
14 Diana Serrano 11 St. Joseph 31.97 1.4 1
Event 38 Boys 200 Meter Dash Frosh/Soph
========================================================================
Name Year School Finals Wind H#
========================================================================
1 Adrian Hernandez 9 Mater Dei 23.67 1.2 3
2 Shay Fields 10 St. John Bosco 23.71 1.2 3
3 Tyus Loman 9 St. John Bosco 24.20 1.3 2
4 Max Leon 10 Notre Dame (So) 24.41 1.2 3
5 Garrett Estrada 9 Mater Dei 24.59 1.3 2
6 Kyle Sweet 9 Santa Margarita 24.86 1.2 3
7 Parker Ginn 10 Tesoro 24.95 1.3 2
8 Sean Gast 9 Santa Margarita 24.96 1.0 1
9 Nikolas Lyons 9 Notre Dame (So) 25.16 1.2 3
10 Joshua Bedolla 10 St. John Bosco 25.28 1.3 2
11 Kamran Tariq 9 Tesoro 25.46 1.3 2
12 Zack McMahon 9 Esperanza 25.75 1.0 1
13 Andrew Chang 10 Esperanza 26.06 1.0 1
14 Sean Page 9 Santa Margarita 26.15 1.3 2
15 Josh Gutierrez 9 Esperanza 26.82 1.0 1
16 Dalvin Jones-Faavae 9 Mater Dei 27.07 1.2 3
Event 39 Boys 200 Meter Dash Junior Varsity
========================================================================
Name Year School Finals Wind H#
========================================================================
1 Josh Baldus 12 Santa Margarita 23.53 0.9 3
2 Blake Ducker 11 Mater Dei 23.92 0.9 3
3 Royce Moore 12 St. John Bosco 23.94 0.9 3
4 Michael Young 11 St. John Bosco 24.60 0.7 2
5 Connor O'Brien 11 Santa Margarita 24.65 0.9 3
6 Kevin Daily 11 Notre Dame (So) 24.73 0.7 2
7 Ryan Travisano 10 Esperanza 24.90 0.7 2
8 Nathan Romo 11 Mater Dei 24.94 0.9 3
9 Art Ong-Yui 10 Notre Dame (So) 24.95 0.9 3
10 Nate Rodriguez 10 Esperanza 25.41 0.7 2
11 Carter Young 9 Murrieta Valley 25.80 0.7 2
12 Matt Casey 11 Santa Margarita 25.99 0.7 2
13 Allen Lozano 11 St. John Bosco 26.06 1.0 1
14 Trent Cobbs 10 Notre Dame (So) 26.20 0.9 3
15 Robert Criske 10 Murrieta Valley 26.66 1.0 1
16 Nick Alvear 11 Tesoro 26.88 1.0 1
17 Colin McGrew 11 Tesoro 27.01 1.0 1
Event 40 Boys 200 Meter Dash Varsity
========================================================================
Name Year School Finals Wind H#
========================================================================
1 Khalfani Muhammad 11 Notre Dame (So) 22.15 1.0 3
2 Michael Rogers 12 St. John Bosco 22.19 1.0 3
3 Austin Hazel 12 Mater Dei 22.60 1.0 3
4 Koa Farmer 10 Notre Dame (So) 23.14 1.3 2
5 Matt Graban 12 Santa Margarita 23.27 1.0 3
6 George Petsas 11 Esperanza 23.50 1.3 2
7 Arlandis Hinton 11 St. John Bosco 23.54 1.3 2
8 Eric McDaniel 12 Notre Dame (So) 23.85 1.0 3
9 Lavon Wright 12 Mater Dei 23.98 1.0 3
10 Joey Biedebach 11 Esperanza 24.17 0.7 1
11 Derrick Ronquillo 12 Mater Dei 24.25 1.0 3
12 Lafayette Waters 10 Murrieta Valley 24.41 0.7 1
13 Brandon Magpauso 12 Murrieta Valley 24.67 1.3 2
14 Khalif Murrell 12 Esperanza 24.68 0.7 1
15 James Jacobs 11 Tesoro 25.41 0.7 1
Event 41 Girls 1600 Meter Run Junior Varsity
================================================================
Name Year School Finals
================================================================
1 Brooke Pigneri 10 Santa Margarita 5:39.81
2 Ashley Ima 10 Newport Harbor 5:41.30
3 Katelyn Mead 10 Newport Harbor 5:48.70
4 Melissa Ledesma 9 Esperanza 5:48.91
5 Gabby De La Rosa 9 Esperanza 5:49.57
6 Danielle Oden 10 Esperanza 5:55.59
7 Miranda Cornwell Notre Dame (So) 5:56.07
8 Megan Farley 11 Newport Harbor 5:58.99
9 Kerri Ewing 11 Mater Dei 6:00.74
10 Mia Gilbert 11 Notre Dame (So) 6:01.10
11 Maggie Guinnip 11 Notre Dame (So) 6:02.73
12 Erin Trotter 10 Mater Dei 6:03.41
13 Ashley Littlefield 12 Mater Dei 6:04.20
14 Katherine Gallaher 9 Esperanza 6:05.09
15 Alexandra Dymek 10 Newport Harbor 6:06.92
16 Ashley Davis 9 Murrieta Valley 6:10.93
17 Ashley Graves 11 Santa Margarita 6:15.38
18 MK Trotter 12 Mater Dei 6:16.94
19 Joanna Calhoun 10 Murrieta Valley 6:20.27
20 Aracely Baquero 10 Murrieta Valley 6:23.28
21 Leighton Smith 9 St. Joseph 6:25.72
22 Lauren Clemence 12 Newport Harbor 6:26.66
23 Alex Carino 10 Santa Margarita 6:27.56
24 Madison Walsh 10 Santa Margarita 6:41.09
25 Antoinette Miller Navarr 10 Murrieta Valley 6:46.61
26 Marlina Barnett-Crespo 10 Notre Dame (So) 6:49.57
27 Brittney Martinez 9 St. Joseph 6:50.82
28 Melanie Bryah 11 Murrieta Valley 6:51.49
29 Sophia Ellis 11 Santa Margarita 6:53.62
30 Nicole Beltran 9 St. Joseph 7:33.09
31 Megan Castro 9 St. Joseph 9:55.06
Event 42 Boys 1600 Meter Run Junior Varsity
================================================================
Name Year School Finals
================================================================
1 Derek Montes 10 Tesoro 4:53.64
2 Garrett Smathers 11 Tesoro 4:55.92
3 Colin McGrew 11 Tesoro 5:00.05
4 Jonathan Alvarado 11 Mater Dei 5:04.74
5 Alex Reilly 11 Notre Dame (So) 5:07.95
6 Nick Macias 11 Mater Dei 5:08.91
7 Matt Carpenter 10 Murrieta Valley 5:09.60
8 Jacob Cottle 11 Tesoro 5:10.74
9 Chad Sokol 12 Murrieta Valley 5:12.87
10 Mario Garcia 11 St. John Bosco 5:13.12
11 Taylor Koh 11 Tesoro 5:13.85
12 Anthony Giove 12 Mater Dei 5:14.71
13 Austin Human 11 Esperanza 5:16.15
14 Brody Hermesmeyer 10 Murrieta Valley 5:19.88
15 Ahmad Nawfal 11 Esperanza 5:22.71
16 Joe Micalizio 11 Santa Margarita 5:26.81
17 Daniel Smith 12 Santa Margarita 5:27.96
18 Jack Hanle 12 Mater Dei 5:30.44
19 Thomas Castro 10 Esperanza 5:34.24
20 Eddie Robelo 9 Esperanza 5:36.01
21 Jeff Thrash 11 Santa Margarita 5:39.88
22 Matt Saylors 9 Murrieta Valley 5:41.95
23 William Hunter 10 Esperanza 5:45.38
Event 43 Boys 4x400 Meter Relay Frosh/Soph
================================================================
School Finals
================================================================
1 Mater Dei 3:37.97
2 Notre Dame (So) 3:38.13
3 Santa Margarita 3:42.27
4 St. John Bosco 3:52.15
5 Tesoro 4:17.56
Event 44 Girls 4x400 Meter Relay Junior Varsity
================================================================
School Finals
================================================================
1 Santa Margarita 4:18.19
2 Mater Dei 4:23.24
3 Murrieta Valley 4:36.13
4 Notre Dame (So) 4:38.03
5 Tesoro 4:53.65
Event 45 Boys 4x400 Meter Relay Junior Varsity
================================================================
School Finals
================================================================
1 Mater Dei 3:41.55
2 Notre Dame (So) 3:43.20
3 Santa Margarita 3:44.01
4 Murrieta Valley 3:53.02
Event 46 Girls 4x400 Meter Relay Varsity
================================================================
School Finals
================================================================
1 Mater Dei 4:02.50
2 Santa Margarita 4:07.59
3 Murrieta Valley 4:14.61
4 Notre Dame (So) 4:14.86
5 St. Joseph 4:43.62
Event 47 Boys 4x400 Meter Relay Varsity
================================================================
School Finals
================================================================
1 St. John Bosco 3:21.65
2 Mater Dei 3:24.00
3 Notre Dame (So) 3:25.83
4 Murrieta Valley 3:38.78
5 Tesoro 3:39.33
Event 108 Boys Long Jump Varsity
=====================================================================
Name Year School Finals Wind
=====================================================================
1 Corey Hamilton 12 Esperanza 20-10.00 NWI
2 Jeffrey Gasperik 12 Murrieta Valley 20-04.25 NWI
3 Daniel Adame 11 Murrieta Valley 19-08.75 NWI
4 Cameron Cuevas 12 Newport Harbor 18-06.00 NWI
5 Ryan Finnie 11 Mater Dei 18-04.00 NWI
6 Aiden Elias 12 Notre Dame (So) 18-01.25 NWI
7 Art Hinojosa 11 Mater Dei 18-00.00 NWI
8 Cam Moreno 11 Santa Margarita 17-11.00 NWI
9 Lafayette Waters 10 Murrieta Valley 17-08.75 NWI
10 Adam Yeomans 12 Newport Harbor 17-08.50 NWI
11 Dalton Sherwood 12 Murrieta Valley 17-07.25 NWI
12 Darren Walker 11 St. John Bosco 16-09.50 NWI
13 Eric Young 11 Tesoro 15-09.00 NWI
Event 109 Boys Triple Jump Varsity
=====================================================================
Name Year School Finals Wind
=====================================================================
1 Ryan Finnie 11 Mater Dei 41-02.50 NWI
2 Corey Hamilton 12 Esperanza 40-04.00 NWI
3 Art Hinojosa 11 Mater Dei 38-09.00 NWI
4 Cam Moreno 11 Santa Margarita 38-03.50 NWI
5 Jamie Cheng 11 Tesoro 37-01.00 NWI
6 Spencer Porter 10 Notre Dame (So) 36-10.75 NWI
7 Darren Walker 11 St. John Bosco 36-01.50 NWI
Event 110 Boys High Jump Varsity
================================================================
Name Year School Finals
================================================================
1 Austin Hazel 12 Mater Dei 6-04.00
2 Daniel Adame 11 Murrieta Valley 6-02.00
3 Ryan Finnie 11 Mater Dei 6-00.00
4 Thomas Djergian 10 Notre Dame (So) 6-00.00
5 Aiden Elias 12 Notre Dame (So) 5-10.00
6 Branden Moore 12 Murrieta Valley 5-10.00
7 Cameron Cuevas 12 Newport Harbor 5-04.00
-- Daniel Chan 11 Santa Margarita NH
Event 111 Boys Pole Vault Varsity
================================================================
Name Year School Finals
================================================================
1 Peter Chapman 12 Murrieta Valley 15-07.00
2 Parker Curry 10 Santa Margarita 14-06.00
3 Michael Rovzar 11 Mater Dei 14-06.00
4 Jack Gallivan 12 Mater Dei 14-00.00
5 Fritz Howser 12 Newport Harbor 14-00.00
6 Christian Abbey 11 Newport Harbor 13-00.00
7 Mitch McDermott 11 Tesoro 13-00.00
8 Quinten Franco 11 Notre Dame (So) 12-06.00
9 David Munoz 11 Newport Harbor 12-00.00
10 Derek Bouma 11 Murrieta Valley 11-06.00
11 Nathan Sukhov 10 Murrieta Valley 11-00.00
11 Mike Anderson 11 Santa Margarita 11-00.00
11 Cameron Edinburg 11 Notre Dame (So) 11-00.00
14 Ryan Deushane 11 Tesoro 10-00.00
Event 112 Boys Shot Put Varsity
================================================================
Name Year School Finals
================================================================
1 Ethan Cochran 12 Newport Harbor 57-04.00
2 Steve Michaelsen 12 Newport Harbor 55-10.00
3 Javier Venegas 12 Newport Harbor 55-07.00
4 Marty Taylor 11 Newport Harbor 51-11.00
5 Malik McMorris 9 Mater Dei 50-10.00
6 Michael Payne 11 Murrieta Valley 47-02.00
7 Daniel Sanchez 11 Mater Dei 45-09.00
8 Noah Johnson 12 Murrieta Valley 45-00.00
9 Max Tuerk Santa Margarita 43-05.00
9 Ed Rubalcava 10 Esperanza 43-05.00
11 Kevin Little 12 Murrieta Valley 43-01.00
12 Chris Frost Santa Margarita 40-09.00
13 Jed Encarnacion 12 Tesoro 40-03.00
14 Rohit Jayawardhan 12 Tesoro 40-02.00
15 J.J. Moothart 12 Santa Margarita 39-11.00
16 Daniel Hurtado 11 Mater Dei 39-04.00
17 Mack Pierson 12 Santa Margarita 38-00.00
18 Christian Ydens 9 Santa Margarita 36-03.00
19 David Velasquez 10 Esperanza 35-00.00
20 Patrick Justus 12 Murrieta Valley 33-06.00
Event 113 Boys Discus Throw Varsity
================================================================
Name Year School Finals
================================================================
1 Ethan Cochran 12 Newport Harbor 200-10
2 Steve Michaelsen 12 Newport Harbor 180-06
3 Javier Venegas 12 Newport Harbor 159-07
4 Marty Taylor 11 Newport Harbor 140-07
5 Michael Payne 11 Murrieta Valley 136-07
6 Kevin Little 12 Murrieta Valley 134-09
7 Ed Rubalcava 10 Esperanza 126-03
8 Noah Johnson 12 Murrieta Valley 122-10
9 Daniel Hurtado 11 Mater Dei 116-00
10 Malik McMorris 9 Mater Dei 111-07
11 Daniel Sanchez 11 Mater Dei 103-11
12 David Velasquez 10 Esperanza 103-06
13 Christian Ydens 9 Santa Margarita 90-00
14 Rohit Jayawardhan 12 Tesoro 86-10
15 Chris Frost Santa Margarita 84-01
16 Randy Bristol 11 St. John Bosco 83-04
17 Jed Encarnacion 12 Tesoro 82-02
18 J.J. Moothart 12 Santa Margarita 81-01
19 Max Tuerk Santa Margarita 80-02
Event 124 Boys Long Jump Frosh/Soph
=====================================================================
Name Year School Finals Wind
=====================================================================
1 Trey Mitchell 10 Tesoro 18-10.00 NWI
2 Metro Malasavage 9 Santa Margarita 18-03.00 NWI
3 Riley Gaddis 9 Newport Harbor 17-11.00 NWI
4 Rory Fleming 10 Newport Harbor 17-07.25 NWI
5 Gavin Fitzgerald 10 Santa Margarita 17-04.50 NWI
6 David Lugo 10 Mater Dei 17-02.50 NWI
7 James Colley 9 Santa Margarita 17-00.00 NWI
8 Justin Ruiz 10 Notre Dame (So) 16-06.50 NWI
8 Sean Page 9 Santa Margarita 16-06.50 NWI
10 Jose Michel 10 St. John Bosco 15-08.75 NWI
11 Unknown Josian 9 Santa Margarita 15-07.00 NWI
12 Zach Unknown Tesoro 15-00.75 NWI
13 Chris Beal 10 Santa Margarita 14-10.25 NWI
14 Kayvea Resa 9 Santa Margarita 14-05.50 NWI
15 Garrett Estrada 9 Mater Dei 10-00.25 NWI
Event 125 Boys Triple Jump Frosh/Soph
=====================================================================
Name Year School Finals Wind
=====================================================================
1 Justin Ruiz 10 Notre Dame (So) 36-02.00 NWI
2 Josiah Chung 9 Santa Margarita 34-02.00 NWI
-- Harrison Tropp 9 Tesoro FOUL
-- Jose Michel 10 St. John Bosco FOUL
Event 126 Boys High Jump Frosh/Soph
================================================================
Name Year School Finals
================================================================
1 Gavin Fitzgerald 10 Santa Margarita 5-06.00
2 Justin Ruiz 10 Notre Dame (So) 5-06.00
3 Koa Farmer 10 Notre Dame (So) 5-06.00
4 Zachary Frohack 10 Tesoro 5-06.00
5 Noah Demeke 10 Esperanza 5-02.00
6 Tony Simmons 10 Tesoro 4-10.00
6 Ian Van 10 Esperanza 4-10.00
6 Jacob Miller 9 Esperanza 4-10.00
6 Matt Schneider 10 Newport Harbor 4-10.00
6 Christian Pikes 10 Notre Dame (So) 4-10.00
6 Andrew Savage 10 Tesoro 4-10.00
6 Tristan Manning 9 Newport Harbor 4-10.00
-- Tice Bell 10 Newport Harbor NH
-- Andrew Casteneda 10 Notre Dame (So) NH
Event 127 Boys Pole Vault Frosh/Soph
================================================================
Name Year School Finals
================================================================
1 Riley Turner 10 Mater Dei 11-09.00
2 Tomas Crowe 10 Notre Dame (So) 11-09.00
3 Neil Ridens 10 Santa Margarita 9-06.00
4 Sam Herbst 10 Santa Margarita 8-09.00
4 Nick Pletke 10 Santa Margarita 8-09.00
6 Kyle Fegan 9 Newport Harbor 8-09.00
7 Patrick Regele 9 Notre Dame (So) 8-09.00
8 Ryan Roecker 9 Tesoro 8-00.00
9 Austin Carpenter 9 Tesoro 8-00.00
9 Joshua Carter 9 Tesoro 8-00.00
-- Briggs Yahn 9 Newport Harbor NH
-- Charlie Crook 9 Newport Harbor NH
Event 128 Boys Shot Put Frosh/Soph
================================================================
Name Year School Finals
================================================================
1 Ramsey Hufford 10 Newport Harbor 53-08.00
2 Sam Bush 10 Newport Harbor 49-02.00
3 Will Fortier 10 Newport Harbor 48-02.00
4 Matt Katnik 9 St. John Bosco 47-06.00
5 Dana Williams 10 St. John Bosco 45-02.00
6 T.J. Tarazevits 10 Newport Harbor 44-01.00
7 Anthony Robles 10 Esperanza 40-04.00
8 Steven Barela 10 Newport Harbor 39-09.00
9 Adrian Montano 9 Esperanza 36-07.00
10 Zach Josipovich 9 Santa Margarita 35-01.00
11 Dano Josipovich 9 Santa Margarita 34-10.00
12 Nick Sanchez 9 Mater Dei 34-04.00
13 Jacob Miller 9 Esperanza 32-05.00
14 Joe Imburgia 9 Santa Margarita 30-02.00
15 Derek Owens 9 Tesoro 29-00.00
16 Zack Taubman 9 Tesoro 28-00.00
Event 129 Boys Discus Throw Frosh/Soph
================================================================
Name Year School Finals
================================================================
1 Ramsey Hufford 10 Newport Harbor 133-08
2 Will Fortier 10 Newport Harbor 118-06
3 Steven Barela 10 Newport Harbor 107-10
4 T.J. Tarazevits 10 Newport Harbor 97-10
5 Adrian Montano 9 Esperanza 97-07
6 Matt Katnik 9 St. John Bosco 89-09
7 Jacob Miller 9 Esperanza 85-07
8 Zack Taubman 9 Tesoro 83-07
9 Nick Sanchez 9 Mater Dei 81-00
10 Dano Josipovich 9 Santa Margarita 74-11
11 Joe Imburgia 9 Santa Margarita 62-07
12 Zach Josipovich 9 Santa Margarita 62-01
13 Derek Owens 9 Tesoro 55-05
Event 140 Boys Long Jump Junior Varsity
=====================================================================
Name Year School Finals Wind
=====================================================================
1 Cameron Leaali 12 Santa Margarita 17-02.00 NWI
2 Evan Kearn 11 Santa Margarita 16-03.00 NWI
3 Brandon Currier 9 Murrieta Valley 16-02.00 NWI
4 David Thompson 12 Mater Dei 15-08.50 NWI
4 Cameron Page 10 Notre Dame (So) 15-08.50 NWI
6 Colin McGrew 11 Tesoro 15-08.00 NWI
7 Jon Teetsel 9 Notre Dame (So) 15-06.50 NWI
8 Nathan Cooper 9 Murrieta Valley 15-01.00 NWI
9 Robert Criske 10 Murrieta Valley 14-01.25 NWI
10 Braden Kelly 12 Santa Margarita 13-06.25 NWI
11 Abram Estafanous 12 St. John Bosco 13-03.00 NWI
Event 141 Boys Triple Jump Junior Varsity
=====================================================================
Name Year School Finals Wind
=====================================================================
1 Bernardo Rabago 11 Murrieta Valley 32-03.75 NWI
-- Abram Estafanous 12 St. John Bosco FOUL
Event 142 Boys High Jump Junior Varsity
================================================================
Name Year School Finals
================================================================
1 Sean Taylor 10 Esperanza 5-02.00
1 Hector Martin 11 Mater Dei 5-02.00
3 Ralph Linzmeier 12 Santa Margarita 5-00.00
4 Brandon Currier 9 Murrieta Valley 5-00.00
5 Jon Teetsel 9 Notre Dame (So) 4-10.00
-- Royce Moore 12 St. John Bosco NH
-- Remy Thigpen 10 Murrieta Valley NH
-- Bernardo Rabago 11 Murrieta Valley NH
-- Kyle Harrison 10 Murrieta Valley NH
-- Justin Taylor 12 Murrieta Valley NH
Event 143 Boys Pole Vault Junior Varsity
================================================================
Name Year School Finals
================================================================
1 Clint Gallivan 11 Mater Dei 12-06.00
2 Charles DeLaCruz 12 Mater Dei 11-09.00
3 Patrick Roide 11 Mater Dei 11-00.00
4 Remy Thigpen 10 Murrieta Valley 11-00.00
5 Brady Nilsson 10 Tesoro 10-03.00
6 Alex Schwarzenbach 9 Newport Harbor 10-03.00
6 Nick Elliott 9 Newport Harbor 10-03.00
8 Miles Vinikow 10 Newport Harbor 9-06.00
9 Zach Volpo 11 Santa Margarita 9-06.00
10 Stephen Ramirez 10 Santa Margarita 9-06.00
11 Garrett Barton 12 Murrieta Valley 8-09.00
12 Brenton Graham 11 Santa Margarita 8-09.00
13 Christain McCoy 11 Murrieta Valley 8-00.00
-- Brett Nilsson 10 Tesoro NH
Event 144 Boys Shot Put Junior Varsity
================================================================
Name Year School Finals
================================================================
1 Ryan Borak 11 Esperanza 44-07.00
2 Blake Dickus 10 Santa Margarita 40-06.00
3 Ryan Gardner 12 Santa Margarita 35-08.00
4 Patrick Encarnacion 10 Tesoro 35-01.00
5 Michael Serrano 12 St. John Bosco 33-02.00
6 Ryan Hancock 10 Esperanza 32-06.00
7 Colton Walker 9 Tesoro 31-07.00
8 Kervin Aparicio 10 Santa Margarita 30-11.00
9 Mike Rogers 12 Esperanza 29-10.00
10 Adrian Pardo 11 Mater Dei 27-09.00
11 Adam Bolton 11 Tesoro 27-06.00
Event 145 Boys Discus Throw Junior Varsity
================================================================
Name Year School Finals
================================================================
1 Patrick Encarnacion 10 Tesoro 104-07
2 Ryan Borak 11 Esperanza 101-06
3 Michael Serrano 12 St. John Bosco 99-10
4 Ryan Hancock 10 Esperanza 97-01
5 Gabriel Reyes 12 Murrieta Valley 96-02
6 Blake Dickus 10 Santa Margarita 81-00
7 Paul Alvarado 11 Murrieta Valley 80-04
8 Adam Bolton 11 Tesoro 80-00
9 Colton Walker 9 Tesoro 79-05
10 Ryan Gardner 12 Santa Margarita 77-10
11 Adrian Pardo 11 Mater Dei 73-08
12 Mike Rogers 12 Esperanza 68-01
13 Kervin Aparicio 10 Santa Margarita 61-02
Event 156 Girls Long Jump Varsity
=====================================================================
Name Year School Finals Wind
=====================================================================
1 Bailey Turk 12 Santa Margarita 16-05.00 NWI
2 Ashley Rhorer 12 Santa Margarita 15-11.00 NWI
3 Jelena McNown 11 Murrieta Valley 15-10.50 NWI
4 Annie Woodward 11 Santa Margarita 15-06.00 NWI
5 Morgan Wilcox 12 Tesoro 14-09.75 NWI
6 Jenna Thornburg 11 Tesoro 14-08.75 NWI
7 Alexis Camba 12 Mater Dei 14-02.50 NWI
8 Jessie Stoneman 12 Mater Dei 14-01.00 NWI
9 Tarah Boustani 12 Mater Dei 13-11.25 NWI
10 Jacqueline Adams 12 Mater Dei 13-08.25 NWI
11 Mesha Gallego 9 Notre Dame (So) 13-07.75 NWI
12 Jessica Bautista 10 Notre Dame (So) 13-02.25 NWI
13 Taylor Deushane 12 Tesoro 11-01.00 NWI
-- Nicole Gamboa 9 St. Joseph ND NWI
-- Zeina Abouaki 9 St. Joseph ND NWI
-- Emily Cunningham 9 St. Joseph ND NWI
-- Jasmin Gonzalez 9 St. Joseph ND NWI
-- Meria Estafanous 9 St. Joseph ND NWI
Event 157 Girls Triple Jump Varsity
=====================================================================
Name Year School Finals Wind
=====================================================================
1 Ashley Rhorer 12 Santa Margarita 35-08.75 NWI
2 Jelena McNown 11 Murrieta Valley 32-02.50 NWI
3 Jacqueline Adams 12 Mater Dei 32-00.75 NWI
4 Jessie Stoneman 12 Mater Dei 31-06.75 NWI
5 Jenna Thornburg 11 Tesoro 30-10.00 NWI
6 Annie Woodward 11 Santa Margarita 30-06.50 NWI
7 Jessica Bautista 10 Notre Dame (So) 29-11.50 NWI
8 Sydney Gray 11 Mater Dei 29-07.00 NWI
9 Alexis Camba 12 Mater Dei 28-01.50 NWI
Event 158 Girls High Jump Varsity
================================================================
Name Year School Finals
================================================================
1 Madelyn Sando 12 Mater Dei 5-05.00
2 Morgan Wilcox 12 Tesoro 5-00.00
3 Amber Sylvia 11 Santa Margarita 4-10.00
4 Sydney Gray 11 Mater Dei 4-10.00
5 Jelena McNown 11 Murrieta Valley 4-10.00
6 Jenna Thornburg 11 Tesoro 4-08.00
7 Megan Dempsey 11 Murrieta Valley 4-08.00
8 Tarah Boustani 12 Mater Dei 4-04.00
Event 159 Girls Pole Vault Varsity
================================================================
Name Year School Finals
================================================================
1 Kaitlyn Merritt 9 Santa Margarita 12-10.25
2 Julie Johnson 11 Mater Dei 11-06.00
3 Renee Greene 12 Mater Dei 11-06.00
4 Isabela Lozowski 12 Mater Dei 11-00.00
5 Natalie Grabowski 11 Santa Margarita 11-00.00
6 Kaylie Welch 12 Mater Dei 10-06.00
7 Annika Backlund 11 Murrieta Valley 10-00.00
8 Amy Angevine 11 Murrieta Valley 9-06.00
9 Peri Howser 11 Newport Harbor 9-06.00
10 Gabby Buzzelli 10 Notre Dame (So) 8-06.00
11 Emily Vidmar 12 Tesoro 8-06.00
12 Hannah Alkire 11 Newport Harbor 8-06.00
13 Greta Lorenz 10 Notre Dame (So) 7-06.00
Event 160 Girls Shot Put Varsity
================================================================
Name Year School Finals
================================================================
1 Jessica Rotter 12 St. Joseph 37-06.00
2 Kara Caskey 12 Mater Dei 31-06.00
3 Olivia Kana 11 Murrieta Valley 29-03.00
4 Michelle Campa 10 Murrieta Valley 28-11.00
5 Zera Miranda 12 Tesoro 25-10.00
6 Emily Cunningham 9 St. Joseph 24-04.00
7 Emily Acevedo 9 St. Joseph 23-01.00
8 Marlene Ortiz 10 Murrieta Valley 22-08.00
9 Megan Wheeler 11 Santa Margarita 22-05.00
10 Portia Miranda 12 Tesoro 21-10.00
11 Sarah Williams 10 Santa Margarita 20-10.00
Event 161 Girls Discus Throw Varsity
================================================================
Name Year School Finals
================================================================
1 Kara Caskey 12 Mater Dei 106-03
2 Michelle Campa 10 Murrieta Valley 99-08
3 Olivia Kana 11 Murrieta Valley 68-01
4 Zera Miranda 12 Tesoro 63-00
5 Harley Olvera 9 Santa Margarita 60-05
6 Portia Miranda 12 Tesoro 58-10
7 Marlene Ortiz 10 Murrieta Valley 58-09
8 Morgan Willis 11 Santa Margarita 51-06
9 Sarah Williams 10 Santa Margarita 51-00
Event 172 Girls Long Jump Junior Varsity
=====================================================================
Name Year School Finals Wind
=====================================================================
1 Taylor Sims 10 Tesoro 15-02.25 NWI
2 Kirby Ruback 10 Tesoro 15-01.00 NWI
3 Nancy Jung 11 Santa Margarita 14-00.00 NWI
4 Elisabeth Hellquist 11 Esperanza 13-11.00 NWI
5 Kaitlin Eklund 12 Santa Margarita 13-10.00 NWI
6 Sheridan Scifres 9 Santa Margarita 13-08.00 NWI
7 Noelle Breslin 12 Santa Margarita 13-06.50 NWI
8 Marrin Tyler 11 Santa Margarita 13-06.00 NWI
9 Madison Malasavage 11 Santa Margarita 13-05.75 NWI
10 Shauna Strecker 10 Tesoro 13-03.50 NWI
11 Maggie Ghotbi 10 Santa Margarita 13-03.00 NWI
12 Alexis Hogan 9 Murrieta Valley 12-09.25 NWI
13 Courtney Baldy 10 Santa Margarita 12-09.00 NWI
14 Megan Belden 10 Mater Dei 12-04.00 NWI
15 Kim Fischer 10 Mater Dei 12-02.00 NWI
16 Rachel Stewart 11 Santa Margarita 12-00.00 NWI
16 Alex Glenn 11 Esperanza 12-00.00 NWI
18 Rachel Weissberg 10 Murrieta Valley 11-09.50 NWI
19 Chloe Shaheen 11 Santa Margarita 11-07.50 NWI
20 Loni Byers 10 Murrieta Valley 11-06.75 NWI
21 Veronica Bauer 10 Mater Dei 11-05.75 NWI
22 Amanda Sciulla 9 Santa Margarita 11-05.00 NWI
23 Lauren Anthony 11 Santa Margarita 11-01.25 NWI
24 Sarah Verin 10 Notre Dame (So) 11-01.00 NWI
25 Caroline Hilton 9 Santa Margarita 10-10.50 NWI
26 Moriah Becker 10 Santa Margarita 10-06.00 NWI
-- Morgan Begg 11 Santa Margarita ND NWI
-- Jessica Thompson 11 Santa Margarita ND NWI
-- Aneet Atwal 10 Santa Margarita ND NWI
Event 173 Girls Triple Jump Junior Varsity
=====================================================================
Name Year School Finals Wind
=====================================================================
1 Noelle Breslin 12 Santa Margarita 31-00.50 NWI
2 Taylor Wolf 11 Mater Dei 28-03.00 NWI
3 Courtney Baldy 10 Santa Margarita 28-01.00 NWI
4 Kyra Coley 9 Mater Dei 28-00.00 NWI
5 Kate McKay 9 Mater Dei 27-06.50 NWI
6 Julia Silvey 9 Mater Dei 26-10.50 NWI
7 Makayla Petersen 9 Tesoro 25-10.00 NWI
8 Brittany Pikula 11 Santa Margarita 25-06.00 NWI
Event 174 Girls High Jump Junior Varsity
================================================================
Name Year School Finals
================================================================
1 Kirby Ruback 10 Tesoro 4-08.00
2 Danielle Wood 10 Santa Margarita 4-08.00
3 Lauren Rhorer 10 Santa Margarita 4-08.00
4 Jasmine Moss 9 Mater Dei 4-06.00
5 Taylor Wolf 11 Mater Dei 4-06.00
7 Alexis Hogan 9 Murrieta Valley 4-04.00
7 Brooke Reid 11 Santa Margarita 4-04.00
8 Bridget Shoenberger 9 Mater Dei 4-04.00
9 Haley Kline 9 Esperanza 4-00.00
10 Kate McNally 10 Santa Margarita 4-00.00
-- Lauren Brackman 10 Mater Dei NH
Event 175 Girls Pole Vault Junior Varsity
================================================================
Name Year School Finals
================================================================
1 Grace Boyer 11 Mater Dei 10-00.00
2 Diana Fujii 10 Mater Dei 9-00.00
2 Hannah Mazolewski 10 Santa Margarita 9-00.00
2 Jessica Abalos 10 Murrieta Valley 9-00.00
5 Kirby Ruback 10 Tesoro 8-00.00
6 Kate Custer 10 Tesoro 7-06.00
7 Molly Scharmann 9 Tesoro 7-00.00
-- Lacy Yonkers 9 Mater Dei NH
-- Lauren Patton 9 Murrieta Valley NH
-- Ashley Davis 9 Murrieta Valley NH
Event 176 Girls Shot Put Junior Varsity
================================================================
Name Year School Finals
================================================================
1 Symone Everson 10 Murrieta Valley 27-10.00
2 Briana Tetsh 9 St. Joseph 23-09.00
3 Beverly Ocampo 10 Tesoro 22-04.00
4 Olivia Benice 10 Tesoro 22-02.00
5 Maeve McGonigal 9 Murrieta Valley 22-00.00
6 Ashley Viramontes 9 St. Joseph 21-07.00
7 Kathyrn Sawyer 12 Murrieta Valley 21-04.00
8 Madi Razzano 10 Santa Margarita 19-06.00
9 Morie Malchow 11 Santa Margarita 19-02.00
10 Stephanie Wu 10 Santa Margarita 19-00.00
11 Stella Jung 10 Santa Margarita 18-10.00
Event 177 Girls Discus Throw Junior Varsity
================================================================
Name Year School Finals
================================================================
1 Olivia Benice 10 Tesoro 75-11
2 Kathyrn Sawyer 12 Murrieta Valley 68-04
3 Maeve McGonigal 9 Murrieta Valley 62-01
4 Symone Everson 10 Murrieta Valley 57-03
5 Leah Jackson 11 Santa Margarita 47-11
6 Mary Buckey 9 Santa Margarita 46-11
7 Siena Labate 11 Santa Margarita 44-04
8 Morie Malchow 11 Santa Margarita 43-09