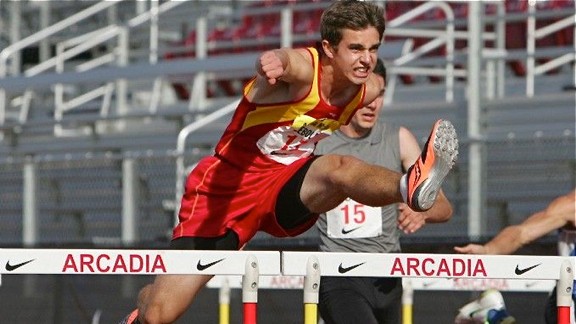 Photo by John Nepolitan, ESPNHS/DyeStat
Cathedral Catholic junior Grant Zebold, seen above, broke the San Diego Section decathlon junior class scoring record while winning the 2012 Arcadia Multis title.
---
By Rich Gonzalez
Editor, ESPNHS/DyeStatCal
(ARCADIA, Calif.)
--
Grant Zebold
had plenty of reasons to celebrate at Friday's concluding portion of the 2012 Arcadia Multis competition at Arcadia High.
Age milestones, performance milestones, and historical milestones.
For starters, the Cathedral Catholic junior was already exulting over the fact it was his 17th birthday upon his arrival to the track to compete. His assigned bib number was no coincidence: 17.
To commemorate the occasion, Zebold then gave himself eight gifts: personal bests in 8 of the 10 events in the decathlon competition, parlaying it into a grand total of 6,211 points in capturing the Arcadia Multis title.
Zebold, a hurdles specialist who has improved notably in most of the decathlon disciplines since his eighth-place finish at the 2011 Arcadia Multis, outlasted Dana Hill's
Keith Messinger
in the competition's final event (the 1,500-meter run) to win the crown going away. Zebold's scoring total was an 854-point improvement over last year. Messinger also improved drastically in a year's time, bettering his 2011 total by 1,084 points.
Zebold's two-day total also established a San Diego Section class record for juniors and might be an overall San Diego Section record as well. We are trying to independently verify a reported mark of 6,248 by Rancho Bernardo's Jason Gatewood in 1999.The mark does not appear on the published national list for that year but we are still investigating it.
It was a pretty impressive performance for Zebold, who posted the meet's top marks in five events, led by his 848-point tally in the high hurdles and an 843-point showing in the 100-meter dash.
Zebold, among the California's leading high hurdlers in 2012, should have a great battle at next year's Arcadia Multis; he and Oaks Christian's
Zack Bornstein
, the state freshmen record holder in the event, will likely square off. Bornstein missed this year's competition due to knee surgery.
Zebold will have plenty of time to achieve ample improvement in the throwing events (shot put, discus, javelin) as well as the pole vault before the 2013 competition roll around.
The Arcadia Multis heptathlon also saw an eighth-place-to-first-place storyline as Dana Hills'
Tori Usgaard
scored 4,432 points to edge out Salpointe Catholic's (Tucson, Ariz.)
Alyssa Thompson
, who racked up 4,404 points.
Usgaard took the overall lead from the start, winning the first two events -- the high hurdles and the high jump -- en route to victory. She also scored very well in the 200-meter dash and the meet-ending 800-meter run, helping offset her tougher challenge of mastering the throwing events.
A UC Santa Barbara signee, Usgaard's final point total ranks second in school history, trailing only former teammate
Kimmie Connor's
4,691 tally, which came at the 2010 Arcadia Multis.
---
Doug Binder's DyeStat national story on the 2012 Arcadia Multis
DyeStat's full Arcadia weekend coverage
Interview with Arcadia Multis decathlon champ Grant Zebold of Cathedral Catholic
Interview with Arcadia Multis heptathlon champ Tori Usgaard of Dana Hills
California All-Time Lists (includes decathlon and heptathlon)
---