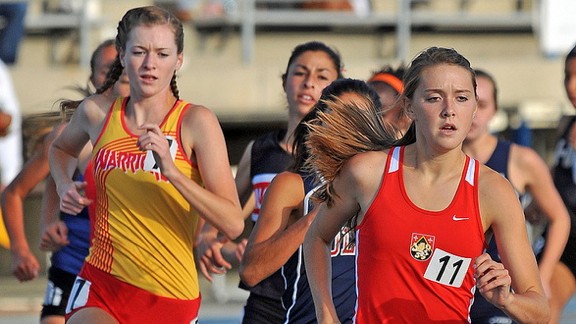 Cami Chapus' win for Harvard-Westlake in a state-leading 4:43.90 led a stacked 1600m race in which all 12 athletes qualified for state. (Photo courtesy of Dean Lofgren, El Camino College)
By Rich Gonzalez
Editor, DyeStatCal/ESPNHS
(Below is a quick, capsulized Friday night overview of the action. Mike Kennedy will follow on Saturday with a more detailed anaysis.)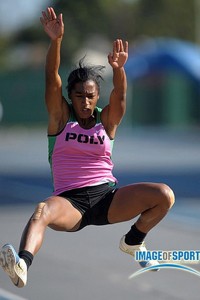 (NORWALK, Calif) -- Very cool temperatures and nagging winds affected performances throughout, but eight state-leading marks were achieved at Friday's CIF-Southern Section Masters Meet, which served as the regional qualifier for next weekend's CIF-State Championships in Clovis.
Long Beach Poly, the top-rated girls team in the state, led the highlights with four event winners, including a state-leading performance in the 4x100 to go along with individual wins by Ariana Washington in the 100 and 200 and Traci Hicks (pictured at left, Kirby Lee photo) in the high hurdles.
Notre Dame led the boys highlights, with dasher Khalfani Muhammad equaling the state-leading time in both the 100 and the 200. Serra of Gardena also fared very well, qualifying key entries in both relays, both hurdle events and the long jump. Notre Dame, Serra and La Costa Canyon of the San Diego Section are frontrunners in a three-team battle for the state boys title.
A total of 50 at-large marks were achieved by Southern Section athletes.
---
Mike Kennedy
Special Correspondent
The Southern Section Masters Meet Friday at Cerritos College is unique in that it acts solely as a qualifier for the state meet, set for next Friday and Saturday at Buchanan High in Clovis. The first five finishers automatically qualify. In addition, any athlete that betters an established qualifying standard also advances. As such, some performers will run to win while others will be running just to qualify. In the distances, the pace of some races might well be more conservative in an effort to have more athletes meet the state-meet standard. In the field events, once an athlete betters the qualifying standard they might choose to pass on their remaining attempts. In the final analysis, Masters meet performances will not always be an accurate predictor of state meet performances.
The meet opened with blustery winds that kept shifting direction before finally settling down to breezes that were very favorable to the sprints and hurdles. In the second half of the meet, there was a noticeable cooling of temperatures and lessening winds.
Long Beach Poly's girls' got through the meet with just a single loss when sophomore Hollie Harris, who was not being counted on heavily, failed to advance in the 400. However, she will be a factor in the 4 x 400 relay. Serra (Gardena) was not as fortunate when Chimere Ezumah did not run in the 400, where she had finished in the top three in the state the previous two years. St. Mary's Academy will have a solid sprint double representation from sophomore Sierra Peterson but have just one horizontal jumper that will be in the state meet. All three teams placed in the top four in the 4 x 100 and 4 x 400 relays, which will obviously be key two winning a state title. One thing to remember: Poly was just third in the 4 x 400 relay and could, if it chooses to, run Ariana Washington, who has run 23.52 for the second-best time in the nation in the 200. El Camino (Oceanside) figures to be the toughest non-Southern Section team.
As far as the boys' team prospects at state, Notre Dame (Sherman Oaks), based upon Junior Khalfani's Muhammad sprint dominance with times of 10.45w, 10.54 in the 100 and a state-leading 21.10 in the 200 plus a 41.23 in the 4 x 100 relay, is a very slight favorite with a good chance to score 28 points. Serra could outscore the Knights with teams in both relays, junior Lloyd Siscard in both the 110 and 300 hurdles and sophomore Adoree' Jackson in the long jump. Rio Mesa (Oxnard) is also a factor with a state-leading 40.95 in the 4 x 100 relay and a solid 3:16.02 in the 4 x 400 relay plus Blake Selig in the 100.
As often happens at this meet, the sprints and hurdles were excellent. In the girls' 100, Washington pulled away in the final 30 meters to win in 11.61. But next week she will probably have to show some of the same explosiveness that she demonstrated last week in the Division 1 finals -- where she ran a state-leading 11.45 -- if she is to continue her dominance. In the 200, she would appear to have no serious challenger as her winning time of 23.55 was just .03 off her personal best that ranks her No. 2 in the nation.
Last week in the boys' 100, Herbert Gamboa of San Clemente was very impressive in winning Division 1 in a state-leading 10.51. So when he took the early lead Friday, the public address announcer proclaimed to the crowd,"That's Herbert Gamboa, catch him if you can." Muhammad seemed to react almost immediately as he blew by Gamboa for an easy win, 10.51 to 10.59. Later, Muhammad easily handled the 200 field in cool conditions with a 21.10 to equal his personal and state best.
The winners of the girls hurdle races looked like they will be not be losing any time soon. Traci Hicks of Long Beach Poly was pushed early by Jordie Munford of Rancho Cucamonga, but pulled away in the last 30 meters for a comfortable 13.66 to 13.80 win. Freshman Jasmyne Graham of Vista Murrieta, stuck in an outside lane, was third in 14.09 but has shown ability to challenge her personal best of 13.89 set earlier at Arcadia. Munford came back in the 300 hurdles, where she exhibited an excellent ability to adjust her stride as she approached each hurdle, to win easily at 41.86.
It is a good thing in the boys 110 high hurdles that the Southern Section is guaranteed five qualifiers and does not have to rely on meeting the state qualifying standard of 14.47 because if that were that the case, they would be sending no hurdles to state based on the winning time of 14.49 run by junior Lloyd Siscard of Serra. The exact opposite took place in the 300 hurdles, where all nine entrants bettered the at-large standard of 38.32, led by Corey Hammond of Mater Dei at 37.35. Jarrett Gonzales of Damien, who last week ran a state leading 36.80, was leading until the seventh hurdle, where he struggled and eventually fell back to fourth in 37.61. A return to form will likely place Gonzales on the top of the podium at the state meet.
All three of the girls distance races featured runaways, but don't assume that the same will be the true next week. Amy Weissenbach of Harvard-Westlake, who set a national high school interscholastic record in the state meet 800 last year at 2:02.04, went out with purpose in running splits of 28.9, 31.2, and 32.1 and finished with a 33.3 for a 2:05.55. Unfortunately for the fans, there is likely to be no one to push here at state. The same may be true in the 3200, where defending state champion Sarah Baxter continues to use the same tactic to turn away all and any challengers. Set a hard but not insane early pace -- passing 1,600 at around 5:02 -- and then with three or so laps remaining, began to apply a steadying pressure and see if any one can respond. So far no one has. Baxter won with an almost-easy-looking 10:08.71, just off her personal best. Laura Hollander of Marina ran on Baxter's shoulder until just after four laps, when Baxter put out the challenge and Hollander gradually fell behind, finishing second in 10:17.28. In what might be the most intriguing matchup of the state meet, defending 1600 champion Cami Chapus of Harvard-Westlake will be looking to again hold off Nikki Hiltz of Aptos, who was third last year. Chapus used the same approach that Weissenbach used in the 800, running splits of 67.1, 72.4, 74.2, 70.1 for a 4:43.90 to win easily. The time just bettered Hiltz's state-leading time of 4:44.02. The question is who will have the faster 400 speed. That is likely to decide the outcome.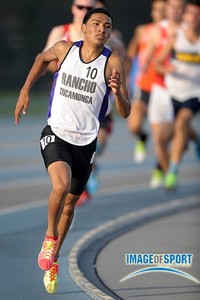 Junior Brett Moulton of Santiago (Corona) used a burst of speed in the final 50 meters of the 800 to defeat Edgar Cobian of La Sierra, 1:52.58 to 1:52.93. But will that be enough next week to corral state leader Alexander Monsivaiz of Army & Navy Academy in Carlsbad, who has run 1:50.47? The same question could be asked of Danny Martinez of St. John Bosco in the 3200. Last week, with a closing final 400 of 59 seconds, he won the Division 1 race in 9:01.93 and again Friday night with a final lap of 63 seconds, he won in 9:04.25. However, in this case, the state leader is a more imposing 8:54.51 by Darren Fahy of La Costa Canyon. That might be 'a bridge too far', especially if Fahy decides to run just the 3,200. Luis Gutierrez of Rancho Cucamonga (pictured at right, Kirby Lee photo) was very impressive as he negative split the 1,600 with at\ last 800 in 2:03.5 in a two-second-plus win over Juan Gonzalez of El Toro, 4:08.68 to 4:11.28. Last week, Cody Brazeal of Buchanan (Clovis) was very impressive with a state-leading 4:07.72 and three-second-win in the Central Section Masters Meet. Fahy, if he chooses to run here, has a best of 4:08.15. If someone takes the race out in 2:03 or 2:04, the winner might have to run under 4:05.
---
LEADING HIGHLIGHTS...
-
** - Ariana Washington: Long Beach Poly's latest dash sensation won the 100 (11.61) and 200 (23.55) and powered its state-leading 4x100 relay (45.72).
** - Amy Weissenbach: The 800m national federation recordholder opened in a blistering 58.6 en route to a seasonal best and state-leading 2:05.55.
** - Sarah Baxter: Simi Valley's storybook sophomore outlasted the field with 5:01/5:07 splits while looking in control and recoveringvery quickly afterward.
** - Girls 1600m field: All 12 entrants qualified for the state meet, led by Cami Chapus' state best 4:43.90.
** - Khalfani Muhammad: The Notre Dame junior smoked to state leaders at both 100 (10.51) and 200 (21.10) and helped the Knights advance to state in the 4x100.
** - Luis Gutierrez: The Rancho Cucamonga senior made a commanding move with 350m to go to win the 1600 going away, prevailing by 2.3 seconds in 4:08.68.
** - Danny Martinez Jr.: St. John Bosco's aerobic wunderkind rolled out 4:40.3-4:24.0 negative splits en route to 9:04.25 win at 3200m.
** - Corey Hammond: Mater Dei's latest hurdling star emerged from a wild finish to post a school record time of 37.35 in winning an intermediate hurdles race in which all nine competitors qualified for state.
---
NEW STATE-LEADING MARKS...
-
---
** - B100: Khalfani Muhammad (Notre Dame) 10.51
** - B200: Khalfani Muhammad (Notre Dame) 21.10
** - B4X100: Rio Mesa (Nunnery, Selig, Zimmerman, Roach) 40.95
** - B4X400: Chaminade (Bernard, Dinowitz, Dunston, Newby) 3:15.28
** - G400: Renetia James (Serra) 54.41
** - G800: Amy Weissenbach (Harvard-Westlake) 2:05.55
** - G1600: Cami Chapus (Harvard-Westlake) 4:43.90
** - G4X100: Long Beach Poly (Myers, Hicks, Thomas, Washington) 45.72
---
FULL RESULTS LINKED **HERE**
---