---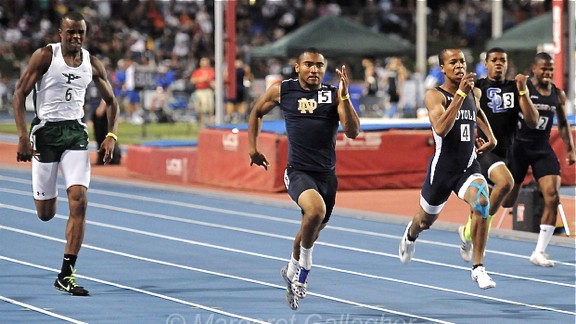 Notre Dame's Khalfani Muhammad purrs to victory in Saturday's finals. (Photo courtesy of Margaret Gallagher)
STATE MEET FINALS RECAP
By Mike Kennedy
---
(CLOVIS, Calif.) -- Notre Dame of Sherman Oaks' boys and Serra of Gardena's girls turned in a number of outstanding come-through performances to win team titles on Saturday at the 94th annual CIF-State Track and Field Championships, Presented by Farmers.
Notre Dame nearly maximized it point total when junior Khalfani Muhammad won the 100 and the 200 and Eric McDaniel grabbed a surprise third in the 100. The two also made up one-half of the first-place 4 x 100 relay. Serra finished second with 32 points. The Cavaliers had a chance to win with a second-place finish the final event of the evening—the 4 x 400 relay—but could only manage a fifth place. La Costa Canyon (Carlsbad) and Newport tied for third with 25 points.
Serra's girls' looked to be in a very tough battle with El Camino (Oceanside) but got an outstanding performance from senior Alexis Faulknor, who won the long jump and was second in both the 100 and 200. Renetia James chipped in with a win in the 400 and the Cavaliers won both the 4 x 100 and 4 x 400 relays to account for 56 of the team's 58 points. El Camino was second with 36 points. Jasmine Gibbs was second in the long jump, third in the 100 and fifth in the 100. Tamika Brazzel was third in the triple jump and fifth in the long jump and Danielle Bryan was third in the long jump. Long Beach Poly was third with 29 points.
With the Friday's gentle winds turning into very gusty conditions on Saturday, the sprints and short hurdles as well as the horizontal jump provided some outstanding performances.
Muhammad was just "a rock". In the 100, he was pretty much left in the blocks while teammate McDaniel had a lightening quicl start with what some might have considered a "flyer." At 50 meters and finding himself in about fourth place, Muhammad moved to first, finishing in 10.52 with an aiding wind of 2.4 meters per second. In the 200 Muhammad in lane five and Morgan Simon of Loyola (Los Angeles) in lane four, were very close at 100 before Muhammad pulled away for the win, 21.15 to 21.33. Junior Alex Rohani of Beverly Hills, who was the favorite to win the 400 with his come-from-behind tactics, must have surprised some of his competitors when he took the pace out and was even with Rashard Clark of Dorsey entering the final straight. Rohani pulled away in the final 15 meters for the 47.34-47.45 win.
When sophomore Ariana Washington of Poly has had to be very good, as she showed in the state meet she can very, very good. Running much like Muhammad did, Washington closed well in the last 50 to win the 100 in 11.47, just .02 seconds off her personal best. She then came back in 200 and won in 23.41 for the second-fastest time in the nation. Two weeks ago, Faulknor was not regarded as one of the top sprinters in the nation, but that all changed Friday when she ran 11.55 and 23.57 in the prelims. She confirmed those performances in the finals with second-place finishes in 11.53 and 23.73. She now ranks No. 2 in the state in both events and is No. 3 in the nation in the 200 and No. 7 in the 100. Gibbs was third in the 100 at 11.62 and fifth in the 200 at 23.97. Renetia James of Serra was the state leader in the 400 with her 54.26 in the prelims so she was probably a little surprised when Nia Dorner of Rosemont (Sacramento) opened up a big lead at the halfway point. James remained calm, passing the 200 in 27.1, and then came back in 26.9 to run down Dorner in the final 50 to win in 53.98. Dorner finished second in 55.28.
The boys 110 high hurdles featured a big upset when the heavily favored Kenneth Walker of Kennedy (Richmond), the state leader at 13.81 with his prelim time, encountered disaster. He hit the fifth hurdle while leading, managed to clear the sixth hurdle, then clobbered the seventh hurdle and went to the ground and eventually finished last in 14.66. Lloyd Sicard of Serra, who had dropped his personal best time from 14.47 to 14.19 in the prelims, was the main beneficiary, finishing in first in 14.09. Isaiah Jackson of El Camino (Oceanside) just edged ahead of Marquis Morris of De La Salle for second, 14.213 to 14.218. In the 300 hurdles, Donte Deayon of Summit (Fontana) took the early lead but Jarrett Gonzales of Damien (LaVerne), the state leader at 36.80, took over at 100 with Sicard of Serra in second. Gonzales continued to lead and finished in 37.30. Zach Lewis of Ramona closed on Gonzales in the final 50 to finish in second at 37.58 and Deayon was third in 37.69.
In one of the more anticipated races of the evening, Sasha Wallace of Holy Names (Oakland) had a monster start in the 100 high hurdles and the rest of the field could never recover. Just as in the prelims, when she defeated Traci Hicks of Long Beach Poly, Wallace was never challenged in winning in a nation-leading13.33. Hicks again was adversely affected by the start, but this time hit the fifth hurdle and went down at the sixth hurdle before being disqualified. Jordie Munford of Rancho Cucamonga edged Daje Pugh for second, 13.58 to 13.69. Pugh came back later in the 300 hurdles, where she led Munford by a step at 100 before pulling away for the win in a nation-leading 40.76 that ranks No. 8 on the all-time list. Munford was second in 40.96 for second-fastest time in the nation. Californian's now account for seven of the eight fastest hurdlers of all time.
Serra's girls won both the 4 x 100 and 4 x 400 to account for 20 of its 60 points Serra got a big anchor leg from Faulknor to pass St. Mary's Academy and win the short relay in 45.92. Poly also got a big anchor leg from Washington and also passed St. Mary's Academy for second 46.11 to 46.21. Serra, with James running a 52.8 anchor leg, defeated Harvard-Westlake (North Hollywood) in the long relay, 3:46.45 to 3:47.07. St. Mary's Academy was third in 3:50.10 despite dropping the baton on the third led. None of the top three teams in either relay set seasonal best. The gusting winds up to 15 miles per hour down the straightaways seemed to have adversely affected both relays.
|
Notre Dame and Rio Mesa (Oxnard) hooked up in a very competitive boys' 4 x 100 relay. At the final exchange, Rio Mesa executed a full-speed fully-extended exchange and opened up about a four-meter lead on Notre Dame but it was not quite enough as Muhammad closed for the win, 41.122 to 41.125. The 4 x 400 final turned out to be very critical as Serra had a chance to win the title from Notre Dame with a second place finish. Rio Mesa, however, rebounded to win the 4x400 in 3:16.21 with Carson in second at 3:18.38 as Serra saw its team title chances slip away.
After the San Diego Section finals -- where he had won both the 1,600 and 3,200 -- Darren Fahy of La Costa Canyon had planned to just run the 3,200 at state. However, as things ended up, he was entered in both race and because the state meet has an "honest effort rule", he would to have to run both events or be disqualified from the meet. Rather than agonizing over the situation, he turned a turned a negative into a positive. First he qualified for the 1,600 final with an easy 4:14.07. Then, in the final, he continually "upped the ante"-- running splits of 65.50, 63.37, 61.75 and 58.15 -- to easily defeat Luis Gutierrez of Rancho Cucamonga, 4:08.78 to 4:10.94. Sophomore Blake Haney was third at 4:11.85. Cody Brazeal of Buchanan, the state leader at 4:07.72, was fourth in 4:12.56. Two-and-a-half hours later, Fahy was back on the track for the 3,200 final, where he was very crafty in letting other runners break the wind for much of the race and passed the 1,600 in 4:37.38. With one lap remaining, (reached in 8:03.7), the race was down to Danny Martinez of St. John Bosco, Fahy, Daniel De La Torre of La Salle (Pasadena) and Jonah Diaz of Palos Verdes (Palos Verdes Estates). Fahy then ran a 59-second last quarter to win in 9:03.29, followed by Martinez at 9:05.74, Diaz at 9:05.79 and Del La Torre at 9:06.60.
In one of the more anticipated matchups at the state meet, defending champion Cami Chapus of Harvard-Westlake was pitted against Nikki Hiltz of Aptos. They had similar season bests with Chapus at 4:43.90 and Hiltz at 4:44.02. However, that closeness proved to be an illusion as Hiltz -- after passing 1,200 at 3:36.5 as part of a group of four that included Chapus -- pulled away with 300 meters remaining to win in 4:42.45, with a last 400 covered in 65.73. Rebecca Mehra of Palos Verdes was second at 4:47.33 followed by Xochitl Navarrete of Colony at 4:48.73 and Erika Reddish of Vista Murrieta (Murrieta) at 4:50.81. Chapus was fifth at 4:53.43.
Sarah Baxter of Simi Valley did as she has done all season in the 3,200—just run away from the competition. She ran like this would be her last race of the season, which as it turns out, is the case. Baxter went through 1,600 at just under five minutes in an attempt to better her personal best of 10:08.11 set at the Arcadia Invitational. With one lap remaining, she was at 8:54.3 but a vicious wind was blowing directly down the backstraigt to take just enough out of Baxter, who won in an impressive 10:12.00. Laura Hollander of Marina (Huntington Beach) chose to stay away from Baxter's hot early pace and it seemed to pay off until she was caught by Navarrete for second place five meters from the finish, 10:25.85 to 10:26.02. Sophomore Julia Maxwell of Branson (Ross) had a big breakthrough with a fourth-place finish in a personal best of 10:27.99. Hagen Reedy of Buchanan was fifth at 10:29.15. In all, 19 runners broke 10:50.0.
In the boys' field events Ethan Cochran of Newport Harbor (Newport Beach) was a double winner but it was not easy. In the shot put he did not take the lead until the third round with a 62-4 effort, but then fouled his final three throws. Still that was good enough for the win. In the prelims, Cochran had thrown 64-6 ½ to lead the state. In the discus, where Cochran ranks No. 2 in the U.S. at 209-8, he stood just third after four rounds before uncranking a 196-4 effort to take a lead that he never lost. Garrett Weinreich of Arroyo Grande was second in the shot with a personal best of 61-11 ½ and Ryan Donnahoe of Gridley was third at 61-6—also a personal best. Brendon Song of West Hills (Santee) was second in the discus with a personal best of 188-11.
Sophomore Adoree' Jackson of Serra took just one legal long jump, but it was a wind-legal 25-00.50 to rank first in the state and second in the nation. He suffered subsequent injury, however, sidelining him from the rest of his attempts. Klyvens Delunay of Claremont won the triple jump with a wind-aided 51-7, which is the second-longest jump in the nation under any conditions. Tim White of Hart (Newhall) was second with a wind aided 51-5 to rank as he No. 3 jump in the nation under all conditions. However, White did have a legal 50-11 ½ for the second-best legal jump in the nation. Willie Alexander of Central (Fresno) was third with a wind-aided 51-2¾.
Noel Frazier of California (San Ramon) won the high jump with a first-try clearance of 6-10. Cody Crampton of Canyon (Anaheim) was second, followed by Manuel Hernandez of Oakdale in third, Taylor Smith of Buchanan in fourth and Evan Eggenberg of Stockdale in fifth. All four also cleared 6-10, with the order of finish determined by number of misses. Both Peter Chapman of Murrieta Valley (Murrieta) and Connor Stark of Oak Park cleared 16-4 but Chapman got the win when it took him just two tries to clear the height. Conner Rouse of Vista was third at 16-0.
In the girls' field events, the horizontal jumps were important in the team race. Faulkner won the long jump with a wind-aided personal best of 20-3. Gibbs was second at 19-11.75 while teammates Tamika Brazzel (fifth at 18-10.25) and Mishe Scott (seventh at 18-8.25) also scored. Wallace, who won the 100 hurdles with a nation-leading 13.33, also won the triple jump at 41-5 ¾, where she also has the national lead at 42-4¾. Rachel Toliver of St. Mary's Academy was second at 40-1 and Brazzel was third at 39-10.
For the first time in a high school competition, five vaulters cleared 13-0. Sophomore Taylor Jaques of Presentation (San Jose) won the competition at 13-4. McKenzie Johnson of Clairemont (San Diego) and Kaitlynn Merritt of Santa Margarita (Rancho SM) tied for second at 13-0 and Mimi Lian of Rancho Bernardo (San Diego) and Victoria Rische of Foothill (Santa Ana) tied for fourth, also at that height. Sophomore Claire Kieffer-Wright of South Pasadena won the high jump at 5-10 to equal her personal best. Katie Reeves of El Diamante (Visalia) was second at 5-9—also a person best. Danielle Bryan of El Camino was third at 5-7.
The winners of both the shot put and discus won their events with their final throws. In the shot put, Tanya Sapa of La Sierra (Riverside) took over the lead in the fifth round with a throw of 47-01.75 only to see the state leader sophomore Stamatia Scarvelis of Dos Pueblos (Goleta) get off a throw of 47-03.25 on the final throw of the competition. Freshman Nia Britt of Alemany (Mission Hills) was third at 46-8.75. Madison Jacobs of Arroyo Grande took over the discus lead in the fourth round with a throw of 155-9 but then Lissette Mendivil of Redwood (Visalia), the state leader at 157-7, threw 155-10 on the competition's final throw for the win.
---