---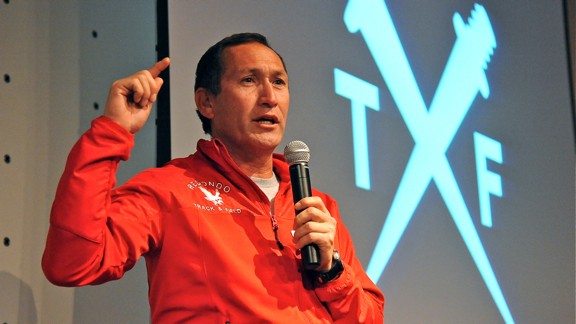 Redondo Union's Bob Leetch Lands Track and Field National Coaching Honor
By Rich Gonzalez
Editor, ESPNHS/DyeSatCal
(June 21, 2012) -- In what qualifies as the finishing touch on a breakthrough year for the program, Redondo Beach High's Bob Leetch this week was named as Girls' Track and Field National Coach of the Year by Gill Athletics.
Leetch, in his seventh year at the helm of the Southern California school, has built the Seahawks program into a major force in recent years on both a regional and national scale.
Earlier this school year, Redondo Union's cross-country program also created national news, placing tenth as a club team -- the highest finish for any California squad --at the Nike Cross Nationals Championship in Portland, Ore.
During the just concluded track and field season, Leetch's female distance runners repeatedly shined at major meets, including winning the 4x800 in a then-nation-leading time at the mid-season Arcadia Invitational, capturing the 4x1600-meter title at the Mt. SAC Relays in the fastest California time ever recorded across that distance, then having two individuals qualify for the finals in their events at the California state meet.
One common trait of Leetch's runners in recent years has been their toughness and resilience in repeatedly achieving at high levels on the very competitive California distance running scene, a durability trait more typically found among seasoned collegians and post-collegians.
Leetch is California's first national winner of the Gill Award, which debuted in 2010. Previous winners of the West Region's award (which includes California in its boundaries) include Loyola's Lalo Diaz (2010) on the boys side and Serra's Lori Smith-Thompson (2010) and Taft's Richard Rucker (2011) on the girls side.
---
Below are some of the program's top female performers from this past season, followed the official press release from Gill Athletics:
100 meters
Shelby Bassman 12.41
Kristen Hamlin 12.71
Anastasia Chiodo 12.74
200 meters
Shelby Bassman 25.62
Kristen Hamlin 25.95
400 meters
Anevay Hiehle 57.64
Erin South 58.23
Amber Gore 58.42
800 meters
Amber Gore 2:12.38 (State Top 30)
Kayla Ferron 2:12.56 (State Top 30)
Cara Ulizio 2:17.79
Alexis Thibodeau 2:19.13
1500 meters
Rachel Bush 4:35.60 (State Top 30)
Lyndsey Mull 4:38.04 (State Top 30)
1600 meters (1 of 2 schools in America with 4 girls under 5:00)
Lyndsey Mull 4:55.96 (State Top 30)
Cara Ulizio 4:56.19 (State Top 30)
Kayla Ferron 4:59.84
Rachel Bush 4:59.94
Anique Villegas 5:15.98
3200 meters
Rachel Bush 10:33.92 (State Top 30)
Cara Ulizio 10:53.03
300 hurdles
Kayla Patterson 47.64
4x100 relay
49.79
4x400 relay
3:52.61 (State Top 30)
4x800 relay
9:05.86 (STATE LEADER)
Distance Medley
11:53.53 (#2 in state)
4xMile Relay
20:01.38 (STATE LEADER)
Long Jump
Monier Mahidashti 17-04.25
---
Gill Athletics and USA Track & Field Announce 2012 National High School Track & Field Coach of the Year Award Winners
CHAMPAIGN, Ill.-- Gill Athletics and USA Track & Field (USATF) announced the 2012 Gill Athletics National High School Track & Field Coaches of the Year today. This inaugural honor recognizes one high school girls' program coach and one high school boys' program coach that exemplifies excellence in his/her coaching record and team's performances, while also exhibiting positive service to his/her team, school and community.
This year, Claney Duplechin from Episcopal High School (La.) took home the boys' accolade while Bob Leetch from Redondo Union High School (Calif.) earned the girls' award.
In 34 years at Episcopal High School, Duplechin's teams have won 30 district championships, 27 regional championships and 10 Louisiana State Championships. His athletes have made 334 state championship appearances, including 63 state champions. In 1999 he was named the Louisiana Track Coach of the Year.
"I have been truly blessed to have had wonderful kids and assistant coaches to work with," said Duplechin. "This award is for them as much as it is for me."
Leetch, who took over the Redondo Union program in 2005, finished the 2012 regular season ranked No. 1 in the nation's girls distance program by ESPN High School Track & Field in association with DyeStat with 28 elite performances. Also in 2012, Leetch's team ranked No. 20 in the nation in girls track & field programs with 37 elite performances across all events.
"To be acknowledged on such a national scale is very exciting and, in my opinion, more of a reflection of the hard work put in by our student athletes and fine staff," commented Leetch.
The high schools of each winning coach will receive Gill Athletics track & field equipment valued at $5,000. In addition, the respective Coach of the Year will be honored at an awards presentation at an event hosted at their hometown.
"Bob and Claney epitomize what it means to be a high school coach in America," commented Mike Cunningham, Gill Athletics Track & Field Specialist. "Like our past winners, they have affected so many young people in a positive manner and it is our privilege to honor them and their programs with $5000 in Gill Athletics equipment."
Regional finalists on the Boys' side included Chris Cohen, Minnetonka High School (Minn.); Stephen Carson, Chandler High School (Ariz.) and Kevin McEvoy, East Brunswick High School (N.J.). Regional finalists for the girls' honor included Barry Haworth, Assumption High School (Ky.); Keith Woods, Hickory High School (Penn.) and Joe Carpenter, Cedar Bluff High School (Ala.).
Gill Athletics National High School Track & Field Coach of the Year nomination and selection details follow:
The Gill Athletics National High School Track & Field Coach of the Year nomination forms can be found at www.GillCoachoftheYear.com. Coaches, Athletic Directors, school administrators, athletes, booster clubs, parents, and anyone interested may nominate a coach next year for the 2013 honor.
---