---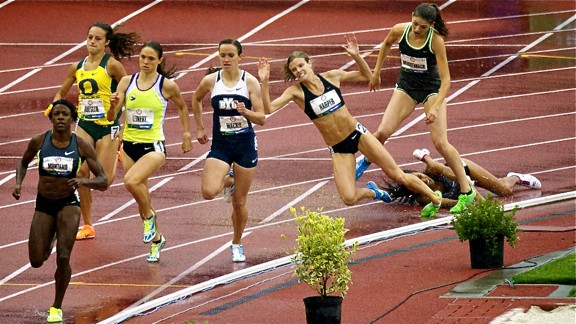 Harvard-Westlake's Amy Weissenbach (standing, far right) comes to a halt to avoid a pileup in the final stages of her 800-meter qualifying race at the U.S. Olympic Trials. (Photo courtesy of OregonLive.com)
---
DyeStat Olympic Trials Coverage
By Rich Gonzalez
Editor, ESPNHS/DyeStatCal
(June 22, 2012) -- The National Federation record holder at 800 meters was forced to do something on Friday that she's not used: Become a hurdler.
Harvard-Westlake High's Amy Weissenbach, the 2011 and 2012 California state high school champion in the two-lap event, came up short in her bid to advance to the next round of the Olympic Trials.
Weissenbach, who was coming off the final curve and was readying to unleash a final burst of speed, had her momentum trampled while trying to avoid a late-race spill in first-round action of the 800-meter run.
Competing under very slick conditions amid the Oregon rainfall, Nike's Latavia Thomas -- who was in second place with 200 meters to go -- began to struggle and took a tumble to the track with slightly more than 100 meters remaining.
In a chain reaction initated by Thomas' mishap, Lyndsey Harper unsuccessfully tried to maneuver over Thomas before falling, Weissenbach was forced to stop in her tracks, and Penn State's Rebekka Simko had to steer clear while the frontrunners widened their advantage.
By the time the Stanford-bound Weissenbach was able to regain firm footing and re-accelerate, precious seconds had elapsed.
"She was just about to start the last part of her kick," said Wolverines assistant coach Tim Sharpe. "When Harper went down, Amy was forced to try to straddle her and came to a complete stop. Amy told me later that she felt great at that point and was ready to kick hard. She said, 'I felt like they were all within reach and I could get them all.' "
Weissenbach, whose seasonal best this year of 2:04.03 at last weekend's adidas Grand Prix meet in New York City drew her ever closer to last year's federation record performance of 2:02.04 at the California state meet, clocked 59.34 through 400 meters.
With a half lap remaining, she remained in seventh place in the field of eight, but was just 0.41 seconds behind BYU's Nachelle Mackie, who eventually took the third and final auto-qualifying spot from that heat to the next round. Mackie's time was 0.36 seconds ahead of the last at-large qualifier from all the heats.
"We really pointed her season to this week," Sharpe added. "It was a tough way to end it, given that she knew she was ready."
Weissenbach heads to Stanford with two prep records under her belt -- the National Federation record (high schools-only competition in a race contested under full scholastic jurisdiction) at 800 meters and as a member of the distance medley relay record while in club competition with her high school tammates.
---