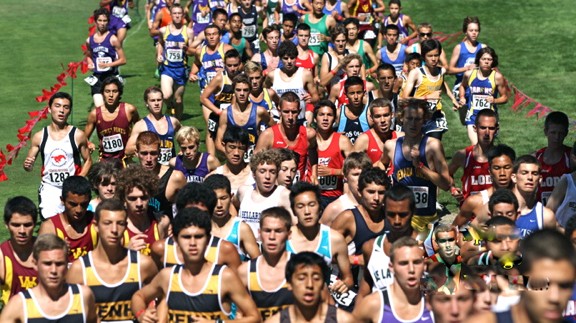 (Spencer Allen file photo)
---
CATHEDRAL BOYS APPEAR PRIMED FOR MORE SUCCESS IN 2012
By Rich Gonzalez
Editor, ESPNHS/DyeStatCal
(JULY 5, 2012) -- Nicknamed the Phantoms, they're proving to be the real thing too.
Cathedral High School of Los Angeles, which we project to be
among the prime challengers for the final berths to state in Division III (presuming
they remain in the division when the new CBED enrollments figures are released)
appeared to be 'ahead of schedule' in its rebuilding efforts for the fall after a
strong showing at the first race of the 2012 College of the Canyons Summer
Series 2-Milers.
Junior Elias Munoz was the top high school performer in the early summer
fitness challenge with a seven-second win over teammate Matthew Ruiz
at the COC course on Thursday. Munoz won in 16:17 to lead five Phantoms team
members placing in the top 10 overall. Michael Nevarez, Ian Gomez and Luis Ayala
also placed in the top 10 for Cathedral, which graduated its top two runners from a
powerful squad which placed sixth in State Division III a year ago.
Munoz posted a 64-second year-over-year improvement in the series opener (he
timed 17:21 in the first race of the 2011 series) while Gomez improved 48 seconds
and Ruiz showed five seconds of progress.
Saugus also was prominent in the results as Rodrigo Ornelas (16:29)
placed third among preps with Austin Fisher (seventh) also placing in
the top 10 for the Centurions.
Saugus' Katie Huntington led the prep results on the girls side as she
finished second overall, trailing only 26-year-old Elaine Woodward, who
was timed in 18:30. Huntington was timed in 19:36.
The College of the Canyons Summers Series continues each Thursday
through mid-August. The races begin at 7 p.m. Entry fee is $5 per race,
except for the August 16th final, which is $15 and includes post-race dinner.
A $25 series card, good for all races and the dinner, is also available. More
details on the race series can be link on the DyeStatCal XC Master Calendar.
---
Note: According to the results file sent to us, the top overall finisher
was a "bandit" (non-paying) runner, whose identity will remain unknown.
Please support these team fundraisers by paying the official entry fee.
Affiliations of leading high high schoolers with remaining eligibility ar
listed below, where known.
MALE RESULTS:
Place ID # Name Sex Age Time
2 2023 MUNOZ ELIAS M 17 16:17.2 Cathedral HS
3 2266 RUIZ MATTHEW M 16 16:24.2 Cathedral HS
4 2042? ORNELAS RODRIGO M 17 16:29.7 Saugus HS
5 2059? GONZALEZ MARVIN M 22 16:32.1
6 2348 MORSE JONATHAN M 23 16:35.7
7 2313 LOW CHRIS M 19 16:46.0
8 2032 FISHER AUSTIN M 17 16:49.9 Saugus HS
9 2014 NEVAREZ MICHAELE M 15 16:52.3 Cathedral HS
10 2270 GOMEZ IAN M 17 16:53.6 Cathedral HS
11 2265 AYALA LUIS M 16 16:56.0 Cathedral HS
12 2328 ROBINSON KYLE M 27 16:57.2
13 2302 ROSALES ANTHONY M 16 17:01.1 Saugus HS
14 2325 ROJAS BENITO M 38 17:07.7
15 2260 ZABILSKI BRIAN M 14 17:24.1 Saugus HS
15 2047 HINSON WES M 40 17:31.3
16 2369 PANKRATZ GARRETT M 18 17:31.9
17 2267 AMONDSEN JAMES M 17 17:33.4 Cathedral HS
18 2293 HAWTHORNE BRYCE M 16 17:33.7 Granada Hills HS
19 2026 BURNS RICH M 57 17:34.5
20 2018 VELASQUEZ DAVID M 16 17:37.2 Cathedral HS
21 2258 GUZMAN GIOVANNI M 23 17:42.6
22 2044 OLMEDO REFUGIO M 42 17:44.8
23 2025 FLAVIN DANIEL M 16 17:47.7
24 2058 VAN LEEUWEN TRAVIS M 21 17:48.6
25 2024 SANCHEZ NOAH M 16 17:53.6
26 2063 LOPEZ JORGE M 22 17:54.1
27 2337 MCSWEENEY KEVIN M 45 18:00.4
28 2059? GONZALEZ MARVIN M 22 18:16.1
29 2028 ALZNER NICHOLAS M 16 18:22.1
30 2271 GOMEZ ALLAN M 14 18:24.5
31 2391 VELASCO NOEL M 30 18:26.0
32 2392 SAMUELSON SCOTT M 28 18:26.4
33 2335 BYRNE JAMES M 18 18:29.3
34 2393? VALASCO PABLO M 17 18:30.4
36 2299 MYERS CHRIS M 16 18:32.0
37 2394? SERRANO JORDAN M 15 18:32.5
38 2291 OCHOA CHRISTOPHER M 14 18:35.6
39 2322 JORDAN JUSTIN M 17 18:39.0
40 2004 MARTINEZ GABRIEL M 17 18:45.0
41 2261 MARTINEZ JULIO M 20 18:50.8
42 2253 JUAREZ BEN M 16 18:53.9
43 2052 GIANGRANDE DAVID M 40 18:57.5
44 2298 FLEBBE CARY M 43 19:01.7
45 2251 HALL TREVOR M 17 19:03.2
46 2324 MERCER JUSTIN M 23 19:04.6
47 2351 SALAZAR CESAR M 36 19:06.8
48 2022 OLSON, JEFF M 48 19:11.9
49 2318 PIAZZA TOM M 42 19:14.0
50 2046 ORTIZ ISMAEL M 44 19:17.1
51 2395? FLORES JUAN M 33 19:27.9
52 2396 BERUMEN LEONARDO M 15 19:30.9
53 2344 COTA TONY M 42 19:32.2
55 2070 FLEBBE CARY M 43 19:40.0
56 2017 ARCE ANTONIO M 15 19:41.4
57 2333 HESS CHAD M 35 19:41.6
59 2355 POSTLE TYLER M 16 19:47.3
61 2264 VELA GIOVANNI M 15 19:50.4
62 2257 HAMBURGER JASON M 15 19:53.1
63 2312 PEREZ JOSE M 19 19:57.5
65 2057 HOLDING AARON M 38 19:58.2
66 2035 LOZA INAQUI M 15 20:02.8
68 2019 HOWARD PHIL M 50 20:09.7
69 2295 HAMMERTON PAUL M 58 20:11.5
70 2278 RIGGIN JEFF M 50 20:13.3
72 2307 KUNZ CHARLES M 47 20:16.8
73 2030 BOWEN RYAN M 27 20:17.5
74 2364 COOK JESSE M 36 20:17.9
75 2276 BEATTIE ADAM M 16 20:18.2
77 2009 BROGGIE TIM M 14 20:19.4
78 2033 SUAREZ ALESX M 32 20:24.3
79 2398 ACOSTA JESUS M 47 20:31.2
80 2020 RUSH BRIAN M 44 20:32.7
81 2269 TOATES NIGEL M 52 20:42.9
82 2330 CLARK MATTHEW M 15 20:43.9
83 2288 FISHER JOHN M 52 20:45.0
84 2256 YERUMYAN GREG M 16 20:45.3
85 2339 AGUILON ERVIN M 24 20:46.9
87 2280 HOUGO DRAKE M 14 21:00.5
88 2005 VERGARA JOEL M 14 21:03.6
90 2039 BERNARD DERRECK M 48 21:25.4
91 2255 RAMIREZ JOSHUA M 16 21:26.7
92 2007 HAMBURGERJONATHAN M 15 21:29.1
93 2309 SORIA HECTOR M 47 21:29.8
95 2315 SANCHEZ ANTONIO M 42 21:32.4
96 2336 MALABANAN JARRO M 19 21:32.8
97 2311 OLMEDO JOSE M 19 21:42.4
99 2038 WELKER CARTER M 21 21:53.9
100 2326 PACHECO FERNANDO M 41 21:59.4
101 2310 PEREZ JAVIER M 41 22:04.6
102 2252 VERDUGO CHRISTOPHER M 10 22:08.4
103 2397 PACHECO RIO M 20 22:09.5
104 2064 CHILDERS ZACKARY M 9 22:12.0
105 2358 GRISSOM TYLER M 14 22:12.6
106 2399? YI KWANG-JAE M 49 22:14.8
107 2331 LEE JACOB M 12 22:20.3
110 2034 LOUIE CHRIS M 42 22:34.0
111 2001 OGATA JOE M 63 22:34.9
112 2338 DE-LA-ESPRIELLA SEAN M 14 22:35.3
113 2367 REYES RAY M 50 22:39.4
114 2008 LUCAS FORREST M 14 22:43.4
115 2382 CAUTIVARCHRISTOPHER M 15 22:43.8
116 2362 SHAW GEORGE M 50 22:44.1
119 2321 JORDAN DANIEL M 50 22:56.4
120 2388 KANE DOYLE M 12 22:56.9
121 2279 CROSSON JACOB M 14 22:57.4
123 2021 RUSH DANIEL M 10 23:11.9
124 2066 LEW KEN M 51 23:14.0
127 2345 ARROYO CELEDONIO M 50 23:27.1
129 2320 SMITH JAMES M 40 23:36.1
130 2069 SILKEY ASHER M 36 23:43.2
131 2268 THOMPSON VAN M 45 23:43.6
132 2371 PEREZ ISRAEL M 53 23:48.9
133 2370 PLATTS ADAM M 39 23:51.3
134 2316 DAVIS MIKE M 38 23:55.1
135 2347 MOCK JASON M 40 23:56.7
136 2036 RODRIGUEZ BRYAN M 16 24:03.1
138 2029 BARRINGTON DON M 53 24:12.4
139 2401 SHANNON JACK M 53 24:14.3
140 2308 LUTES ROBERT M 42 24:33.1
141 2352 SZROMBA LEE M 53 24:33.5
142 2301 JAUREGUI BRANDO M 21 24:39.4
144 2334 BYRNE KEVIN M 55 24:41.5
145 2381 CAUTIVAR MELVIN M 48 24:43.1
146 2317 COLGAN KEVIN M 51 24:45.2
147 2002 BLATZ COREY M 15 24:47.0
149 2290 BEAVER JARED M 14 24:49.7
150 2012 JOHNSON JOEY M 14 24:50.1
152 2327 RIOS AGUSTIN M 24 24:51.3
155 2332 ROBERT CROCKETT M 57 24:59.6
157 2373 MICHAELIDES ANTHONY M 43 25:08.7
158 2013 FOOTITT SHAWN M 14 25:09.3
159 2368 LITTLE FRED M 55 25:16.1
160 2365 ZANUDIO A M 52 25:21.0
161 2068 AUSHERMAN MATT M 16 25:22.8
162 2304 SARKIS KEN M 59 25:23.8
163 2273 GONZALEZ DANIEL M 15 25:24.5
164 2259 CAMPBELL COREY M 16 25:25.0
165 2346 ACOSTA AURELIO M 50 25:25.9
167 2378 PANTOJA CARL M 61 25:38.1
168 2387 KANE MIKEY M 11 25:50.4
172 2040 DUNN GARY M 52 25:57.5
173 2289 CRUZ CHRISTOPHER M 20 26:00.0
174 2342 SUPOWIT STUART M 58 26:05.4
175 2354 GORDON JUSTIN M 30 26:08.6
176 2294 LEWIS GREGG M 55 26:09.0
177 2379 RICHARDSON SEAN M 15 26:11.4
178 2366 GILBERT JOHN M 27 26:16.0
179 2356 POSTLE BRADLEY M 14 26:20.5
180 2402 SCHIRO FRANK M 50 26:23.2
181 2341 MYERS DALE M 56 26:23.7
183 2055 ROBERT DOUG M 58 26:43.5
187 2403 BUFKIN GREG M 50 27:00.2
189 2277 PAUTZ KEITH M 58 27:06.9
190 2376 ADAIR ERIC M 50 27:11.1
191 2303 SHELTON JOHN M 67 27:13.6
193 2060 MATHEWS SCOTT M 53 27:18.4
194 2031 MARTINEZ LOUIE M 76 27:18.7
197 2353 RITCHIE KEN M 52 27:27.8
201 2358 GRISSOM TYLER M 14 27:44.3
202 2359 HEADE JT M 14 27:48.9
203 2048 RODRIGUEZ ERIC M 39 27:53.5
205 2350 SMISKO KYLE M 11 28:03.4
210 2323 HUNTER ALLEN M 50 28:17.3
212 2319 BILDERBACH KURT M 38 28:29.4
213 2374 LYNN KEITH M 60 28:34.5
214 2054 HILTON GARY M 56 28:46.7
215 2027 HARDING RYAN M 16 28:49.0
216 2051 VULICH DON M 61 28:52.9
217 2380 TANNER LOMELI M 14 28:56.7
220 2372 SHANNON KYLE M 29 29:14.1
221 2050 CUSUMANO JAMES M 10 29:21.9
224 2281 AUSHERMAN DONALD M 49 29:26.8
227 2375 CLARK KELLY M 64 29:30.4
228 2254 AVILA MIGUEL M 15 29:33.8
229 2314 DUARTE MARLON M 37 29:36.9
230 2360 TAURA CARLOS M 23 29:37.9
231 2377 MITCHELL JERRY M 63 29:42.0
236 2053 LUSTER EVAN M 29 30:18.4
240 2343 GILLESPIE WILLIAM M 43 30:50.8
244 2292 RODIN GAYLON M 69 31:31.1
247 2340 AGUILON ADILIA M 15 32:12.4
248 2275 BASEY ANDY M 29 32:13.9
252 2385 DUARTE CHRISTIAN M 21 33:34.0
254 2067 JAMALI SHAWN M 44 33:38.0
255 2384 DUARTE IVAN M 66 33:46.5
256 2003 JUAREZ FERNAN M 45 33:54.8
260 2056 SUAREZ SAL M 38 34:10.2
262 2404 KAUFMAN ALEK M 10 34:37.7
267 2263 HERNANDEZ LEO M 40 34:46.1
268 2383 KORY GREG M 56 34:49.2
270 2043 SWALLOW JOHN M 70 35:19.1
273 2061 MENDIBLES JAMES M 9 35:47.5
276 2386 RUIZ ZACHARY M 10 37:09.8
278 2037 RODRIGUEZ JESSE M 54 38:01.6
282 2389 SIDLES RUSS M 75 44:01.4
FEMALE RESULTS:
Place ID # Name Sex Age Time
35 1002 WOODWARD ELAINE F 26 18:30.8
54 1003 HUNTINGTON KATIE F 16 19:36.4 Saugus HS
58 1007 FLORES ASHLEY F 18 19:45.1 Sacred Heart of Jesus HS
60 1055 GROSSMAN DAKOTA F 16 19:48.9 Seabury Hall/HI HS ?
64 1056 LARKINS MANDY F 35 19:57.8
67 1041 DEJESUS ROCIO F 21 20:03.3
71 1009 THOMPSON KAYLEE F 12 20:16.2
76 1038 PACHECO IMURI F 19 20:18.7
86 1086 BUCKHOFF ABBY F 16 20:49.5 Golden Valley HS
89 1020 PATEL RIDDHI F 16 21:22.9 Stockdale HS
94 1031 HOELZEL SOPHIA F 11 21:31.0
98 1075 BONNER VIVIAN F 35 21:45.5
108 1044 SPROCK RAINA F 15 22:30.6
109 1008 FINK LISA F 42 22:33.7
117 1088 SAVAGE TAMRA F 32 22:46.6
118 1035 BINGHAM LEAH F 30 22:54.2
122 1089 SAVAGE BRENNA F 28 22:59.2
125 1084 SATTERFIELD MEGAN F 13 23:16.4
126 1085 SONI MERLY F 36 23:18.3
128 1054 YOON CLARA F 27 23:28.7
137 1017 HINDE EMILY F 20 24:07.8
143 1015 AUSHERMANCHRISTINE F 14 24:40.7
148 1045 SCHRANZ KELLEY F 62 24:48.8
151 1040 DE-JESUS ANAYELI F 22 24:51.0
153 1025 SHIELDS MARIA F 41 24:52.8
154 1092 SHAW SYDNEY F 15 24:55.5
156 1004 CRUZ CECILIA F 15 25:06.3
166 1018 AGUILAR MYRNA F 43 25:34.1
169 1053 KAZEMZADEH LUCY F 31 25:51.0
170 1036 VELARDE SANDRA F 25 25:52.8
171 1037 VELARDE NANCI F 23 25:53.1
182 1048 HESS JESSICA F 34 26:29.7
185 1087 MARTINEZ JULIA F 39 26:47.8
186 1090 LIFF JENNIFER F 29 26:56.3
188 1042 REILMAN LIZ F 47 27:05.9
192 1066 SCHAUB LINDA F 64 27:17.1
195 1067 REEL JOLIE F 38 27:22.0
196 1049 TICKNOR EVALYN F 45 27:24.0
198 1019 AGUILAR DULCE F 16 27:32.9
199 1059 CAUTIVAR JESSICA F 12 27:38.9
200 1072 GORDON HILLARY F 31 27:44.1
204 1014 RIGGIN ANNE F 51 28:00.2
206 1029 TROTTER MELISSA F 24 28:04.2
207 1077 LUNT TERRI F 50 28:05.9
208 1005 HERNANDEZ XOCHITL F 14 28:14.2
209 1083 DONOVAN MALAKA F 39 28:14.6
211 1076 BERCOVICI PAMELA F 50 28:25.7
218 1063 SLOTSVE MIA F 44 29:04.2
223 1016 AUSHERMANCATHERINE F 11 29:26.5
225 1094 PHILLIPS NANCY F 51 29:27.4
226 1021 MITCHELL CANDIE F 65 29:29.8
232 1081 SMISKO KATIE F 15 29:42.8
233 1070 ZIEMBA CHRISTINE F 41 29:44.9
234 1043 SHEA JAIME F 41 30:11.7
235 1074 MORENO AUDREY F 51 30:17.3
237 1033 ROBERT DEBBIE F 57 30:21.3
238 1028 ESPARZA DIANA F 43 30:39.3
239 1032 TAPIA LAURA F 36 30:50.2
241 1010 LEWIS ARLENE F 57 30:52.6
242 1050 QUAINTANCE TERRI F 56 30:53.2
243 1051 DELGADILLO MARIA F 50 31:24.8
245 1061 KENNEDY HEATHER F 26 32:04.0
246 1001 JUAREZ EPIPHANEIA F 13 32:10.0
249 1082 POSTLE JOANNA F 49 32:36.9
250 1071 CUSUMANO BETTINA F 45 32:47.6
253 1073 JAMALI KYLA F 43 33:36.1
257 1030 LUSTER ERICA F 26 34:02.7
258 1011 BASEY SANDY F 27 34:03.4
261 1052 LEE JAMIE F 9 34:19.0
263 1023 SUMMER ANNA F 11 34:38.4
264 1057 CAMPOS MATILDE F 29 34:43.6
265 1006 HERNANDEZ ITZEL F 9 34:43.8
266 1046 MATHEWS PAULA F 54 34:45.6
269 1013 BARRINGTON ROBIN F 54 34:54.5
271 1039 PAZ KATHERINE F 16 35:27.5
272 1026 PERTUSATI DARCEL F 61 35:34.4
274 1078 SCHIRO TARA F 45 36:26.6
275 1027 FIGUEROA KARRON F 40 36:45.9
277 1091 BEARD LAURA F 26 37:14.2
279 1022 MINETTE NEILE F 51 38:10.2
280 1024 SWALLOW BETSY F 62 39:09.4
281 1058 FOSTER DAPHNE F 50 41:21.3
---