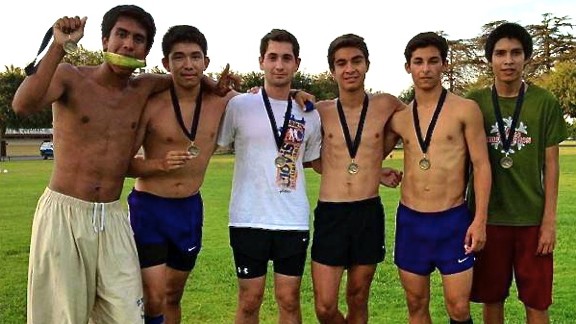 Cathedral High's boys took 7 of the top 10 places at the St. John Bosco Series race.
---
By Rich Gonzalez
Editor, ESPNHS/DyeStatCal
(July 11, 2012) - For the second time in as many weeks, Cathedral High's boys cross-country team made quite an impression as a high school summer cross-country seres gathering.
The Phantoms snagged 7 of the top 10 places at Wednesday's St. John Bosco Summer Series opener in Bellflower, less than a week after dominating at the College of the Canyons Summer Series. Elias Munoz (10:04) and Matthew Ruiz (10:05) placed 1-2 overall. St. John Bosco's Myles Smith, an all-state selection last year, was fourth in 10:06.
Whittier's Cynthia Carabes (12:49) was the top girls placer while Downey's trio of Lisa Vasquez, Meghan Nevarez, Karen Silva and Gabi Gonzalez (a transfer from St. Joseph) swept the next four places.
---
St. John Bosco Summer Series
Wednesday July 11th, 2012
Boy's Results
1) Elias Munoz – 11 10:04 (Cathedral HS)
2) Matthew Ruiz – 11 10:05 (Cathedral HS)
3) Antonio Muzina – 11 10:05
4) Myles Smith – 12 10:06 (St. John Bosco HS)
5) Sebastian Cruz – open 10:25
6) James Amondsen – 12 10:26 (Cathedral HS)
7) Michael Nevarez – 10 10:31 (Cathedral HS)
8) David Velasquez – 11 10:34 (Cathedral HS)
9) Mark Pang – 12 10:48 (Cathedral HS)
10) Luis Ayala – 12 10:48 (Cathedral HS)
11) Kevin Rodriguez – 11 10:51 (St. John Bosco HS)
12) Carlos Barrios – 10 10:52 (St. John Bosco HS)
13) Cris Marrin – 11 10:52
14) Ruben Solorza – 12 10:53
15) Noah Sanchez – 11 10:54
16) Allan Gomez – 10 10:54
17) Alez Espinosa – open 11:11
18) Terry Fenske – 12 11:14
19) Anthony Minton – 10 11:15
20) Jack Ackerman – 10 11:17
21) Danny Mendoza – 11 11:23
22) Martin Morales – open 11:48
23) Brett Savage – 10 11:59
24) Nicholas Arce – 12 12:00
25) Gabriel Cruz – 10 12:02
26) Julien Medina – 11 12:09
27) Giovanni Leia – 10 12:10
28) James Reyes – 11 12:15
29) Allan Montalvo – 10 12:18
30) Alex Munoz – 11 12:22
31) Steven Carino – 12 12:26
32) Giovanni Gonzalez – 12 12:27
33) Jin Tapia – 9 12:27
34) Jesus Rivera – 10 12:28
35) Antonio Arce – 10 12:38
36) Matthew Rios – 11 12:39
37) Brandon Ayala – 12 12:40
38) Christian Mendoza – 10 12:42
39) Mario Garcia – 12 12:52
40) Juan Flores – 10 12:52
41) Coy Leong – 11 12:54
42) Christopher Aguilar – 11 12:54
43) Tommy Gonzalez – 11 12:57
44) Ernesto Rodriguez – 12 13:04
45) Michael Caballero – 9 13:24
46) Freddie Alvarado – 11 13:33
47) Jonathan Romero – 9 13:40
48) Brian DeLeon – 10 13:41
49) Marco Salinas – 10 13:42
50) Javier Dax – 10 13:43
51) Andrew Velasquez – 10 13:44
52) Daniel Basurto – 9 13:54
53) Andrew Vela – 9 14:04
54) Mauricio Garcia – 10 14:08
55) Andrew Schaeffer – 11 14:20
56) Miles O'Connell – 9 14:22
57) Daniel Salas – 11 14:28
58) Riley Froehlich – 9 14:31
59) Christian Morales – 9 14:33
60) Anthony Choi – 9 14:36
61) Daniel Talavera – 11 14:42
62) Tim Schaeffer – 9 15:10
63) Alfredo Barragan – 9 17:44
64) Chris Campos – 9 19:06
65) Zachary Ruiz – open 20:03
Girl's Results
1) Cynthia Carabes – 11 12:49 (Whittier HS)
2) Lisa Vasquez – 10 12:51 (Downey HS)
3) Meghan Nevarez – 12 12:52 (Downey HS)
4) Karen Silva – 11 12:56 (Downey HS)
5) Gabi Gonzalez – 12 13:19 (Downey HS)
6) Isabel Gil – 12 13:19 (Whittier HS)
7) Jocelyn Orozco – 12 13:29
8) Jocelyne – Clemente – 12 13:35
9) Destinie Hernandez – 12 13:40
10) Magaly Gastelum – 12 13:42
11) Yessenia Rodriguez – 11 13:44
12) Ammi Castaneda – 11 13:54
13) Stephanie Perea – 11 13:58
14) Brittney Martinez – 10 14:03
15) Amber Rodriguez – 12 14:07
16) Melissa Ortiz – 12 14:08
17) Wendy Dorantes – 11 14:15
18) Joanna Bautista – 11 14:26
19) Anisha Fenske – youth 14:34
20) Sarah Montes – 10 15:01
21) Balley Campbell – youth 15:13
22) Alexandra Payan – 10 15:15
23) Erika Garcia – 10 15:16
24) Dona Espinosa – 12 15:28
25) Naomi Frontela – 11 15:33
26) Adriana Velasco – 10 15:35
27) Lizbeth Hernandez – youth 15:36
28) Melanie Rojas – 9 15:37
29) Elvira Duga – 12 15:59
30) Andrea Pena – 11 16:06
31) Brenda Dorantes – 9 16:06
32) Fabiola Cardona – 10 16:08
33) Linda Rojes – 12 16:14
34) Monica Campos – 12 16:17
35) Lizeth Acevedo – 11 16:18
36) Ysabelle Cruz – Youth 17:09
37) Lorena Pedroza – 10 17:15
38) Xitlaly Gonzalez – 12 17:36
39) Dianna Rodriguez – 10 17:42
40) Morelia Venegas – youth 17:51
41) Tara Kasimi – 9 18:01
42) Catherine Ham – 9 18:01
43) Janae Leyva – 11 18:05
44) Denisse Quan – 12 18:07
45) Denise Hernandea – 11 18:10
46) Emely Jacobo – 9 18:12
47) Haley Griffith – 9 18:15
48) Alexandra Gamez-Lacayo – 11 18:18
49) Audrie Tapia – 9 18:21
50) Brittnie Tapia – 9 18:22
51) Hazel Lazaro – 10 18:36
52) Cheyanne Hugan – 9 18:41
53) Carmen R. – 10 18:41
54) Alaina Williams – 11 19:04
55) Alexis Covarrubias – 9 19:04
56) Elly Enriquez – 9 19:08
57) Brenda Garcia – 11 19:09
58) Taller Villarreal – 9 19:16
59) Noelle Cavazos – 9 19:19
60) Nelly Pineda – 12 19:45
61) Vanessa Ramirez – 11 20:01
62) Judy Mendoza – 11 20:01
63) Selma Laguna – 10 20:14
64) Ellisette Saavedra – 10 20:19
65) Jallene Orozco – 9 20:32
66) Gabby Rosas – 12 21:12
67) Gedgee Campbell – youth 21:29
68) Victoria Estrella – 10 21:34
69) Raquel Otanez – 10 21:36
70) Jackie Martinez – 11 21:46
71) Allison Sanchez – 9 22:33
72) Rosemary Hernandez – 9 23:00
73) Amber Gastelum – 11 23:11
74) Melina Escobedo – 9 24:41
75) Valerie Contreras – 9 24:46
76) Tayanna Torres – 9 25:25
77) Deliah Lorenzo – 9 25:25
78) Sabrina Quinlan – 9 26:01
79) Victoria Vielma – 11 26:13
80) Deanna M. – 9 26:19
81) Jackie Caceres – 10 28:54
82) Norma Rodriguez – open 29:18
---