SEE VARIOUS TEAM CAMP PICTURES BELOW (AND LINKS TO MORE!)
By Rich Gonzalez
Editor, ESPNHS/DyeStatCal
(July, 2012) - Is your squad going anywhere special for a team training camp this summer? Mammoth Lakes? Big Bear? Lake Tahoe? Somewhere else?
If so, we'd like to add it to our master list of summer team getaways. At a glance, you can check out which team will be where. Who'll be there when you are? Where are your friends and their teams heading and when?
Please send us the specific dates you'll be at camp. If your destination is a very large area, let us know which main campground you'll be at. For instance, if you're at Mammoth Lakes, will you be at Summit Condos, or Shady Rest, or Convict Lake, etc.?
Also, we'll be posting photos from team camps that submit their images. Please send your photos to RichGonzalezTrack@gmail.com. Send them at full size, if possible, and we will crop and edit them to the best size for viewing. Feel free to send a paragraph or two about some of the activities the team did and how it all went.
Have fun at team camp!
---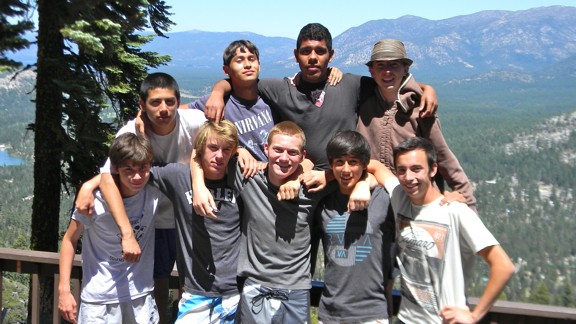 Details from Morro Bay's running camp coming!
---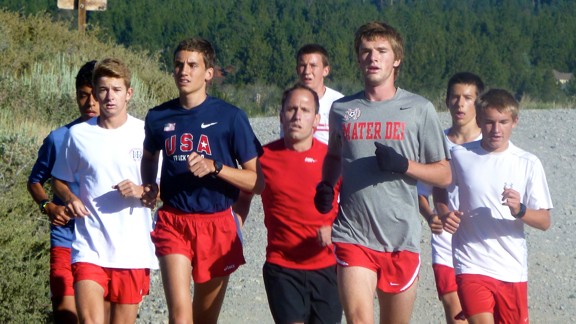 More photos from Mater Dei's running camp coming!
---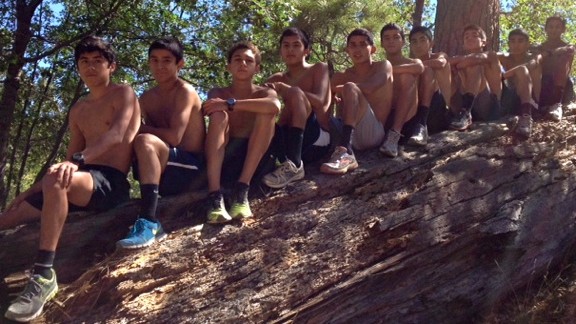 More photos from St. John Bosco's running camp coming!
---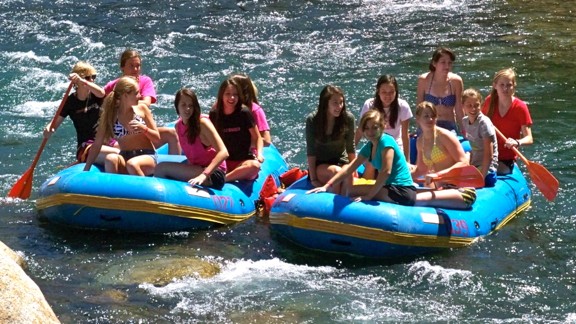 More photos from the Northern California-based "Buffalo babes" camp coming!
---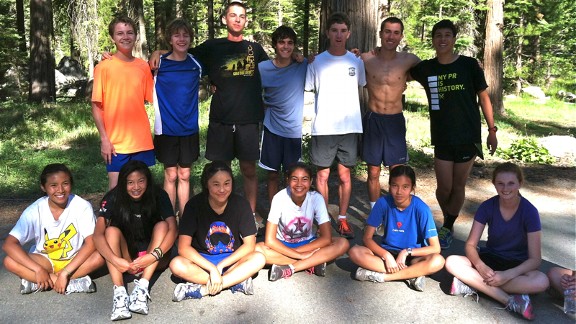 St. Joseph Notre Dame HS in Alameda (North Coast Section) at its team summer
camp up in Pinecrest earlier this month. (Photo courtesy of Tony Fong)
---
2012 SUMMER TEAM CAMPS INDEX
Send yours in now!

St. Joseph Notre Dame July 7th to 12th Pinecrest
Mater Dei July 15th to 20th Mammoth Lakes
Rancho Cucamonga July 22nd to 26th Big Bear
Roosevelt/Corona July 22nd to 26th Big Bear
Alta Loma July 22nd to 27th Big Bear
Morro Bay July 22nd to 27th Lake Tahoe RW Camp
Great Oak July 22nd to 29th Big Bear
Baldwin Park July 24th to 30th Big Bear Hostels
San Lorenzo Valley July 22nd to 29th Mammoth Lakes
Citrus Valley July 23rd to 28th Big Bear
La Reina July 23rd to 28th Mammoth Lakes Snowcreek Resort
St. John Bosco July 24th to 28th Big Bear
Rubidoux July 25th to 31st Mammoth Lakes
Palisades July 28th to August 4th Mammoth Lakes
Bell-Jeff July 28th to August 4th Mammoth Lakes
Crescenta Valley July 28th to August 4th Mammoth Lakes Mammoth Mtn RV Park
Notre Dame/SO July 28th to August 5th Mammoth Lakes Snowflower Condos
West Ranch July 28th to August 5th Mammoth Lakes
Fillmore July 29th to August 3rd Mammoth Lakes
Bishop Amat July 30th to August 3rd Avila Beach (SLO)
Murrieta Valley July 30to to August 3rd Green Valley Lake
Crean Lutheran July 31st to August 5th Mammoth Lakes
La Salle August 1st to 8th Mammoth Lakes
Canyon Springs August 2nd to 5th Big Bear
Laguna Beach (G) August 4th to 9th Mammoth Lakes Summit Condos
JSerra August 5th to 11th Mammoth Lakes
Thousand Oaks August 5th to 11th Big Bear
Trabuco Hills August 6th to 10th Idyllwild Idyllwild Campground
Pacific Ridge August 6th to 10th Idylwild Igylwild Campground
West Torrance August 6th to 10th Big Bear
La Quinta/LQ boys August 6th to 15th Big Bear
Palos Verdes August 10th to 19th Mammoth Lakes Summit Condos
Mira Costa August 10th to 19th Mammoth Lakes Summit Condos
Downey Girls-SS August 10th to 21st Sandpoint, ID
Foothill/SA August 11th to 18th Mammoth Lakes Sherwin Villas
South Hills August 11th to 18th Mammoth Lakes Chateau de Mont.
L.B. Poly Boys August 11th to 19th Mammoth Lakes
Canyon-Ana. August 13th to 17th Big Bear
Covina August 13th to 17th Camp Mabel French Arroyo Grande
Rosemead August 13th to 17th Big Bear
Laguna Beach (B) August 15th to 22nd
Edison-HB August 16th to 22nd Mammoth Lakes Horizons 4
Redondo Union August 18th to 24th Big Bear
Marina August 19th to 25th Mammoth Lakes
Camp Whittle August 20th to 25th Big Bear Camp Whittle
Desert Chr./Lanc. August 24th to 29th Mammoth Lakes Horizons 4
---