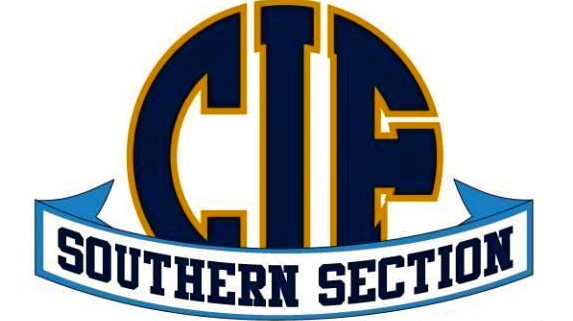 ---
2012 CIF-SS CBEDS ARE LINKED HERE
SIMI VALLEY GETS BUMPED UP IN 2012
By Rich Gonzalez
Editor, DyeStatCal/ESPNHS
(Los Alamitos, Calif.) –Simi Valley High School's girls' cross-country team, which last November snapped Saugus' five-year Southland reign by claiming the CIF-Southern Section Division 2 girls' championship, will not be defending that particular crown this fall.
That's because Simi Valley moves from the brutally tough ranks of Division 2 to the not-so-torturous confines of Division 1 – but by just a small margin.
The Pioneers saw their student enrollment climb by 78 students in the latest CBED enrollment figures just released by the CIF-SS office. Their new total of 2,550 students steers the program just above the Division 1 cutoff point of 2,546 students. In a sport where Southern Section divisions are based on student enrollment, Simi Valley enters the new school year as the smallest of the 94 schools assigned into Division 1. Pioneers junior Sarah Baxter, the defending national champion, is the top runner in the division and overall.
But long gone are the days when Division 1 would always be more powerful than Division 2. In recent years, more parity in depth between the divisions has existed, especially on the girls' side. In 2011, however, Division 2 was clearly the state's strongest division on the girls' side.
There appear to be less "impact" divisional movements taking place this year compared to recent seasons. In fact, only four programs with recent pedigrees of success or strong chances for upcoming postseason success appear in new divisions. In addition to Simi Valley's move to Division 1, West Torrance, Esperanza and Orcutt Academy have also found new homes for the 2012 season.
West Torrance, which has been a power in Division 3 in recent years, undertook a 71-student jump in enrollment to move from Division 3 up to Division 2. In recent years, the Warriors were criticized by some for taking a conservative approach at the grueling Bay League Finals meets, instead relying on securing postseason at-large advancement by virtue of its ranking. In Division 2, West Torrance will now be forced to rev into higher gear in taking on the likes of D2 foes Redondo Union and Peninsula (as well as D3 stalwart Palos Verdes) in the hunt for automatic berths to postseason.
Esperanza, which moved to Division 2 a year ago when the division became a cauldron for the deepest single regional division in national history, moved down to Division 3, a by-product of new school openings in nearby communities in recent years drawing away enrollment numbers. The Aztecs saw their student enrollment decline by 332 students in a year-over-year comparison.
Orcutt Academy, which debuted on the Division 5 rankings scene in early season last fall only to be relocated to Division 4 by midseason, is back to Division 5 in 2012. The school's enrollment of 489 students is just 11 students below the cutoff point.
There is a remote likelihood that teams can still move to new divisions in late October, when the current school year's updated enrollment figures are tabulated. But in order for teams to relocate, their new enrollment figure would need to change in-season by 15 percent AND the new figure would need to fall within a different enrollment division. On average, roughly two percent of schools meet that criteria each fall.
2012 CIF-SS CBEDS ARE LINKED HERE
---