---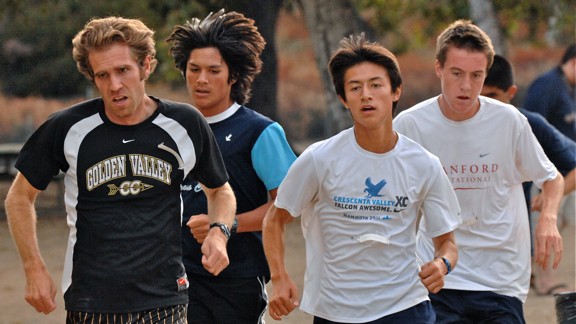 From left, Crescenta Valley HS alum
Chris Evans
and current Falcons runners
Aaron Esparza, Nick Beatty and Gabe Collison
work together during the second mile at the Crescenta Valley All-Comers finale at Crescenta Valley Park in La Crescenta on Wednesday.
93-image photo album from Wednesday's race
---
CRESCENTA VALLEY'S BOYS PACK TAKING SHAPE
By Rich Gonzalez
Editor, DyeStatCal/ESPNHS
(LA CRESCENTA, Calif.) -- In a partial preview of the upcoming Pacific League cross-country season, Hoover High's Ken Trejo looked promising in winning the individual battle, but Crescenta Valley's depth impressed to win the war.
Trejo, who placed 29th as a junior at last year's league finals race, captured the overall win in the Crescenta Valley Summer Series finale at Crescenta Valley Park on Wednesday. Trejo won the three-mile race in 16:54, recording a 10-second margin of victory over Bishop Amat's Christian Hernandez.
From there, however, a nicely bunched swarm of Crescenta Valley's claimed the next four spots in a 17-second span between 17:09 to 17:26. Junior Gabe Collison led the Falcons lineup with his third-place finish. Matt Manalo, Nick Beatty and Aaron Esparza were close behind, perhaps foretelling a "pack" mentality the crew will utilize for the upcoming season, where Arcadia and Burbank are regarded among the top teams in CIF-State Division 1.
Crescenta Valley opens the season on the road with a quadrangular meet against Camarillo, Newbury Park and Golden Valley on Thursday, September 6th.
---
Crescenta Valley Park Cross Country Series
Race 4 August 15, 2012
2K
1 Fitzgerald Colin 7:52 12 yr old
2 Neil Logan 8:25 13 yr old
3 Delaney Moira F1 9:15 CV Alum
4 Fitzgerald Rowan 10:20 8 yr old
5 Stubbs Laine F2 11:42 10 yr old
6 Stubbs Kelly 13:44
3 mile Race
1 Trejo Ken 16:54 Hoover
2 Hernandez Christian 17:04 Bishop Amat
3 Collison Gabe 17:09 CV
4 Manalo Matt 17:16 CV
5 Beatty Nick 17:23 CV
6 Esparza Aaron 17:26 CV
7 Evans Chris 17:50 CV Alum
8 Rowton Adam 17:59 CV
9 Santoyo Robbie 18:10 Bishop Amat
10 White Alex 18:28 CV
11 Boesen Tyler 18:30 Bishop Amat
12 Climqsevshii Vladimir 18:43 Hoover
13 Hart Andrew 18:44 CV
14 Alvarado Andrew 18:47 Hoover
15 Isho Brandon 18:47 Bishop Amat
16 Gonzalez Fernando 19:05
17 Witzeman Connor 19:14
18 Hernandez Alex 19:22
19 Sanchos Aaron 19:30
20 Owens Matt 19:35
21 Dickinson Kyle 19:43
22 Rogers Logan 19:45
23 Cheese F1 19:46 Bishop Amat?
24 Tan Josh 20:06
25 McNelis Robert 20:10
26 Huezo Justin 20:12
27 Dupuy Dashell 20:14
28 Siu Sze Hei 20:24
29 Johnson Erika F2 20:27 CV
30 Fitzgerald Silas 20:34
31 Ji Matt 20:38
32 Porcell Matt 20:41
33 Shintaku Eric 20:40
34 Fuelling Megan F3 20:44 La Canada
35 Ruby Hannah F4 20:46 CV
36 Witzeman Haley F5 20:47 CV
37 O'Brien Natalie F6 20:52 14 Yr old
38 Brookey Will 20:59
39 Tenner Paul 21:10
40 Martin Michael 21:16
41 Diaz Adrian 21:17
42 Widholm Matt 21:20
43 Cruz Alan 21:27
44 Matheu Mark 21:28
45 Crosthwaite Jason 21:34
46 Chin Kyler 21:34
47 Makhmuryan Hayk 21:57
48 Cabrera Samantha 22:02
49 Combs Evan 22:03
50 Magallanes Iesha 22:10
51 Pepinito 22:42
52 Arredondo Vivien 22:48
53 Huber Liam 22:57
54 Jones Jimmy 22:58
55 Minassian Lucik 22:59
56 Bernardo Samantha 23:13
57 Garnica Karina 23:25
58 Poole Jacob 23:30
59 Alvarado Zach 23:34
60 Nolte Katherine 23:37
61 Tenorio Pamela 23:55
62 Tjan Amanda 24:05
63 Carlson Don 24:12
64 Burch Amanda 24:22
65 Tavitian Vicken 24:31
66 Everdeen Katniss 24:32
67 Schetina Matthew 24:33
68 Ossiff Jim 24:48
69 Poole Noah 24:57
70 Ramos Johnsie 25:05
71 Lapides John 25:08
72 Waalk Kylee 25:09
73 Ochoa William 25:10
74 Dols Steven 25:10
75 Munoz Gigi 25:24
76 Anderson Beth 25:30
77 Harvey Brett 26:22
78 Bolstad Jessica 27:06
79 Saunders Leah 27:07
80 Bensmiller Hayley 27:51
81 Garrubba Phillip 27:55
82 Binnie Caillie 28:28
83 Szulc Elizabeth 28:43
84 Solis Scott 28:47
85 Rodarte Anyssa 28:47
86 McNelis Mark 37:39
---