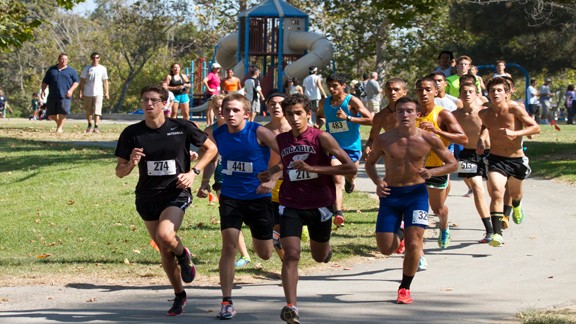 Photo courtesy of Duncan Selby
Arcadia's Mitchell Pratt (#274), representing O'Brien's Army XC Club, and teammate Mahmoud Moussa (#271) claimed the top two spots in the boys race at Sunrise In The Park.
---
RESULTS
High School Boys | High School Girls | Co-ed Open Division
PHOTO ALBUM
All images courtesy of Duncan Selby
---
By Rich Gonzalez
Editor, ESPNHS/DyeStatCal
(HUNTINGTON BEACH, Calif.)
– With all due respect to the several all-comers meets having taken place this summer, the 2012 high school cross-country season unofficially took shape on Saturday morning.
Warm temperatures, a true cross-country course, and the convergence of several top runners gave the annual Nike Sunrise In The Park race an in-season feel that has been lacking at most of this summer's all-comers affairs, often contested under twilight conditions along flat, lightning-quick courses.
Truly, this is what runners can expect over the next 14 weekends as the CIF calendar kicks off this coming week.
So what did we learn from Saturday at Huntington Beach's Central Park?
Well, Arcadia High's boys program appears well equipped to challenge defending champion Trabuco Hills for the CIF-State Division I crown, a pair of ninth graders demonstrated why this will be a blockbuster year for newcomer talent, and La Quinta's
Megan Huebner
wasted no time sending a message she'll be prepped to go further this fall than in 2011.
O'Brien's Army, a collection of Arcadia High runners competing without two key team members, still claimed three of the top four places in the High School Boys Division race to key a commanding 32-64 victory over runner-up Mustangs XC for the team title in a meet where all runners either competed under club team affiliations or ran 'unattached'. The official CIF calendar begins this coming Friday with action in the Sac-Joaquin Section.
O'Brien's Army, named after Arcadia HS head boys coach
Jim O'Brien
, had
Mitchell Pratt
and
Mahmoud Moussa
trade off the lead across the last half of the race, with Pratt prevailing for the individual victory in 15:32 on a layout that typically runs a few seconds faster than the Mt. SAC course used for the CIF-Southern Section Championships. On this day, very warm temperatures in the low 80s with high humidity made all performances that much more impressive and could prove to be a key, confidence-building win for Pratt.
Moussa (second in 15:37) and
Brian Ngo
(fourth in 15:50) fronted the Arcadia attack, with talented returnees
Josue Gonzalez
(out of town) and
Esteban De La Rosa
(injury) not needed in the lineup to secure victory on this day. Those five would make up quite a scoring crew, but quality reinforcements are on the way.
Phillip Rocha
, who in recent months established a national Youth Division record of 8:56.93 for 3000 meters (worth about 9:33 for 3200 meters), would have been Arcadia's fourth scorer here, but he was competed for the SoCal Roadrunners Club instead. According to Rocha's mom,
Sarah
, the incoming freshman has enrolled at Arcadia High but had yet to meet the coaching staff in person.
Rocha is the lead name helping comprise a five-star incoming freshmen class statewide this fall (our "Where They Are Going" freshmen story will be out next week), but he was not the top ninth grader on this day. Instead, that distinction went to Brea Olinda's
Austin Tamagno
, who just two days earlier was reportedly the overall winner at the Ryan Bousquet Memorial Fun Run.
According to Brea Olinda head coach
Jeremy Mattern
, Tamagno has been dazzling in summer training. His 8:58.45 for 3000 meters while in Intermediate Division age-group action this past spring, pegs him as another leading frosh arrival on the statewide scene.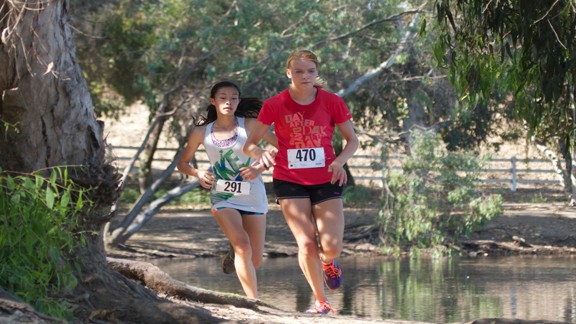 Photo courtesy of Duncan Selby
La Quinta's Megan Huebner, right, eventually pulled away from
Arcadia's Roni Yamane to win the High School Girls race.
In the High School Girls Division race, La Quinta's Megan Huebner outdueled Arcadia's Roni Yamane to prevail for the individual triumph in 18:29. Huebner, who endured a rare setback at last November's CIF-SS Finals to miss advancing to the state meet, gapped Yamane and the rest of the field over the last mile, where the course's main hill challenge played out.
Colby Lindholm, among the top returnees for defending Division 4 state champion JSerra, was a distant third in 19:11. Another 30 seconds back, Arcadia's Meghan Kamae (19:41) edged Haley Seward of the Lady Chargers (Edison HS) by one second. The Lady Chargers had three in the top 10 and all in the top 15 to record a 46-68 victory over Red Pride (Mater Dei).
OTHER NEWS OF NOTE: Kamae's fourth-place finish in the girls race came despite a recent injury while at a team camp in Mammoth and battling tendinitis in both ankles. She was among a small group of Arcadia girls training with the boys program in Mammoth. Most of the girls team members trained with girls head coach Jenny Landis.
Despite competing as club teams here, lineups from five high school teams projected to start the season ranked in their division were in attendance. None of those five – Edison, Mater Dei, JSerra, Torrance and Arcadia – were competing at full strength.
Santa Margarita's Jason Engel, who enjoyed a breakthrough track season last spring, was the lone non-Arcadia runner among the top four in the boys race. Engel was third in 15:40 while teammate Guido Marasigan was 16th. The Eagles figured to have a solid 1-2-3 punch but limited depth in projecting as the #64 team in the preseason "Hot 100" but an apparent season-ending injury to one in the lead trio has since pushed the group outside that "Hot 100" status.
Despite hailing from the Inland Empire, runners from Roosevelt HS in Corona were definitely feeling the heat on Saturday. According to team member Jeremy Beck, the squad has been training early in the day to avoid the heat this summer and he said Saturday was the first hard effort under warm conditions that he has faced all summer. Beck, a sophomore who said he has grown three inches in height in recent months, admitted the heat was a limiting factor for him. Three teammates, led by Branden Randall and Tyler Satterfield, finished among the top 15.
Maranatha's Kyle Bueckert, who showed dramatic improvement last November to place second at the state meet in Division 4, is back in a familiar position entering the new school year: He has a new head coach. It's the fourth head coach in four years for Bueckert.
Crespi, which lost head coach Ryan Emery (who departed to become an administrator at another school), has apparently filled the coaching vacancy with Marc Laszlo, who previously competed at Petaluma HS in the North Coast Section. Joe-Joe Cortez-Adams, who helped organized the squad's summertime regimen before the new hire, placed 17th at Sunrise in the Park in 16:30.
Another Mission League runner in attendance was Matthew Meredith of Notre Dame HS in Sherman Oaks, making the long drive from the San Fernando Valley. Meredith placed 20th in 16:46. Despite the squad encountering several losses to graduation, Meredith said the young team has had a solid summer of training and is motivated to keep the program's recent tradition of success moving forward.
Nike pulled out all the stops in making the event an enjoyable one for participants of all ages, hosting world-class 800-meter specialist Charles Jock to sign autographs, setting up a post-race breakfast cereal bar for all racers, loaning out Nike Plus GPS watches, Niketraining shoes and racing flats, offering customization screens on purchased apparel and hosting free photo uploads to social media.
In the co-ed Open Division race, Corona HS and Cal State Long Beach alum Raul Arcos was an impressive winner over Servite HS and UC Irvine alum Nick Mosey, 15:35 to 15:53. Arcos was representing Nike Run LA while Mosey represented adidas Legacy Run Racing.
The two clubs also traded off the next two positions as Nike Run LA's Justin Patananan gapped adidas Legacy Run Racing's Mike Powers for third. Former Mt. SAC assistant coach Matt Ebiner, now 50, who starred at Bishop Amat HS as part of the famed Ebiner running clan, was fifth. Ebiner, who is a worldwide tour guide, landed in the United States from Tanzania less then 24 hours before race time!
Thirteen-year-old Claire Graves of the SoCal Roadrunners was the top female, timed in 18:45 to finish 16th overall in the co-ed open race.
---
RESULTS
High School Boys | High School Girls | Co-ed Open Division
PHOTO ALBUM
All images courtesy of Duncan Selby
---