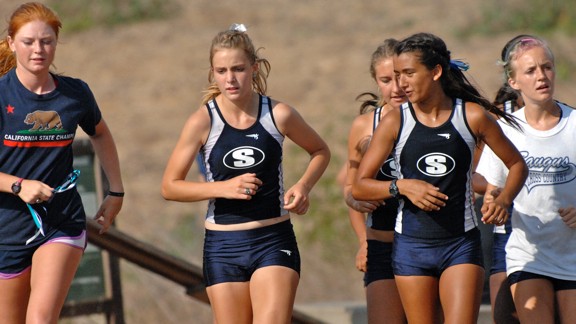 Photo by Rich Gonzalez, ESPNHS
Six-time defending state champion Saugus' girls, seen above during their warmdown, were pretty bunched together as well during Thursday's season-opening win.
---
By Rich Gonzalez
Editor, ESPNHS/DyeStatCal
(PALOS VERDES ESTATES, Calif.)
- It was termed a "mini meet" and multiple coaches from leading programs insisted Thursday's season-opening gathering at the famed Palos Verdes home course was to be low key by design.
Of course, try telling that to the Palos Verdes High School crew. Plane tickets to
Hawai'i
were up for grabs.
"I can't guarantee my kids will be holding back as much as I'd like," kidded Sea Kings coach
Brian Shapiro
beforehand, referencing the limited number of slots available for the team's in-season meet to the island next month. "They know Hawai'i might be on the line."
All joking aside, Thursday's season-opening clash featuring a Who's Who listing of top traditions yielded few surprises while signaling yet another strong year for these perennial powers. While these high-caliber teams were hardly going "all out" in this get-out-the-kinks Week One, low-stress experiment, stretching out the legs while in the company of esteemed competition helped eased into a season in the nation's most competitive distance running hotbed.
Six-time defending state champion Saugus High's girls juggernaut program cruised to a 33-59 triumph over Palos Verdes in a five-team meeting that included two squads tabbed #1 in the preseason CIF-Southern Section cross-country rankings. The victorious Centurions appear atop the Division 2 listing while Palos Verdes is the early title favorite in Division 3. Mira Costa, featuring individual race winner
Abby Hong
(11:54 for two miles), Peninsula and Corona - all three programs known for postseason success - also were on hand.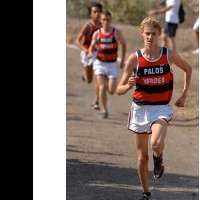 On the boys side, Palos Verdes returned the favor by besting the Centurions, 27-37. With senior Ryland Dreibelbis (pictured at left, Rich Gonzalez photo) leading, PV stuffed the finish chute with five of the top nine finishers, including its top four scorers gapping a mere eight seconds to set the table for the win. Saugus' Rodrigo Ornelas, revealing the by-products of a quality summertime regimen, opened a promising senior season to wn in 10:20.
While the season opener was contested over just miles of terrain, it's an abridged version of the the three-mile journey here considered the toughest and slowest layout on the CIF-SS landscape.
Although state championship weekend is nearly three months away, many of these same combatants could very well be in the mix in Fresno once Thanksgiving week rolls around.
Saugus coach Rene Paragas, who will focus solely on the girls program this fall, likes his team's chances come championship despite fielding another squad with limited varsity experience. A majority of last year's "Magnificent Seven" have since graduated, including three of its top four.
His optimism stems from the team's quality summertime training base combined with exceptional new leadership candidates on the roster.
Between last year's marriage and last month's arrival of newborn twins, Paragas admits his priorities have also re-shuffled to some degree, but feels both his and the team's competitive juices again will be factors down the road as the girls programs "doesn't want to be the ones known" to see their legacy halted.
Paragas' lineup might lack an All-American type frontrunner the program has often enjoyed in recent years, its fast-moving scoring pack this fall should provide major problems for all challengers. On this day, the Centurions boasted four finishers among the top eight, with that quartet gapping just 20 seconds.
QUICK STRIDES:



Rodrigo Ornelas' individual win in the season opener could be a boon to the Saugus' postseason prospects in November. Ornelas clocked just 16:43 on the Mt. SAC course last year; a solid time, but paling in comparison to the performance quality of the 10:20 effort on this grueling course. Look for Ornelas to dip well below 16:00 on the Mt. SAC course this fall. The Centurions were projected 12th in the preseason CIF-SS Division 2 rankings released last Monday based on last year's data - before Ornelas' breakthrough.

Palos Verdes coach Brian Shapiro hopes the Sea Kings will "surprise" some teams this fall. Unlikely. Despite some graduation losses, Palos Verdes is just too well handled and too well respected to ever be taken lightly. Ryland Dreibelbis, about as quality an individual as Shapiro could hope for to lead the program, is the team's top returnee. St. John Bosco is the clear state title favorite in Division 3 this fall, but the Sea Kings will be heard from and could land on the podium as well.

Although Corona was third in the boys standings and at the bottom in the girls results here, the team traditionally is at its best in November after a gradual buildup. The boys squad should contend for a CIF-SS Finals berth yet again, while a young Panthers girls program is led by one of the section's premier Division I talents in Alicia Williams, who cruised to seventh place here.

The most improved runner at the meet likely had to be Palos Verdes sophomore Anna Pruter. A year ago, she placed second-to-last in the team's end-of-summer watermelon run. This year, she was the team's #2 overall finisher on Thursday, running eleven minutes faster. Mind-boggling.

Unlike in most boys programs, girls programs often have a freshman or two that make an immediate scoring impact on the varsity roster each year. But not at Saugus, which develops its talent rather than merely inheriting a cache of age-group wunderkinds each fall. No ninth grader has made the Centurions' varsity roster since Karis Frankian in 2008. That might change this year, however. Newcomer Ashley Heys of Saugus won the "second" race (a "fast" race and a second race were contested in each gender) in 13:16, which was ninth overall among Centurion runners.

On the boys side, the top frosh was Palos Verdes' Duncan Reid, who clocked 11:18 to place 24th in the featured race. Reid, who holds a triathloning background, ranked ninth among Sea King runners here.

Most of these teams will be in action again in eight days at the Seaside Invitational in Ventura, a considerably faster layout than the Palos Verdes course but three miles in distance.

---

Palos Verdes High School HY-TEK's Meet Manager
PV Mini-Meet - 8/30/2012
Palos Verdes Cross Country Course
Last Completed Event

Event 2 Boys 2 Mile Run CC (Fast Section)
=======================================================================
Name Year School Finals Points
=======================================================================
1 Ornelas, Rodrigo 12 Saugus High School 10:20.20 1
2 Aguilar, David Corona High School 10:24.40 2
3 Dreibelbis, Ryland 12 Palos Verdes 10:28.28 3
4 Robinson, Lucas 11 Palos Verdes 10:30.74 4
5 Diaz, Zach 12 Palos Verdes 10:31.31 5
6 Celestin, Casey 11 Palos Verdes 10:36.14 6
7 Fisher, Austin 12 Saugus High School 10:39.52 7
8 Helm, Cole 12 Saugus High School 10:44.45 8
9 Dupas, Sam 12 Palos Verdes 10:48.30 9
10 Janaslani, Anthony 12 Saugus High School 10:54.13 10
11 Anthony, Billy 11 Saugus High School 10:54.63 11
12 George, Eric Corona High School 10:57.02 12
13 Walker, Ethan 11 Saugus High School 10:59.38 13
14 Beall, Ryan 12 Palos Verdes 11:00.30 14
15 Parke, Nate 12 Palos Verdes 11:01.12 15
16 Soler, Josh Corona High School 11:04.81 16
17 Sansom, Stephen 12 Peninsula 11:05.94 17
18 Megeff, Brennan 12 Peninsula 11:06.35 18
19 Faustino, Robbie 12 Peninsula 11:06.97 19
20 Mendoza, Alexander 11 Peninsula 11:07.46 20
21 Smithson, Brandon Corona High School 11:13.71 21
22 Letwin, Luke 11 Palos Verdes 11:15.45
23 Cochran, Glenn Corona High School 11:17.39 22
24 Reid, Duncan 9 Palos Verdes 11:18.29
25 Maarek, Rafael 10 Peninsula 11:19.73 23
26 Bucher, Ross 11 Peninsula 11:22.49 24
27 MacDonald, Justin Mira Costa 11:23.83 25
28 Parker, Connor 12 Palos Verdes 11:25.24
29 Valero, Pablo 12 Saugus High School 11:29.28 26
30 Krietzman, Terren 12 Palos Verdes 11:31.12
31 Ohmstede, JC Mira Costa 11:33.15 27
32 Jones, Ian 11 Palos Verdes 11:33.77
33 Diamond, Jacob 11 Palos Verdes 11:34.34
34 Stephenson, Chris 12 Saugus High School 11:34.95
35 Araujo, Paul Corona High School 11:35.47 28
36 Lomeli, Tyler 12 Saugus High School 11:40.70
37 Smart, Blake Corona High School 11:44.20 29
38 Owen, Harrison 10 Peninsula 11:48.22 30
39 Avila, Fredy Corona High School 11:49.78
40 Snyder, Tarik 11 Palos Verdes 11:51.21
41 Shalvarjian, Tyler Mira Costa 11:52.14 31
42 O'Brien, Matthew Mira Costa 11:52.88 32
43 Weston, Chance Mira Costa 11:54.39 33
44 Tusnadi, Gabor 10 Peninsula 11:55.03
45 LuVisi, Troy 10 Peninsula 11:55.60
46 Morton, Chris 12 Palos Verdes 11:56.14
47 Nguyen, Minh Mira Costa 11:58.02 34
48 Shambaugh, Dillon Mira Costa 12:04.38 35
49 Helfgott, Jacob Mira Costa 12:07.35
50 Cosgrove, Ryan 11 Palos Verdes 12:08.04
51 Kan, Aaron 11 Peninsula 12:15.97
52 Quan, Davis 9 Peninsula 12:16.44
53 Tomita, Evan Mira Costa 12:19.05
54 Chacon, Oscar 11 Peninsula 12:21.61
55 Hashimoto, Michael 11 Peninsula 12:22.92
56 Sun, Ian 10 Peninsula 12:29.29
57 Shirazi, Brandon Mira Costa 12:31.23
58 Lee, Paul 10 Peninsula 12:34.52
59 Hodges, David Mira Costa 12:40.33
60 Maarek, Jacob 10 Peninsula 12:42.55
61 Conterno, Nick 11 Peninsula 12:44.31
62 Maeder, Matthew 10 Peninsula 12:44.80
63 Lore, Jozsef 11 Peninsula 12:46.32
64 Osterhout, Bram Mira Costa 12:46.97
65 Williams, Ethan Mira Costa 12:54.33
66 Bond, Colin 10 Peninsula 13:10.36
67 Bond, Alexander 10 Peninsula 13:11.15
68 Low, Jonathan 10 Peninsula 13:13.92
69 Nishihara, Keith 10 Peninsula 13:14.99
70 Hashimoto, Mark 10 Peninsula 13:16.48
71 Lyons, Matthew 11 Peninsula 13:17.69
72 Kim, Anthony 10 Peninsula 13:20.59
73 Crockett, Hiroyuki 10 Peninsula 14:21.55

Team Scores
=================================================================================
Rank Team Total 1 2 3 4 5 *6 *7 *8 *9
=================================================================================
1 Palos Verdes High School 27 3 4 5 6 9 14 15
Total Time: 52:54.77
Average: 10:34.96
2 Saugus High School 37 1 7 8 10 11 13 26
Total Time: 53:32.93
Average: 10:42.59
3 Corona High School 73 2 12 16 21 22 28 29
Total Time: 54:57.33
Average: 10:59.47
4 Palos Verdes Peninsula HS 97 17 18 19 20 23 24 30
Total Time: 55:46.45
Average: 11:09.29
5 Mira Costa High School 148 25 27 31 32 33 34 35
Total Time: 58:36.39
Average: 11:43.28

Palos Verdes High School HY-TEK's Meet Manager
PV Mini-Meet - 8/30/2012
Palos Verdes Cross Country Course
Last Completed Event

Event 4 Boys 2 Mile Run CC (Second Section)
=======================================================================
Name Year School Finals Points
=======================================================================
1 Pearson, Alex 11 Saugus High School 10:43.00 1
2 Brooks, Liam Corona High School 10:51.00 2
3 Zabilski, Brian 10 Saugus High School 10:55.00 3
4 Rosales, Anthony 11 Saugus High School 11:00.00 4
5 Serrano, Jordan 10 Saugus High School 11:12.00 5
6 Bell, Sean Corona High School 11:12.00 6
7 Silva, Josh Corona High School 11:17.00 7
8 Gallardo, Saul Corona High School 11:17.00 8
9 Summer, Jonathan 10 Saugus High School 11:21.00 9
10 Penick, Devin 11 Saugus High School 11:26.00 10
11 Alzner, Nick 11 Saugus High School 11:31.00 11
12 Bradley, Austin Corona High School 11:35.00 12
13 Lee, Nik Corona High School 11:41.00 13
14 Petit, Riley 9 Palos Verdes 11:44.00 14
15 Preciado, Austin 11 Saugus High School 11:46.00
16 Salazar, Fabian 11 Saugus High School 11:51.00
17 Spatter, Jason Corona High School 11:52.00 15
18 Hamburger, Jason 10 Saugus High School 11:53.00
19 Butler, Davis 9 Palos Verdes 11:53.00 16
20 Hall, Trevor 11 Saugus High School 11:54.00
21 Booth, Wesley 9 Palos Verdes 11:55.00 17
22 Ochoa, Chris 10 Saugus High School 11:58.00
23 Loza, Inaqui 10 Saugus High School 11:58.00
24 Hougo, Drake 9 Saugus High School 11:59.00
25 Beattie, Adam 11 Saugus High School 12:08.00
26 Saugus, Boy 2 Saugus High School 12:09.00
27 Ramirez, Andrew Corona High School 12:10.00
28 Paulson, Drew 11 Palos Verdes 12:23.00 18
29 Sanz, Adrian 10 Palos Verdes 12:23.00 19
30 Saugus, Boy 5 Saugus High School 12:26.00
31 Garrett, Patrick TY Mira Costa 12:39.00 20
32 McLoughlin, Kaito 11 Palos Verdes 12:54.00 21
33 Dunton, Adam 10 Palos Verdes 12:58.00 22
34 Fazio, RJ 11 Palos Verdes 13:00.00
35 Franklin, Robert 9 Palos Verdes 13:07.00
36 Hunt, Brendan Mira Costa 13:10.00 23
37 Lau, Jon Mira Costa 13:12.00 24
38 Mitchell, Noah 9 Palos Verdes 13:14.00
39 Henebry, Connor 10 Palos Verdes 13:20.00
40 Kwiatkouski, Cameron 10 Peninsula 13:22.00 25
41 Botz-Zapp, Christian 11 Palos Verdes 13:23.00
42 Johnson, Justin 11 Palos Verdes 13:28.00
43 Jamele, Chase 11 Palos Verdes 13:30.00
44 Cruz Prado, Sam 11 Palos Verdes 13:37.00
45 Schmale, Matthew 9 Palos Verdes 13:43.00
46 Demoner, Thomas 11 Palos Verdes 13:44.00
47 Sciaroni, Thomas 10 Peninsula 13:52.00 26
48 Ishimoto, Zachary 9 Peninsula 13:54.00 27
49 McCurtain, John Mira Costa 13:57.00 28
50 Hanson, Derek Mira Costa 13:58.00 29
51 Fogel, Max Mira Costa 14:00.00 30
52 Flores, Collin 11 Palos Verdes 14:01.00
53 DeLeon, Brandon 9 Peninsula 14:06.00 31
54 Kobayashi, Ryan 11 Palos Verdes 14:07.00
55 Nelson, Colin 11 Peninsula 14:09.00 32
56 Corley, Chase 11 Palos Verdes 14:10.00
57 Price, Robert 10 Peninsula 14:29.00 33
58 Kim, Andrew 10 Peninsula 14:31.00 34
59 Seo, Justin 10 Peninsula 14:33.00
60 Torres, Christopher 9 Peninsula 14:39.00
61 Qiu, Brendan 10 Peninsula 14:54.00
62 Taira, Andrew 10 Peninsula 15:00.00
63 Zimboroff, Jeffrey 9 Peninsula 15:01.00
64 Morgan, Houston 9 Palos Verdes 15:08.00
65 Yamane, Sean 12 Peninsula 15:13.00
66 Hamamoto, Tyler 9 Peninsula 15:16.00
67 Heier, Griffin Mira Costa 15:21.00 35
68 Flores-Scoh, Nikolas Mira Costa 15:22.00
69 Stefan, Christopher 10 Peninsula 15:23.00
70 Sandoval, Steve Mira Costa 15:25.00
71 Cervantes, Daniel 9 Peninsula 15:32.00
72 Ramezani, Arman 9 Peninsula 15:32.00
73 Arrowood, Kyle 11 Palos Verdes 15:49.00
74 Bell-Wilson, Henry 9 Peninsula 15:51.00
75 Horiguchi, Shuichiro 10 Peninsula 16:05.00
76 Tanous, James 10 Palos Verdes 16:15.00
77 Pailet, David 9 Palos Verdes 16:20.00
78 Lee, Jung Min 10 Peninsula 16:26.00
79 Tanaka, Jacob 9 Peninsula 16:29.00
80 Zimmerman, Robbie Mira Costa 16:44.00
81 Reider, Aaron 9 Peninsula 16:59.00
82 Jai, Tristan 9 Palos Verdes 17:15.00
83 Mueller, Terren 9 Palos Verdes 17:21.00
84 Holton, Mark Mira Costa 17:23.00
85 Butler, Hayden 10 Palos Verdes 18:07.00
86 Garrant, Jacob 11 Palos Verdes 18:20.00
87 Rai, Harmon 10 Palos Verdes 18:38.00
88 Xu, Sean 9 Palos Verdes 18:38.00
89 Youssefzadeh, Jake 10 Palos Verdes 18:51.00
90 Cervana, Alec 10 Palos Verdes 18:52.00
91 Parsons Meyer, Liam 10 Palos Verdes 23:50.00

Team Scores
=================================================================================
Rank Team Total 1 2 3 4 5 *6 *7 *8 *9
=================================================================================
1 Saugus High School 22 1 3 4 5 9 10 11
Total Time: 55:11.00
Average: 11:02.20
2 Corona High School 35 2 6 7 8 12 13 15
Total Time: 56:12.00
Average: 11:14.40
3 Palos Verdes High School 84 14 16 17 18 19 21 22
Total Time: 1:00:18.00
Average: 12:03.60
4 Mira Costa High School 124 20 23 24 28 29 30 35
Total Time: 1:06:56.00
Average: 13:23.20
5 Palos Verdes Peninsula HS 141 25 26 27 31 32 33 34
Total Time: 1:09:23.00
Average: 13:52.60

Palos Verdes High School HY-TEK's Meet Manager
PV Mini-Meet - 8/30/2012
Palos Verdes Cross Country Course
Last Completed Event

Event 1 Girls 2 Mile Run CC (Fast Section)
=======================================================================
Name Year School Finals Points
=======================================================================
1 Hong, Abby 11 Mira Costa 11:54.00 1
2 Webber, Cassidy 10 Palos Verdes 12:11.94 2
3 Ortega, Samantha 10 Saugus High School 12:15.18 3
4 Locke-Henderson, Sarah 12 Mira Costa 12:16.84 4
5 Frankian, Abigail 11 Saugus High School 12:21.79 5
6 Altieri, Olivia 12 Saugus High School 12:25.44 6
7 Williams, Alicia Corona High School 12:33.88 7
8 Huntington, Katie 12 Saugus High School 12:35.48 8
9 Jordan, Makenzie 12 Peninsula 12:36.16 9
10 Riedl, Anna 11 Peninsula 12:37.05 10
11 Sassano, Nina 12 Saugus High School 12:40.95 11
12 Thiel, Skylar 11 Palos Verdes 12:47.34 12
13 Hallman, Callie 12 Saugus High School 12:51.58 13
14 Pruter, Anna 10 Palos Verdes 12:53.04 14
15 Kagei, Michelle 12 Palos Verdes 13:00.72 15
16 Gagnon, Lauren 12 Palos Verdes 13:02.84 16
17 Hill, Alex 12 Saugus High School 13:04.11 17
18 Klashman, Courtney 10 Peninsula 13:05.34 18
19 Shabgahi, Sani Corona High School 13:06.11 19
20 Lautanen, Emma 10 Mira Costa 13:06.86 20
21 Inouye, Lauren 12 Mira Costa 13:07.60 21
22 Butler, Kylie 12 Palos Verdes 13:12.55 22
23 LaPlant, Darby 10 Saugus High School 13:15.35
24 Brunstein, Natasha 10 Mira Costa 13:16.91 23
25 Khan, Fatima 11 Peninsula 13:24.88 24
26 Ryant, Cate 11 Palos Verdes 13:25.49 25
27 Wong, Kriya 10 Peninsula 13:26.50 26
28 Sandoval, Yvette 12 Mira Costa 13:36.05 27
29 Watson, Abby 9 Palos Verdes 13:37.61
30 Jeong, Kellie 11 Mira Costa 13:38.10 28
31 Jeong, Kara 10 Mira Costa 13:47.30
32 Corona, Girl 8 Corona High School 13:50.04 29
33 Ellingson, Kristen Corona High School 13:54.01 30
34 Richland, Hannah 12 Palos Verdes 13:55.79
35 Slome, Sabine 10 Palos Verdes 13:58.46
36 Bourgeois, Lauren 9 Palos Verdes 13:58.95
37 Diamond, Julia 9 Palos Verdes 14:04.66
38 Jensen, Anika 10 Palos Verdes 14:05.87
39 Thordarson, Kirstin 12 Peninsula 14:19.39 31
40 Warnecke, Janet 11 Mira Costa 14:24.21
41 Marshall, McKenna 11 Palos Verdes 14:24.96
42 Say, Beverly 10 Palos Verdes 14:25.39
43 Brondial, Kirsten 12 Palos Verdes 14:28.60
44 Putnam, Vanessa Corona High School 14:30.32 32
45 Chin, Julea 10 Palos Verdes 14:34.62
46 Caron, Zoe 11 Palos Verdes 14:37.46
47 Smart, Haley Corona High School 14:48.52 33
48 Cohen, Michelle 12 Palos Verdes 14:56.12
49 Dutra, Rebeca 10 Mira Costa 15:02.57
50 Anderson, Valerie Corona High School 15:03.03 34
51 Meredith, Amanda 12 Saugus High School 15:05.32
52 Chen, Bailey 10 Mira Costa 15:17.44
53 Smith, Sydney 12 Peninsula 15:23.66 35
54 Castro, Maya 11 Peninsula 15:31.94
55 Mizumoto, Kelly 10 Peninsula 15:40.85
56 Verendia, Camille 10 Peninsula 15:43.87
57 Peninsula, Girl 2 Peninsula 15:46.44
58 Kim, Susan 10 Peninsula 16:09.57
59 Woodward, Emily 9 Peninsula 16:11.61
60 Kan, Rebecca 9 Peninsula 16:20.27
61 Colli, Maddy 11 Palos Verdes 16:36.47
62 Parker, Julia 9 Palos Verdes 17:20.32

Team Scores
=================================================================================
Rank Team Total 1 2 3 4 5 *6 *7 *8 *9
=================================================================================
1 Saugus High School 33 3 5 6 8 11 13 17
Total Time: 1:02:18.84
Average: 12:27.77
2 Palos Verdes High School 59 2 12 14 15 16 22 25
Total Time: 1:03:55.88
Average: 12:47.18
3 Mira Costa High School 69 1 4 20 21 23 27 28
Total Time: 1:03:42.21
Average: 12:44.45
4 Palos Verdes Peninsula HS 87 9 10 18 24 26 31 35
Total Time: 1:05:09.93
Average: 13:01.99
5 Corona High School 117 7 19 29 30 32 33 34
Total Time: 1:07:54.36
Average: 13:34.88

Palos Verdes High School HY-TEK's Meet Manager
PV Mini-Meet - 8/30/2012
Palos Verdes Cross Country Course
Last Completed Event

Event 3 Girls 2 Mile Run CC (Second Section)
=======================================================================
Name Year School Finals Points
=======================================================================
26 Unknown 15:29.61
1 Heys, Ashley 9 Saugus High School 13:16.74 1
2 Ruiz, Jessica 10 Saugus High School 13:25.01 2
3 Janes, Sabrina 10 Saugus High School 13:38.41 3
4 Moncibais, Mackenzie 10 Saugus High School 13:46.49 4
5 Alas, Xenia Corona High School 13:53.84 5
6 Bahr, Emma 9 Saugus High School 13:55.94 6
7 Lopez, Makaila 10 Saugus High School 13:58.95 7
8 Schulhofer, Avery 10 Saugus High School 14:05.26 8
9 Hofferber, Kylie 10 Saugus High School 14:10.92
10 Zendejas, Amanda 12 Mira Costa 14:27.38 9
11 Johnson, Alexis 9 Mira Costa 14:30.09 10
12 Maeda, Nicole 12 Mira Costa 14:32.14 11
13 Buhain, Lanica 10 Saugus High School 14:34.64
14 Whitman, Celine 9 Saugus High School 14:35.29
15 Hanson, Alex 10 Mira Costa 14:38.67 12
16 Carrillo, Cristina Corona High School 14:40.33 13
17 Jones, Madison 10 Saugus High School 14:40.90
18 Pilarski, Sierra 9 Saugus High School 14:43.71
19 Gomez, Trisha 10 Saugus High School 14:46.34
20 Campbell, Allie 12 Mira Costa 14:50.06 14
21 Mears, Jenna 11 Saugus High School 14:53.39
22 Manzanares, Delia Corona High School 14:55.46 15
23 Shaw, Alana 11 Saugus High School 15:22.36
24 Mohrhoff, Katie 10 Saugus High School 15:24.16
25 Sveinson, Brianna Corona High School 15:28.67 16
26 Leija, Linda 9 Mira Costa 15:55.14 17
27 Nwoke, Marisa 10 Mira Costa 15:57.19 18
28 Golding, Becca 12 Palos Verdes 16:01.05 19
29 Blokzyl, Gabby Corona High School 16:02.02 20
30 Gasperian, Shay 12 Mira Costa 16:11.68
31 Ward, Avery 10 Mira Costa 16:15.04
32 Hadley, Lauren 10 Peninsula 16:18.50 21
33 Harlan, Jasmyn 10 Palos Verdes 16:23.58 22
34 Titzler, Arley 11 Mira Costa 16:34.22
35 Paul, Sylvie 11 Mira Costa 16:38.16
36 Amend, Emma 9 Palos Verdes 16:46.67 23
37 Jimenez, Alyson 9 Peninsula 16:57.60 24
38 Maeder, Kathleen 9 Peninsula 17:12.68 25
39 Tyrone, Jasmine 11 Mira Costa 17:21.53
40 Kirkpatrick, Nic 10 Palos Verdes 17:24.82 26
41 Kaji, Kavanaugh 9 Peninsula 17:25.81 27
42 Filler, Elan 9 Palos Verdes 17:42.02 28
43 Burke, Eavan 9 Palos Verdes 17:43.06 29
44 Mueller, Paige 11 Palos Verdes 17:47.19 30
45 Saffer, Lauren 11 Peninsula 17:47.91 31
46 Will, McKenzie 9 Palos Verdes 17:49.37
47 Kurino, Tomoye 10 Peninsula 17:54.04 32
48 Kahsai, Yasmine 10 Peninsula 17:55.18 33
49 Peninsula, Girls 1 Peninsula 17:58.22
50 Saab, Hadeel 9 Palos Verdes 18:15.71
51 Badagliacca, Grace 9 Palos Verdes 18:56.97
52 Kessler, Sarah 9 Palos Verdes 19:29.09
53 Karpin, Jordan 9 Peninsula 19:43.83
54 Jeong, Ji Eun 10 Peninsula 20:18.89
55 Flores, Nicole 12 Palos Verdes 20:44.05
56 Cvitanovich, Nichole 11 Peninsula 20:44.73
57 Cutri, Francesca 11 Peninsula 20:45.41
58 Shabbir, Uswah 10 Peninsula 20:45.99
59 Castro, Katalina 9 Peninsula 21:10.00
60 Kim, Ellie 11 Peninsula 21:16.57
61 Kim, Lauren 9 Peninsula 22:50.34
62 De La Torre, Bridget 9 Palos Verdes 22:57.57
63 Klopmeyer, Vanessa 10 Peninsula 23:11.81
64 Peters, Natalie 9 Palos Verdes 24:02.06

Team Scores
=================================================================================
Rank Team Total 1 2 3 4 5 *6 *7 *8 *9
=================================================================================
1 Saugus High School 16 1 2 3 4 6 7 8
Total Time: 1:08:02.59
Average: 13:36.52
2 Mira Costa High School 56 9 10 11 12 14 17 18
Total Time: 1:12:58.34
Average: 14:35.67
3 Corona High School 69 5 13 15 16 20
Total Time: 1:15:00.32
Average: 15:00.07
4 Palos Verdes High School 118 19 22 23 26 28 29 30
Total Time: 1:24:18.14
Average: 16:51.63
5 Palos Verdes Peninsula HS 128 21 24 25 27 31 32 33
Total Time: 1:25:42.50
Average: 17:08.50

---