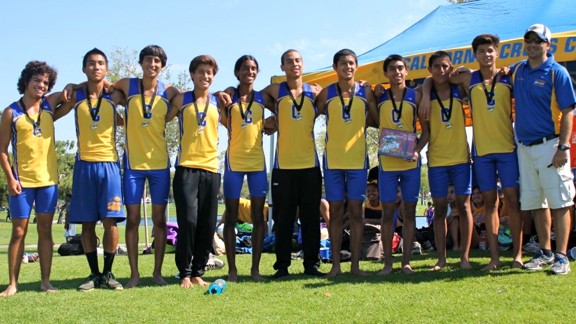 California High of Whittier's boys rolled over the competition at the Great Cow Run.
CONDORS ARE FLYING IN SEASON OPENER
By Rich Gonzalez
Editor, DyeStatCal/ESPNHS
(September 8, 2012) - At first glance, it looks like our worst fears are - for now, at least - confirmed.
Southern Section Division 1 is quite deep on the boys side. But Division 2 boys ? Not deep at all.
California High of Whittier, an unranked Division 1 squad, downed highly ranked Division 2 lineups from Redondo Beach and Loyola to headline the action at Saturday's Great Cow Run at Cerritos Regional Park. On the girls side, Long Beach Poly topped Redondo Union in a mild upset to claim the girls crown.
Junior Jose Pacheco led California, placing fifth while the Condors gapped just 17 seconds to score 51 points, safely ahead of Redondo Union (70) and Loyola (102), teams ranked third and second, respectively in Southern Section Division 2.
Neither of those two ranked teams would have been ranked in Division 1 at the start of the week, as the gap between top-ranked Dos Pueblos and the rest in the division is clear, as noted at the CIF-SS Coaches Association gathering earlier in the week.
Loyola ran well in capturing the Mission League cluster meet on Thursday, but did not look nearly as sharp here.
California started the season seeded eleventh in the division, one spot behind its noted Del Rio League rival, El Rancho. The Condors started fast a year ago, but unraveled after the departure of one team member during the season and an unfortunate setback for another by late season.
Coach Tony DiMarco is brimming with optimism, but tempers that with a dose of caution.
"I think the only way you know who is better is to beat them in a race and even then it doesn't matter unless it's a race that both teams are running to win," shared DiMarco by email.
His successful turnaround of the Condors programs in just over four years (including two berths to CIF-SS Finals comes on the heels of masterminding a similar turnaround of the Huntington Beach HS program during a seven-year stint with the Oliers. One year at Fountain Valley segmented those two appointments.
Loyola placing third behind divisional rival Redondo Union could be another early-season trap being laid by the Cubs. Over the last three years, Loyola has lost five times to Division 2 opponents during the first two weeks of the season. They've come back to beat those same opponents all five times in their final rematch of the season those three years.
Here, projected frontrunners Robert Brandt and Josh Lewis placed 3-4 in the team order, perhaps leading to speculation the duo was pacing a scoring teammate during parts of the race. Loyola typically doesn't reveal its true cards until the late-September Bell-Jeff Invitational each year.
King High of Riverside, seeded 12th in the Division 1 preseason rankings, appeared to rest out all but one of its projected varsity scorers. Long Beach Poly, ranked eighth in Division 1, placed a disappointing sixth. At least one expected top returnee did not appear in the results for the Jackrabbits.
On the girls side, victorious Long Beach Poly gapped nearly a full minute across its scoring five, but placed three among the top ten to front its 59-62 victory over Redondo Union. South Torrance's Kimberly Coscia was the overall winner in 17:18, well ahead of Cal's Justine Romo (17:35).
Poly (along with Capistrano Valley) just missed the preseason rankings in Division 1, getting edged out by Marina for the last spot on a data merge tiebreaker.
Runner-up Redondo Union had a new look of sorts as track star Amber Gore, who did not run cross-country last year, led the way with a third-place finish while much-improved teammate Paige Sullivan was second for the squad and eighth overall in 18:38.
Redondo Union, which graduated a huge part of the team that placed tenth at Nike Cross Nationals last year, was expected to have a large time gap between its top few scorers and the rest. The emergence of Gore and Sullivan could ultimately change that and make the team, which had another key scorer absent to take the ACT test on Saturday, particularly more dangerous come championship time.
---
Cerritos High School HY-TEK's Meet Manager
The Great Cow Run - 9/8/2012
Higashi Roman Memorial Run
Cerritos Regional Park
Last Completed Event
Event 4 Boys 3 Mile Run CC Varsity
==================================================================================
Name Year School Avg Mile Finals Points
==================================================================================
1 Bautista, Miguel 11 Long Beach Poly 4:56.7 14:50.00 1
2 Tamagno, Austin 9 Brea Olinda 4:58.4 14:55.00 2
3 Tait, William 11 Redondo Union 4:59.0 14:57.00 3
4 Malone-White, Evan 12 Redondo Union 4:59.7 14:59.00 4
5 Pacheco, Jose 11 California 5:00.0 15:00.00 5
6 Herold, Dustin 11 Redondo Union 5:00.4 15:01.00 6
7 Vazquez, Christian 11 Long Beach Poly 5:02.4 15:07.00 7
8 Corcoran, Leo 12 California 5:03.7 15:11.00 8
9 McAndrews, John 11 Loyola 5:04.4 15:13.00 9
10 Bueckert, Kyle 12 Maranatha 5:04.7 15:14.00 10
11 Bautista, Sam 12 California 5:05.0 15:15.00 11
12 Rojas, Matlazomatli 11 California 5:05.4 15:16.00 12
13 Rafferty, Connor 12 Loyola 5:05.4 15:16.00 13
14 Ruiz, Matthew 11 Cathedral 5:05.4 15:16.00 14
15 Ramirez, Chris 12 California 5:05.7 15:17.00 15
16 Gulino, Hunter 11 Fountain Valley 5:06.0 15:18.00 16
17 Nevarez, Michael 10 Cathedral 5:06.0 15:18.00 17
18 Duckson, Thomas 12 Fountain Valley 5:06.0 15:18.00 18
19 Klatte, Garrett 12 Redondo Union 5:06.4 15:19.00 19
20 Koryta, Brennon 11 Brea Olinda 5:06.4 15:19.00 20
21 Elerts, Perry 12 King 5:06.4 15:19.00 21
22 Lewis, Josh 12 Loyola 5:06.7 15:20.00 22
23 Brandt, Robert 10 Loyola 5:06.7 15:20.00 23
24 Roldan, Josh 12 California 5:06.7 15:20.00 24
25 Harlan, Chris 12 Esperanza 5:08.0 15:24.00 25
26 Vera, Steven 12 California 5:08.0 15:24.00 26
27 Munoz, Elias 11 Cathedral 5:08.4 15:25.00 27
28 Janneck, John 12 Brea Olinda 5:09.7 15:29.00 28
29 Berthon, Alex 12 Brea Olinda 5:10.4 15:31.00 29
30 Vargas, Efrain 11 Huntington Beach 5:10.7 15:32.00 30
31 Miramontes, Martin 11 Kennedy (La Palma) 5:11.0 15:33.00 31
32 DeLaTorre, Eris 11 Long Beach Poly 5:12.4 15:37.00 32
33 Nagpal, Abhinav 12 Los Alamitos 5:13.0 15:39.00 33
34 Gomez, Ian 11 Cathedral 5:13.0 15:39.00 34
35 Lubove, Jesse 12 Loyola 5:13.0 15:39.00 35
36 Amondsen, James 12 Cathedral 5:13.4 15:40.00 36
37 Daedler, Jared 12 Brea Olinda 5:13.4 15:40.00 37
38 Suarez, Carlos 10 Redondo Union 5:13.7 15:41.00 38
39 Llamas, Ryan 12 Esperanza 5:14.0 15:42.00 39
40 Yamaya, Takehiro 11 Redondo Union 5:14.7 15:44.00 40
41 Serrano, Arturo 12 Rosemead 5:14.7 15:44.00 41
42 Ponce, Zachary 11 Long Beach Poly 5:15.7 15:47.00 42
43 Gonzalez, Rudy 11 California 5:16.0 15:48.00
44 Vargas, Danny 11 Huntington Beach 5:16.7 15:50.00 43
45 Zambrano, Aaron 11 Loyola 5:17.0 15:51.00 44
46 Filacchione, Bobby 12 Sunny Hills 5:17.7 15:53.00 45
47 Orozco, DiMaggio 11 Brea Olinda 5:17.7 15:53.00 46
48 Bautista, Samuel 10 California 5:18.0 15:54.00
49 Mendez, Addison 12 Brea Olinda 5:18.0 15:54.00 47
50 Radi, Waseem 11 Redondo Union 5:18.4 15:55.00 48
51 Martin, Patrick 11 Kennedy (La Palma) 5:18.7 15:56.00 49
52 Ogan, Ryan 12 Esperanza 5:19.4 15:58.00 50
53 Ayala, Luis 12 Cathedral 5:19.7 15:59.00 51
54 Palazzo, Anthony 10 Long Beach Poly 5:20.4 16:01.00 52
55 Capestany, Trevor 10 Citrus Valley 5:20.7 16:02.00 53
56 Templeton, Weston 12 King 5:21.4 16:04.00 54
57 Maeda, Kevin 11 Citrus Valley 5:21.7 16:05.00 55
58 Gutierrez, Oscar 12 Long Beach Millikan 5:21.7 16:05.00 56
59 Minton, Anthony 10 Sunny Hills 5:22.0 16:06.00 57
60 Miyoshi, Robert 12 Oxford Academy 5:22.7 16:08.00 58
61 Yamaya, Tomohiro 11 Redondo Union 5:22.7 16:08.00
62 Seckinger, Dalton 10 King 5:23.0 16:09.00 59
63 Cornejo, Omar 12 California 5:23.7 16:11.00
64 Hernandez, Daniel 11 Rosemead 5:24.4 16:13.00 60
65 Morin, Gabriel 11 Loyola 5:24.7 16:14.00 61
66 Erickson, Johnathan 12 Maranatha 5:25.0 16:15.00 62
67 Salinas, Geovany 11 Downey 5:25.4 16:16.00 63
68 Abraham, David 11 Fountain Valley 5:26.4 16:19.00 64
69 Miller, Collin 12 Cypress 5:26.4 16:19.00 65
70 Wells, Nicolas 11 Redondo Union 5:26.4 16:19.00
71 Tilve, Ganesh 12 Cerritos 5:26.7 16:20.00 66
72 Moreno, David 12 Rosemead 5:26.7 16:20.00 67
73 Kumarage, Dimitri 12 South Torrance 5:27.0 16:21.00
74 Vilchez, Jacob 11 Long Beach Poly 5:27.4 16:22.00 68
75 Quarles, Joshua 11 Cerritos 5:27.7 16:23.00 69
76 Kokal, William 12 Fountain Valley 5:27.7 16:23.00 70
77 Park, Josh 11 Esperanza 5:28.0 16:24.00 71
78 Mosqueda, Steven 11 Esperanza 5:28.4 16:25.00 72
79 Strong, Garrett 12 Citrus Valley 5:28.7 16:26.00 73
80 Holmes, Joshua 11 Los Alamitos 5:29.0 16:27.00 74
81 Gomez, Raymond 12 Santa Fe 5:29.7 16:29.00 75
82 Clack, Kevin 12 Yorba Linda 5:29.7 16:29.00 76
83 Medina, Thomas 10 Santa Fe 5:30.0 16:30.00 77
84 Alcala, Antonio 12 Long Beach Millikan 5:30.0 16:30.00 78
85 Pang, Mark 12 Cathedral 5:30.4 16:31.00 79
86 Freeman, Matt 10 Chadwick 5:30.4 16:31.00 80
87 Morris, Aiden 9 Citrus Valley 5:30.7 16:32.00 81
88 Kerr, Christian 11 Long Beach Poly 5:31.4 16:34.00 82
89 Loi, Alan 11 Fountain Valley 5:31.7 16:35.00 83
90 Munoz, Victor 12 Sunny Hills 5:32.0 16:36.00 84
91 Jansen, Benjamin 11 Yorba Linda 5:32.0 16:36.00 85
92 Mamrot, Alec 11 Kennedy (La Palma) 5:32.4 16:37.00 86
93 Okabayashi, Matt 11 Long Beach Poly 5:32.4 16:37.00
94 Ross, Frank 12 Los Alamitos 5:32.7 16:38.00 87
95 Sato, Drew 12 Torrance 5:33.4 16:40.00 88
96 Gutzmann, Parker 11 King 5:33.4 16:40.00 89
97 Turner, Bray 11 Long Beach Poly 5:33.7 16:41.00
98 Nevarez, Jesus 11 Rosemead 5:35.0 16:45.00 90
99 Enriquez, Jacob 12 King 5:35.7 16:47.00 91
100 Meredith, Draven 12 Torrance 5:36.0 16:48.00 92
101 Fuentes, Anderson 11 Miguel Contreras LC 5:36.0 16:48.00
102 Chopra, Jai 12 Los Alamitos 5:36.4 16:49.00 93
103 Cox, Nicholas 11 Yorba Linda 5:36.7 16:50.00 94
104 Stevens, Jacob 11 Yorba Linda 5:37.0 16:51.00 95
105 Newton, Ellis Mayfair 5:37.4 16:52.00 96
106 Doyen, Scott 12 Yorba Linda 5:37.7 16:53.00 97
107 Spencer, Brendan 11 Kennedy (La Palma) 5:38.0 16:54.00 98
108 Salter, Cody 10 Long Beach Millikan 5:38.4 16:55.00 99
109 Jackson, Vaughn 11 Sunny Hills 5:38.7 16:56.00 100
110 Decuyper, Kevin 12 Yorba Linda 5:39.0 16:57.00 101
111 Salazar, Gerardo 11 Lakewood 5:39.7 16:59.00
112 Kinderman, Tanner 12 Fountain Valley 5:40.0 17:00.00 102
113 Gold, Austin 11 Yorba Linda 5:40.4 17:01.00 103
114 Chun, David 10 Sunny Hills 5:40.4 17:01.00 104
115 Carranza, Jonathan 11 Cerritos 5:40.7 17:02.00 105
116 Schlenker, Miles 12 Maranatha 5:40.7 17:02.00 106
117 Harvey, Timothy 11 Torrance 5:40.7 17:02.00 107
118 Weidner, Jeremy 12 Long Beach Millikan 5:41.0 17:03.00 108
119 Okuda, Yujin 11 Torrance 5:41.0 17:03.00 109
120 Hernandez, Shane 11 Los Alamitos 5:41.4 17:04.00 110
121 Lin, Mitchell 12 Cerritos 5:42.4 17:07.00 111
122 Esquivel, Gabriel 12 Yorba Linda 5:42.4 17:07.00
123 Sanchez, Robert 12 King 5:43.0 17:09.00 112
124 Lu, Brian 11 Fountain Valley 5:43.0 17:09.00 113
125 Llamas, Kevin 12 Esperanza 5:43.4 17:10.00 114
126 Chern, Max 12 Fountain Valley 5:43.7 17:11.00
127 Casillas, Christopher 12 Downey 5:43.7 17:11.00 115
128 Mohan, Nikhil 12 Huntington Beach 5:43.7 17:11.00 116
129 Lim, Raymond 12 Cerritos 5:44.0 17:12.00 117
130 Garcia, Andres 11 Dominguez 5:45.7 17:17.00 118
131 Turcaz, Nikolaus 12 Yorba Linda 5:45.7 17:17.00
132 Sappington, Josh 11 Yorba Linda 5:46.7 17:20.00
133 Hamilton, Evan 12 Chadwick 5:48.7 17:26.00 119
134 Jarquin, Jose 10 Santa Fe 5:49.0 17:27.00 120
135 Young, Peyton 12 Rosemead 5:49.4 17:28.00 121
136 Boboc, Brad 11 Chadwick 5:49.7 17:29.00 122
137 Ortiz, Flavio Mayfair 5:53.7 17:41.00 123
138 Velasquez, Daniel 11 Dominguez 5:53.7 17:41.00 124
139 Kizziar, Eric 11 Los Alamitos 5:54.0 17:42.00 125
140 Calderon, Kyle 12 Kennedy (La Palma) 5:54.0 17:42.00 126
141 Martinez, Jose 12 Downey 5:55.7 17:47.00 127
142 HetheringtonRauth, Teddy 12 Los Alamitos 5:55.7 17:47.00 128
143 Omeriondi, Obinna 11 Oxford Academy 5:56.0 17:48.00 129
144 Cox, Henry 10 Chadwick 5:56.0 17:48.00 130
145 Johnston, Luke 10 Huntington Beach 5:56.0 17:48.00 131
146 Ramirez, Miguel 12 Long Beach Millikan 5:56.4 17:49.00 132
147 Garcia, Grant 11 Citrus Valley 5:56.4 17:49.00 133
148 Human, Austin 12 Esperanza 5:56.7 17:50.00 134
149 Valencia, Moises 12 Chadwick 5:57.0 17:51.00 135
150 Guillory, Mathew 10 Long Beach Millikan 5:57.0 17:51.00 136
151 Connett, Ian 11 Torrance 5:57.0 17:51.00 137
152 Jimenez, Jonathan 9 Citrus Valley 5:57.4 17:52.00 138
153 Vivar, Victor 12 Miguel Contreras LC 5:58.7 17:56.00
154 Aasland, Nate 12 Maranatha 5:59.4 17:58.00 139
155 Delgado-Aldaco, Nick 12 Citrus Valley 5:59.7 17:59.00 140
156 Maritniez, Lawrence 12 Citrus Valley 5:59.7 17:59.00
157 Goodman, Spencer 10 Long Beach Millikan 6:00.7 18:02.00 141
158 Shepard, Ryan 12 Lakewood 6:02.4 18:07.00
159 Heins, Robert 11 Cypress 6:03.7 18:11.00 142
160 Velasco, Gabriel Mayfair 6:03.7 18:11.00 143
161 Matsumoto, Jay 11 South Torrance 6:04.0 18:12.00
162 Patel, Arth 11 Cerritos 6:04.0 18:12.00 144
163 Banuelos, Jesse 10 Santa Fe 6:04.4 18:13.00 145
164 Schlenker, Noah 12 Maranatha 6:04.7 18:14.00 146
165 Lloyd, Everhett Mayfair 6:05.0 18:15.00 147
166 Carlos, Alan 11 Torrance 6:07.4 18:22.00 148
167 Behenna, Will 11 Chadwick 6:09.7 18:29.00 149
168 Macias, Armando 12 Downey 6:12.4 18:37.00 150
169 Ancheta, Morgan 12 Bellflower 6:12.4 18:37.00
170 Hong, JooHyung 11 Torrance 6:13.0 18:39.00 151
171 Lopez, Cesar Mayfair 6:13.7 18:41.00 152
172 Arakawa, Brandon 12 Long Beach Millikan 6:14.4 18:43.00
173 Granadeno, Luis 11 Miguel Contreras LC 6:18.4 18:55.00
174 Salinas, Brian 11 Downey 6:19.4 18:58.00 153
175 Godinez, Michael 11 Santa Fe 6:19.7 18:59.00 154
176 Shaner, Sterling 12 Maranatha 6:19.7 18:59.00 155
177 Ackman, Kevin 12 Huntington Beach 6:21.0 19:03.00 156
178 Huynh, Justin 12 Cypress 6:21.0 19:03.00 157
179 Hua, Panos 12 Rosemead 6:21.7 19:05.00 158
180 Valencia, Brian 11 Santa Fe 6:22.0 19:06.00 159
181 Jantes, Jose 11 Dominguez 6:23.0 19:09.00 160
182 Ohara, Ryan 12 Torrance 6:23.4 19:10.00
183 Gussiaas, Matthew 12 Citrus Valley 6:24.0 19:12.00
184 Trinh, Andrew 10 Chadwick 6:25.0 19:15.00 161
185 Olivieri, William 12 Calvary Chapel 6:25.7 19:17.00
186 Cabrera, Angel 12 Bellflower 6:27.0 19:21.00
187 Dinh, Kai 11 Oxford Academy 6:27.7 19:23.00 162
188 Winter, Andrew 11 Cypress 6:29.7 19:29.00 163
189 Koenig, Ryan 12 Cypress 6:31.0 19:33.00 164
190 Coles, Daniel 11 Long Beach Millikan 6:33.0 19:39.00
191 Sanchez, Martin 11 Dominguez 6:36.4 19:49.00 165
192 Castrova, Michael 12 Calvary Chapel 6:42.0 20:06.00
193 Tone, Nick 10 Huntington Beach 6:42.4 20:07.00 166
194 Ly, David 12 Long Beach Millikan 6:44.7 20:14.00
195 Cruz, Aaron 11 Lakewood 6:47.0 20:21.00
196 Zapien, Juan 11 Dominguez 6:50.4 20:31.00 167
197 Santamaria, Anthony 12 Torrance 6:50.7 20:32.00
198 Isakson, Erik 11 Lakewood 6:50.7 20:32.00
199 Wingfield, Miles 12 Torrance 6:56.4 20:49.00
200 Zuelke, Dylan 10 Long Beach Millikan 7:00.4 21:01.00
201 Green, Matt 12 Maranatha 7:02.4 21:07.00 168
202 Rios, Brandon 11 Dominguez 7:47.7 23:23.00 169
203 Gallardo, David 11 Cypress 8:04.7 24:14.00 170
204 Burns, Jeremy 12 Oxford Academy 8:04.7 24:14.00 171
205 Wickline, Noah Mayfair 8:04.7 24:14.00 172
206 Monroe, Gage Mayfair 8:04.7 24:14.00 173
207 O'Neal, Kenan 12 Oxford Academy 8:04.7 24:14.00 174
208 Galdemez, Garrison 12 Oxford Academy 8:04.7 24:14.00 175
209 Rendon, Arnaldo 10 Dominguez 8:04.7 24:14.00 176
210 DiNapoli, Cooper 10 Long Beach Millikan 8:04.7 24:14.00
211 Lee, Harrison 11 Cypress 8:04.7 24:14.00 177
212 Benevente, Lawrence 12 Oxford Academy 8:04.7 24:14.00 178
213 Donahue, Stephen 12 Citrus Valley 8:04.7 24:14.00
Team Scores
=================================================================================
Rank Team Total 1 2 3 4 5 *6 *7 *8 *9
=================================================================================
1 California 51 5 8 11 12 15 24 26
Total Time: 1:15:59.00
Average: 15:11.80
2 Redondo Union 70 3 4 6 19 38 40 48
Total Time: 1:15:57.00
Average: 15:11.40
3 Loyola 102 9 13 22 23 35 44 61
Total Time: 1:16:48.00
Average: 15:21.60
4 Brea Olinda 116 2 20 28 29 37 46 47
Total Time: 1:16:54.00
Average: 15:22.80
5 Cathedral 128 14 17 27 34 36 51 79
Total Time: 1:17:18.00
Average: 15:27.60
6 Long Beach Poly 134 1 7 32 42 52 68 82
Total Time: 1:17:22.00
Average: 15:28.40
7 Fountain Valley 251 16 18 64 70 83 102 113
Total Time: 1:19:53.00
Average: 15:58.60
8 Esperanza 257 25 39 50 71 72 114 134
Total Time: 1:19:53.00
Average: 15:58.60
9 Martin Luther King (River 314 21 54 59 89 91 112
Total Time: 1:20:59.00
Average: 16:11.80
10 Rosemead 379 41 60 67 90 121 158
Total Time: 1:22:30.00
Average: 16:30.00
11 Kennedy (La Palma) 390 31 49 86 98 126
Total Time: 1:22:42.00
Average: 16:32.40
12 Sunny Hills 390 45 57 84 100 104
Total Time: 1:22:32.00
Average: 16:30.40
13 Citrus Valley 395 53 55 73 81 133 138 140
Total Time: 1:22:54.00
Average: 16:34.80
14 Los Alamitos 397 33 74 87 93 110 125 128
Total Time: 1:22:37.00
Average: 16:31.40
15 Yorba Linda 447 76 85 94 95 97 101 103
Total Time: 1:23:39.00
Average: 16:43.80
16 Maranatha 463 10 62 106 139 146 155 168
Total Time: 1:24:43.00
Average: 16:56.60
17 Cerritos 468 66 69 105 111 117 144
Total Time: 1:24:04.00
Average: 16:48.80
18 Long Beach Millikan 473 56 78 99 108 132 136 141
Total Time: 1:24:22.00
Average: 16:52.40
19 Huntington Beach 476 30 43 116 131 156 166
Total Time: 1:25:24.00
Average: 17:04.80
20 Torrance 533 88 92 107 109 137 148 151
Total Time: 1:25:24.00
Average: 17:04.80
21 Santa Fe 571 75 77 120 145 154 159
Total Time: 1:27:38.00
Average: 17:31.60
22 Chadwick 586 80 119 122 130 135 149 161
Total Time: 1:27:05.00
Average: 17:25.00
23 Downey 608 63 115 127 150 153
Total Time: 1:28:49.00
Average: 17:45.80
24 Mayfair 661 96 123 143 147 152 172 173
Total Time: 1:29:40.00
Average: 17:56.00
25 Cypress 691 65 142 157 163 164 170 177
Total Time: 1:32:35.00
Average: 18:31.00
26 Oxford Academy 694 58 129 162 171 174 175 178
Total Time: 1:41:47.00
Average: 20:21.40
27 Dominguez 734 118 124 160 165 167 169 176
Total Time: 1:34:27.00
Average: 18:53.40
Cerritos High School HY-TEK's Meet Manager
The Great Cow Run - 9/8/2012
Higashi Roman Memorial Run
Cerritos Regional Park
Last Completed Event
Event 8 Boys 3 Mile Run CC Junior Varsity
==================================================================================
Name Year School Avg Mile Finals Points
==================================================================================
1 Boyer, Steven 11 Loyola 5:21.0 16:03.00 1
2 Demsas, Dagmay 12 Redondo Union 5:23.4 16:10.00 2
3 Velasquez, David 11 Cathedral 5:24.0 16:12.00 3
4 Foster, Ben 12 Loyola 5:25.7 16:17.00 4
5 Ganous, Sergey 12 Redondo Union 5:27.0 16:21.00 5
6 Cahaln, Corbin 11 Loyola 5:27.4 16:22.00 6
7 Lunde, Trevor 11 Brea Olinda 5:27.7 16:23.00 7
8 Mead, Andrew 12 Loyola 5:29.0 16:27.00 8
9 Jauregui, Phillip 12 Loyola 5:29.7 16:29.00 9
10 Sanchez, Noah 11 Cathedral 5:30.7 16:32.00 10
11 Burshinger, William 11 Loyola 5:33.0 16:39.00 11
12 Amorelli, Nicholas 11 Redondo Union 5:34.7 16:44.00 12
13 Yzaguirre, Zaine 12 Loyola 5:36.7 16:50.00 13
14 Rogers, Spencer 12 Brea Olinda 5:37.0 16:51.00 14
15 Villagomez, Robert 11 Loyola 5:37.4 16:52.00
16 Zibits, Zach 11 Long Beach Poly 5:37.7 16:53.00 15
17 Fontana, Arthur 12 Redondo Union 5:39.0 16:57.00 16
18 Hommes, Chad 11 Los Alamitos 5:39.4 16:58.00 17
19 Davies, John 11 Loyola 5:40.0 17:00.00
20 Lunde, Connor 11 Brea Olinda 5:40.0 17:00.00 18
21 Westby, Tyon 11 Loyola 5:40.0 17:00.00
22 Lyng, Matt 11 Loyola 5:41.4 17:04.00
23 Veltre, Kenny 12 Brea Olinda 5:42.0 17:06.00 19
24 Deleon, Josh 12 Long Beach Poly 5:42.4 17:07.00 20
25 Finnegan, Brian 11 Loyola 5:44.0 17:12.00
26 Cohen, Griffin 12 Loyola 5:44.7 17:14.00
27 Perez, Joseph 12 Brea Olinda 5:45.4 17:16.00 21
28 Khamneipur, Kevin 12 Loyola 5:46.7 17:20.00
29 Robbins, Tremaan 12 Long Beach Poly 5:48.0 17:24.00 22
30 Koontz, Garret 11 King 5:48.7 17:26.00
31 Raycraft, Sam 11 Loyola 5:49.4 17:28.00
32 Gutzmann, Brendon 11 King 5:50.0 17:30.00
33 Lee, Frank 11 Cerritos 5:50.4 17:31.00 23
34 Resendiz, Dario 12 Fountain Valley 5:50.7 17:32.00 24
35 Nicks, Samuel 11 Redondo Union 5:51.4 17:34.00 25
36 Washington, Rashaad 12 Loyola 5:51.7 17:35.00
37 Stahl, Matt 12 Yorba Linda 5:52.0 17:36.00 26
38 Ojeda, Christian 12 Brea Olinda 5:52.7 17:38.00 27
39 Torres, Brian 11 Cathedral 5:52.7 17:38.00 28
40 Gonzalez, Carlos 11 California 5:53.0 17:39.00
41 Arce, Nick 12 Cathedral 5:53.4 17:40.00 29
42 Gudino, Alex 11 California 5:54.4 17:43.00
43 Li, Alex 12 Rosemead 5:55.7 17:47.00 30
44 Cottle, Tyler 12 Fountain Valley 5:56.0 17:48.00 31
45 Beltran, Miguel 11 Rosemead 5:56.4 17:49.00 32
46 Medina, Nicholas 10 Sunny Hills 5:57.0 17:51.00 33
47 McCann, Michael 12 Yorba Linda 5:58.0 17:54.00 34
48 Sanchez, Diego 11 Bellflower 5:59.7 17:59.00
49 Dybens, Kevin 12 Long Beach Poly 6:01.0 18:03.00 35
50 Wegleitner, Jack 12 Loyola 6:01.4 18:04.00
51 Eskinder, Henok 12 Long Beach Poly 6:02.0 18:06.00 36
52 Jacinto, Ari 11 Loyola 6:02.0 18:06.00
53 Reyes, James 11 Cathedral 6:02.7 18:08.00 37
54 Paris, Kyle 12 Loyola 6:03.0 18:09.00
55 Gardner, Sean 12 South Torrance 6:03.4 18:10.00 38
56 Yonezaki, Kris 11 Torrance 6:03.7 18:11.00 39
57 Pungeaw, Timothy 11 King 6:04.0 18:12.00
58 Esparza, Pedro 12 Sunny Hills 6:04.4 18:13.00 40
59 Janos, John 11 California 6:04.7 18:14.00
60 Hansberry, Mark 11 Los Alamitos 6:05.0 18:15.00 41
61 Jaramillo, Aaron 11 Loyola 6:05.4 18:16.00
62 Aguilar, Edwin 12 Brea Olinda 6:07.4 18:22.00 42
63 Hall, Paul 11 Los Alamitos 6:07.7 18:23.00 43
64 Rucker, Jared 11 Yorba Linda 6:08.4 18:25.00 44
65 Esparza, Andy 11 Rosemead 6:08.7 18:26.00 45
66 Caliz, Arthur 11 Cerritos 6:09.0 18:27.00 46
67 Kim, Isaac 11 Cerritos 6:09.4 18:28.00 47
68 Evan, Tuliglowski 12 Torrance 6:09.4 18:28.00 48
69 Luu, Howard 11 Rosemead 6:09.7 18:29.00 49
70 Nawfal, Ahmad 12 Esperanza 6:09.7 18:29.00 50
71 Ro, Timmy 11 Oxford Academy 6:10.0 18:30.00
72 Gonzales, Ryan 11 Loyola 6:10.7 18:32.00
73 Thio, Andy 11 Fountain Valley 6:11.0 18:33.00 51
74 Leong, Coy 11 Cathedral 6:11.7 18:35.00 52
75 Roa, Brandon 11 Long Beach Poly 6:12.4 18:37.00 53
76 Sakata, Kai 11 Fountain Valley 6:12.7 18:38.00 54
77 DE LA Torre, Javin 11 Esperanza 6:12.7 18:38.00 55
78 Tirumala, Shreyas 11 South Torrance 6:13.0 18:39.00 56
79 Grossman, Kevin 11 Esperanza 6:13.4 18:40.00 57
80 Schwenker, Anthony 11 Brea Olinda 6:15.4 18:46.00
81 Tanisaka, Jonathan 11 Torrance 6:16.4 18:49.00 58
82 Nguyen, Toan 12 Fountain Valley 6:16.7 18:50.00 59
83 Hatcock, Luke 12 Huntington Beach 6:17.0 18:51.00
84 Huson, John 11 Long Beach Poly 6:17.7 18:53.00 60
85 Mendez, Richard 11 Cerritos 6:18.4 18:55.00 61
86 Torres, Sergio 11 Loyola 6:18.7 18:56.00
87 Ito, Cameron 11 Torrance 6:18.7 18:56.00 62
88 Silva, Carlos 12 Rosemead 6:19.0 18:57.00 63
89 Pillos, Shawn 11 Sunny Hills 6:19.4 18:58.00 64
90 Sansone, Jackson 11 Yorba Linda 6:19.4 18:58.00 65
91 Frankel, Kendrick 11 Long Beach Poly 6:20.7 19:02.00
92 McComb, Michael 12 Fountain Valley 6:20.7 19:02.00 66
93 Gonzalez, Tommy 11 Cathedral 6:21.0 19:03.00 67
94 Ellington, Max 11 Esperanza 6:21.0 19:03.00 68
95 Vivas, Richard 12 Torrance 6:21.7 19:05.00 69
96 Murray, Kyle 11 Los Alamitos 6:22.0 19:06.00 70
97 Brennan, Kyle 12 Redondo Union 6:22.7 19:08.00 71
98 Nguyen, Huy 12 Fountain Valley 6:23.0 19:09.00 72
99 Tran, Daniel 11 Fountain Valley 6:24.4 19:13.00
100 Molnar, John 11 Loyola 6:25.0 19:15.00
101 Raber, Aaron 12 Kennedy (La Palma) 6:26.0 19:18.00
102 Peluso, Dominic 12 Redondo Union 6:26.7 19:20.00 73
103 Gietzen, Nick 11 South Torrance 6:28.7 19:26.00 74
104 Garza, Roy 11 Torrance 6:29.0 19:27.00 75
105 Speake, Gabe 11 Yorba Linda 6:29.4 19:28.00 76
106 Castro, Thomas 11 Esperanza 6:29.7 19:29.00 77
107 Gill, Shane 11 Loyola 6:29.7 19:29.00
108 Eddowes, Andres 11 South Torrance 6:30.4 19:31.00 78
109 Grimes, Levi 12 Maranatha 6:31.7 19:35.00
110 Holmes, Matt 11 South Torrance 6:31.7 19:35.00 79
111 Vo, Chris 11 Long Beach Poly 6:31.7 19:35.00
112 Jovel, Vidal 11 Torrance 6:33.0 19:39.00 80
113 Muniz, Marcus 11 Downey 6:33.7 19:41.00
114 Akiyama, Ted 11 South Torrance 6:34.0 19:42.00 81
115 Rosay, Andrew 11 Loyola 6:35.7 19:47.00
116 Hunter, Will 11 Esperanza 6:36.4 19:49.00 82
117 Ott, Chase 12 Chadwick 6:36.4 19:49.00 83
118 Worden, Matt 11 Esperanza 6:36.7 19:50.00 84
119 Gonzalez, Pablo 11 Los Alamitos 6:37.0 19:51.00 85
120 Kim, Jonathan 11 Cerritos 6:37.4 19:52.00 86
121 Gongloff, Tyson 11 Esperanza 6:37.7 19:53.00
122 Dinsmore, Kyle 12 Fountain Valley 6:38.0 19:54.00
123 Garcia-Ruiz, Oscar 11 Loyola 6:38.4 19:55.00
124 Khuat, Calvin 11 Rosemead 6:39.0 19:57.00 87
125 Cao, Kevin 11 South Torrance 6:39.7 19:59.00 88
126 Hammond, Zachary 11 Los Alamitos 6:40.4 20:01.00 89
127 Anguiano, Mario 11 Cerritos 6:40.7 20:02.00 90
128 Arellano, Anthony 12 Downey 6:41.0 20:03.00
129 Hoang, Brian 12 Rosemead 6:43.4 20:10.00 91
130 Redcher, Christian 11 Sunny Hills 6:43.7 20:11.00 92
131 DePretto, Hunter 11 Fountain Valley 6:44.7 20:14.00
132 Collins, Ryan 11 Los Alamitos 6:45.0 20:15.00 93
133 Delgado, Elih 11 South Torrance 6:45.7 20:17.00
134 Cropp, James 11 Long Beach Poly 6:46.0 20:18.00
135 Sabins, Spencer 11 Yorba Linda 6:46.7 20:20.00 94
136 Goy, Ryan 11 Chadwick 6:48.4 20:25.00 95
137 Bjelajac, Jeremy 11 Loyola 6:49.4 20:28.00
138 Kono, Shogo 11 Torrance 6:50.0 20:30.00
139 Butel, Alec 11 Sunny Hills 6:50.4 20:31.00 96
140 Rehman, Mohsin 11 Fountain Valley 6:50.4 20:31.00
141 Do, Danny 11 Oxford Academy 6:50.7 20:32.00
142 Clark, Kyle 12 Los Alamitos 6:50.7 20:32.00
143 Batres, Bemjamin 11 Cerritos 6:51.0 20:33.00 97
144 Le, Justin 11 Fountain Valley 6:51.0 20:33.00
145 Bruno, Anthony 11 Torrance 6:51.4 20:34.00
146 Nguyen, Brian 11 Fountain Valley 6:52.0 20:36.00
147 Santiago, Steven 11 Fountain Valley 6:52.4 20:37.00
148 Perez, Austin 11 Citrus Valley 6:53.0 20:39.00
149 Lechuga, Daniel 11 Downey 6:53.7 20:41.00
150 Ninh, Philip 12 Cerritos 6:54.4 20:43.00
151 Lee, Darren 12 Cerritos 6:55.7 20:47.00
152 Palmer, Matt 12 Huntington Beach 6:56.4 20:49.00
153 Carranza, Ricardo 12 Miguel Contreras LC 6:57.0 20:51.00
154 Wolverton, Adam 12 Torrance 6:57.4 20:52.00
155 Murguia, Jorge 12 Rosemead 6:57.4 20:52.00
156 Garcia, Mario 11 Downey 6:58.4 20:55.00
157 Javier, Dax 10 Cathedral 6:58.7 20:56.00
158 Roberti, Nick 11 Loyola 6:59.7 20:59.00
159 Vo, Khoa 11 Fountain Valley 7:00.0 21:00.00
160 Adams, Austin 12 Loyola 7:00.7 21:02.00
161 Chea, Kunnarith 12 Long Beach Poly 7:01.0 21:03.00
162 You, Kevin 11 Bellflower 7:01.0 21:03.00
163 Edwards, Harrison 11 Fountain Valley 7:01.7 21:05.00
164 Patel, Harsh 10 Long Beach Poly 7:02.0 21:06.00
165 Male, Extra Mayfair 7:04.0 21:12.00
166 Wilkerson, Cooper 12 Torrance 7:07.0 21:21.00
167 Kim, Ricky 10 Sunny Hills 7:08.0 21:24.00 98
168 Shoji, Ryan 11 Maranatha 7:10.7 21:32.00
169 Robinson, Grant 11 Los Alamitos 7:11.0 21:33.00
170 Chau, Andrew 12 Fountain Valley 7:11.7 21:35.00
171 Rivas, Ricardo 12 Calvary Chapel 7:12.7 21:38.00
172 De La Fuente, Patrick 11 Cerritos 7:12.7 21:38.00
173 Warnke, Aidan 11 Long Beach Poly 7:14.4 21:43.00
174 Graham, Tyler 12 Cerritos 7:15.4 21:46.00
175 McEnroe, Nick 11 South Torrance 7:15.4 21:46.00
176 Chou, Wayne 11 Chadwick 7:15.7 21:47.00 99
177 Stone, Steven 11 Huntington Beach 7:16.4 21:49.00
178 Creeden, Patrick 12 Sunny Hills 7:21.0 22:03.00 100
179 Loyola, Luis 11 Miguel Contreras LC 7:22.7 22:08.00
180 Arriola, Leonel 11 Miguel Contreras LC 7:22.7 22:08.00
181 Zuniga, Jeffrey 11 Torrance 7:23.0 22:09.00
182 Paz, Raymond 12 Fountain Valley 7:25.7 22:17.00
183 Honda, Tristan 12 Torrance 7:28.0 22:24.00
184 Sridhar, Bala 11 Cerritos 7:29.0 22:27.00
185 Urzua, Nick 12 Rosemead 7:30.0 22:30.00
186 Muni, Prem 12 Cerritos 7:30.7 22:32.00
187 Rall, Chase 12 South Torrance 7:32.7 22:38.00
188 Guadagno, Joseph 11 Los Alamitos 7:33.0 22:39.00
189 Tiansay, Mathew 11 Torrance 7:33.7 22:41.00
190 Davis, Jon 11 Yorba Linda 7:34.0 22:42.00 101
191 Hardash, Collin 11 Los Alamitos 7:35.7 22:47.00
192 Newman, Reid 11 Maranatha 7:36.7 22:50.00
193 Cohen, Ethan 11 South Torrance 7:37.0 22:51.00
194 Soria, Angel 11 Miguel Contreras LC 7:38.4 22:55.00
195 Pena, Ricardo 12 Chadwick 7:38.7 22:56.00 102
196 Doan, Brian 11 Oxford Academy 7:40.4 23:01.00
197 Ortuno, Esteban 11 Fountain Valley 7:51.4 23:34.00
198 Duan, Michael 11 Chadwick 7:53.7 23:41.00 103
199 Morton, Bryce 11 Maranatha 8:20.0 25:00.00
200 Huang, Lancelot 11 Cerritos 8:24.4 25:13.00
201 Hashef, Hisham 11 Fountain Valley 8:29.4 25:28.00
202 Selby, Sean 11 Kennedy (La Palma) 8:29.7 25:29.00
203 Geffner-Mihlsten, Alex 12 Chadwick 8:30.0 25:30.00 104
204 Yang, Jason 11 Oxford Academy 8:33.4 25:40.00
205 Goetz, Danny 12 Huntington Beach 9:36.0 28:48.00
206 Sanvictores, Jourdan 11 Cerritos 9:50.0 29:30.00
207 Shin, Stephen 11 Cerritos 10:04.4 30:13.00
208 D'Jamily, Adam 10 South Torrance 10:26.4 31:19.00
209 Collazo, John 12 Chadwick 11:14.7 33:44.00 105
Team Scores
=================================================================================
Rank Team Total 1 2 3 4 5 *6 *7 *8 *9
=================================================================================
1 Loyola 28 1 4 6 8 9 11 13
Total Time: 1:21:38.00
Average: 16:19.60
2 Redondo Union 60 2 5 12 16 25 71 73
Total Time: 1:23:46.00
Average: 16:45.20
3 Brea Olinda 79 7 14 18 19 21 27 42
Total Time: 1:24:36.00
Average: 16:55.20
4 Cathedral 107 3 10 28 29 37 52 67
Total Time: 1:26:10.00
Average: 17:14.00
5 Long Beach Poly 128 15 20 22 35 36 53 60
Total Time: 1:27:33.00
Average: 17:30.60
6 Fountain Valley 219 24 31 51 54 59 66 72
Total Time: 1:31:21.00
Average: 18:16.20
7 Rosemead 219 30 32 45 49 63 87 91
Total Time: 1:31:28.00
Average: 18:17.60
8 Yorba Linda 245 26 34 44 65 76 94 101
Total Time: 1:32:21.00
Average: 18:28.20
9 Los Alamitos 256 17 41 43 70 85 89 93
Total Time: 1:32:33.00
Average: 18:30.60
10 Cerritos 263 23 46 47 61 86 90 97
Total Time: 1:33:13.00
Average: 18:38.60
11 Torrance 276 39 48 58 62 69 75 80
Total Time: 1:33:29.00
Average: 18:41.80
12 Esperanza 307 50 55 57 68 77 82 84
Total Time: 1:34:19.00
Average: 18:51.80
13 South Torrance 325 38 56 74 78 79 81 88
Total Time: 1:35:21.00
Average: 19:04.20
14 Sunny Hills 325 33 40 64 92 96 98 100
Total Time: 1:35:44.00
Average: 19:08.80
15 Chadwick 482 83 95 99 102 103 104 105
Total Time: 1:48:38.00
Average: 21:43.60
Cerritos High School HY-TEK's Meet Manager
The Great Cow Run - 9/8/2012
Higashi Roman Memorial Run
Cerritos Regional Park
Last Completed Event
Event 6 Boys 3 Mile Run CC Sophomores
==================================================================================
Name Year School Avg Mile Finals Points
==================================================================================
1 Lofgren, Nick 10 South Torrance 5:10.7 15:32.00 1
2 Lopez, Anthony 10 Downey 5:18.4 15:55.00
3 Garcia, Skyler 10 Brea Olinda 5:19.0 15:57.00 2
4 Thurston, Jack 10 Yorba Linda 5:21.4 16:04.00 3
5 Escobar, Angel 10 Brea Olinda 5:21.4 16:04.00 4
6 Gomez, Allan 10 Cathedral 5:24.4 16:13.00 5
7 Villanueva, Seth 10 King 5:26.0 16:18.00 6
8 Trejo, Alex 10 California 5:26.4 16:19.00
9 DeDio, Chris 10 Brea Olinda 5:26.7 16:20.00 7
10 Shellito, Austin 10 Brea Olinda 5:26.7 16:20.00 8
11 Sipple, Jeff 10 Brea Olinda 5:26.7 16:20.00 9
12 Phalen, Rolando 10 King 5:30.0 16:30.00 10
13 Norys, Jacob 10 King 5:30.4 16:31.00 11
14 Nash, Galyn 10 Fountain Valley 5:33.0 16:39.00 12
15 Jackowec, Nicolaus 10 Loyola 5:33.7 16:41.00 13
16 Antonoplis, Will 10 Loyola 5:34.4 16:43.00 14
17 Stevens, Luke 10 Redondo Union 5:34.7 16:44.00 15
18 Tang, Bailey 10 Rosemead 5:37.4 16:52.00 16
19 Fry, Logan 10 Esperanza 5:37.4 16:52.00 17
20 Rodriguez, Sergio 10 Redondo Union 5:39.7 16:59.00 18
21 Lopez, Alejandro 10 Loyola 5:40.0 17:00.00 19
22 Cutler, Sean 10 Loyola 5:40.0 17:00.00 20
23 Mizukami, Ryan 10 Torrance 5:41.7 17:05.00 21
24 Rounds, Zachary 10 Redondo Union 5:42.4 17:07.00 22
25 Evans, Jake 10 Brea Olinda 5:43.4 17:10.00 23
26 Adia, Michael 10 Loyola 5:43.7 17:11.00 24
27 Barrios, Kenneth 10 Fountain Valley 5:44.0 17:12.00 25
28 Douglas, Jonathan 10 Redondo Union 5:44.4 17:13.00 26
29 Vasnquez-Rodriguez, Che Mayfair 5:44.7 17:14.00 27
30 Serrano, Gabriel 10 Rosemead 5:45.4 17:16.00 28
31 Penaloza, Erick 10 King 5:47.4 17:22.00 29
32 Iwamasa, Samm 10 Torrance 5:47.4 17:22.00 30
33 Berg, Cody 10 Santa Fe 5:48.0 17:24.00 31
34 Chacon, William 10 California 5:48.0 17:24.00
35 Savage, Brett Mayfair 5:48.4 17:25.00 32
36 Harris, Chris 10 Esperanza 5:49.0 17:27.00 33
37 Polk, Chris 10 Long Beach Poly 5:50.7 17:32.00 34
38 Bruggeman, Brennan 10 Long Beach Poly 5:51.0 17:33.00 35
39 Oca, Matt 10 Long Beach Poly 5:51.4 17:34.00 36
40 Alther, Joshua 10 Redondo Union 5:52.7 17:38.00 37
41 Ngo, Uy-Long 10 Fountain Valley 5:53.4 17:40.00 38
42 Ayala, Erick 10 Downey 5:54.4 17:43.00
43 Wester, Josh 10 South Torrance 5:54.7 17:44.00 39
44 Vela, Geo 10 Cathedral 5:55.4 17:46.00 40
45 Martinez, Joseph 10 Fountain Valley 5:56.4 17:49.00 41
46 Fillipow, Kai 10 Long Beach Poly 5:56.7 17:50.00 42
47 Kung, Daylen 10 Torrance 5:57.4 17:52.00 43
48 Beltran, Andrew 10 Bellflower 5:58.0 17:54.00
49 Au, Roland 10 Loyola 5:58.7 17:56.00 44
50 Duarte, Jack 10 Huntington Beach 5:59.7 17:59.00 45
51 Barragan, Jacob 10 Sunny Hills 6:00.7 18:02.00
52 Rivera, Jesus 10 Cathedral 6:00.7 18:02.00 46
53 Fuentes, Timothy 10 Torrance 6:01.4 18:04.00 47
54 Robinson, Thomas 10 South Torrance 6:01.7 18:05.00 48
55 Xu, Eric 10 South Torrance 6:02.0 18:06.00 49
56 Johnson, Chase 10 Cerritos 6:02.0 18:06.00 50
57 Viray, Joshua 10 Long Beach Poly 6:02.4 18:07.00 51
58 Powell, Brandon 10 Esperanza 6:02.4 18:07.00 52
59 Banuelos, Ricardo 10 Loyola 6:02.7 18:08.00 53
60 Ahlstrom, Keith 10 Los Alamitos 6:04.0 18:12.00 54
61 Palacios, Luis 10 Los Alamitos 6:04.4 18:13.00 55
62 Perez, Tristan 10 Loyola 6:05.7 18:17.00
63 Parrrish, Brian 10 Kennedy (La Palma) 6:06.7 18:20.00 56
64 Rodriguez, Dakota 10 Esperanza 6:07.0 18:21.00 57
65 Gomez, Manuel 10 Los Alamitos 6:07.0 18:21.00 58
66 De Jesus, Bryan 10 Miguel Contreras LC 6:07.4 18:22.00 59
67 Clark, Bradley 10 Redondo Union 6:07.4 18:22.00 60
68 Hyunh, Theodore 10 Rosemead 6:07.7 18:23.00 61
69 Marton, Josiah 10 Yorba Linda 6:07.7 18:23.00 62
70 Stevens, Timothy 10 Calvary Chapel 6:09.4 18:28.00
71 Reyes, Nef 10 Esperanza 6:09.7 18:29.00 63
72 Pendleton, Jacob 10 King 6:10.0 18:30.00 64
73 Montalvo, Allan 10 Sunny Hills 6:11.7 18:35.00
74 Torres, Christian 10 California 6:12.0 18:36.00
75 Arce, Antonio 10 Cathedral 6:14.0 18:42.00 65
76 Cleland, Matthew 10 King 6:14.4 18:43.00 66
77 Mazza, Thomas 10 Loyola 6:14.7 18:44.00
78 Meyerson, Peter 9 Redondo Union 6:15.0 18:45.00 67
79 Gilbert, James 10 Fountain Valley 6:15.4 18:46.00 68
80 Ruiz, Ryan 10 Loyola 6:15.7 18:47.00
81 Rodriguez, Erik 10 Yorba Linda 6:17.0 18:51.00 69
82 Vazquez, Rio 10 Loyola 6:17.4 18:52.00
83 Javier, Jonathan 10 Los Alamitos 6:17.7 18:53.00 70
84 Torres, Jonathan 10 Santa Fe 6:18.7 18:56.00 71
85 Estrada, Justin 10 Yorba Linda 6:18.7 18:56.00 72
86 Connolly, Adam 10 Los Alamitos 6:20.0 19:00.00 73
87 Leon, Jorge 10 Long Beach Poly 6:21.0 19:03.00 74
88 Pelaez, Elijah 10 Torrance 6:22.4 19:07.00 75
89 Aguirre, Adam 10 South Torrance 6:23.0 19:09.00 76
90 Rivera, Diego 10 Fountain Valley 6:24.0 19:12.00 77
91 Mongkolvipakul, Ben 10 Long Beach Poly 6:24.7 19:14.00 78
92 Blakely, Joseph 10 Redondo Union 6:25.0 19:15.00
93 Wilford, Tyler 10 Los Alamitos 6:25.4 19:16.00 79
94 DeLaHoya, Hunter 10 King 6:25.7 19:17.00 80
95 Alcaron, Gabriel 10 Kennedy (La Palma) 6:25.7 19:17.00 81
96 Hugh, Michael 10 Cerritos 6:27.4 19:22.00 82
97 Hernandez, Sergio 10 Miguel Contreras LC 6:27.4 19:22.00 83
98 Nguyen, Cuong 10 Fountain Valley 6:27.7 19:23.00 84
99 Bordales, Diego 10 Loyola 6:27.7 19:23.00
100 Mazor-Fredman, Asa 10 Long Beach Poly 6:28.0 19:24.00
101 Spencer, Jack 10 South Torrance 6:28.0 19:24.00 85
102 Loo, Sebastian 9 Loyola 6:28.0 19:24.00
103 Quezada, Jose 10 Esperanza 6:28.7 19:26.00 86
104 Russakov, Sam 10 Huntington Beach 6:29.0 19:27.00 87
105 Gandara, Jose 10 Los Alamitos 6:29.7 19:29.00 88
106 Ho, Davis 10 Long Beach Poly 6:29.7 19:29.00
107 Oseguera, Robert 11 Fountain Valley 6:30.0 19:30.00
108 Camargo, Anthony 10 Fountain Valley 6:30.0 19:30.00
109 Takeda, Casey 10 Cerritos 6:31.0 19:33.00 89
110 Welty, Logan 10 Esperanza 6:31.4 19:34.00 90
111 Pham, Joseph 10 Rosemead 6:31.7 19:35.00 91
112 Amador, Leonardo 10 Torrance 6:31.7 19:35.00 92
113 Greenberg, Matt 10 Esperanza 6:32.4 19:37.00
114 Robelo, Eddie 10 Esperanza 6:32.4 19:37.00
115 Cocharea, Philip 10 Oxford Academy 6:32.7 19:38.00
116 Rah, Edward 10 Torrance 6:33.7 19:41.00 93
117 Khim, Hanson 10 Long Beach Poly 6:34.4 19:43.00
118 Arteaga, Eric 10 Lakewood 6:34.7 19:44.00
119 Bui, Dylan 10 Fountain Valley 6:35.0 19:45.00
120 Arsenault, Declan 10 King 6:35.0 19:45.00
121 Ponton, Leonel 10 Bellflower 6:36.4 19:49.00
122 Rheaume, Casey 10 Los Alamitos 6:36.7 19:50.00
123 Cruz, Kenny 10 Long Beach Poly 6:37.4 19:52.00
124 Lim, Chris 10 Rosemead 6:38.0 19:54.00 94
125 Guiterrez, Eduardo 10 Mayfair 6:39.4 19:58.00 95
126 Valadez, Jared 10 King 6:40.4 20:01.00
127 Yi, Joseph 10 South Torrance 6:40.7 20:02.00 96
128 Lopez, Luis 10 Mayfair 6:41.4 20:04.00 97
129 Vasquez, Harold 10 Mayfair 6:41.7 20:05.00 98
130 Leddo, Josh 10 Kennedy (La Palma) 6:41.7 20:05.00 99
131 Daher, Alfred 10 Yorba Linda 6:42.0 20:06.00 100
132 Martinez, Alex 10 Brea Olinda 6:42.0 20:06.00 101
133 Shahon, Benjamin 10 Los Alamitos 6:42.0 20:06.00
134 Trupp, Joshua 10 King 6:42.0 20:06.00
135 Salas, Alexis 10 Miguel Contreras LC 6:42.4 20:07.00 102
136 Chung, Jacob 10 South Torrance 6:43.0 20:09.00
137 Baldauf, Alex 10 South Torrance 6:43.4 20:10.00
138 Nguyen, Ethan 10 Fountain Valley 6:44.0 20:12.00
139 Mancisidor, Tristan 10 Huntington Beach 6:45.0 20:15.00 103
140 Chong, Marcus 10 Redondo Union 6:45.4 20:16.00
141 Vuong, Toby 10 Rosemead 6:45.7 20:17.00 104
142 Seace, Gabriel 10 Maranatha 6:46.0 20:18.00
143 Stubbelfield, Connor 10 Loyola 6:48.0 20:24.00
144 Lim, Bryan 10 South Torrance 6:48.4 20:25.00
145 Hernandez, Ezekiel 10 Torrance 6:49.0 20:27.00
146 Taylor, Matthew Mayfair 6:51.0 20:33.00 105
147 Nonaka, Lui 10 South Torrance 6:51.7 20:35.00
148 Pham, Daniel 10 Fountain Valley 6:52.7 20:38.00
149 Wallace, Taylor 10 Mayfair 6:53.0 20:39.00 106
150 Moore, James 10 Fountain Valley 6:53.0 20:39.00
151 Rusch, Chris 10 Calvary Chapel 6:53.4 20:40.00
152 Rogers, Cole Mayfair 6:54.0 20:42.00
153 Kim, Andrew 10 Cerritos 6:54.4 20:43.00 107
154 Tanimoto, Zachary 10 South Torrance 6:55.7 20:47.00
155 De La Rosa, Patrick 10 Cerritos 6:56.0 20:48.00 108
156 Lastra, Michael 10 Cathedral 6:56.7 20:50.00 109
157 Rathod, Kishen 10 Santa Fe 6:56.7 20:50.00 110
158 Wright, Spencer 10 Cerritos 6:56.7 20:50.00 111
159 Osejo, Andrew 10 Santa Fe 6:57.0 20:51.00 112
160 Chang, Allen 10 South Torrance 6:57.4 20:52.00
161 Kaplan, Jeff 10 South Torrance 6:58.0 20:54.00
162 Chao, Ryan 10 Cerritos 6:58.4 20:55.00 113
163 Yanagi, Ryan 10 South Torrance 6:59.4 20:58.00
164 Bonillas, Michael 10 South Torrance 7:00.0 21:00.00
165 Jacob, Austin 10 Mayfair 7:00.4 21:01.00
166 Bowers, Liam 10 King 7:00.4 21:01.00
167 Eaton, Wil 10 Calvary Chapel 7:01.4 21:04.00
168 Si, Steven 10 Mayfair 7:02.0 21:06.00
169 Gutierrez, Aaron 10 Calvary Chapel 7:02.4 21:07.00
170 Blaauw, Dylan 10 Los Alamitos 7:02.4 21:07.00
171 Garcia, Luis 10 Rosemead 7:05.7 21:17.00 114
172 Belme, Chris 10 Huntington Beach 7:06.7 21:20.00 115
173 Gilbert, William 10 Fountain Valley 7:08.0 21:24.00
174 Hays, Julian 10 Mayfair 7:10.4 21:31.00
175 Triu, Jason 10 Rosemead 7:11.7 21:35.00
176 Gutierrez, Hugo 10 Rosemead 7:14.0 21:42.00
177 Dufelmeier, Wesley 10 Loyola 7:15.0 21:45.00
178 Briones, Louis 10 Loyola 7:16.0 21:48.00
179 Chang, Steven 10 Cerritos 7:16.4 21:49.00
180 Virula, Raymundo 10 Loyola 7:17.0 21:51.00
181 Nguyen, Renzulli 10 Rosemead 7:17.4 21:52.00
182 Huynn, Grand 9 Rosemead 7:19.0 21:57.00
183 Vigil, Taylor 10 Yorba Linda 7:20.7 22:02.00 116
184 Salas, Daniel 10 Cathedral 7:20.7 22:02.00 117
185 Nguyen, Nathan 10 Fountain Valley 7:22.0 22:06.00
186 Furuya, Myles 10 Kennedy (La Palma) 7:23.0 22:09.00 118
187 De Bruhl, Garrett 10 Yorba Linda 7:25.0 22:15.00 119
188 Penalosa, Cooper 10 Yorba Linda 7:25.4 22:16.00
189 Wauters, Matthew 10 Los Alamitos 7:26.7 22:20.00
190 Kawa, Kengo 10 Sunny Hills 7:31.7 22:35.00
191 Rassmy, Kareem 10 Fountain Valley 7:32.0 22:36.00
192 Keith, Chris Mayfair 7:32.0 22:36.00
193 Cardenes, Diego 10 Kennedy (La Palma) 7:33.4 22:40.00 120
194 Han, James 10 South Torrance 7:37.4 22:52.00
195 Brown, Conner 10 Los Alamitos 7:37.7 22:53.00
196 Godwin, Shayne 10 Huntington Beach 7:39.7 22:59.00 121
197 Cho, Joesph 10 Cypress 7:40.0 23:00.00
198 Mihlar, Tariq 10 South Torrance 7:40.7 23:02.00
199 Chandler, Otis 10 Loyola 7:43.7 23:11.00
200 Stenseng, Nick 10 Huntington Beach 7:47.7 23:23.00 122
201 Bowers, Chris 10 Esperanza 7:50.0 23:30.00
202 Ramos, Abraham 10 Fountain Valley 7:51.4 23:34.00
203 Jalloh, Ahmed 10 Torrance 7:52.0 23:36.00
204 Brown-Greaves, Colin 10 Los Alamitos 7:55.7 23:47.00
205 Yates, Christian 10 Santa Fe 7:56.7 23:50.00 123
206 Munoz, Alex 11 Cathedral 7:57.0 23:51.00 124
207 Ludwick, Richmond 10 Fountain Valley 8:05.0 24:15.00
208 Calles, Nick 10 Kennedy (La Palma) 8:06.4 24:19.00 125
209 Oropeza, Ryan 10 Fountain Valley 8:13.0 24:39.00
210 Aguilar, Jorge 10 Miguel Contreras LC 8:19.4 24:58.00 126
211 Bowel, Aaron 10 Mayfair 8:21.4 25:04.00
212 Castillo, Jovan 10 Torrance 8:23.0 25:09.00
213 Chantaduly, Powin 10 Cerritos 8:26.0 25:18.00
214 Rojo, Javier 10 Torrance 8:38.0 25:54.00
215 Huang, Cody 10 Cerritos 8:45.7 26:17.00
216 Lorenzo, Arnold 10 Miguel Contreras LC 8:49.4 26:28.00 127
217 Nierman, Samuel 10 Los Alamitos 8:51.0 26:33.00
218 Mistry, Aditya 10 Cerritos 8:54.4 26:43.00
219 Tapia, Norris 10 Miguel Contreras LC 9:12.7 27:38.00 128
220 Smith, Andrew 10 Kennedy (La Palma) 10:17.7 30:53.00 129
221 Antonio, Yobany 11 Miguel Contreras LC 12:14.7 36:44.00 130
Team Scores
=================================================================================
Rank Team Total 1 2 3 4 5 *6 *7 *8 *9
=================================================================================
1 Brea Olinda 30 2 4 7 8 9 23 101
Total Time: 1:21:01.00
Average: 16:12.20
2 Loyola 90 13 14 19 20 24 44 53
Total Time: 1:24:35.00
Average: 16:55.00
3 Redondo Union 118 15 18 22 26 37 60 67
Total Time: 1:25:41.00
Average: 17:08.20
4 Martin Luther King (River 120 6 10 11 29 64 66 80
Total Time: 1:25:11.00
Average: 17:02.20
5 Fountain Valley 184 12 25 38 41 68 77 84
Total Time: 1:28:06.00
Average: 17:37.20
6 Long Beach Poly 198 34 35 36 42 51 74 78
Total Time: 1:28:36.00
Average: 17:43.20
7 South Torrance 213 1 39 48 49 76 85 96
Total Time: 1:28:36.00
Average: 17:43.20
8 Torrance 216 21 30 43 47 75 92 93
Total Time: 1:29:30.00
Average: 17:54.00
9 Esperanza 222 17 33 52 57 63 86 90
Total Time: 1:29:16.00
Average: 17:51.20
10 Cathedral 265 5 40 46 65 109 117 124
Total Time: 1:31:33.00
Average: 18:18.60
11 Rosemead 290 16 28 61 91 94 104 114
Total Time: 1:32:00.00
Average: 18:24.00
12 Yorba Linda 306 3 62 69 72 100 116 119
Total Time: 1:32:20.00
Average: 18:28.00
13 Los Alamitos 310 54 55 58 70 73 79 88
Total Time: 1:32:39.00
Average: 18:31.80
14 Mayfair 349 27 32 95 97 98 105 106
Total Time: 1:34:46.00
Average: 18:57.20
15 Cerritos 436 50 82 89 107 108 111 113
Total Time: 1:38:32.00
Average: 19:42.40
16 Santa Fe 447 31 71 110 112 123
Total Time: 1:41:51.00
Average: 20:22.20
17 Huntington Beach 471 45 87 103 115 121 122
Total Time: 1:42:00.00
Average: 20:24.00
18 Kennedy (La Palma) 474 56 81 99 118 120 125 129
Total Time: 1:42:31.00
Average: 20:30.20
19 Miguel Contreras LC 497 59 83 102 126 127 128 130
Total Time: 1:49:17.00
Average: 21:51.40
Cerritos High School HY-TEK's Meet Manager
The Great Cow Run - 9/8/2012
Higashi Roman Memorial Run
Cerritos Regional Park
Last Completed Event
Event 2 Boys 3 Mile Run CC Freshmen
==================================================================================
Name Year School Avg Mile Finals Points
==================================================================================
1 Pluma, Brian 9 Downey 5:25.7 16:17.00 1
2 Penn, Colby 9 Long Beach Poly 5:30.4 16:31.00 2
3 Pinon, Jonathan 9 Loyola 5:31.4 16:34.00 3
4 Janes, Tyler 9 King 5:32.0 16:36.00 4
5 Dutko, Justin 9 South Torrance 5:35.4 16:46.00 5
6 Werley, Mark 9 King 5:36.0 16:48.00 6
7 Gonzalez, Daniel G. 9 King 5:36.0 16:48.00 7
8 Neuhoff, Cole 9 Los Alamitos 5:42.4 17:07.00 8
9 Simpson, Blake 9 King 5:43.0 17:09.00 9
10 Heib, Thomas 9 Los Alamitos 5:45.7 17:17.00 10
11 Camacho, Anthony 9 Rosemead 5:46.4 17:19.00 11
12 Delphin, Gian 9 Long Beach Poly 5:47.4 17:22.00 12
13 Zavala, Andrew 9 Redondo Union 5:48.0 17:24.00 13
14 Homstad, Trevor 9 Loyola 5:48.7 17:26.00 14
15 Elias, Nicholas 9 Redondo Union 5:49.4 17:28.00 15
16 Villegas, Brennen Mayfair 5:49.4 17:28.00 16
17 Tapia, Jim 9 Cathedral 5:50.7 17:32.00 17
18 Verdin, Thomas 9 Loyola 5:51.4 17:34.00 18
19 Boebinger, Andrew 9 King 5:52.4 17:37.00 19
20 Cuellar, Cisco 9 California 5:52.7 17:38.00 20
21 Huff, David 9 King 5:53.4 17:40.00 21
22 Robinson, Michael 9 King 5:55.4 17:46.00 22
23 Tobin, Joe 9 Brea Olinda 5:55.7 17:47.00 23
24 Nguyen, Albert 9 Oxford Academy 5:57.4 17:52.00 24
25 Malki, Ghattas 9 Redondo Union 5:58.0 17:54.00 25
26 Fox, Harrison 9 Redondo Union 5:58.7 17:56.00 26
27 Yoo, David 9 Cypress 5:59.4 17:58.00 27
28 Echerverria, Noel 9 California 6:00.7 18:02.00 28
29 Carr, Noah 9 Fountain Valley 6:01.4 18:04.00 29
30 Silva, Guillermo 9 California 6:03.7 18:11.00 30
31 Joseph, Zack 9 Yorba Linda 6:03.7 18:11.00 31
32 Whelan, Riley 9 Yorba Linda 6:04.0 18:12.00 32
33 Smith, Wyatt 9 King 6:04.4 18:13.00
34 Bedolla, Eugene 9 Calvary Chapel 6:05.4 18:16.00
35 Atlee, Thomas 9 Loyola 6:06.0 18:18.00 33
36 Hua, William 9 Fountain Valley 6:07.0 18:21.00 34
37 Caballero, Michael 9 Cathedral 6:07.0 18:21.00 35
38 Frias, Lucas 9 Citrus Valley 6:07.7 18:23.00 36
39 Santos, Jorge 9 Rosemead 6:08.4 18:25.00 37
40 Ortiz, Preston 9 Loyola 6:08.4 18:25.00 38
41 Ortega, Jacob 9 Downey 6:08.7 18:26.00 39
42 Infantes, Christian 9 Redondo Union 6:09.7 18:29.00 40
43 Jorge, Murguia 12 Rosemead 6:10.4 18:31.00 41
44 Tsang, Alfred 9 South Torrance 6:10.4 18:31.00 42
45 Guerrero, Julian 9 Los Alamitos 6:10.4 18:31.00 43
46 Schwartz, Jayson 9 Yorba Linda 6:11.7 18:35.00 44
47 Au, Nathan 9 Rosemead 6:12.0 18:36.00 45
48 Zuniga, Izaiah 9 Long Beach Poly 6:12.7 18:38.00 46
49 Masciotti, Anthony 9 South Torrance 6:16.4 18:49.00 47
50 Lizotte, Luke 9 Los Alamitos 6:17.4 18:52.00 48
51 Romero, Julian 9 California 6:17.7 18:53.00 49
52 Shadden, William 9 Chadwick 6:17.7 18:53.00
53 Soholt, E.J. 9 King 6:17.7 18:53.00
54 Kim, Daniel 9 Cypress 6:18.0 18:54.00 50
55 Rivera, Parker 9 California 6:18.0 18:54.00 51
56 Beal, Brian 9 Los Alamitos 6:18.0 18:54.00 52
57 Banez, Constantine 9 Los Alamitos 6:18.4 18:55.00 53
58 Jung, Tim 9 South Torrance 6:18.4 18:55.00 54
59 Gonzalez, Daniel J. 9 King 6:19.0 18:57.00
60 Frankel, Nathaniel 9 Redondo Union 6:19.4 18:58.00 55
61 Godoy, Miguel 9 Citrus Valley 6:20.4 19:01.00 56
62 Piche', Ian 9 Yorba Linda 6:21.0 19:03.00 57
63 Orr, Ryan 9 King 6:21.4 19:04.00
64 Beringer, Ryan 9 Loyola 6:22.0 19:06.00 58
65 Bald, Cameron 9 Fountain Valley 6:22.7 19:08.00 59
66 Havsgaard, Brenton 9 King 6:23.0 19:09.00
67 Nik, Thomson 9 Chadwick 6:23.4 19:10.00
68 Franz, Dan 9 Brea Olinda 6:23.4 19:10.00 60
69 Segura, Raymond 9 Santa Fe 6:24.0 19:12.00 61
70 Cox, Andrew 9 Lakewood 6:24.7 19:14.00
71 McKenzie, Isaac Mayfair 6:24.7 19:14.00 62
72 Proctor, Xavier 9 Chadwick 6:24.7 19:14.00
73 Barz, Hayden 9 Maranatha 6:25.4 19:16.00 63
74 Antonucci, Anthony 9 Loyola 6:25.7 19:17.00 64
75 Esser, Drew 9 Redondo Union 6:25.7 19:17.00 65
76 Havstad, Adam 9 Los Alamitos 6:26.0 19:18.00 66
77 Quiambao, Joseph 9 King 6:27.0 19:21.00
78 Isaac, Eugene Mayfair 6:28.4 19:25.00 67
79 Hannum, Michael 9 Brea Olinda 6:28.4 19:25.00 68
80 Bianchi, Joe 9 Brea Olinda 6:28.4 19:25.00 69
81 Pai, Christopher 9 Huntington Beach 6:28.7 19:26.00
82 Edwards, Nathan 9 Cerritos 6:29.0 19:27.00 70
83 Vela, Andew 9 Cathedral 6:29.7 19:29.00 71
84 Montiel, Edgar 9 Santa Fe 6:30.0 19:30.00 72
85 Huynn, Grand 9 Rosemead 6:30.0 19:30.00 73
86 Hu, Timothy 9 Rosemead 6:30.7 19:32.00 74
87 Judy, Spencer 9 Citrus Valley 6:31.4 19:34.00 75
88 Barzurto, Vincent 9 King 6:32.0 19:36.00
89 Talavera, Daniel 9 Cathedral 6:32.7 19:38.00 76
90 Schaefer, Dalton 9 Yorba Linda 6:33.0 19:39.00 77
91 Martin, Chad 9 Santa Fe 6:33.4 19:40.00 78
92 De Simon, Josue 9 Miguel Contreras LC 6:34.0 19:42.00
93 Vargas, Joaquin 9 Redondo Union 6:34.0 19:42.00
94 MACIEL, Steven 9 Esperanza 6:34.7 19:44.00 79
95 Tiscareno, Arturo 9 Lakewood 6:34.7 19:44.00
96 Ross, Stuart 9 South Torrance 6:35.0 19:45.00 80
97 Falcon, Jonathan 9 California 6:35.7 19:47.00 81
98 O'Neil, Christian 9 Loyola 6:35.7 19:47.00
99 Lovatelli, Giacomo 9 Loyola 6:36.0 19:48.00
100 Chi, Brendon 9 Rosemead 6:36.4 19:49.00 82
101 Gonzales, Noah 9 California 6:36.7 19:50.00 83
102 Montemayor, Marco 9 Long Beach Poly 6:37.0 19:51.00 84
103 Dorch, Jacob 9 Long Beach Poly 6:37.7 19:53.00 85
104 Viteri, Luis 9 Santa Fe 6:37.7 19:53.00 86
105 Furukido, Wesley 9 Cerritos 6:37.7 19:53.00 87
106 Cardona, Chris 9 Rosemead 6:37.7 19:53.00
107 Rangel, Aaron 9 California 6:38.0 19:54.00
108 Tai, Nicholas 9 Cerritos 6:38.0 19:54.00 88
109 Van Horn, Nicholas 9 Downey 6:38.4 19:55.00 89
110 Winter, Benjamin 9 Cypress 6:38.4 19:55.00 90
111 Martinez, Matthew 9 King 6:39.4 19:58.00
112 Trifuovic, Marlon 9 Huntington Beach 6:39.4 19:58.00
113 Min, Josh 9 South Torrance 6:41.4 20:04.00 91
114 Tallman, Elijah 9 Redondo Union 6:42.0 20:06.00
115 Romero, Jonathon 9 Cathedral 6:42.7 20:08.00 92
116 Thomson, Austin Mayfair 6:43.7 20:11.00 93
117 Ramirez, Nicholas 9 Los Alamitos 6:44.0 20:12.00
118 Shaikh, Atif 9 South Torrance 6:44.0 20:12.00 94
119 Okihara, Andrew 9 South Torrance 6:45.0 20:15.00
120 Belyea, Alex 9 Oxford Academy 6:45.4 20:16.00 95
121 Blanco, Esteban 9 Downey 6:45.7 20:17.00 96
122 Ramirez, Jacob 9 Redondo Union 6:46.0 20:18.00
123 Radi, Raymone 9 Redondo Union 6:46.0 20:18.00
124 Ramirez, Kenin 9 Santa Fe 6:46.0 20:18.00 97
125 Janish, Austin 9 Loyola 6:47.4 20:22.00
126 Veje, Finn 9 Loyola 6:48.0 20:24.00
127 Van Lant, Luke 9 Long Beach Poly 6:48.0 20:24.00 98
128 Lujan, Nicholas 9 Torrance 6:48.0 20:24.00 99
129 Ayon, Dawson 9 Citrus Valley 6:48.7 20:26.00 100
130 Manion, Daniel 9 Long Beach Poly 6:48.7 20:26.00 101
131 Martinez, Quetzal 9 Los Alamitos 6:49.4 20:28.00
132 Cho, Sean 9 South Torrance 6:49.4 20:28.00
133 Fang, Roger 9 Yorba Linda 6:49.4 20:28.00 102
134 Sakado, Micah 9 South Torrance 6:49.4 20:28.00
135 Tanaka, Grant 9 Cypress 6:50.0 20:30.00 103
136 Isaacs, Chris 9 Citrus Valley 6:50.0 20:30.00 104
137 Karasawa, Tyler 9 Cypress 6:50.4 20:31.00 105
138 Bahr, Cooper 9 Long Beach Poly 6:50.4 20:31.00
139 Fredriksz, Cooper 9 South Torrance 6:50.4 20:31.00
140 Murray, Connor 9 Los Alamitos 6:50.7 20:32.00
141 Kawabata, Garrett 9 South Torrance 6:51.0 20:33.00
142 Stendahl, JD 9 Brea Olinda 6:51.0 20:33.00 106
143 Valdez, Germain 9 California 6:51.4 20:34.00
144 Gaytan, Brayan 9 California 6:51.4 20:34.00
145 Quintana, Zachary 9 Brea Olinda 6:52.0 20:36.00 107
146 Zendejas, Oscar 9 Santa Fe 6:52.4 20:37.00 108
147 Alvarardo, Aaron 9 Cerritos 6:52.4 20:37.00 109
148 Valda Arana, Andrew 9 Yorba Linda 6:52.7 20:38.00 110
149 Motiwalla, Aziz 9 Brea Olinda 6:52.7 20:38.00 111
150 Rodriguez, Adolph 9 Long Beach Poly 6:53.4 20:40.00
151 Jo, Charlie 9 South Torrance 6:53.7 20:41.00
152 Rogers, Sebastian Mayfair 6:54.0 20:42.00 112
153 Clark, Steve 9 Brea Olinda 6:54.0 20:42.00
154 Ochoa, Jonathon 9 Kennedy (La Palma) 6:54.7 20:44.00
155 Ferguson, Max 9 Yorba Linda 6:55.0 20:45.00
156 Davis, Joseph 9 Brea Olinda 6:55.0 20:45.00
157 Staal, Andrew 9 Torrance 6:55.4 20:46.00 113
158 Hoffman, Austin 9 King 6:57.0 20:51.00
159 Athanassis, Alex 9 Long Beach Poly 6:59.0 20:57.00
160 Pan, Charlie 9 Maranatha 6:59.0 20:57.00 114
161 Newman, David 9 Santa Fe 7:01.0 21:03.00 115
162 Hong, Daniel 9 Torrance 7:01.7 21:05.00 116
163 Scher, Adam 9 Cypress 7:01.7 21:05.00 117
164 Holter, Joshua 9 Redondo Union 7:01.7 21:05.00
165 Norrbom, Michael 9 Esperanza 7:02.7 21:08.00 118
166 Trombley, Alex 9 Torrance 7:02.7 21:08.00 119
167 Ngo, Jonathan 9 Huntington Beach 7:03.7 21:11.00
168 Touch, Kevin 9 Santa Fe 7:03.7 21:11.00
169 Albert, Nick 9 South Torrance 7:04.0 21:12.00
170 Isakson, Kobe 9 Lakewood 7:04.0 21:12.00
171 Valencia, Quentin 9 Yorba Linda 7:05.0 21:15.00
172 Romero, Tim 9 Esperanza 7:08.0 21:24.00 120
173 Homer, Jay 9 Huntington Beach 7:08.7 21:26.00
174 Cons, Michael 9 Cathedral 7:10.7 21:32.00 121
175 Yamada, Hiro 9 South Torrance 7:11.7 21:35.00
176 Simpson, Alex 9 Long Beach Poly 7:12.0 21:36.00
177 Jeon, Jun 9 Redondo Union 7:12.0 21:36.00
178 Gutierrez, Anthony 9 South Torrance 7:14.0 21:42.00
179 O'Connell, Myles 9 Cathedral 7:15.0 21:45.00 122
180 Mayo, Mario 9 Torrance 7:15.7 21:47.00 123
181 McColl, Trenton 9 Los Alamitos 7:15.7 21:47.00
182 Phillips, Harrison 9 Maranatha 7:16.0 21:48.00 124
183 Gastelum, Adrian 9 Long Beach Millikan 7:16.7 21:50.00
184 Winterburn, John 9 Cypress 7:18.4 21:55.00 125
185 Fernandez, Elijah 9 Maranatha 7:19.0 21:57.00 126
186 Rapaport, Aaron 9 Chadwick 7:19.7 21:59.00
187 Sarquiz, Jonathan 9 Los Alamitos 7:19.7 21:59.00
188 Weiss, Jacob 9 Brea Olinda 7:20.7 22:02.00
189 Chapin, Andrew 9 Esperanza 7:20.7 22:02.00 127
190 Tran, Ryan 9 Fountain Valley 7:21.4 22:04.00 128
191 Adler, Matt 9 Long Beach Millikan 7:22.0 22:06.00
192 Robles, Zacary 9 Los Alamitos 7:22.7 22:08.00
193 Froehlich, Riley 9 Mayfair 7:23.4 22:10.00 129
194 Perez, Santiago 9 Citrus Valley 7:24.0 22:12.00 130
195 Munder, Zachary 9 Loyola 7:24.7 22:14.00
196 Meadows, Jacob 9 Redondo Union 7:25.4 22:16.00
197 McDevitt, Peyton 9 Esperanza 7:26.0 22:18.00 131
198 Yoder, David Mayfair 7:26.4 22:19.00 132
199 Sandoval, George 9 Cerritos 7:26.4 22:19.00 133
200 Naeb, Cheyenne 9 Fountain Valley 7:27.4 22:22.00 134
201 Lin, Fergus 9 South Torrance 7:27.4 22:22.00
202 Robles, Owen 9 Los Alamitos 7:28.0 22:24.00
203 Goldman, Cole 9 Long Beach Millikan 7:28.7 22:26.00
204 Ruark, Robert 9 Los Alamitos 7:29.4 22:28.00
205 Spriggs, Nicolas 9 Los Alamitos 7:29.7 22:29.00
206 Wong, Alex 9 Rosemead 7:30.0 22:30.00
207 Klunk, Bryan 9 Torrance 7:30.4 22:31.00 135
208 Garza, Carlos 9 Torrance 7:30.4 22:31.00 136
209 Silva, Peter 9 Downey 7:31.0 22:33.00 137
210 Shahatit, Amir 9 Citrus Valley 7:31.7 22:35.00 138
211 Kim, Paul 9 South Torrance 7:32.0 22:36.00
212 Koford, Austin 9 Los Alamitos 7:32.4 22:37.00
213 Mullaney, Ryan 9 Los Alamitos 7:32.4 22:37.00
214 Kang, Kevin 10 South Torrance 7:33.0 22:39.00
215 Dasno, Wyatt 9 Fountain Valley 7:33.0 22:39.00 139
216 DeGuzman, Ethan 9 Oxford Academy 7:33.4 22:40.00 140
217 Tang, Andrew 9 Yorba Linda 7:33.4 22:40.00
218 Lein, Chris 9 Cypress 7:33.7 22:41.00
219 Salas, Matthew 9 Brea Olinda 7:34.0 22:42.00
220 Dyer, Dmitri 9 Yorba Linda 7:34.0 22:42.00
221 Elias, Isaac 9 Santa Fe 7:34.7 22:44.00
222 Maljian, Jacob 9 Maranatha 7:34.7 22:44.00 141
223 Peacock, Jordan 9 Long Beach Poly 7:35.4 22:46.00
224 Cheung, Jordan 9 Oxford Academy 7:35.4 22:46.00 142
225 Hernaiz, David 9 Yorba Linda 7:35.7 22:47.00
226 Okamoto, Evan 9 South Torrance 7:37.4 22:52.00
227 Ahn, Daniel 9 Fountain Valley 7:39.4 22:58.00 143
228 Carlos, Robert 9 Torrance 7:39.7 22:59.00
229 Tang, Peter 9 Oxford Academy 7:41.4 23:04.00 144
230 Patel, Amar 9 Brea Olinda 7:42.7 23:08.00
231 Mathew, Denzil 12 Yorba Linda 7:44.7 23:14.00
232 Manley, Parker 9 Los Alamitos 7:45.0 23:15.00
233 Burt, Noah 9 Brea Olinda 7:48.0 23:24.00
234 Plunkett, Matthew 9 Brea Olinda 7:50.7 23:32.00
235 Deanda, Chris 9 Cathedral 7:52.4 23:37.00
236 Artuz, Ryan 9 Los Alamitos 7:53.4 23:40.00
237 Franklin, Aaron 9 Kennedy (La Palma) 7:55.7 23:47.00
238 Lee, Brian 9 Oxford Academy 7:57.4 23:52.00 145
239 Lytle, Alexander 9 Los Alamitos 7:58.4 23:55.00
240 Medina, Christopher 9 Santa Fe 7:59.4 23:58.00
241 Mumford, Chris 9 Cypress 7:59.7 23:59.00
242 Malgeri, Michael 9 Redondo Union 8:01.4 24:04.00
243 Hsu, Wes 9 Oxford Academy 8:02.7 24:08.00 146
244 Wagner, Mitchell 9 Los Alamitos 8:04.4 24:13.00
245 Hwang, Robert 9 Cypress 8:04.7 24:14.00
246 Kim, Alan 9 Oxford Academy 8:06.0 24:18.00
247 Miller, Kyle 9 Cypress 8:06.4 24:19.00
248 Neverez, Jacob 9 California 8:06.7 24:20.00
249 Domingo, Reion 9 Torrance 8:07.7 24:23.00
250 Montalvo, Jovany 9 Dominguez 8:08.0 24:24.00
251 Cotton, Trevor 9 South Torrance 8:14.7 24:44.00
252 Coleman, Jadon 9 Mayfair 8:21.0 25:03.00
253 Mohtar, Andy 9 Torrance 8:26.7 25:20.00
254 Francisco, Tucker 9 Fountain Valley 8:32.0 25:36.00
255 Tran, Johnathan 9 Fountain Valley 8:40.7 26:02.00
256 Tanisaka, Nicholas 9 Torrance 8:52.4 26:37.00
257 Ramirez, Oscar 9 Brea Olinda 8:55.0 26:45.00
258 Ingersoll, Sawyer 9 South Torrance 9:00.7 27:02.00
259 Blackmun, Eugene 9 Los Alamitos 9:06.4 27:19.00
260 Avalos, Jonathan 9 Los Alamitos 9:08.4 27:25.00
261 Charlton, Noah 9 Los Alamitos 9:14.0 27:42.00
262 Yoon, Mitchell 9 Brea Olinda 9:14.0 27:42.00
263 Noguchi, Kenneth 9 South Torrance 9:14.0 27:42.00
264 Diaz, Israel 9 Mayfair 9:14.0 27:42.00
265 Shah, Jay 9 Cerritos 9:14.0 27:42.00 147
266 Contreras, Elber Citrus Valley 9:14.0 27:42.00
267 Luyben, John 9 Los Alamitos 9:14.0 27:42.00
268 Wickline, Blake Mayfair 9:14.0 27:42.00
269 Cavanaugh, Spencer 9 Loyola 9:14.0 27:42.00
Team Scores
=================================================================================
Rank Team Total 1 2 3 4 5 *6 *7 *8 *9
=================================================================================
1 Martin Luther King (River 45 4 6 7 9 19 21 22
Total Time: 1:24:58.00
Average: 16:59.60
2 Loyola 106 3 14 18 33 38 58 64
Total Time: 1:28:17.00
Average: 17:39.40
3 Redondo Union 119 13 15 25 26 40 55 65
Total Time: 1:29:11.00
Average: 17:50.20
4 Los Alamitos 161 8 10 43 48 52 53 66
Total Time: 1:30:41.00
Average: 18:08.20
5 California 178 20 28 30 49 51 81 83
Total Time: 1:31:38.00
Average: 18:19.60
6 Rosemead 207 11 37 41 45 73 74 82
Total Time: 1:32:21.00
Average: 18:28.20
7 South Torrance 228 5 42 47 54 80 91 94
Total Time: 1:32:46.00
Average: 18:33.20
8 Long Beach Poly 229 2 12 46 84 85 98 101
Total Time: 1:32:15.00
Average: 18:27.00
9 Yorba Linda 241 31 32 44 57 77 102 110
Total Time: 1:33:40.00
Average: 18:44.00
10 Cathedral 291 17 35 71 76 92 121 122
Total Time: 1:35:08.00
Average: 19:01.60
11 Brea Olinda 326 23 60 68 69 106 107 111
Total Time: 1:36:20.00
Average: 19:16.00
12 Mayfair 350 16 62 67 93 112 129 132
Total Time: 1:37:00.00
Average: 19:24.00
13 Downey 362 1 39 89 96 137
Total Time: 1:37:28.00
Average: 19:29.60
14 Citrus Valley 371 36 56 75 100 104 130 138
Total Time: 1:37:54.00
Average: 19:34.80
15 Cypress 375 27 50 90 103 105 117 125
Total Time: 1:37:48.00
Average: 19:33.60
16 Fountain Valley 384 29 34 59 128 134 139 143
Total Time: 1:39:59.00
Average: 19:59.80
17 Santa Fe 394 61 72 78 86 97 108 115
Total Time: 1:38:33.00
Average: 19:42.60
18 Cerritos 487 70 87 88 109 133 147
Total Time: 1:42:10.00
Average: 20:26.00
19 Oxford Academy 545 24 95 140 142 144 145 146
Total Time: 1:46:38.00
Average: 21:19.60
20 Maranatha 568 63 114 124 126 141
Total Time: 1:46:42.00
Average: 21:20.40
21 Torrance 570 99 113 116 119 123 135 136
Total Time: 1:45:10.00
Average: 21:02.00
22 Esperanza 575 79 118 120 127 131
Total Time: 1:46:36.00
Average: 21:19.20
Cerritos High School HY-TEK's Meet Manager
The Great Cow Run - 9/8/2012
Higashi Roman Memorial Run
Cerritos Regional Park
Last Completed Event
Event 5 Girls 3 Mile Run CC Varsity
==================================================================================
Name Year School Avg Mile Finals Points
==================================================================================
1 Coscia, Kimberly 10 South Torrance 1
2 Romo, Justine 12 California 2
3 Gore, Amber 10 Redondo Union 3
4 Werley, Raelyn 12 King 4
5 Gonzales, Jessica 11 Long Beach Poly 5
6 McIntyre, Jessica 12 Los Alamitos 6
7 Caplen, Georgia 11 Long Beach Poly 7
8 Sullivan, Paige 10 Redondo Union 8
9 Stark, Amanda 11 Fountain Valley 9
10 Wanous, Sara 12 Long Beach Poly 10
11 Martinez, Aimee 11 King 11
12 Navarro, Justice 11 California 12
13 Garside, Lisa 12 King 13
14 Jaramillo, Emma 12 King 14
15 Finchamp, Hannah Rae 11 Maranatha
16 Jackson, Nichelle 12 Sunny Hills
17 Ferron, Kayla 12 Redondo Union 15
18 Pederson, Nicole 10 Redondo Union 16
19 Rainey, Claire 11 Los Alamitos 17
20 Focht, Maddy 12 Long Beach Poly 18
21 McCullough, Marissa 10 Long Beach Poly 19
22 Thibodeau, Alexis 12 Redondo Union 20
23 Fernoll, Natania 9 Los Alamitos 21
24 Vasquez-Rodriguez, Itzel Mayfair 22
25 Kearney, Alison 12 Lakewood 23
26 Hiehle, Anevay 10 Redondo Union 24
27 Soby, Emily 12 Brea Olinda 25
28 Salvador, Brittney 12 Long Beach Millikan 26
29 Stevens, Amanda 12 Yorba Linda 27
30 Bragdon, Amber 11 Fountain Valley 28
31 Gutierrez, Iveth 11 King 29
32 Dominguez, Jocelyn 11 Long Beach Millikan 30
33 Jacklin, Brianna 10 King 31
34 South, Erin 12 Redondo Union 32
35 Olvera, Elizabeth 12 Long Beach Millikan 33
36 Amaya, Lysabela 11 Brea Olinda 34
37 Fedele, Stephanie 12 Fountain Valley 35
38 Hercher, Mari 12 Long Beach Poly 36
39 Olid, Marissa 12 California 37
40 Phung, Cindy 11 Rosemead
41 Morales, Aini 12 Fountain Valley 38
42 Carrera, Kristen 12 California 39
43 Rodriguez, Monica 10 Long Beach Poly 40
44 Perez, Amber 11 Kennedy (La Palma)
45 Porter, Bayleigh 12 King 41
46 Koval, Mara 10 Long Beach Poly
47 Montgomery, Brooke 12 Kennedy (La Palma)
48 Ordaz, Summer 12 Fountain Valley 42
49 Perez, Arianna 10 California 43
50 Reilly, Jennifer 12 Lakewood 44
51 Kime, Sumi 11 Cypress 45
52 Shadden, Melissa 12 Chadwick 46
53 Haddock, Lauren 11 Citrus Valley 47
54 LaChuasse, Sydney 10 Citrus Valley 48
55 Torrence, Anna 12 Yorba Linda 49
56 Naval, Lauren 12 Brea Olinda 50
57 Park, Jennifer 12 Cerritos
58 Monahan, Denise 11 Citrus Valley 51
59 Robles, Sheila 12 Long Beach Millikan 52
60 Arroyo, Breanna 11 California 53
61 Zavala, Sabrina 10 Redondo Union
62 Wamsley, Mimi 11 Long Beach Poly
63 Ignart, Noelle 12 Lakewood 54
64 Wong, Sarah 11 Torrance 55
65 Tapia, Ana 11 Yorba Linda 56
66 Baugh, Andrea 11 Yorba Linda 57
67 Gutierrez, Melanie 12 Long Beach Millikan 58
68 Snyder, Heidi Mayfair 59
69 Zerga, Sarah 12 South Torrance 60
70 Davis, Elizabeth 11 Brea Olinda 61
71 Sakuma, Courtney 12 Cypress 62
72 Spicer, Lauren 11 Brea Olinda 63
73 Alire, Jessica 11 Yorba Linda 64
74 Jacobs, Roxanne 11 Long Beach Millikan 65
75 Fernandez, Nicole 11 California 66
76 Chung, Hye 12 Los Alamitos 67
77 Vaccaro, Guiliana 11 Yorba Linda 68
78 Neumann, Katie 11 Torrance 69
79 Otto, Taylor 11 Brea Olinda 70
80 Zamora, Madelyn 10 Santa Fe 71
81 Lopez, Carolina 12 Miguel Contreras LC 72
82 Moeller, Jessilyn 10 Citrus Valley 73
83 Bass, Sara 11 Los Alamitos 74
84 Rodriguez, Alejandra 11 Sunny Hills
85 Damien, Lupe 11 Brea Olinda 75
86 Muniz, Daniela 11 California
87 Torres, Judith 11 Torrance 76
88 Parkinson, Cierra 11 Rosary 77
89 Hernandez, Lorena 11 Miguel Contreras LC 78
90 Honn, Ashley 10 Huntington Beach 79
91 Johnson, Mandi 12 South Torrance 80
92 Movchan, Alyssa 10 Cerritos
93 Schwartz, Alissa 11 Yorba Linda 81
94 Cuevas, Maricruz Mayfair 82
95 Valenzuela, Alex 11 Sunny Hills
96 Estrada, Alicia 12 Santa Fe 83
97 Haile, Elizabeth 10 Chadwick 84
98 Chin, Bethanie 12 Maranatha
99 Tynes, Danielle 12 Lakewood 85
100 Gavilanes, Monique 11 Cerritos
101 Aaron, Sarah 11 South Torrance 86
102 Thierren, Angelique 11 Santa Fe 87
103 Perez, Nicole 12 Torrance 88
104 Carruth, Catherine 11 Calvary Chapel 89
105 Rodriguez, Marissa 11 Santa Fe 90
106 Peacock, Stephanie 12 Torrance 91
107 Maqueos, Heidi 12 Miguel Contreras LC 92
108 Ho, Tamy 11 Torrance 93
109 Cortes, Ariana 12 Rosary 94
110 Lopp, Samantha 11 Kennedy (La Palma)
111 Chacon, Julissa 11 Calvary Chapel 95
112 Hernandez, Clarissa 11 Lakewood 96
113 Flores, Karen 12 Miguel Contreras LC 97
114 Jeon, Patty 11 Chadwick 98
115 MacQuarrie, Emily 10 Chadwick 99
116 Clegg, Anabelle 10 South Torrance 100
117 Zavala, Jessica 11 Calvary Chapel 101
118 Morris, Ashlyn 12 Citrus Valley 102
119 Celis, Deisy 11 Dominguez
120 Gentile, Sydney 10 Huntington Beach 103
121 Gomez, Carrisa 9 Citrus Valley 104
122 Franz, Isabelle 12 Brea Olinda
123 Samuel, Jacqueline 10 Huntington Beach 105
124 Martinez, Lydia 10 Huntington Beach 106
125 Ordonez, Magaly 12 Miguel Contreras LC 107
126 Calfas, Megan 11 Chadwick 108
127 Vargas, Jacqueline 11 Torrance 109
128 Hanamaikai, Ariel 9 Santa Fe 110
129 Foster, Kaitlyn 9 Santa Fe 111
130 Dynda, Mary 10 Kennedy (La Palma)
131 Yang, Monica 10 Sunny Hills
132 McMartin, Cailin 11 Redondo Union
133 Serrato, Megan 12 Torrance
134 Herrin, Allison 11 Citrus Valley 112
135 Flink, Emily 11 Yorba Linda
136 Wang, Jasmin 11 Citrus Valley
137 Carruth, Caroline 12 Calvary Chapel 113
138 Regnier, Danielle 10 Citrus Valley
139 Archaga, Leah 12 Huntington Beach 114
140 Mason, Laura 12 Maranatha
141 Rodriguez, Michelle 11 Calvary Chapel 115
142 Rodriguez, Gabby 12 Santa Fe 116
143 Cudd, Lindsay Mayfair 117
144 Toro, Alyssa 11 Cypress 118
145 Rodriguez, Amy 11 Calvary Chapel 119
146 Ramirez, Rebecca 12 Torrance
147 Montes, Natalia 11 Rosary 120
148 Dato - on, Valerie 10 Rosary 121
149 Atunez, Lucy 12 Dominguez
150 Hernandez, Diareni 11 Dominguez
151 Dominguez, Angelica Mayfair 122
152 Burnett, Kaila 12 Torrance
153 Thompson, Gabby 12 Huntington Beach 123
154 Claspell, Leah 11 Cypress 124
155 Villa, Genesis 11 Cypress 125
156 Ibarra, Olivia Mayfair 126
157 DePrie, Kellie 12 Rosary 127
158 Manzke, Kate 12 Maranatha
159 Ortiz, Tristan 9 Rosary 128
160 Leyva, Laura Mayfair 129
161 Medina, Kendra 11 Cypress 130
Team Scores
=================================================================================
Rank Team Total 1 2 3 4 5 *6 *7 *8 *9
=================================================================================
1 Long Beach Poly 59 5 7 10 18 19 36 40
2 Redondo Union 62 3 8 15 16 20 24 32
3 Martin Luther King (River 71 4 11 13 14 29 31 41
4 California 133 2 12 37 39 43 53 66
5 Fountain Valley 152 9 28 35 38 42
6 Los Alamitos 185 6 17 21 67 74
7 Long Beach Millikan 199 26 30 33 52 58 65
8 Brea Olinda 233 25 34 50 61 63 70 75
9 Yorba Linda 253 27 49 56 57 64 68 81
10 Lakewood 302 23 44 54 85 96
11 Citrus Valley 321 47 48 51 73 102 104 112
12 South Torrance 327 1 60 80 86 100
13 Torrance 379 55 69 76 88 91 93 109
14 Mayfair 402 22 59 82 117 122 126 129
15 Chadwick 435 46 84 98 99 108
16 Santa Fe 441 71 83 87 90 110 111 116
17 Miguel Contreras LC 446 72 78 92 97 107
18 Cypress 474 45 62 118 124 125 130
19 Huntington Beach 507 79 103 105 106 114 123
20 Calvary Chapel (Downey) 513 89 95 101 113 115 119
21 Rosary 539 77 94 120 121 127 128
Cerritos High School HY-TEK's Meet Manager
The Great Cow Run - 9/8/2012
Higashi Roman Memorial Run
Cerritos Regional Park
Last Completed Event
Event 5 Girls 3 Mile Run CC Varsity
==================================================================================
Name Year School Avg Mile Finals Points
==================================================================================
1 Coscia, Kimberly 10 South Torrance 5:46.0 17:18.00 1
2 Romo, Justine 12 California 5:51.7 17:35.00 2
3 Gore, Amber 10 Redondo Union 5:57.4 17:52.00 3
4 Werley, Raelyn 12 King 6:02.7 18:08.00 4
5 Gonzales, Jessica 11 Long Beach Poly 6:04.0 18:12.00 5
6 McIntyre, Jessica 12 Los Alamitos 6:09.7 18:29.00 6
7 Caplen, Georgia 11 Long Beach Poly 6:11.4 18:34.00 7
8 Sullivan, Paige 10 Redondo Union 6:12.7 18:38.00 8
9 Stark, Amanda 11 Fountain Valley 6:12.7 18:38.00 9
10 Wanous, Sara 12 Long Beach Poly 6:13.0 18:39.00 10
11 Martinez, Aimee 11 King 6:15.4 18:46.00 11
12 Navarro, Justice 11 California 6:15.4 18:46.00 12
13 Garside, Lisa 12 King 6:16.0 18:48.00 13
14 Jaramillo, Emma 12 King 6:16.0 18:48.00 14
15 Finchamp, Hannah Rae 11 Maranatha 6:16.4 18:49.00
16 Jackson, Nichelle 12 Sunny Hills 6:16.7 18:50.00
17 Ferron, Kayla 12 Redondo Union 6:17.0 18:51.00 15
18 Pederson, Nicole 10 Redondo Union 6:17.4 18:52.00 16
19 Rainey, Claire 11 Los Alamitos 6:19.4 18:58.00 17
20 Focht, Maddy 12 Long Beach Poly 6:21.0 19:03.00 18
21 McCullough, Marissa 10 Long Beach Poly 6:21.4 19:04.00 19
22 Thibodeau, Alexis 12 Redondo Union 6:21.7 19:05.00 20
23 Fernoll, Natania 9 Los Alamitos 6:22.0 19:06.00 21
24 Vasquez-Rodriguez, Itzel Mayfair 6:22.7 19:08.00 22
25 Kearney, Alison 12 Lakewood 6:23.4 19:10.00 23
26 Hiehle, Anevay 10 Redondo Union 6:23.4 19:10.00 24
27 Soby, Emily 12 Brea Olinda 6:23.7 19:11.00 25
28 Salvador, Brittney 12 Long Beach Millikan 6:24.4 19:13.00 26
29 Stevens, Amanda 12 Yorba Linda 6:24.7 19:14.00 27
30 Bragdon, Amber 11 Fountain Valley 6:25.4 19:16.00 28
31 Gutierrez, Iveth 11 King 6:26.0 19:18.00 29
32 Dominguez, Jocelyn 11 Long Beach Millikan 6:27.7 19:23.00 30
33 Jacklin, Brianna 10 King 6:27.7 19:23.00 31
34 South, Erin 12 Redondo Union 6:29.4 19:28.00 32
35 Olvera, Elizabeth 12 Long Beach Millikan 6:29.4 19:28.00 33
36 Amaya, Lysabela 11 Brea Olinda 6:30.4 19:31.00 34
37 Fedele, Stephanie 12 Fountain Valley 6:31.0 19:33.00 35
38 Hercher, Mari 12 Long Beach Poly 6:31.4 19:34.00 36
39 Olid, Marissa 12 California 6:32.7 19:38.00 37
40 Phung, Cindy 11 Rosemead 6:33.4 19:40.00
41 Morales, Aini 12 Fountain Valley 6:34.0 19:42.00 38
42 Carrera, Kristen 12 California 6:34.4 19:43.00 39
43 Rodriguez, Monica 10 Long Beach Poly 6:34.7 19:44.00 40
44 Perez, Amber 11 Kennedy (La Palma) 6:36.4 19:49.00
45 Porter, Bayleigh 12 King 6:37.4 19:52.00 41
46 Koval, Mara 10 Long Beach Poly 6:38.4 19:55.00
47 Montgomery, Brooke 12 Kennedy (La Palma) 6:38.7 19:56.00
48 Ordaz, Summer 12 Fountain Valley 6:38.7 19:56.00 42
49 Perez, Arianna 10 California 6:39.0 19:57.00 43
50 Reilly, Jennifer 12 Lakewood 6:39.0 19:57.00 44
51 Kime, Sumi 11 Cypress 6:39.4 19:58.00 45
52 Shadden, Melissa 12 Chadwick 6:41.0 20:03.00 46
53 Haddock, Lauren 11 Citrus Valley 6:41.4 20:04.00 47
54 LaChuasse, Sydney 10 Citrus Valley 6:41.4 20:04.00 48
55 Torrence, Anna 12 Yorba Linda 6:41.7 20:05.00 49
56 Naval, Lauren 12 Brea Olinda 6:42.0 20:06.00 50
57 Park, Jennifer 12 Cerritos 6:45.7 20:17.00
58 Monahan, Denise 11 Citrus Valley 6:46.0 20:18.00 51
59 Robles, Sheila 12 Long Beach Millikan 6:46.7 20:20.00 52
60 Arroyo, Breanna 11 California 6:47.4 20:22.00 53
61 Zavala, Sabrina 10 Redondo Union 6:47.7 20:23.00
62 Wamsley, Mimi 11 Long Beach Poly 6:48.0 20:24.00
63 Ignart, Noelle 12 Lakewood 6:48.4 20:25.00 54
64 Wong, Sarah 11 Torrance 6:48.7 20:26.00 55
65 Tapia, Ana 11 Yorba Linda 6:49.0 20:27.00 56
66 Baugh, Andrea 11 Yorba Linda 6:49.0 20:27.00 57
67 Gutierrez, Melanie 12 Long Beach Millikan 6:51.0 20:33.00 58
68 Snyder, Heidi Mayfair 6:52.4 20:37.00 59
69 Zerga, Sarah 12 South Torrance 6:52.4 20:37.00 60
70 Davis, Elizabeth 11 Brea Olinda 6:52.7 20:38.00 61
71 Sakuma, Courtney 12 Cypress 6:54.7 20:44.00 62
72 Spicer, Lauren 11 Brea Olinda 6:55.4 20:46.00 63
73 Alire, Jessica 11 Yorba Linda 6:55.7 20:47.00 64
74 Jacobs, Roxanne 11 Long Beach Millikan 6:56.7 20:50.00 65
75 Fernandez, Nicole 11 California 6:56.7 20:50.00 66
76 Chung, Hye 12 Los Alamitos 6:56.7 20:50.00 67
77 Vaccaro, Guiliana 11 Yorba Linda 6:57.4 20:52.00 68
78 Neumann, Katie 11 Torrance 6:57.7 20:53.00 69
79 Otto, Taylor 11 Brea Olinda 6:58.0 20:54.00 70
80 Zamora, Madelyn 10 Santa Fe 6:58.0 20:54.00 71
81 Lopez, Carolina 12 Miguel Contreras LC 6:59.0 20:57.00 72
82 Moeller, Jessilyn 10 Citrus Valley 6:59.4 20:58.00 73
83 Bass, Sara 11 Los Alamitos 6:59.4 20:58.00 74
84 Rodriguez, Alejandra 11 Sunny Hills 7:00.4 21:01.00
85 Damien, Lupe 11 Brea Olinda 7:01.0 21:03.00 75
86 Muniz, Daniela 11 California 7:01.0 21:03.00
87 Torres, Judith 11 Torrance 7:01.0 21:03.00 76
88 Parkinson, Cierra 11 Rosary 7:01.4 21:04.00 77
89 Hernandez, Lorena 11 Miguel Contreras LC 7:01.7 21:05.00 78
90 Honn, Ashley 10 Huntington Beach 7:02.7 21:08.00 79
91 Johnson, Mandi 12 South Torrance 7:03.4 21:10.00 80
92 Movchan, Alyssa 10 Cerritos 7:04.0 21:12.00
93 Schwartz, Alissa 11 Yorba Linda 7:04.4 21:13.00 81
94 Cuevas, Maricruz Mayfair 7:05.0 21:15.00 82
95 Valenzuela, Alex 11 Sunny Hills 7:07.0 21:21.00
96 Estrada, Alicia 12 Santa Fe 7:07.4 21:22.00 83
97 Haile, Elizabeth 10 Chadwick 7:08.0 21:24.00 84
98 Chin, Bethanie 12 Maranatha 7:08.4 21:25.00
99 Tynes, Danielle 12 Lakewood 7:09.4 21:28.00 85
100 Gavilanes, Monique 11 Cerritos 7:09.4 21:28.00
101 Aaron, Sarah 11 South Torrance 7:10.4 21:31.00 86
102 Thierren, Angelique 11 Santa Fe 7:10.4 21:31.00 87
103 Perez, Nicole 12 Torrance 7:11.0 21:33.00 88
104 Carruth, Catherine 11 Calvary Chapel 7:12.0 21:36.00 89
105 Rodriguez, Marissa 11 Santa Fe 7:13.0 21:39.00 90
106 Peacock, Stephanie 12 Torrance 7:14.0 21:42.00 91
107 Maqueos, Heidi 12 Miguel Contreras LC 7:16.4 21:49.00 92
108 Ho, Tamy 11 Torrance 7:18.0 21:54.00 93
109 Cortes, Ariana 12 Rosary 7:19.4 21:58.00 94
110 Lopp, Samantha 11 Kennedy (La Palma) 7:21.4 22:04.00
111 Chacon, Julissa 11 Calvary Chapel 7:23.7 22:11.00 95
112 Hernandez, Clarissa 11 Lakewood 7:24.4 22:13.00 96
113 Flores, Karen 12 Miguel Contreras LC 7:25.4 22:16.00 97
114 Jeon, Patty 11 Chadwick 7:25.7 22:17.00 98
115 MacQuarrie, Emily 10 Chadwick 7:25.7 22:17.00 99
116 Clegg, Anabelle 10 South Torrance 7:26.0 22:18.00 100
117 Zavala, Jessica 11 Calvary Chapel 7:26.7 22:20.00 101
118 Morris, Ashlyn 12 Citrus Valley 7:29.0 22:27.00 102
119 Celis, Deisy 11 Dominguez 7:29.0 22:27.00
120 Gentile, Sydney 10 Huntington Beach 7:29.7 22:29.00 103
121 Gomez, Carrisa 9 Citrus Valley 7:31.0 22:33.00 104
122 Franz, Isabelle 12 Brea Olinda 7:31.4 22:34.00
123 Samuel, Jacqueline 10 Huntington Beach 7:33.0 22:39.00 105
124 Martinez, Lydia 10 Huntington Beach 7:33.7 22:41.00 106
125 Ordonez, Magaly 12 Miguel Contreras LC 7:35.4 22:46.00 107
126 Calfas, Megan 11 Chadwick 7:38.7 22:56.00 108
127 Vargas, Jacqueline 11 Torrance 7:39.0 22:57.00 109
128 Hanamaikai, Ariel 9 Santa Fe 7:40.4 23:01.00 110
129 Foster, Kaitlyn 9 Santa Fe 7:41.4 23:04.00 111
130 Dynda, Mary 10 Kennedy (La Palma) 7:43.0 23:09.00
131 Yang, Monica 10 Sunny Hills 7:44.4 23:13.00
132 McMartin, Cailin 11 Redondo Union 7:46.7 23:20.00
133 Serrato, Megan 12 Torrance 7:46.7 23:20.00
134 Herrin, Allison 11 Citrus Valley 7:50.7 23:32.00 112
135 Flink, Emily 11 Yorba Linda 7:51.4 23:34.00
136 Wang, Jasmin 11 Citrus Valley 7:54.4 23:43.00
137 Carruth, Caroline 12 Calvary Chapel 7:55.4 23:46.00 113
138 Regnier, Danielle 10 Citrus Valley 7:56.0 23:48.00
139 Archaga, Leah 12 Huntington Beach 7:56.4 23:49.00 114
140 Mason, Laura 12 Maranatha 7:57.0 23:51.00
141 Rodriguez, Michelle 11 Calvary Chapel 7:59.7 23:59.00 115
142 Rodriguez, Gabby 12 Santa Fe 8:00.4 24:01.00 116
143 Cudd, Lindsay Mayfair 8:03.7 24:11.00 117
144 Toro, Alyssa 11 Cypress 8:05.7 24:17.00 118
145 Rodriguez, Amy 11 Calvary Chapel 8:07.4 24:22.00 119
146 Ramirez, Rebecca 12 Torrance 8:09.4 24:28.00
147 Montes, Natalia 11 Rosary 8:12.7 24:38.00 120
148 Dato - on, Valerie 10 Rosary 8:15.4 24:46.00 121
149 Atunez, Lucy 12 Dominguez 8:16.0 24:48.00
150 Hernandez, Diareni 11 Dominguez 8:19.4 24:58.00
151 Dominguez, Angelica Mayfair 8:20.7 25:02.00 122
152 Burnett, Kaila 12 Torrance 8:24.0 25:12.00
153 Thompson, Gabby 12 Huntington Beach 8:31.7 25:35.00 123
154 Claspell, Leah 11 Cypress 8:34.0 25:42.00 124
155 Villa, Genesis 11 Cypress 8:34.4 25:43.00 125
156 Ibarra, Olivia Mayfair 8:36.0 25:48.00 126
157 DePrie, Kellie 12 Rosary 8:39.4 25:58.00 127
158 Manzke, Kate 12 Maranatha 9:08.4 27:25.00
159 Ortiz, Tristan 9 Rosary 9:17.0 27:51.00 128
160 Leyva, Laura Mayfair 9:27.4 28:22.00 129
161 Medina, Kendra 11 Cypress 9:29.4 28:28.00 130
Team Scores
=================================================================================
Rank Team Total 1 2 3 4 5 *6 *7 *8 *9
=================================================================================
1 Long Beach Poly 59 5 7 10 18 19 36 40
Total Time: 1:33:32.00
Average: 18:42.40
2 Redondo Union 62 3 8 15 16 20 24 32
Total Time: 1:33:18.00
Average: 18:39.60
3 Martin Luther King (River 71 4 11 13 14 29 31 41
Total Time: 1:33:48.00
Average: 18:45.60
4 California 133 2 12 37 39 43 53 66
Total Time: 1:35:39.00
Average: 19:07.80
5 Fountain Valley 152 9 28 35 38 42
Total Time: 1:37:05.00
Average: 19:25.00
6 Los Alamitos 185 6 17 21 67 74
Total Time: 1:38:21.00
Average: 19:40.20
7 Long Beach Millikan 199 26 30 33 52 58 65
Total Time: 1:38:57.00
Average: 19:47.40
8 Brea Olinda 233 25 34 50 61 63 70 75
Total Time: 1:40:12.00
Average: 20:02.40
9 Yorba Linda 253 27 49 56 57 64 68 81
Total Time: 1:41:00.00
Average: 20:12.00
10 Lakewood 302 23 44 54 85 96
Total Time: 1:43:13.00
Average: 20:38.60
11 Citrus Valley 321 47 48 51 73 102 104 112
Total Time: 1:43:51.00
Average: 20:46.20
12 South Torrance 327 1 60 80 86 100
Total Time: 1:42:54.00
Average: 20:34.80
13 Torrance 379 55 69 76 88 91 93 109
Total Time: 1:45:37.00
Average: 21:07.40
14 Mayfair 402 22 59 82 117 122 126 129
Total Time: 1:50:13.00
Average: 22:02.60
15 Chadwick 435 46 84 98 99 108
Total Time: 1:48:57.00
Average: 21:47.40
16 Santa Fe 441 71 83 87 90 110 111 116
Total Time: 1:48:27.00
Average: 21:41.40
17 Miguel Contreras LC 446 72 78 92 97 107
Total Time: 1:48:53.00
Average: 21:46.60
18 Cypress 474 45 62 118 124 125 130
Total Time: 1:56:24.00
Average: 23:16.80
19 Huntington Beach 507 79 103 105 106 114 123
Total Time: 1:52:46.00
Average: 22:33.20
20 Calvary Chapel (Downey) 513 89 95 101 113 115 119
Total Time: 1:53:52.00
Average: 22:46.40
21 Rosary 539 77 94 120 121 127 128
Total Time: 1:58:24.00
Average: 23:40.80
Cerritos High School HY-TEK's Meet Manager
The Great Cow Run - 9/8/2012
Higashi Roman Memorial Run
Cerritos Regional Park
Last Completed Event
Event 7 Girls 3 Mile Run CC Sophomores
==================================================================================
Name Year School Avg Mile Finals Points
==================================================================================
1 Serna, Samantha 10 Yorba Linda 6:21.4 19:04.00
2 DelaCruz, Rachael 10 Torrance 6:23.7 19:11.00 1
3 Allen, Alyssa 10 Cypress 6:29.7 19:29.00 2
4 Johnson, Hannah 10 King 6:31.4 19:34.00 3
5 Quezada, Quinley 10 Rosemead 6:36.0 19:48.00 4
6 Gardea-Molina, Ashley 10 Los Alamitos 6:39.0 19:57.00 5
7 Tran, Pamela 10 Long Beach Poly 6:52.7 20:38.00 6
8 Singh, Harleen 10 South Torrance 6:53.0 20:39.00 7
9 Rios, Melissa 10 Los Alamitos 6:54.7 20:44.00 8
10 Stewart, Noelle 10 Brea Olinda 7:01.7 21:05.00 9
11 Grohmann, Natelie 10 Fountain Valley 7:07.4 21:22.00 10
12 Sanchez, Emily 10 King 7:09.7 21:29.00 11
13 Barbee, Neyah 10 Long Beach Poly 7:10.4 21:31.00 12
14 Candelario, Hilda 10 Rosemead 7:10.4 21:31.00 13
15 Garland, Noelle 10 Los Alamitos 7:10.7 21:32.00 14
16 Christensen, Savannah 10 Lakewood 7:10.7 21:32.00 15
17 Rodriguez, Lizzette 10 Bellflower 7:12.0 21:36.00
18 Watson, Roxanne 10 Fountain Valley 7:13.4 21:40.00 16
19 Torres, Vanessa 10 Rosemead 7:14.4 21:43.00 17
20 Witter, Brynn 10 Long Beach Poly 7:14.4 21:43.00 18
21 Garcia, Ana 10 Rosemead 7:14.7 21:44.00 19
22 Mai, Yen Nhi 10 Fountain Valley 7:15.0 21:45.00 20
23 Lozano, Monique 10 Long Beach Poly 7:15.7 21:47.00 21
24 Biscocho, Brielle 10 Long Beach Poly 7:16.0 21:48.00 22
25 Major, Katherine 10 South Torrance 7:16.4 21:49.00 23
26 Ellis, Sydney 10 Long Beach Poly 7:19.0 21:57.00 24
27 Stowell, Gigi 10 Yorba Linda 7:19.7 21:59.00
28 Buendia, Jazmyn 10 Fountain Valley 7:24.4 22:13.00 25
29 Payan, Alex 10 Downey 7:25.0 22:15.00 26
30 Lazaro, Hazel 10 Downey 7:25.0 22:15.00 27
31 Sotelo, Ale 10 Rosemead 7:26.0 22:18.00 28
32 Kennedy, MacKenzie 10 Brea Olinda 7:27.7 22:23.00 29
33 Kim, Eunice 10 Kennedy (La Palma) 7:28.4 22:25.00 30
34 Zwart, Krista 10 King 7:28.7 22:26.00 31
35 Halili, Andrea 10 Brea Olinda 7:28.7 22:26.00 32
36 Meredith, Rhiannon 10 Torrance 7:28.7 22:26.00 33
37 Arend, Georgie 10 Long Beach Poly 7:29.0 22:27.00 34
38 Pham, Amanda 10 Long Beach Poly 7:29.4 22:28.00
39 Pouv, Amara 10 Long Beach Poly 7:30.4 22:31.00
40 Tripp, Elaina 10 Brea Olinda 7:33.4 22:40.00 35
41 Gutierrez, Jennifer 10 King 7:34.0 22:42.00 36
42 Cook, Daniell 10 Oxford Academy 7:35.0 22:45.00
43 Hintz, Hana 10 Lakewood 7:35.7 22:47.00 37
44 Ho, Shereena 10 Cypress 7:36.4 22:49.00 38
45 Pirir, Paula 10 South Torrance 7:38.7 22:56.00 39
46 Lee, Bridget 10 Cypress 7:40.7 23:02.00 40
47 Kime, Sora 10 Cypress 7:41.0 23:03.00 41
48 Cornelius, Kyla 10 Los Alamitos 7:42.0 23:06.00 42
49 Lau, Florence 10 Cerritos 7:45.4 23:16.00 43
50 Velazquez, Lisette 10 Miguel Contreras LC 7:46.7 23:20.00
51 Gin, Marissa 10 South Torrance 7:50.7 23:32.00 44
52 Garcia, Erika 10 Downey 7:51.7 23:35.00 45
53 Rose, Kalani 10 Long Beach Poly 7:53.4 23:40.00
54 Guiterrez, Lucy Mayfair 7:53.7 23:41.00
55 Swaitch, Simeran 10 Kennedy (La Palma) 7:54.0 23:42.00 46
56 Garcia, Arely 10 Rosemead 7:54.0 23:42.00 47
57 Nguyen, Michelle 10 Fountain Valley 7:54.4 23:43.00 48
58 Patel, Shivano 10 Cypress 7:55.7 23:47.00 49
59 Ho, Adrienne 10 Fountain Valley 7:59.0 23:57.00 50
60 Glomboske, Taylor 10 Brea Olinda 7:59.0 23:57.00 51
61 Lam, Jessica 10 Long Beach Millikan 8:01.7 24:05.00 52
62 Chu, Megan 10 Cerritos 8:01.7 24:05.00 53
63 Ngo, Adrienne 10 Cypress 8:02.4 24:07.00 54
64 Larsen, Julia 10 Long Beach Poly 8:03.0 24:09.00
65 Mena, Monique 10 Santa Fe 8:03.4 24:10.00
66 Montes, Sarah 10 Downey 8:03.4 24:10.00 55
67 Berney, Lindsey 10 King 8:04.4 24:13.00 56
68 Grooms, Erin 10 Lakewood 8:04.7 24:14.00 57
69 Huscher, Hannah 10 King 8:08.4 24:25.00 58
70 Melendez, Larissa 10 Calvary Chapel 8:08.4 24:25.00
71 Cardona, Fabiola 10 Downey 8:09.0 24:27.00 59
72 Hokans Csurilla, Madison 10 Huntington Beach 8:10.7 24:32.00
73 Hightower, Alexis 10 Brea Olinda 8:10.7 24:32.00 60
74 Barton, Randi 10 Brea Olinda 8:11.0 24:33.00 61
75 Nevarez, Yoselin 10 King 8:11.7 24:35.00 62
76 Ruiz, Evelyn 10 Long Beach Poly 8:12.4 24:37.00
77 Lopez, Breana 10 Cerritos 8:13.7 24:41.00 63
78 Vane, Sedona 9 Long Beach Poly 8:14.4 24:43.00
79 Nguyen, Amanda 10 Rosemead 8:15.7 24:47.00 64
80 Sam, Monique 10 Cypress 8:16.0 24:48.00 65
81 Aguilar, Elisa 10 Cypress 8:16.0 24:48.00
82 Janneck, Katherine 10 Brea Olinda 8:17.0 24:51.00
83 Sar, Marissa 10 Long Beach Poly 8:17.0 24:51.00
84 Huynh, Ivonne 10 Rosemead 8:22.0 25:06.00
85 Ambachew, Rebecca 10 Cerritos 8:24.0 25:12.00 66
86 Garcia, Vanessa 10 Downey 8:25.0 25:15.00 67
87 Rodriguez, Carmen 10 Downey 8:25.7 25:17.00 68
88 LeBlanc, Kandise 10 Long Beach Poly 8:26.4 25:19.00
89 Burdette, Janine 10 South Torrance 8:26.7 25:20.00 69
90 Jimenez, Desiree 10 Cypress 8:29.0 25:27.00
91 Gomez, Stephany 10 Santa Fe 8:30.4 25:31.00
92 Rodriguez, Leslie 10 Miguel Contreras LC 8:34.4 25:43.00
93 Miranda, Lauren 10 Cerritos 8:35.4 25:46.00 70
94 Ramirez, Renee 10 Torrance 8:35.4 25:46.00 71
95 Chavarria, Eliana 10 Brea Olinda 8:36.0 25:48.00
96 Ballesteros, Natalie 10 Long Beach Poly 8:36.4 25:49.00
97 Ordonez, Stephanie 10 Miguel Contreras LC 8:36.7 25:50.00
98 Laguna, Selma 9 Downey 8:36.7 25:50.00
99 Garcia, Jacqueline 10 Downey 8:37.7 25:53.00
100 Wong, Alison 10 Rosemead 8:38.4 25:55.00
101 Weidner, Melissa 10 Long Beach Millikan 8:39.4 25:58.00 72
102 Neri, Dahlia 10 Bellflower 8:39.7 25:59.00
103 Roberts, Erika 10 Cypress 8:41.4 26:04.00
104 Lopez, Leslie 10 Long Beach Poly 8:44.7 26:14.00
105 Knight, Clarissa 10 Cypress 8:45.4 26:16.00
106 Kennedy, Meghan 10 Chadwick 8:46.4 26:19.00
107 Santos, Arielle 10 Torrance 8:46.7 26:20.00 73
108 Gutierrez, Yolanda 10 Downey 8:47.7 26:23.00
109 Kovacs, Andrea 10 Torrance 8:48.4 26:25.00 74
110 Ling, Chloe 10 Cerritos 8:49.0 26:27.00 75
111 Dadeh, Noor 10 South Torrance 8:49.4 26:28.00 76
112 Setting, Alicia 10 Torrance 8:52.7 26:38.00 77
113 George, Vijaya 10 Cerritos 8:52.7 26:38.00 78
114 Won, Jeanie 10 Cerritos 8:54.0 26:42.00
115 Lew, Taylor 10 Torrance 8:57.4 26:52.00 79
116 Goya, True 10 Chadwick 8:59.0 26:57.00
117 Ochoa, Michelle 10 Kennedy (La Palma) 9:00.0 27:00.00 80
118 Seebeck, Tashiana 10 Kennedy (La Palma) 9:01.0 27:03.00 81
119 Carvajal, Elizabeth 10 Long Beach Poly 9:01.4 27:04.00
120 Park, Jin Hee 10 Cypress 9:04.0 27:12.00
121 Oliva, Nancy 9 Lakewood 9:06.4 27:19.00 82
122 Real, Reyna 10 Long Beach Millikan 9:08.4 27:25.00 83
123 Kennon, Taylor 10 Kennedy (La Palma) 9:08.4 27:25.00 84
124 Kemeny, Sarah 10 Long Beach Millikan 9:12.4 27:37.00 85
125 Cudd, Hailey Mayfair 9:12.7 27:38.00
126 Tabadero, Rennette 10 Kennedy (La Palma) 9:13.7 27:41.00 86
127 Reyes, Aideen 10 Kennedy (La Palma) 9:14.4 27:43.00 87
128 Eredia, Kristiana 10 Calvary Chapel 9:15.4 27:46.00
129 Kizziar, Megan 10 Los Alamitos 9:15.7 27:47.00 88
130 Russell, Amber 10 Long Beach Poly 9:19.0 27:57.00
131 Rangel, Jackie 10 Long Beach Millikan 9:19.4 27:58.00 89
132 Eichinger, Kyra 10 Brea Olinda 9:22.0 28:06.00
133 Reyes, Bianca 10 Miguel Contreras LC 9:22.7 28:08.00
134 Midboe, Jenna 10 Huntington Beach 9:26.0 28:18.00
135 Bright, Jessica 10 Cypress 9:27.4 28:22.00
136 Gilman, Juliana 9 Huntington Beach 9:38.0 28:54.00
137 Sanchez, Heidy 9 Long Beach Millikan 9:39.4 28:58.00 90
138 Carleen, Emily 10 Huntington Beach 9:42.0 29:06.00
139 Caceras, Jackie 10 Downey 9:43.0 29:09.00
140 Larios, Yvonne 10 Downey 9:43.4 29:10.00
141 Moreno, Nina 10 Cerritos 9:43.7 29:11.00
142 Ross, Mckenna 10 Lakewood 9:43.7 29:11.00 91
143 Abajian, Ashley 10 Los Alamitos 9:44.7 29:14.00 92
144 Torres, Yuliana 10 Long Beach Poly 9:47.0 29:21.00
145 Tran, Amanda 10 Rosemead 9:59.0 29:57.00
146 DuBourdieu, Karina 10 Los Alamitos 10:11.0 30:33.00 93
147 Martinez, Samantha 9 Torrance 10:52.4 32:37.00
148 Zak, Elisabeth 10 Chadwick 11:52.4 35:37.00
149 Medina, Tiffany 9 Santa Fe 12:55.7 38:47.00
150 Garcia, Nina 10 Calvary Chapel 14:25.0 43:15.00
151 Ledesma, Michelle 10 Bellflower 14:46.0 44:18.00
152 Tran, Le 10 Torrance 16:48.0 50:24.00
Team Scores
=================================================================================
Rank Team Total 1 2 3 4 5 *6 *7 *8 *9
=================================================================================
1 Long Beach Poly 79 6 12 18 21 22 24 34
Total Time: 1:47:27.00
Average: 21:29.40
2 Rosemead 81 4 13 17 19 28 47 64
Total Time: 1:47:04.00
Average: 21:24.80
3 Fountain Valley 119 10 16 20 25 48 50
Total Time: 1:50:43.00
Average: 22:08.60
4 Martin Luther King (River 137 3 11 31 36 56 58 62
Total Time: 1:50:24.00
Average: 22:04.80
5 Brea Olinda 156 9 29 32 35 51 60 61
Total Time: 1:52:31.00
Average: 22:30.20
6 Los Alamitos 157 5 8 14 42 88 92 93
Total Time: 1:53:06.00
Average: 22:37.20
7 Cypress 170 2 38 40 41 49 54 65
Total Time: 1:52:10.00
Average: 22:26.00
8 South Torrance 182 7 23 39 44 69 76
Total Time: 1:54:16.00
Average: 22:51.20
9 Downey 212 26 27 45 55 59 67 68
Total Time: 1:56:42.00
Average: 23:20.40
10 Torrance 252 1 33 71 73 74 77 79
Total Time: 2:00:08.00
Average: 24:01.60
11 Lakewood 282 15 37 57 82 91
Total Time: 2:05:03.00
Average: 25:00.60
12 Cerritos 295 43 53 63 66 70 75 78
Total Time: 2:03:00.00
Average: 24:36.00
13 Kennedy (La Palma) 321 30 46 80 81 84 86 87
Total Time: 2:07:35.00
Average: 25:31.00
14 Long Beach Millikan 381 52 72 83 85 89 90
Total Time: 2:13:03.00
Average: 26:36.60
Cerritos High School HY-TEK's Meet Manager
The Great Cow Run - 9/8/2012
Higashi Roman Memorial Run
Cerritos Regional Park
Last Completed Event
Event 3 Girls 3 Mile Run CC Freshmen
==================================================================================
Name Year School Avg Mile Finals Points
==================================================================================
1 Beaudoin, Nicole 9 South Torrance 6:08.7 18:26.00 1
2 Park, Emily 9 Kennedy (La Palma) 6:10.0 18:30.00 2
3 Nakahira, Jessica 9 Torrance 6:11.4 18:34.00 3
4 Beaudoin, Taylor 9 South Torrance 6:14.4 18:43.00 4
5 Bravo-Bastian, Brittany 9 Redondo Union 6:32.0 19:36.00 5
6 Chavez, Mariana 9 Fountain Valley 6:32.7 19:38.00
7 Haring, Alyssa 9 King 6:43.4 20:10.00
8 Matsugama, Kaitlyn 9 Kennedy (La Palma) 6:45.4 20:16.00 6
9 Hulm, Carly 9 Brea Olinda 6:45.4 20:16.00 7
10 Vane, Sedona 9 Long Beach Poly 6:50.7 20:32.00 8
11 Nakamoto, Aubrey 9 South Torrance 6:51.4 20:34.00 9
12 Nesbit, Christie 9 South Torrance 6:59.0 20:57.00 10
13 Gregory, Ella 9 Torrance 6:59.4 20:58.00 11
14 Robinet, Elizabeth 9 Long Beach Poly 6:59.7 20:59.00 12
15 Roach, Megan 9 South Torrance 7:00.4 21:01.00 13
16 Deighton, Hannah 9 Long Beach Poly 7:01.0 21:03.00 14
17 Cooper, Paige 9 Los Alamitos 7:01.7 21:05.00 15
18 Sullivan, Brooke 9 Redondo Union 7:05.0 21:15.00 16
19 Hinton, Elizabeth 9 Yorba Linda 7:07.4 21:22.00 17
20 Haygood, Lauren 9 Long Beach Millikan 7:09.7 21:29.00 18
21 Lieu, Julie 9 Long Beach Poly 7:11.4 21:34.00 19
22 Allen, Alexa 9 Los Alamitos 7:11.7 21:35.00 20
23 Grajeda, Noelle 9 Sunny Hills 7:12.0 21:36.00
24 Hardiman, Natalie 9 Redondo Union 7:13.0 21:39.00 21
25 Goodman, Breana 9 Los Alamitos 7:13.0 21:39.00 22
26 Betran, Sara 9 Redondo Union 7:13.4 21:40.00 23
27 Resendiz, Laura 9 Fountain Valley 7:14.4 21:43.00
28 Lyman, Lelandra 9 California 7:15.0 21:45.00
29 Saldana, Jacquelyne 9 Downey 7:16.0 21:48.00 24
30 Moriwaki, Katlyn 9 Los Alamitos 7:16.4 21:49.00 25
31 Female, Extra Mayfair 7:17.4 21:52.00
32 Bilotta, Sara 9 Redondo Union 7:17.7 21:53.00 26
33 Wiggins, Ruthie 9 King 7:20.4 22:01.00
34 Kennedy, Maureen 9 Los Alamitos 7:23.0 22:09.00 27
35 Zheng, Jenny 9 Oxford Academy 7:24.4 22:13.00 28
36 Atilano, Amanda 9 Cerritos 7:26.7 22:20.00
37 Fraier, Jennifer 9 Brea Olinda 7:27.4 22:22.00 29
38 Carr, Heather 9 Fountain Valley 7:30.7 22:32.00
39 Valles, Celena 9 Brea Olinda 7:31.0 22:33.00 30
40 Kim, Sabrina 9 Sunny Hills 7:32.4 22:37.00
41 Wainfan, Mandy 9 Long Beach Poly 7:32.7 22:38.00 31
42 Johnson, Brielle 9 Lakewood 7:34.0 22:42.00
43 Parker, Daria Mayfair 7:34.0 22:42.00
44 Washington, Jessica 9 Redondo Union 7:34.7 22:44.00 32
45 Stouffer, Maple 9 Los Alamitos 7:35.0 22:45.00 33
46 Frawley, Cassandra 9 Los Alamitos 7:36.7 22:50.00 34
47 Will, Samantha 9 Redondo Union 7:38.4 22:55.00 35
48 New, Kimberly 9 Lakewood 7:38.7 22:56.00
49 Boutwell, Hannah 9 King 7:38.7 22:56.00
50 Green, Spencer 9 Long Beach Poly 7:40.7 23:02.00 36
51 Moreno, Jessica 9 Rosemead 7:40.7 23:02.00 37
52 Gonzales, Carolina 9 Torrance 7:41.4 23:04.00 38
53 Wang, Vivian 9 Los Alamitos 7:41.7 23:05.00
54 Rojas, Melanie 9 Downey 7:43.7 23:11.00 39
55 Hale, Madison 9 Brea Olinda 7:43.7 23:11.00 40
56 Paulson, Nicole 9 Redondo Union 7:44.7 23:14.00
57 Luc, Emily 9 Rosemead 7:44.7 23:14.00 41
58 Pugrad, Miyaki 9 Kennedy (La Palma) 7:45.0 23:15.00 42
59 Teo, Karla 9 Long Beach Millikan 7:48.0 23:24.00 43
60 Pham, Sylvia 9 Rosemead 7:50.7 23:32.00 44
61 Blake, Lauren 9 Brea Olinda 7:52.4 23:37.00 45
62 Berndt, Rowan 9 Redondo Union 7:52.4 23:37.00
63 Veloz, Ericka 9 Redondo Union 7:54.0 23:42.00
64 Chau, Andrea 9 Maranatha 7:54.7 23:44.00
65 Morgan, Tori 9 Fountain Valley 7:54.7 23:44.00
66 Chen, Kristine 9 Rosemead 7:56.0 23:48.00 46
67 Allen, Emma 9 Yorba Linda 7:57.4 23:52.00 47
68 Behle, Marlene 9 Yorba Linda 7:57.7 23:53.00 48
69 Berhe, Anne 9 South Torrance 8:00.0 24:00.00 49
70 Bayles, Brianna 9 Calvary Chapel 8:01.0 24:03.00
71 Williams, Natasha 9 South Torrance 8:01.0 24:03.00 50
72 Galgani, Jessie 9 Redondo Union 8:04.7 24:14.00
73 Martinez, Nicole 9 Brea Olinda 8:05.7 24:17.00 51
74 Gage, Raegan 9 Yorba Linda 8:07.4 24:22.00 52
75 Barrios, Alena 10 Cypress 8:08.0 24:24.00
76 Regnier, Ashley 9 Citrus Valley 8:09.0 24:27.00 53
77 Cha, Caitlin 9 Cerritos 8:09.0 24:27.00
78 Daghestani, Farah 9 Yorba Linda 8:09.4 24:28.00 54
79 Jaber, Sara 9 Torrance 8:10.0 24:30.00 55
80 Strong, Sierra 9 Citrus Valley 8:10.4 24:31.00 56
81 Noblez, Noleen 9 Torrance 8:11.4 24:34.00 57
82 Lovegren, Katie 9 Long Beach Millikan 8:11.7 24:35.00 58
83 Cushnie, Sarah 9 Yorba Linda 8:14.4 24:43.00 59
84 Kim, Madeline 9 Brea Olinda 8:14.7 24:44.00 60
85 Heimosillo, Valeria 9 Citrus Valley 8:17.0 24:51.00 61
86 Osman, Erin 9 Long Beach Poly 8:19.7 24:59.00 62
87 Salcedo, Sofia 9 Long Beach Poly 8:22.4 25:07.00
88 Lam, Shirley 9 Rosemead 8:24.0 25:12.00 63
89 Ham, Catherine 9 Downey 8:25.4 25:16.00 64
90 Garza, Sarahi 9 Santa Fe 8:26.7 25:20.00
91 Palencia, Desirae 9 California 8:27.0 25:21.00
92 Enriquez, Elly 9 Downey 8:27.7 25:23.00 65
93 Rouse, Heidi Mayfair 8:28.0 25:24.00
94 Pena, Maggie 9 California 8:29.0 25:27.00
95 Kidman, Shelby 9 South Torrance 8:29.7 25:29.00
96 Tobias, Melissa 9 Santa Fe 8:30.4 25:31.00
97 Gomez, Sonia 9 Downey 8:30.4 25:31.00 66
98 Yoshida, Karen 9 Torrance 8:30.7 25:32.00 67
99 Karen, Ngo 9 Rosemead 8:31.4 25:34.00 68
100 Rodriguez, Santi 9 Rosemead 8:32.4 25:37.00 69
101 Colclasure, Lauren 9 Torrance 8:33.0 25:39.00 70
102 Batchelor, Hannah 9 Brea Olinda 8:33.7 25:41.00
103 Tech, Katherine 9 Kennedy (La Palma) 8:33.7 25:41.00 71
104 Karen, Chen 9 Rosemead 8:35.7 25:47.00
105 Bogarin, Daniela 9 Long Beach Poly 8:36.7 25:50.00
106 Lwin, Tiffany 9 Oxford Academy 8:37.7 25:53.00 72
107 Chang, Audry 9 Maranatha 8:39.0 25:57.00
108 Vaughn-Drogo, Jordan 9 Redondo Union 8:39.7 25:59.00
109 Consunjo, Jennessa 9 Yorba Linda 8:40.4 26:01.00 73
110 Villalpando, Graciela 9 Bellflower 8:40.4 26:01.00
111 Laubach, Cassandra 9 Yorba Linda 8:40.7 26:02.00
112 Anderson, Jillian 9 Redondo Union 8:41.7 26:05.00
113 Ballesteros, Erica 9 Citrus Valley 8:41.7 26:05.00 74
114 Griffith, Haley 9 Downey 8:42.4 26:07.00 75
115 Viramontes, Amanda 9 Santa Fe 8:43.0 26:09.00
116 Herrera, Alexandra 9 Long Beach Millikan 8:43.4 26:10.00 76
117 Williams, Amanda 9 Brea Olinda 8:48.0 26:24.00
118 Gomez, Alannah 9 Brea Olinda 8:49.0 26:27.00
119 Rico, Teresa 9 Santa Fe 8:49.7 26:29.00
120 Machitar, Denisse 9 Oxford Academy 8:51.4 26:34.00 77
121 Griffith, Riley 9 Huntington Beach 8:52.4 26:37.00 78
122 Sanchez, Audrey 9 Long Beach Millikan 8:52.4 26:37.00 79
123 Ozeki, Kana 9 Torrance 8:54.4 26:43.00
124 Teguh, Tiffany 9 Maranatha 8:54.7 26:44.00
125 Villareal, Tailer 9 Downey 8:57.4 26:52.00 80
126 Litjen, Ellie 9 Torrance 9:00.4 27:01.00
127 Vargas, Perla 9 Torrance 9:02.4 27:07.00
128 Sorto, Jennifer 9 Long Beach Poly 9:03.0 27:09.00
129 McDonald, Emily 9 Oxford Academy 9:04.4 27:13.00 81
130 Lopez, Margarita 9 Torrance 9:04.4 27:13.00
131 Wade, Ashley 9 Long Beach Millikan 9:05.0 27:15.00 82
132 Morgan, Jaeana 9 Long Beach Millikan 9:07.0 27:21.00 83
133 Tailor, Bavisha 9 Kennedy (La Palma) 9:07.0 27:21.00 84
134 Sanchez, Allison 9 Downey 9:08.0 27:24.00
135 Walsh, Alison 9 South Torrance 9:15.4 27:46.00
136 Vanegas, Jazmin 9 California 9:15.7 27:47.00
137 Thor, Melina 9 Long Beach Poly 9:18.4 27:55.00
138 Orozco, Jailene 9 Downey 9:20.0 28:00.00
139 Dalton, Lauren 9 Los Alamitos 9:22.0 28:06.00
140 De Guzman, Rinalyn 9 Lakewood 9:24.7 28:14.00
141 Kelly, Devon 9 Huntington Beach 9:26.4 28:19.00 85
142 Villarreal, Celeste 9 Bellflower 9:27.0 28:21.00
143 Stevens, Samantha 9 Huntington Beach 9:28.7 28:26.00 86
144 Duvall, Haley 9 Torrance 9:34.0 28:42.00
145 Garcia, Adriana Mayfair 9:36.7 28:50.00
146 Deiters, Corina 9 Yorba Linda 9:38.0 28:54.00
147 Woods, Champagne 9 Torrance 9:38.4 28:55.00
148 Henkhaus, Erin 9 Los Alamitos 9:38.4 28:55.00
149 Tolentino, Ariel 9 Long Beach Poly 9:43.4 29:10.00
150 Velasquez, Cecilia 9 Dominguez 9:48.0 29:24.00
151 Rodriguez, Tera 9 Los Alamitos 9:53.0 29:39.00
152 Kim, Helen 9 Brea Olinda 9:54.4 29:43.00
153 Melanson, Camryn 9 Long Beach Poly 9:56.0 29:48.00
154 Goodman, Morgan 9 Los Alamitos 10:01.7 30:05.00
155 Cerventes, Kennedy 9 Huntington Beach 10:15.4 30:46.00 87
156 Hamachi, April 9 Torrance 10:16.0 30:48.00
157 Reece, Alyssa 9 Long Beach Millikan 10:18.0 30:54.00
158 Torres, Samantha 9 Los Alamitos 10:19.4 30:58.00
159 Montes, Amanda 9 Maranatha 10:25.0 31:15.00
160 Zavala, Brittany 9 Calvary Chapel 11:29.0 34:27.00
161 Marrufo, Jacqueline 9 Torrance 11:30.4 34:31.00
162 Contreas, Valerie 9 Downey 11:34.0 34:42.00
163 Hernandez, Eileen 9 Citrus Valley 11:34.4 34:43.00 88
164 Mata, Miranda 9 Torrance 11:41.4 35:04.00
165 Yan, Elaine 9 Bellflower 12:14.7 36:44.00
166 Ortiz, Gigi 9 Huntington Beach 12:16.0 36:48.00 89
167 Ousman, Rewa 10 Brea Olinda 12:16.0 36:48.00
168 Mendez, Marisa 9 Huntington Beach 12:22.7 37:08.00 90
169 Gutierrez, Kiana 9 Oxford Academy 12:28.7 37:26.00 91
170 Shahon, Jessica 9 Los Alamitos 13:28.0 40:24.00
171 Bradley, Alyssa 9 Long Beach Poly 13:37.0 40:51.00
172 Cruz, Bela 10 Cypress 13:37.0 40:51.00
173 Quintana, Sabrina 9 Downey 13:37.0 40:51.00
174 Levy, Sheer 9 Huntington Beach 13:45.7 41:17.00 92
Team Scores
=================================================================================
Rank Team Total 1 2 3 4 5 *6 *7 *8 *9
=================================================================================
1 South Torrance 37 1 4 9 10 13 49 50
Total Time: 1:39:41.00
Average: 19:56.20
2 Long Beach Poly 84 8 12 14 19 31 36 62
Total Time: 1:46:46.00
Average: 21:21.20
3 Redondo Union 91 5 16 21 23 26 32 35
Total Time: 1:46:03.00
Average: 21:12.60
4 Los Alamitos 109 15 20 22 25 27 33 34
Total Time: 1:48:17.00
Average: 21:39.40
5 Brea Olinda 151 7 29 30 40 45 51 60
Total Time: 1:51:59.00
Average: 22:23.80
6 Torrance 164 3 11 38 55 57 67 70
Total Time: 1:51:40.00
Average: 22:20.00
7 Kennedy (La Palma) 205 2 6 42 71 84
Total Time: 1:55:03.00
Average: 23:00.60
8 Yorba Linda 218 17 47 48 52 54 59 73
Total Time: 1:57:57.00
Average: 23:35.40
9 Rosemead 231 37 41 44 46 63 68 69
Total Time: 1:58:48.00
Average: 23:45.60
10 Downey 258 24 39 64 65 66 75 80
Total Time: 2:01:09.00
Average: 24:13.80
11 Long Beach Millikan 274 18 43 58 76 79 82 83
Total Time: 2:02:15.00
Average: 24:27.00
12 Citrus Valley 332 53 56 61 74 88
Total Time: 2:14:37.00
Average: 26:55.40
13 Oxford Academy 349 28 72 77 81 91
Total Time: 2:19:19.00
Average: 27:51.80
14 Huntington Beach 425 78 85 86 87 89 90 92
Total Time: 2:30:56.00
Average: 30:11.20
---