Category archive:

HorseRacing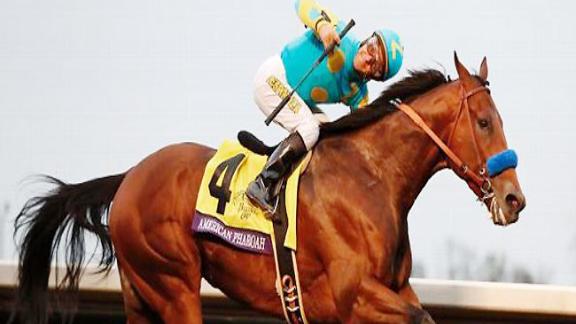 Breeders' Cup Classic
For all of the electricity and euphoria American Pharoah brought to horse racing in 2015, he also drained much of the excitement from the voting for the Eclipse Awards. Horse of the Year honors for 2015 pretty much became a moot point on the afternoon of June 6 when the Zayat Stables 3-year-old blazed a path to glory by completing the first Triple Crown sweep in 37 years.
Adding a first-ever Grand Slam to his resume by winning the Breeders' Cup Classic only increased American Pharoah's stature among the sport's all-time greats and all but guaranteed that his connections would be appearing at the podium during the Jan. 16 Eclipse Awards dinner as often as the master of ceremonies. Trophies for the champion owner, breeder, trainer and jockey figure to be swept by Zayat Stables, Bob Baffert and Victor Espinoza on a night when racing honors its best of the best for the past 12 months. While some might be taken aback by that type of domination, it should hardly be a surprise after a year in which American Pharoah became such a fan favorite that if a fan poll of the year's most popular horses was taken, the champion's lead pony, Smokey, would probably wind up in the top five.
With those trophies already spoken for and a number of other awards also locked into place, there has been a distinct silence about this year's awards as opposed to the raucous Horse of the Year debate from a year ago. Last year, California Chrome, Bayern, Main Sequence and Shared Belief battled it out for the award, and in 2009 Rachel Alexandra beat out Zenyatta for the prize amidst bitter Internet bickering.
If anything, the biggest quandaries can be found in a couple of categories where calling anyone a champion was stretching matters a bit.
To fill those blanks, here's how this voter filled out his Eclipse Award ballot:
Horse of the Year: American Pharoah. Even if he had lost to Beholder in the Breeders' Cup Classic, the award would have been his. More goes into Horse of the Year than victories on a racetrack and it has been decades since a horse energized the sport as much as he did. This should be a unanimous decision, but someone usually takes a contrarian stand. In most years, Beholder would have been a hands-down choice, but she was second-best to a once-in-a-generation horse. The third spot on my ballot went to Songbird. The 2-year-old filly division might have lacked depth but Songbird was absolutely brilliant during an undefeated season and should be a joy to watch in the coming year.
2-Year-Old Male: Nyquist. He should also be a unanimous selection after a perfect 5-for-5 campaign, capped by a win in the Breeders' Cup Juvenile. Swipe, who was second to Nyquist four times, was, quite naturally, the second choice, followed by Airoforce, who was a graded stakes winner on turf and dirt and missed by a neck in the Breeders' Cup Juvenile Turf.
2-Year-Old Female: Songbird. No contest. Four starts and four wins by a combined 22 lengths, including a dazzling 5 3/4-length romp in the Breeders' Cup Juvenile Fillies. If she handles the jump from two to three with aplomb, her connections could have a tough time sticking with plans to target the Kentucky Oaks. There's a race the following day at Churchill Downs that just might be a worthy challenge for her. Rachel's Valentina and Gomo rounded out the ballot.
3-Year-Old Male: American Pharoah. If anyone votes for someone other than the Zayat Stables' star in this category, they no doubt spent the year stranded on Gilligan's Island. The significantly tougher decisions were the second and third spots. In the end, second went to Keen Ice, who beat American Pharoah in the Travers. Runhappy, the dynamic sprinter, was third.
3-Year-Old Female: Found. Judging by the way these fillies took turns beating each other, no one seemed interested in taking home the award. I'm not a big fan of honoring a European who makes just one trip across the Atlantic, but, considering the other options, an exception was warranted. Found beat the Arc winner, Golden Horn, in the Breeders' Cup Turf and that was the most impressive feat by any 3-year-old filly this year. Stellar Wind would have deserved the nod had she outdueled Stopchargingmaria in the Breeders' Cup Distaff, but without that victory I can't call her champion. I'm a Chatterbox was probably the most consistent of the U.S. candidates, but her eighth-place finish in the BC Distaff was damaging to her cause. Lady Eli was a sentimental favorite for overcoming laminitis, but one Grade 1 victory in a three-race campaign was not enough to put her in the top three.
4-Year-Old & Up Male: Honor Code. His wins in the Whitney Handicap and Metropolitan Handicap carried the day in a division weakened by the absence of 2014 Horse of the Year California Chrome and Shared Belief for much of the year. His late-running style was compromised when no one ran with American Pharoah on the front end in the BC Classic, so a third-place finish there wasn't as disappointing as it might seem. Liam's Map was superb in winning the Breeders' Cup Dirt Mile and suffered an extremely tough beat by a neck in the Whitney, but opting for the Dirt Mile instead of the Classic took him out of the running for a championship. Big fish in small ponds don't earn big awards. Tonalist, who won the Jockey Club Gold Cup for a second straight year and the Cigar Mile, did enough for third.
4-Year-Old & Up Female: Beholder. She won this award as easily as she won the Pacific Classic when she toyed the boys and beat them by 8-1/4 lengths.
Stopchargingmaria used her BC Distaff to take the second spot on the ballot and Sheer Drama, who won the Personal Ensign and Delaware Handicap, was third.
Male Sprinter: Runhappy. The 3-year-old colt lived up to his name in winning six of seven starts and sealed the deal with a victory against Private Zone in the Breeders' Cup Sprint. It should be fun to watch him again in 2016, though owner Jim McIngvale gets a big thumbs-down for dismissing trainer Maria Borelli so quickly after the Breeders' Cup. Private Zone, the runner-up in the Breeders' Cup Sprint, and Appealing Tale completed the ballot.
Female Sprinter: Wavell Avenue. Another perplexing category. There are only a handful of Grade 1 stakes in this category, so when in doubt, go with the Breeders' Cup winner. Wavell Avenue won the division's biggest race, the Breeders' Cup Filly and Mare Sprint, so the championship belongs to her. Lady Shipman, the outstanding turf runner who was second to males in the Breeders' Cup Turf Sprint, took second on my ballot and La Verdad, the BC F&M Sprint runner-up, was third.
3-Year-Old & Up Turf Male: Golden Horn. Here is another exception to my European rule. In the Breeders' Cup Turf, the best Americans, Big Blue Kitten and The Pizza Man, both finished behind Golden Horn, who merely won the Prix de l'Arc de Triomphe in his previous start. Sounds strange to call a horse who finished second in his lone U.S. start a champion, but simply running in the Breeders' Cup a few weeks after capturing Europe's biggest race -- something only seven Arc winners have done in 32 years -- gave Golden Horn the bonus points he needed to be my top choice. The runner-up was another European, Flintshire, who won his lone U.S. start, the Grade 1 Sword Dancer at Saratoga. Second a year ago in the BC Turf, he skipped this year's race, largely because of Golden Horn's presence in the field, and that was telling for me. Big Blue Kitten, who was third in the Breeders' Cup Turf, was the third choice.
3-Year-Old & Up Turf Female: Found. If you're a filly or mare and you beat the Arc winner in the Breeders' Cup Turf, how are you going to top that? No one could. Tepin, who won five of seven starts and beat males in the Breeders' Cup Mile, edged out Stephanie Kitten's, the Breeders' Cup Filly and Mare Turf winner, for second.
Top Owner: Zayat Stables. Yes, Ahmed Zayat owned the Grand Slam winner and that alone was enough to earn him an Eclipse Award. Yet the manner in which he campaigned his champion, keeping him in training after the Triple Crown and being enough of a sportsman to run him in the Travers, removed all doubt. Ken and Sarah Ramsey and Reddam Racing, who campaigned Nyquist, rounded out the ballot.
Top Trainer: Bob Baffert. The way the Hall of Famer prepared American Pharoah for the Triple Crown was sheer brilliance. Yet the manner in which he kept in top form through the year and had him ready for a career-best effort in the Breeders' Cup Classic off a two-month layoff was a masterpiece. There was a temptation to put Maria Borelli on the ballot, but in the end Todd Pletcher and Chad Brown were second and third, respectively.
Top Jockey: Victor Espinoza. It's a tough break for Javier Castellano, who had a sensational year, but Espinoza was at his very best in the Triple Crown and the BC Classic and that was enough to earn him the trophy. After him came Castellano and Irad Ortiz Jr.
Top Breeder: Zayat Stables. American Pharoah was a homebred. So say no more. Make it 6-for-6 for Team American Pharoah. After a year in which they and a charismatic horse proved that winning a Triple Crown -- or a Grand Slam for that matter -- was not just an idle daydream, that seems a rather fitting reward.
December, 23, 2015
12/23/15
7:56
PM ET
As much as American Pharoah changed the lives of so many people around him, there are some things that never change.
A new year is almost at hand. Precocious 2-year-olds are about to turn the calendar page and become intriguing 3-year-olds.
And Bob Baffert is back on the Triple Crown trail.
While the odds are pretty slim that Baffert will match last year's glorious and unprecedented Triple Crown and Grand Slam season with Zayat Stable's American Pharoah, there's no such thing as a rebuilding campaign inside the Hall of Fame trainer's formidable stable.
Baffert merely reloads.
Baffert has won the last two editions of the Breeders' Cup Classic with first Bayern and then American Pharoah and both of those stars have headed off to new and more pleasurable lives at stud. While that would be a Grand Canyon-like hole to fill in anyone's barn, there's no need to pass around the collection plate for the 62-year-old trainer.
He still has Dortmund, who was third to American Pharoah in the Kentucky Derby, and figures to be a major player in the lucrative older male division.
He also has no shortage of fast, well-bred 2-year-olds, including a pair who just ran 1-2 in the year's final Grade 1 stakes for juvenile runners.
In the $350,000 Los Alamitos Derby, the final furlong boiled down to private duel between Baffert's Mor Spirit and Toews on Ice in which Mor Spirit edged clear in the final sixteenth to notch a 1-1/4-length victory over his stablemate. Some six lengths behind them, I'malreadythere passed tired horses to finish third.
"Turning for home," Baffert said, "it was a good feeling. I knew was going to win the race, just didn't know with which one."
Yes, some things never change.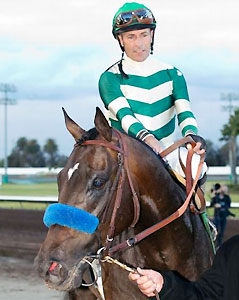 Benoit PhotoGary Stevens and Mor Spirit after winning the Los Alamitos Futurity.
Mor Spirit and Hall of Fame rider Gary Stevens provided Baffert with a record eighth win in the Los Alamitos Futurity, which was previously known as the Hollywood Futurity and Cash Call Futurity during its days at the now shuttered Hollywood Park. Owned by Michael Lind Peterson, Mor Spirit fits the mold of an interesting Triple Crown contender due to a light, but successful 2-year-old season.
The Los Alamitos Futurity marked just his fourth career start and he has yet to finish worse than second. He broke his maiden by 4-1/4 lengths at Santa Anita in October in his second race and then was shipped to Churchill Downs for the Grade 2 mile-and-a-sixteenth Kentucky Jockey Club in which he finished second to Breeders' Cup Juvenile Turf runner-up Airoforce by a length and three quarters over a sloppy track.
It was a path similar to the one Baffert charted for Dortmund a year ago, when Kaleem Shah's son of Big Brown broke his maiden at Santa Anita, then traveled east to the home of the Run for the Roses in Blue Grass country to capture an allowance race and returned to California to post a victory by a head over Firing Line, who would finish second in the Kentucky Derby.
Considering how American Pharoah was last year's 2-year-old champ, Mor Spirit is surely a few cuts below Baffert's horse of a lifetime. Yet given the illustrious body of work compiled by the man with the white hair and dark glasses, it's hardly far-fetched to believe that Mor Spirit or one of his stablemates can one day add to some of Baffert's marvelous feats, such as six wins in the Preakness or eight wins in the Haskell.
"This is the time of the year when you want to see something like this. It was a little disappointing he got beat last time, but it looks like we've got him figured out, so now we can just sit back and pick some spots for him," Baffert said. "In the race at Churchill Downs I didn't want to take a chance of taking him back and getting mud kicked in his face, so we sent him up in there [to be part of the pace]. I just told Gary today, 'ride him like you usually do and let him sit and finish.'"
Toews On Ice, owned in part by longtime Baffert pal Mike Pegram, wears the same silks as Real Quiet, who fell a nose shy of giving Baffert a Triple Crown sweep in 1998. He's more seasoned than Mor Spirit, with six career starts after the mile-and-a-sixteenth LA Futurity. He had won three straight stakes, capped by the Grade 3 Bob Hope, going into his Grade 1 debut but the Los Alamitos race marked his first start beyond seven furlongs.
The speedy son of Archarcharch pressed the pace of longshot Frank Conversation before jockey Martin Garcia guided him to a short-lived lead in the stretch.
"He ran game,'' said Baffert. "The race shaped up different than I thought it would with [Frank Conversation] showing speed, but Martin didn't panic and just sat there. He rode a good race. He just got run down by a good horse.''
A good horse in Bob Baffert's barn?
You really didn't expect anything else, did you?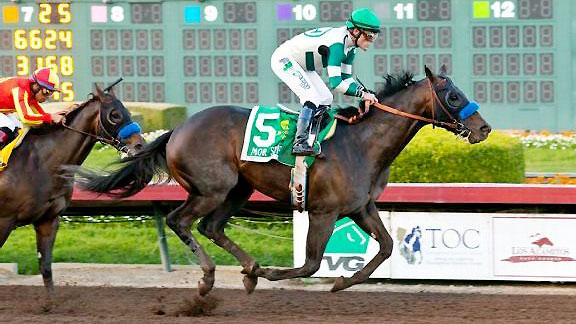 December, 10, 2015
12/10/15
12:05
AM ET
Getting 9-1 odds on a horse with a perfect 5-for-5 record would generally be considered as much of a gift as anything you'll find in Santa Claus' sack of goodies.
Unless you're talking about the 9-1 price on Nyquist in the first edition of Kentucky Derby future wagering that ended Nov. 29. In that case, if you were expecting a Ferrari, sorry, but history says you're looking at a Volkswagen Bug.
In all fairness, Nyquist is a quality colt and an absolutely worthy choice as the year's champion 2-year-old male. His connections have a Triple Crown pedigree as he's owned by Paul Reddam, trained by Doug O'Neill and ridden by Mario Gutierrez -- the same team that gave us 2012 Kentucky Derby and Preakness winner I'll Have Another (who did not race beyond Sept. 5 in his three 2-year-old starts) -- and anyone who doesn't cast their Eclipse Award ballot for him ought to reconsider why they're involved in the process.
Yet with the electrifying Triple Crown sweep by American Pharoah still fresh in our minds, we have to resist the temptation to believe that racing has pulled a Marty McFly and traveled back in time to the 1970's, a rare era when 2-year-old form was an amazingly accurate barometer of Triple Crown success.
It's still 2015 and about to become 2016, and what happened earlier this year does not mean a three-decade trend has suddenly disappeared. If anything, American Pharoah illustrates why it's wise to be skeptical of Nyquist at this stage.
Though a 2-year-old champion, Zayat Stables' American Pharoah raced only three times at 2-years-old, and won easily in his two victories.
Nyquist has raced five times, winning on each occasion. Yet his margin of victory has diminished in each of his last three starts and he had to work hard to turn back arch-rival Swipe in his last two starts, capped by a half-length triumph in the Breeders' Cup Juvenile -- and in some ways that might have been a Pyrrhic victory.
None of American Pharoah's three starts at 2 came in the Breeders' Cup and his season ended on Sept. 27. Looking back, Justin Zayat, the son of owner Ahmed Zayat and racing manager for Zayat Stables, said it was a "blessing in disguise" that American Pharoah did not race in the Breeders' Cup.
Meanwhile, Nyquist has two more races on his tires -- both hard-fought wins -- and raced until Oct. 31. By winning the Breeders' Cup Juvenile, Nyquist also put himself squarely in the sights of a hex nearly as formidable as the 37-year Triple Crown drought that American Pharoah ended.
Prior to Nyquist, there were 31 BC Juvenile winners and they were 1-for-31 in the Kentucky Derby (Street Sense was the loner winner in 2007). They were also 1-for-31 in the Preakness, where Timber Country was victorious in 1995 at Pimlico. In the Belmont Stakes, they were 0-for-31, and beyond that, Chief's Crown, the very first BC Juvenile winner in 1984, was the last BC Juvenile victor to start in the final leg of the Triple Crown.
That's a combined record of 2-for-93 in Triple Crown races and 30 straight years without as much as a Belmont Stakes starter for BC Juvenile winners.
Overall, horses who merely raced in the BC Juvenile have won just 23 of the 93 Triple Crown races (24.7 percent) from 1985 through 2015 and in the last 24 Triple Crown races the only BC Juvenile winner to even start in one of them was Hansen, who was ninth in the 2012 Kentucky Derby.
In a detailed story on the subject I wrote last month for Thoroughbred Racing Commentary , the consensus from top trainers is that generally the harder a horse is pushed at two, the less upside there is at three.
Exceptional horses can defy that conventional wisdom and the pertinent question is whether Nyquist can become a rock star, ala American Pharoah.
He could be, yet to take 9-1 odds on it in late November offers an absolutely awful risk/reward ratio, given all that can go wrong in the next five months.
While 9-1 could be the bargain of the century if Nyquist remains undefeated and arrives at Churchill Downs on the first Saturday in May as an odds-on favorite, the odds are stacked against him. Not only will he have to avoid injury for the next five months, he will have to continue to improve and develop with little rest through what would be a long and difficult road from his career debut on June 5 through Kentucky Derby Day.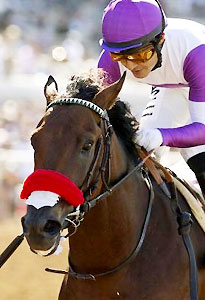 Benoit PhotoNyquist will try to tackle his San Vicente foes before turning an eye toward the Kentucky Derby.
That's asking a lot of any horse, especially one who has already become quite valuable. Two-year-old champions are a prized commodity and heightening the appeal of Nyquist is that he's from the first crop of 210 2-year-old champ Uncle Mo, who is enjoying an extremely successful first year as a sire. Coolmore America, which stands American Pharoah, also has Uncle Mo among its roster of stallions and has been gobbling up 2-year-old champions as sire prospects. It would not be much of a surprise if they open up their checkbook in a big way to land Nyquist, provided Reddam's colt does not go into a tailspin.
With all of that in the background, it's unlikely Nyquist will be allowed to accrue that many defeats before the plug is pulled on his career.
Given the foot problems that plagued American Pharoah at two, on one level it's not shocking that he was 12-1 last year in the November Derby future wagering pool, compared to Nyquist's 9-1.
Yet in the big picture, with all of those difficult races on his resume, Nyquist is a big underlay. Two of the other leading 2-year-olds, Swipe and Exaggerator, also have a lot of mileage, with seven and six races, respectively.
Chances are the winner of the 2016 Kentucky Derby has yet to make a big name for himself. The mutuel field (everyone but the 23 individual wagering choices) in that first future wager was sent off at odds of 3-5 and it's usually a safe bet. Mohaymen, who recently won the Grade 2 Remsen at Aqueduct for trainer Kiaran McLaughlin, is intriguing with a 3-for-3 record, though his 11-1 price in future wagering seems a bit light.
But at least it beats 9-1, which was surely a weak price on a November weekend for a race in May, even for an undefeated colt.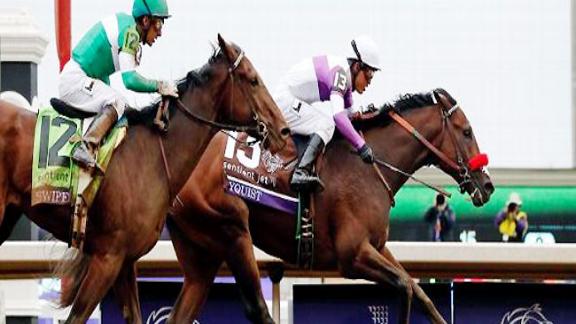 November, 29, 2015
11/29/15
2:17
AM ET
NEW YORK -- A gray, overcast November day with sprinkles of rain coming down might not seem the best setting for optimistic thoughts about the coming year, yet the grand promise of 2016 was certainly on display at Aqueduct -- even in a surprising corner of the racetrack.
On a day highlighted by the final graded stakes races of the year in New York, the likely candidates to spark talk of the new year were the two mile-and-an-eighth Grade 2 stakes for 2-year-olds, races that generally conjure up thoughts of next May when the Kentucky Derby and Kentucky Oaks roll around.
The fillies' turn came in the Demoiselle, where favored Lewis Bay ($4.10) notched a length and three-quarters victory over a rather undistinguished field.
It was a nice follow-up to a six-length maiden score for trainer Chad Brown's daughter of Bernardini, though after the show put on by Songbird in the Breeders' Cup Juvenile Fillies it's hard to associate the Kentucky Oaks with anyone but that filly at the present time.
The Remsen, for colts, seemed a better spot to find a promising horse for next year, and it delivered the goods thanks to Shadwell Stables' favored Mohaymen.
While the undefeated Breeders' Cup Juvenile winner Nyquist is a mortal lock to be named the year's champion 2-year-old male, he along with others like BC Juvenile runner-up Swipe and Delta Jackpot winner Exaggerator have put in hard campaigns, each running in at least four stakes.
Far more often than not, that type of schedule catches up with a young horse at three and turns him into yesterday's news by the time the Triple Crown grows near.
Mohayem ($5.10), meanwhile, was racing for just the third time and the undefeated son of Tapit made his stakes debut while notching a length and a half win on Saturday's Holiday Fest card. His time of 1:50.69 for the nine furlongs eclipsed the clockings for both the 2-year-old fillies in the Demoiselle (1:53.41) and 3-year-old fillies in the Grade 3 Comely later on the card (1:50.75).
"It was a great win. This is a big prep race for next spring and he did it the right way," McLaughlin said. "We're excited about him. We don't think he needs to improve a lot. We just want to keep him sound and not have him go the other way."
McLaughlin mentioned the Holy Bull (Jan. 30 at Gulfstream) as a likely next target for Mohayem, which would mirror what McLaughlin did with Frosted a year ago.
Best known for either a) finishing second to American Pharoah in the Belmont Stakes or b) pressing American Pharoah in the Travers and setting the race up for Keen Ice -- take your pick -- Frosted was second in last year's Remsen and turned out to a major player in the 3-year-old division and a Wood Memorial winner after starting the year in Florida.
Time will tell whether Mohayem can also move forward as the months pass, though that's not as easy of a task as it might seem. The Remsen winner has not captured the Run for the Roses since the 1995 Derby when Thunder Gulch made it back-to-back triumphs for the Remsen victor.
Finally, 2016 was a somewhat surprising topic of discussion after the day's featured $670,000 Cigar Mile, when Tonalist once again had trainer Christophe Clement singing the old "I Love New York" jingle.
After a disappointing fifth place finish behind American Pharoah in the $5 million Breeders' Cup Classic at Keeneland, Tonalist ($6.40) reverted to top form while once again inhaling Long Island air. Fifth with a furlong to go, the 2014 Belmont Stakes winner closed stoutly on the outside to stick his neck in front at the wire, edging uncoupled stablemate Red Vine.
Private Zone, last year's Cigar winner and second in the Breeders' Cup Sprint last month, had a tug-of-war with rider Martin Pedroza who tried to rein him in during the early stages and finished fifth of six as the 6-5 favorite.
It was a nerve-wracking race for Clement, who had to watch Red Vine run into traffic problems in the stretch and before that started sweating when Tonalist and jockey John Velazquez dropped back a bit on the final turn.
"That happened because Johnny likes to make me suffer," Clement said afterwards. Clement called Tonalist's stretch run "spectacular" and was "delighted" that the 4-year-old's 2015 campaign ended with bookend wins at a mile. The son of Tapit opened the year with a solid victory in the Grade 3 Westchester at eight furlongs and in between, aside from the Breeders' Cup, won the Jockey Club Gold Cup for a second straight year, finished second in the Metropolitan Handicap and Suburban and third in the Whitney -- all in New York.
Best of all, pending approval from owner Robert S. Evans, Clement confirmed previous statements that he would like to bring Tonalist back to the races next year at five -- something that's rare for a colt with a Belmont Stakes win and two Jockey Club Gold Cup victories on his resume. The breeding shed usually beckons for them by now.
Yet with Tonalist back, as well as Eclipse Award winners California Chrome, Shared Belief and the mare Beholder who are also expected to race in 2016, the sport will a have an exciting collection of older horses to help fill some of the massive void created by the retirement of Triple Crown champion American Pharoah.
You can also add to the mix Dortmund, who was the 1A to American Pharoah's 1 for trainer Bob Baffert on this year's Triple Crown trail. The multiple Grade 1-winning 3-year-old was an impressive winner later in the day for Baffert in the Grade 3 Native Diver Stakes at Del Mar and appears to be back in top form after being sidelined for five months.
"It's always great to have the good horses continue racing," Clement said about Tonalist. "He's a first class horse. This year he won two Grade 1 stakes and was a touch unlucky in one or two of the others. He can compete with anyone. The Breeders' Cup is a mystery, more so after today. Maybe some horses like that track more than others. If he comes back, [next year's schedule] will be similar to this year's, though I'll have to think about the Breeders' Cup [at Santa Anita, where he was fifth in the 2014 BC Classic]. Let's just enjoy this for now."
Enjoy it in more ways than one might imagine. Potential Kentucky Derby and Kentucky Oaks horses and a Belmont Stakes winner returning at five, yeah, a day known as Holiday Fest certainly gave racing fans some merry reasons to look forward to 2016.
November, 23, 2015
11/23/15
9:16
PM ET
As a new year approaches, Thoroughbred racing faces a strange situation. No matter what happens in 2016, it will be extremely difficult for the sport to top what happened this year.
That's because 2015 served a valuable lesson in the power of technology.
Even if a current 2-year-old follows in American Pharoah's hoofprints and pulls off another Grand Slam, due to the back-to-back nature of the accomplishment it most likely will not generate the spectacular fanfare we witnessed in the last six months or so. Close, sure. But greater? Unlikely, as you can expect many of American Pharoah's fans to maintain that the next champion is a notch below the last one.
It also served a valuable lesson in the power of new technology.
Racing has rarely embraced change quickly, explaining many of its ills. Yet while advances like high-definition telecasts and social media alone did not make "Pharoah" an American Idol, they no doubt helped to increase his popularity to the point where the Zayat Stables' 3-year-old was leading the Kansas City Royals in the balloting for Sports Illustrated's "Sportsman of the Year" as of Nov. 20.
And hopefully that will not be lost in the afterglow of such a captivating year. The ability to watch American Pharoah in national HD telecasts no doubt enhanced the viewing pleasure of some great races.
While poker tournaments can be viewed on networks like ESPN in vivid HD images, racing is viewed in flat images each day on racing channels like TVG or HRTV because the majority of tracks do not have HD cameras.
During the Triple Crown and American Pharoah's subsequent starts in the Haskell, Travers and Breeders' Cup Classic, people saw on NBC's HD telecasts what they are missing on a daily basis. Some of the scenes at those races resembled paintings, as they allowed viewers to absorb all of the color, pageantry and excitement of those races in a way that doesn't come across from other feeds.
Meanwhile, if you have a big, 60-inch HD television and stumble across one of the racing channels while channel surfing, your first reaction would be to call a repairman. Gone is your sharp, crystal-clear HD images that enable you to see the 5 o'clock shadow on your favorite professional athlete.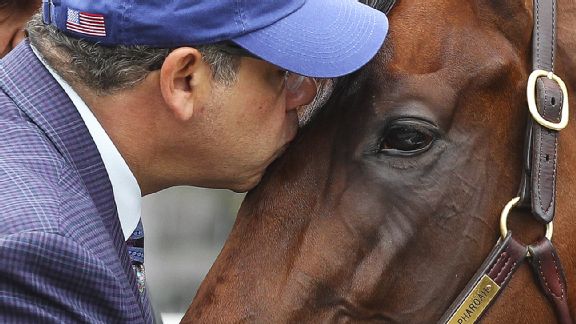 AP Photo/Peter MorganOwner Ahmed Zayat has a kiss for American Pharoah after the colt's Kentucky Derby victory.
In a sense, it's nothing new since, racing and television have had a rocky marriage. In the 1960s, like professional sports teams, racing was leery of television and its impact on attendance. But while pro sports changed their attitudes in the 1970s and 1980s, racing was late to the party. And when it finally woke up to the power of a television signal, it found limited demand for its product from the networks.
Even when high definition arrived, which seemed a perfect fit for a colorful event like racing, the sport did not look at the big picture. Instead of seeing the benefits of HD and the need to keep pace with pro sports, racing looked at the cost and put it on the back burner for another day in the future.
The industry's general opinion about HD a few years was best expressed by one racing executive who said an HD picture would not convince someone to bet more on a race. My response? While that was certainly correct for a longtime fan like myself, if racing wanted my children to become fans, it needed to embrace the same type of technology that they can see during an NFL or MLB game.
It's taken awhile, but Churchill Downs now has a 171-foot wide HD LED video board in its infield, and more and more of the major tracks are now adding HD signals. Hopefully the indelible HD images of American Pharoah will convince more of them to join the modern era.
As for social media, since there's no real cost for equipment, most of the major tracks have already embraced platforms like Twitter, Facebook and Instagram.
Unfortunately, the same cannot be said of the sport's top personalities. Of the top seven trainers in 2015 earnings as of Nov. 20, none of them has a Twitter account. That includes Bob Baffert, American Pharoah's Hall of Fame trainer.
Baffert, at least, is a natural in front of a camera and microphone, and his personality played a huge role in building a fan base for American Pharoah. Yet if not for the way the colt's owners, the Zayat family, embraced social media -- in particular Twitter -- the entire experience might not have been as exhilarating, satisfying and personal for so many people.
Through Twitter, both 53-year-old owner Ahmed Zayat and his son, 23-year-old Justin Zayat, reached out to American Pharoah's fans on a daily basis and conversed with them, letting them know what was happening with a horse that belonged to both the Zayats and the nation.
To understand the reach the Zayats had, consider that neither Ken McPeek nor Graham Motion, two of the industry's most digitally savvy trainers, have more 18,000 followers on Twitter. The New York Racing Association's Twitter account has less than 30,000 followers.
In contrast, for the last six months of American Pharoah's magical career, Ahmed Zayat reached out to a legion of followers that now is now 137,000 strong. Justin Zayat has about 49,000 followers.
Without question, winning the Triple Crown made American Pharoah an instant celebrity and a permanent part of racing history. Yet by interacting with fans so freely, his owners made the entire campaign a more satisfying experience for fans and sparked the kind of energy that led to some 15,000 people turning out at Saratoga just to watch the 12th Triple Crown champion gallop around the track during morning exercise.
Perhaps next year, someone will bid to become the 13th Triple Crown champion. But racing will be making a big mistake if it believes the chase alone will create the same -- or even greater -- amount of electricity without the help of connections who engage as freely with fans as American Pharoah's did.
Fans are going to expect access and interaction, and racing must deliver it. In a related note illustrating the rising role of social media in the industry, the Hong Kong Jockey Club has hired a team of 12 people with significant social media clout to attend next month's international meet and help publicize it to the world.
While a venture along those lines might be too ambitious for the average American racetrack, it surely reflects how important new forms of media have become for racing and how vital new technology can be -- with or without a Triple Crown winner.
There's no doubt the very nature of the 37-year Triple Crown drought made 2015 a year that will be recounted for decades and serve as a lasting example of how a dynamic superstar and a jettison of the outdated methods of operation can rejuvenate the sport.
November, 10, 2015
11/10/15
11:29
AM ET
This coming weekend, horses across the country will be competing in stakes races. New champions will be crowned in January.
In a few more months, talk about the 2016 Triple Crown will become louder and more prevalent as a new crop of stars takes center stage.
Racing will indeed go on without American Pharoah.
Yet after six fabulous and unforgettable months of watching him evolve from a reigning 2-year-old champion and the favorite to win the Kentucky Derby into the first horse to ever complete a "Grand Slam," racing was treated to a treasure chest of priceless memories that are certain to withstand the test of time.
As much as older fans have been reminiscing for decades about Secretariat's Belmont Stakes or Affirmed's epic battles with Alydar, a new generation now has its own Triple Crown winner and some spectacular moments involving him to celebrate and cherish. With festive enthusiasm, they can recount his crowning achievement, a decisive victory in the Belmont Stakes that ended a 37-year Triple Crown drought, or his final masterpiece, when he completed the "Grand Slam" in a manner befitting a once-in-a-generation champion, romping by 6 ½ lengths in the $5 million Breeders' Cup Classic in his final start before heading off to the breeding shed.
There was no shortage of compelling moments and they will be happily shared and re-lived or analyzed and debated for many years to come.
As with any Triple Crown champion, the Belmont Stakes will always be the race people will recall first whenever his name is mentioned. The Breeders' Cup Classic then raised the bar and gave the sport an achievement that will be inherently more difficult to capture than "merely" winning just the Kentucky Derby, Preakness and Belmont Stakes.
In a career that was a highlight film from his first win for Zayat Stables and trainer Bob Baffert through his last, it's those two races that will naturally be at the forefront of most sports fans' fond memories of the long-awaited 12th Triple Crown champion.
Yet for me, my thoughts of American Pharoah will center not on a race, but rather with a moment in time I had never seen before and most likely will not be a witness to ever again.
As my graying hair will attest, I've seen Triple Crown winners before. American Pharaoh's sweep marked the fourth I've been fortunate enough to watch. It produced the most frenzied celebration of the four, thanks to the 37-year drought and the deeply entrenched opinions that the feat had fallen into the realm of the impossible. After so many years of teases on the Triple Crown trail, the joyous response from the sold-out crowd of 90,000 was something to savor after so many years of teases during the Triple Crown chase.
The "Grand Slam" was a first, yet the Breeders' Cup Classic was indeed reminiscent of the inaugural Marlboro Cup in 1973, when Secretariat headlined the best field these eyes have ever seen and beat three future American and Canadian Hall of Famers as well as the upstart Onion, who had toppled him in the Whitney.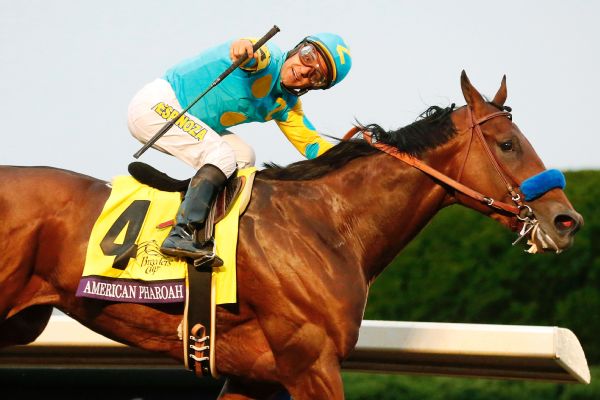 AP Photo/Brynn AndersonAmerican Pharoah rides into the history books as horse racing's first Grand Slam winner.
Yet I can say without hesitation that what happened on the morning of Aug. 28, 2015 at Saratoga was something I had never seen in 44 years of following horse racing, never expected to see and will no doubt never see again -- and it best expressed American Pharoah's magnetism and how much he meant to the sport and its fans.
Racing surely has its share of problems and ills, but if you have any appreciation at all for the sport, to be there at Saratoga Race Course, surrounded by at least 15,000 (and there was probably more) fans at 8:30 on a radiant August morning, you could not help but remember why you embraced the sport in the first place. With the seats in the grandstand and clubhouse as filled as they would be a day later for the $1.6 million Travers, a hallowed 152-year-old racetrack was absolutely electric with people pressed together, each there to simply watch a horse gallop around a racetrack.
It was an utterly amazing scene. Minutes before American Pharoah arrived, people were lined five or six deep behind seats at the finish line, trying to catch a glimpse of the track. In clubhouse boxes, where you would normally see some of the nation's most prominent business leaders, there were casually dressed parents and their young children, eyes affixed to the racetrack, all awaiting American Pharoah's arrival.
The large crowds that turned out for each appearance this year by owner Ahmed Zayat's 3-year-old star spoke volumes about his charisma. Yet that bond between a horse and its fans was taken to an unprecedented level when, at a time when they would normally be sleeping or heading off to work, droves of fans streamed into Saratoga just to watch American Pharoah gallop for about two and a half minutes.
As the Triple Crown winner circled the track, the crowd cheered as lustily as they would for races later in the day at the Spa and a legion of mobile devices recorded the colt's every fluid moment.
And then, when the champion colt left the track and walked back to his barn, the crowd happily departed, each knowing they could now say they had actually seen American Pharoah.
It was unforgettable. Not just for me, but for anyone who had a long association with the sport. There was nothing else that could compare to it.
"What happened was something I had never seen in my 30 years in racing," Martin Panza, the New York Racing Association's Senior Vice President for Racing Operations said about the turnout for American Pharoah's gallop. "That in and of itself is amazing."
Even some of NYRA's seasoned personalities marveled at what they saw.
"I think more people wanted to see American Pharoah than Secretariat," said Hall of Fame jockey Angel Cordero Jr., who dominated New York racing for decades before retiring in 1992. "After 37 years, they wanted to see what a Triple Crown winner looks like. There were more people here on [a Friday morning at Saratoga] to see American Pharoah than you'll see on any day at Aqueduct or Belmont Park."
Ironically, American Pharoah suffered his lone loss in three post-Triple Crown races when he finished second in the Travers and his connections believed the excitement of the Friday gallop drained the homebred colt and opened the door for the following day's loss. Nevertheless, a day after the Travers, Bob Baffert, American Pharoah's Hall of Fame trainer, said he was "overwhelmed" by what he had seen on that Friday morning. "It was pretty cool to see," he added. "It's amazing what [American Pharoah has] done for racing. I know my son Bode will remember that. It was something special."
It takes a race to make a champion, yet to fully comprehend what happened to the sport of Thoroughbred racing during the last six months, you only needed a Friday morning gallop at Saratoga.
It vividly told the story of American Pharoah, a horse who now belongs to history and left behind a legacy as robust as Secretariat, Seattle Slew and Affirmed.
And now, racing will indeed go on without him. Yet what he left behind during the last six months will not be forgotten anytime soon. After 37 years, there are finally some new memories to attach to a Triple Crown winner -- from what happened both in a few treasured afternoons and on a glorious Friday morning at Saratoga.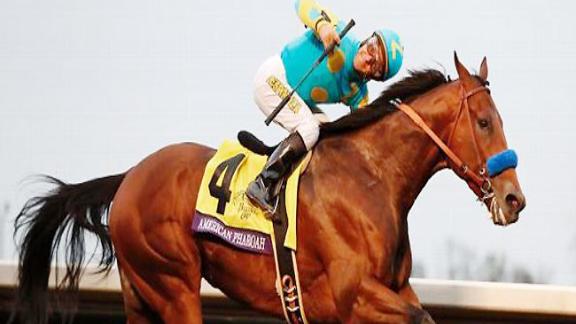 November, 1, 2015
11/01/15
11:14
AM ET
LEXINGTON, Ky. -- At some point soon, either the New York Mets or the Kansas City Royals will be popping bottles, spraying each other with champagne, and pretty much acting like they did when they were Little Leaguers.
Whenever and wherever that celebration takes place, it's unlikely it will be more emotional than the scene at Keeneland Race Course in Lexington, Kentucky, on Saturday afternoon when a New Jersey family came together in the warm glow of a national spotlight to rejoice.
For the crowd of 50,155 at Keeneland and those who watched on television or online, the focal point was the $5 million Breeders' Cup Classic and the very last race -- and victory -- by Triple Crown champion American Pharoah, who romped to a 6-1/2-length triumph in track-record time.
Yet for the majestic colt's owner, Ahmed Zayat, it was finally time to cherish along with his family a priceless six-month experience that turned him from a hard-luck runner-up in three editions of the Kentucky Derby into a man who for the rest of his life will be revered as "American Pharoah's owner."
That's what great horses can do for the people around them, and how they can bring about life-altering experiences that never leave the heart and soul of those touched by them.
"What can I say? What a horse! He is the most brilliant horse I have ever seen. We are so appreciative to have him and we owe American Pharoah everything. He is a once-in-a-lifetime horse," Zayat said. "This was an incredible thrill. It was so emotional. I didn't even see the final eighth [of a mile] because I had my eyes closed the whole time. It was so emotional."
What Zayat missed in that final furlong virtually mirrored what he saw during the first nine furlongs of Breeders' Cup Classic. With the scratches of Beholder and Smooth Roller from the original field of 10, there was no one among the remaining seven challengers willing or able to run with the lightning-quick American Pharoah in the mile and a quarter test. A quarter of a mile into the race, the Triple Crown champion had a clear lead and the only one with much of an interest in pursuing him was the overmatched 33-1 long shot Effinex, who wound up a distant second.
After that, Zayat's homebred champion never gave them a chance. Through quick but hardly withering fractions, American Pharoah ($3.40) cruised along and then with consummate ease pulled away in the stretch to open a five-length lead at the eighth pole and an even bigger margin at the finish line.
A Triple Crown champion and one of the sport's immortals before the starting gates opened at Keeneland, the curtain came down on American Pharoah's career and legacy as he became the first horse to sweep the newly coined "Grand Slam" of the Kentucky Derby, Preakness, Belmont Stakes and Breeders' Cup Classic.
The horse now belongs to history, and for Zayat and his family, like a championship sports team, it was time to celebrate one final victory with the same gusto as if it were a win in Game 7 of the World Series or a Super Bowl title.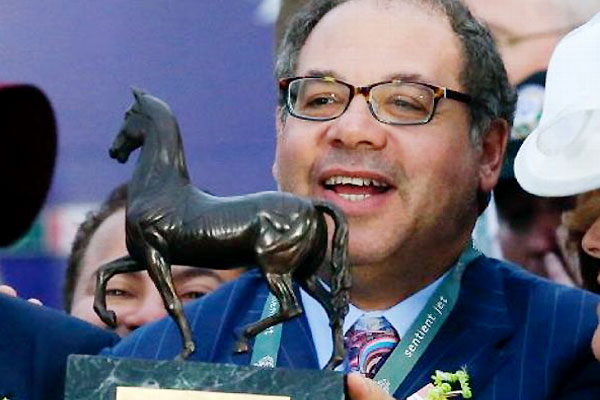 AP Photo/Brynn AndersonOwner Ahmed Zayat holds the Breeders' Cup Classic trophy after American Pharoah's win Saturday.
There was Zayat hugging his wife, Joanne, with a grin on his face. His children, Justin, the eldest son and racing manager for his father's Zayat Stables, Benjamin, Ashley and Emma were also jumping, pumping their fists and joining their father with a single index finger in the air as he proclaimed that American Pharoah was No. 1.
After hopping on the back of American Pharoah for nine wins in 11 starts, the ride of their life was at an end, and it was time to savor it for one last time.
"I think my father has become a more relaxed man through this whole experience. He's happier. The joy this horse has brought him is incredible," Justin Zayat said. "It's the same for all of us. We were always a close family, but this has brought us together even more. It's been a fabulous time."
So fabulous that who knows when it might happen again to anyone. It took 37 years for another Triple Crown champion to follow Affirmed and it could take that long, or perhaps even more, for racing's 13th Triple Crown winner to roll around.
It's that understanding of how such an extremely rare accomplishment unfolded before their very eyes, which explains why there was so much emotion wrapped into one final victory by a horse who earned $8.5 million in his career and is valued as a $20 million stud prospect.
"It was just very emotional," said trainer Bob Baffert, the 62-year-old Hall of Famer who polished off back-to-back wins in the BC Classic on Saturday. "I think this horse has brought so much to racing and it's been a privilege to train this horse. It's been a privilege to watch him train, to watch him breeze.
"But we have a responsibility now. Penny Chenery [Secretariat's owner] has been the biggest spokesperson for racing and to me Secretariat is still the greatest horse I've ever seen. Just to be mentioned in the same sentence with Penny Chenery and Secretariat is something I've never imagined would happen to me. That's why I still can't believe what we've done. This horse has really humbled me. He came around at the perfect time in my life."
And now for the Zayats and Baffert and his family, it's time to move on. The magical carpet ride that took them from Louisville to Baltimore to New York City to New Jersey and then to Saratoga finally ended in Lexington. Not with a shocking loss, which happened in the Travers in his previous start, but with one last majestic victory that re-affirmed his greatness and also left one final indelible image of him as a "Grand Slam" champion, gliding, with nary a challenger in sight, toward the finish line of a $5 million race -- and his legendary career.
"We are going to miss having American Pharoah in our life and I'm going to cherish every minute of it," Justin Zayat said, "but how can you go out any better [than] this?" How indeed?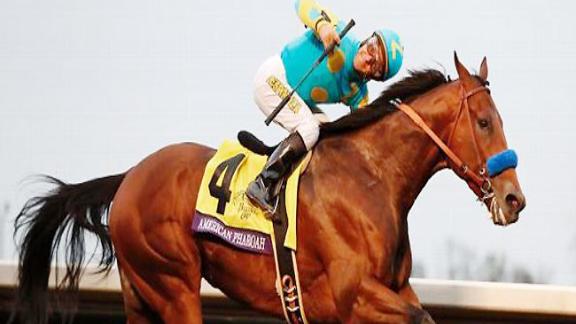 October, 30, 2015
10/30/15
10:06
PM ET
LEXINGTON, Ky. -- The first day of action at the Breeders' Cup is not usually the place you'll find a superstar colt.
It's almost always a filly or mare who steals the show in the $2 million Breeders' Cup Distaff.
Yet on the initial day of the first Breeders' Cup in the heart of the Kentucky breeding industry at Keeneland Race Course, it was a colt bound for a new career down the road at Lane's End Farm who created the biggest stir -- and debate.
Should he or shouldn't have he?
That was the pertinent question of the day, with the banter involving the Breeders' Cup Classic. Should his connections have put Liam's Map in Saturday's $5 million Breeders' Cup Classic, instead of Friday's $1 million Dirt Mile where he ran like one of the very best horses in the world amidst highly patriotic overtones?
The door to that debate was swung open by the way he very much resembled a horse good enough to be the main challenger for Triple Crown champion American Pharoah in the BC Classic -- especially in the early stages of the race.
Primarily known as a one-dimensional front-runner, Liam's Map got away from the gate poorly in the Dirt Mile and was fourth after the opening quarter-mile. Then he was checked slightly on the backstretch and lost some ground. Jockey Javier Castellano then had to swing wide on a track that was kind to speed and try to collar a horse named Lea, who was third in the $10 million Dubai World Cup in March.
Liam's Map overcame all of those issues and then some, drawing away to win by a 2 ½-length margin that easily could have been double that with a smooth trip.
"It was an amazing effort. Going into today he seemed to have brilliant speed and the ability to carry it over a distance of ground," trainer Todd Pletcher said after Liam's Map closed out his career with a record of six wins in eight career starts. "He has the high cruising speed. The thing he did today was he overcame adversity, so he took it to another level today."
Of course, could he have taken it to another level in the Classic, where he could have been the serious challenger on the front end that American Pharoah is lacking after the defection of Beholder?
Surely he had the credentials to run in the Classic as he lost by a neck to Honor Code in the mile-and-an-eighth Grade 1 Whitney at Saratoga, beating Tonalist by a length-and-a-half. In Saturday's BC Classic, Tonalist and Honor Code are the second and third choices behind American Pharoah in the revised morning line at 4-1 and 5-1, respectively.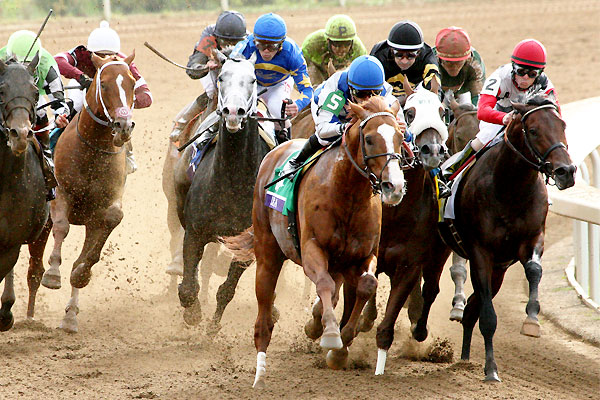 Keeneland PhotoJavier Castellano rides Liam's Map, behind No. 5, through traffic to victory in the Breeders' Cup Dirt Mile at Keeneland.
After winning the Grade 1 Woodward at Saratoga, again at a mile and an eighth, Liam's Map was entered in both the BC Classic and the Dirt Mile, and it was owner Teresa Viola's decision to opt for lesser competition in the Dirt Mile, where the colt was sent off as a huge 1-2 ($3) favorite, as opposed to the longer mile-and-a-quarter Classic, where he would have been anywhere from the second to fifth choice.
"I just think he was [either] a big fish in a little pond or a little fish in a big pond," Viola said, "and I knew he could do the mile. I just felt confident that he would win."
Viola's husband, Vincent, owner of the Florida Panthers, didn't argue.
"I felt it was his natural distance," Vincent said.
"I thought it was a good choice," added Terry Finley of West Point Thoroughbreds, who purchased a share of the 4-year-old colt this summer.
Yeah, but wasn't there the slightest tinge of regret about not seeing if Liam's Map could earn himself a place in racing lore by beating a Triple Crown champion?
"Regrets?" Pletcher, the seven-time Eclipse Award winner as the nation's top trainer, replied when the question was posed to him. "We just won a Breeders' Cup race. We're pretty happy."
That happiness was clearly seen in the emotional reactions by the Violas to their first Breeders' Cup as well as the special guest who was on hand to share it with them, sitting next to the Panthers' boss in an owner's box.
A graduate of the United States Military Academy at West Point, Vincent Viola permanently endowed the Combating Terrorism Center at West Point in the aftermath of the Sept. 11 attacks. The head of that center was Col. Liam Collins, who gave Viola a gift when he stepped down from that job to take a teaching position at West Point. He presented Viola with a silk survival map from Collins' days in Afghanistan during 2001.
Viola was so touched by the gift that he decided to attach the name of Liam's Map to an $800,000 Unbridled's Song colt he and his wife just bought.
Now that colt is a Breeders' Cup winner, and Vincent Viola could not have been more happy or proud, not just of himself, but for a multitude of others.
"This win is dedicated to every serviceman and servicewomen, especially the Special Forces," Vincent Viola said. "I wished today for every young boy who attends the races with his dad like I did, that they could share and experience these feelings that I am [feeling] today. I wish for that for every young American son and daughter, quite frankly. Every daughter and son."
Yes, it surely was an emotional day for the Violas and Col. Collins -- and they didn't even run Liam's Map in the BC Classic.
One can only imagine the emotions if they had.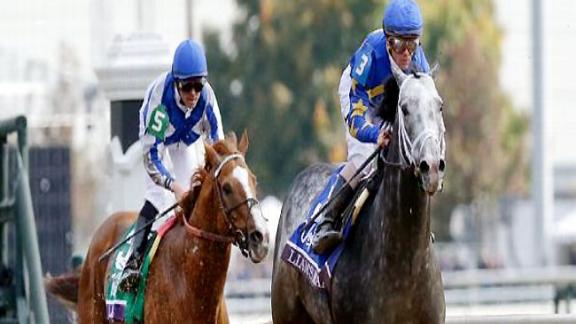 October, 28, 2015
10/28/15
6:17
PM ET
Anything can, and usually does, happen when the starting gates open in a horse race. Yet trainer Kiaran McLaughlin is pretty insistent that history not repeat itself with Frosted, especially with $5 million on the line.
"We will not be chasing American Pharoah as closely as we did in the Travers, for sure," McLaughlin said. "[Jockey Joel Rosario] will be third to sixth early on. We'll let someone else take on American Pharoah."
It's well documented what happened in late August at Saratoga, when the best laid plans of mice, men, horse trainers and rulers of Middle East countries went awry in the $1.6 million Travers Stakes.
Rosario was supposed to ride Godolphin Racing's Frosted, seeking to avenge a runner-up finish to the Zayat Stables star in the horses' last meeting, which came during American Pharoah's coronation as the first Triple Crown champion in 37 years at the Belmont Stakes.
Only Rosario never made it to the starting gate for the Travers. He was injured during a fall in a race on the Travers undercard, and McLaughlin had to bring in Jose Lezcano to handle the reins on Frosted.
An aggressive rider, Lezcano is a perfect fit for another of Sheikh Mohammed bin Rashid Al Maktoum's horses, the speedy Wedding Toast. That front-running McLaughlin-trained mare is a 4-1 morning line favorite in the $2 million Distaff, the centerpiece of Friday's opening day of Breeders' Cup action at Keeneland Race Course.
But on Frosted, Lezcano made a controversial decision to go all Fast and Furious on American Pharoah, hooking the lightning-quick 12th Triple Crown winner in the early furlongs instead of stalking him as Rosario had done in the past.
To a degree it worked as American Pharoah tired in the final sixteenth and finished second. Yet as much as Lezcano and Frosted helped make the race, they didn't win the race. Frosted, exhausted from the challenge of keeping step with Zayat's fleet-footed 3-year-old, fell back at the top of the stretch and wound up third behind the opportunistic Keen Ice.
"Who knows what might have happened that day if Joel had been aboard," McLaughlin said.
As drained as Frosted should have been after the mile-and-a-quarter Travers, it was what happened three weeks later in the Keystone State that adds even more intrigue to their rematch on Saturday at Keeneland Race Course.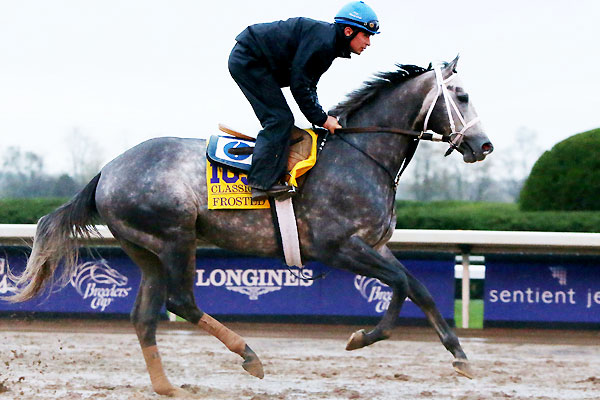 Keeneland PhotoJockey Joel Rosario will be back aboard Frosted for trainer Kiaran McLaughlin in Saturday's Classic.
Reunited with Rosario, Frosted cruised to a surprisingly easy two-length victory in the $1 million Pennsylvania Derby, making him a major player in Saturday's epic tussle with not just American Pharoah, but older rivals such as Honor Code, Tonalist and the two-time Breeders' Cup-winning mare Beholder as well.
"He ran hard in the Travers and most horsemen would have thought that would take something out of him because he ran with American Pharoah for about a mile and an eighth of the mile and a quarter, but he came out of race almost better than he went into of it," McLaughlin said. "He was eating every bit of food afterwards and looking good and happy, so that's why we ran back in three weeks at the Pennsylvania Derby and he ran huge that day. He came out of that race outstanding, so it seems like he's getting better and better at the right time."
The oddsmakers don't think much of Frosted, who is now 0-for-3 in three meetings with the Bob Baffert-trained rock star who will try to complete a "Grand Slam" by winning the $5 million BC Classic (Frosted was fourth in the Kentucky Derby). He's 15-1 on the morning line, a notch above Keen Ice who is 12-1.
The European 3-year-old Gleneagles, a European champion racing on dirt for the first time, is 20-1. It's the older horses who are being painted as the main rivals for American Pharoah, but McLaughlin believes no one should sleep on the sophomores that chased the champion on the Triple Crown trail and are still standing tall in the fall.
"It seems like every year around September people start saying, 'Aw, these 3-year-olds are not that good. They're an ordinary bunch.' But I haven't heard that much at all this year, though I guess it's hard to say that with a Triple Crown winner out there,"
McLaughlin said. "But the 3-year-olds seem to be stacking up well with the older horses. It's exciting to have a top 3-year-old and I hope he's a top 4-year-old next year."
One of the more popular figures around any racetrack, the 54-year-old McLaughlin has won the admiration of many for rising to the top of his profession while battling multiple sclerosis since 1998. He's never allowed neither that hideous disease nor the daily injections he's forced to take to conquer him, and now he stands in a position where he has a solid chance to match Hall of Famer trainer Bill Mott's 2011 feat of winning both the BC Distaff and Classic in the same year.
It won't be easy, but as long as his plans do not once again fall by the wayside when the starting gates open, it's at least an intriguing possibility.
October, 26, 2015
10/26/15
12:10
PM ET
Trainer Christophe Clement was delighted to see an old friend earlier this month. It was a gray, soggy day at Belmont Park, but that could not dampen Clement's spirits as, for a second year in a row, he stood beaming in the winner's circle alongside Tonalist after the $1 million Jockey Club Gold Cup.
After a frustrating period in which Tonalist ran well but not well enough to win some of the summer's biggest races, a streak of three straight losses came screeching to a halt with a strong performance that was a reminder of why the 4-year-old entered 2015 as one of the year's top horses. Last year's Belmont Stakes and JCGC winner took charge in the stretch and pulled away to a decisive 4¾-length win on a sloppy track.
"People forgot about him," Clement said, "but I didn't forget about him."
This weekend, Clement hopes Tonalist will reintroduce himself on one of the sport's biggest stages when he takes on American Pharoah, Beholder and Honor Code, just to name a few, in Saturday's $5 million Breeders' Cup Classic at Keeneland Racecourse.
It's a supreme challenge for any horse, but on his best day Tonalist has showed that he can run with the best horses in the nation. Beating them is a different story, especially away from Belmont Park.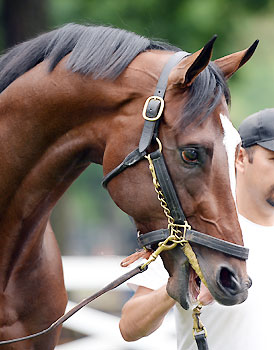 NYRA/Adam CoglianeseTonalist will be tested against a strong field in the Breeders' Cup Classic at Keeneland.
For all of the talent in Tonalist, he has been one of racing's biggest riddles. A Superman at Belmont Park, where he has notched all five of his stakes wins, he has been Clark Kent at tracks like Saratoga, where he was third in the Travers and second in the Jim Dandy, and Santa Anita, where he was fifth in last year's Breeders' Cup Classic. The malaise even carried over to his beloved Belmont Park this year. After winning the Grade 3 Westchester at Belmont in May, he finished second by 3¾ lengths to Honor Code in the Grade 1 Metropolitan Handicap. Then, after trailing by as much as 13 lengths and getting an indecisive ride from jockey John Velazquez, he was second by a head in the Grade 2 Suburban at Belmont.
Next came the Whitney at Saratoga, where Tonalist was 18 lengths off the pace and had to settle for third, 1¾ lengths behind the victorious Honor Code and the pacesetting Liam's Map.
It looked like the game was starting to pass Tonalist by, but then Velazquez began keeping him closer to the pace (he trailed by no more than 7½ lengths at any call) and guided the son of Tapit to an easy victory in the Jockey Club Gold Cup at the same mile-and-a-quarter distance as the BC Classic. All of the sudden Clement could show his colt still has what it takes to thrive in one of the nation's most famous races.
"If you believe in speed figures, this horse has been running very good races all year long," Clement said. "He's been running similar all year long, very consistent. I've never been disappointed with him."
Of course, the Jockey Club Gold Cup was at Belmont Park, and now Tonalist has to pack his bags and head to Kentucky to face the sport's first Triple Crown winner in 37 years. The venue will no doubt cause some handicappers to ignore him, but Clement believes his horse does not have to carry his racetrack with him in order to win a major Grade 1 stakes.
"I don't think the track is a big deal for him," Clement said. "Keeneland is a smaller track than Belmont, so he probably needs to be closer to the pace than he might be at Belmont with the bigger turns. But we know he can do that and his speed figures at Saratoga [for Whitney] were about the same as they were at Belmont [for the JC Gold Cup]. I think he's good enough to handle it [at Keeneland]."
Handling the track, handling American Pharoah, Beholder and Honor Code, it's all part of the tremendous challenge that Tonalist will face on Saturday in the Breeders' Cup Classic. A few months ago, it would have been laughable to think he could do it.
But after revisiting the good old days in the Jockey Club Gold Cup, perhaps Tonalist is finally ready to take his show on the road and shine as brightly in Lexington, Kentucky, as he usually does in Elmont, New York.
At the very least, no one should forget about him.