It's a long road from November to May
December, 1, 2013
12/01/13
11:30
PM ET
The calendar says there are 154 days between this past Saturday and May 3. A calculator can convert that span of time into 3,696 hours, if anyone wants to be more specific.
Yet as close or far as that may seem, the distance between Saturdays Remsen Stakes at Aqueduct and the Kentucky Derby might just as well be several light years for a graded stakes-winning juvenile.
Looking over the roster of Remsen victors, Thunder Gulch in 1994 was the last winner of the Grade 2 stakes who developed into a Kentucky Derby champ. He is also one of only two Remsen winners since then to hit the board in the Run for the Roses.
The Breeders Cup Juvenile, as much as it almost always crowns a 2-year-old champion, has also been a fountain of misinformation as far as Triple Crown form goes. Held this year on Nov. 2, only one of its 29 winners (Street Sense in 2007) has also won the Kentucky Derby.
Together, the last 58 winners of the BC Juvenile and Remsen have accounted for just three wins in the Kentucky Derby.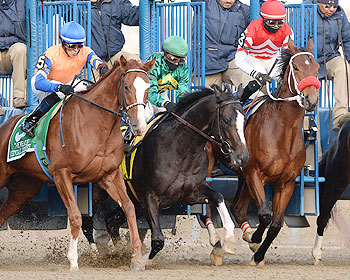 NYRA/Adam CoglianeseHonor Code, center, recovered from a bad start to win the Remsen Stakes for trainer Shug McGaughey.
With that framework of futility in the background, Honor Code became the latest horse to win the Remsen and generate that usually misleading November buzz as a Triple Crown contender. Recent history may not bode well for him, yet streaks do not last forever and on Saturday Honor Code looked like a 2-year-old with a bright future in front of him.
It wasnt merely his presence in the winners circle after the 100th edition of the Remsen that opened eyes. His odds on the tote board, a miniscule 3-5, vividly painted him as the horse to beat in the two-turn stakes.
What left a lasting image was the scene in mid-stretch when Cairo Prince, the 8-5 second choice, edged past Honor Code and appeared headed to victory. Thats when Honor Code displayed the type of determination that in 154 days might ultimately separate him from completely forgettable Remsen winners like OPrado Again, Buddys Saint and Old Fashioned. The 2-year-old ridgling battled back and in the final stride put his nose on the wire inches ahead of Cairo Prince.
I thought he got beat, winning trainer Shug McGaughey said. For him to come back like that, he showed a lot of guts. We skipped the Breeders Cup to give him a chance to be a better 3-year-old and hes come a long way so far … Were delighted at where we are.
The dramatic finish seemed an unlikely outcome for a race McGaughey labeled as peculiar. The early fractions resembled trotting horse splits as 33-1 longshot Master Lightning jogged through a 52.74 half-mile and a ridiculously slow 1:17.56 three-quarters of a mile. Honor Code, who rallied from the back of the pack in his two previous starts (a maiden win and a runner-up finish in the Grade 1 Champagne) showed a new dimension in pressing the leader.
He put away Master Lightning leaving the quarter pole, then was quickly joined by Nashua Stakes winner Cairo Prince in a stirring duel to the finish as they covered the mile and an eighth in 1:52.92.
Today, he proved a lot. He's a special horse, said Javier Castellano, who rode Honor Code for owners Lanes End Racing and Dell Ridge Farm.
Cairo Prince, too, enhanced his reputation in defeat.
That was a tough beat. The winner is a good horse, but that was a tough one. I thought we had it won, his trainer, Kiaran McLaughlin said.
Both horses certainly looked like Triple Crown material -- in November. Honor Code may have emerged as the 10-1 favorite among the 23 individual wagering choices as the first round of future betting on the 2014 Kentucky Derby concluded on Saturday, but that impression can change dramatically as the first Saturday in May grows closer.
Theres no better indication of that than the 4-5 odds on the mutuel field in the Derby future wager, a grouping which includes every other 2-year-old except the 23 individual choices -- horses like Honor Code, BC Juvenile winner New Years Day (15-1) and Cairo Prince (26-1). The clear message is that November results often become meaningless once flowers, such as roses, begin to bloom in the spring.
Just ask McGaughey. He came into this year as a Hall of Fame trainer and on the first Saturday in May he upgraded that tag to Hall of Fame and Kentucky Derby-winning trainer as Orb provided him with his long-awaited first win in the Run for the Roses.
A year ago at this time, Orb was coming off a maiden win -- his first in four career starts. In the ensuing months he blossomed while November stars like BC Juvenile winner and 2-year-old champ Shanghai Bobby and Remsen winner Overanalyze were no factors in the Triple Crown.
Orb made so much progress from January to May 4 [Derby Day], said McGaughey, who clearly has the date of his initial Derby win stamped in his memory. Thats what made the difference and [Honor Code] also has to progress over the winter. Orb improved by leaps and bounds and while Honor Code does not have to make leaps and bounds that big he still has to improve from two to three.
Honor Codes agenda for next year hasnt been finalized but McGaughey said the son of A.P. Indy will be stabled at Payson Park in Florida and probably will target the Fountain of Youth and Florida Derby at nearby Gulfstream Park -- the same two races Orb captured before his big day at Churchill Downs.
Its a reasonable notion that Honor Code can duplicate Orbs heroics. The talent is surely there, but keep in mind only time will tell.
Make that a lot of time, even if it is only a mere 221,760 minutes away.