Racing's knight in shining chrome armor
May, 3, 2014
05/03/14
11:38
PM ET
A day after the poster boy for the sport's ills stood center stage at Churchill Downs, Thoroughbred racing enjoyed a perfect afternoon on a golden first Saturday in May.
In front of 164,906, the second-largest crowd in the 140-year history of the Kentucky Derby, the underdog from birth who has majestically blossomed into a rock star gave the sport the uplifting story it has coveted for months.
California Chrome, the champion of the spring preps with the 77-year-old trainer who lives in a retirement home, who is stabled at little-known Los Alamitos and has an owner whose confidence knows no boundaries, provided a grand feel-good tale in winning the $2 million Kentucky Derby as a 5-2 favorite over a late-charging Commanding Curve and Danza.
Now, instead of having trainer Steve Asmussen and PETA's allegations that he mistreated his horses own the winner's circle like it did a day earlier after Untapable's Kentucky Oaks win, racing has a colt out of an obscure California sire who now owns the lone chance of ending an intolerable 36-year Triple Crown drought -- and who also happens to be hard to root against.
Really, what's not to like about him? He has silks with a jackass on jockey Victor Espinoza's back, and that's the lasting image of what his beaten rivals have seen at the finish in his past five races: that jackass.
He also wins with a flair. He cruises just off the leaders, surges past them at the top of the stretch and then stylishly draws off to an easy victory.
California Chrome followed that script in taking the Santa Anita Derby by 5 ¼ lengths to stamp himself as the favorite for the Run for the Roses. Yet the Kentucky Derby was supposed to be tougher, with him having to face 20 horses, an extra furlong and a matchup against best horses of his generation in which one misstep could lead to an ugly defeat.
"Sometimes you don't get a lot of respect," his trainer, Art Sherman, said after saddling the first Kentucky Derby starter of his long career.
It turned out to be just as simple.
On the backstretch, he was perfectly positioned in third as long shots Uncle Sigh and Chitu dueled for the lead inside of him. Leaving the quarter pole, he surged to the front and kicked into high gear at the three-sixteenths pole and motored to a clear lead of five lengths at the eighth pole.
Runner-up Commanding Curve and Danza took a run at him in that final furlong and cut into the margin some, though in the final yards Espinoza stopped riding him and started celebrating after looking back and seeing that no one was in harm's way between him and the finish line.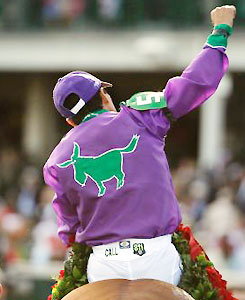 AP Photo/David GoldmanVictor Espinoza's rivals got a good look at the back of his silks in the stretch run of Saturday's Kentucky Derby.
"Just awesome. I'm breathless," said Sherman, who at 77 entered the record book as the oldest trainer to ever win the Derby. "This is so cool. I think I rode the horse with Victor the last 70 yards. It was a picture-perfect ride. He was right where he should have been all the way around. Coming down the stretch, I was thinking: 'Keep rollin', big boy. Keep rollin.' This has to be the sweetest moment of my life. To be my age and have something like this happen, what can you say? For all my friends in California, this is for you. We did it!"
The final margin was a length and three-quarters, which was sufficient, and the time for the mile and a quarter was 2:03.66, which was mediocre.
Yet as ordinary as that time might have been, it was faster than anyone else in the field of 19 was able to run -- and on Saturday, that's all that really mattered.
Now they'll try again to catch him at the Preakness, which is shorter than the Derby and should suit California Chrome more than Churchill Downs.
And should he serve up an encore in Baltimore, he'll bring a level of excitement to Belmont Park that the historic track has not seen since 2008, when Big Brown flopped in the most recent bid for Triple Crown immortality.
Talk at this point of the Belmont Stakes is surely premature, but for the colt's free-talking co-owner Steven Coburn, there's no uncertainty about what will happen at Pimlico in two weeks and Belmont Park in five weeks. The way he sees it, the first California-bred to win the Derby since 1962 will soon become the first Triple Crown winner since 1978.
"Well, you know, I said this horse would win the Kentucky Derby," said Coburn who celebrated a rather unforgettable 61st birthday on Saturday. "I said, 'When this horse wins the Kentucky Derby,' I said, 'I believe this horse will win the Triple Crown.' If I shed a tear, just bear with me. This colt was born on my sister Brenda's birthday. She died of cancer at age 36. It will be 36 years this year since there's been a Triple Crown winner. I told people this colt will go down in history. When he wins the Triple Crown, he will be the first California-bred to ever win a Triple Crown. That's where we're going.
"This colt is going to fly first class, but my wife and I will probably fly coach again."
In a sport filled with financial giants, Coburn and his partner, Perry Martin, are indeed coach type of guys. They race under the self-depreciating banner of DAP racing, which stands for Dumb Ass Partners. Yet when an offer of $6 million came in for a 51 percent share of their homebred colt, these "dummies" had no problem declining it.
"Yes, we were offered $6 million for 51 percent of this horse's controlling interest," Coburn said. "It would mean they were running under their colors, gone to a new trainer, we would have been out in the background. Probably would have moved him out of Los Alamitos, California, which he loves.
"It wasn't tough for us to say no. We knew within our souls what kind of horse we had, because we've seen him grow up. We've seen him achieve these things. We've seen him get hit across the nose and still lose the race by only two lengths. We've seen him jump the gate and still lose the race by only two lengths. He had all that heart. We knew we had something special, like I said, from day one."
Yes, they do indeed have something special.
As does racing.
Given the nature of the sport, that could all change in a couple of weeks. But for now, after an awkward start to its biggest weekend, horse racing finally has a new hero to lift it out of its doldrums.
Just call him a knight in shining chrome armor.