Triple Crown lessons from the past
June, 2, 2014
06/02/14
3:34
PM ET
To better understand what will come into play this week in the $1.5 million Belmont Stakes, there's a passage from a magazine story that offers some insight from an unexpected source.
It read in part:
"And so, once more, there is no Triple Crown winner, which, depending on how one looks at such matters, may or may not be good for racing. Winning it is not going to be any easier in the future. When Sir Barton became the first ... to accomplish the feat in 1919, he was one of but 2,128 foals in 1916. Citation was one of 5,819 foals of 1945 ..."
Without providing additional sentences that would give away its time frame, what's a reasonable guess as to when that was written?
Five years ago? Fifteen? Twenty?
Try 45 years ago.
That passage was taken from a Sports Illustrated story written by Whitney Tower after Arts and Letters won the 1969 Belmont and ended Majestic Prince's quest to become the first Triple Crown winner in 21 years.
Yes, even back at a time when Richard Nixon was in the White House, Joe Namath and the Jets were on top of the football world, and no one knew just how Amazin' the New York Mets would become, there was concern that a Triple Crown sweep was exceedingly difficult.
These days the challenge may be even more formidable with a foal crop that exceeded 25,000 in 2011 and a Triple Crown drought that stands at 36 years -- a period in which 12 horses have won the first two legs of the series but not the third.
On Saturday, it will be California Chrome's turn to dance with destiny and attempt to become the 12th Triple Crown winner and first since Affirmed in 1978 by adding the Belmont Stakes to his résumé.
There surely will be considerable, perhaps overwhelming, support for him, yet there also will be a faction that expects the inevitable. They have become hardened by the disappointment of more than three decades of teases as something always seems to go wrong, even when horses like Big Brown in 2008 and Smarty Jones in 2004 appeared to be mortal locks. Both were sent off in the Belmont at minuscule odds that dropped below 2-5 and while Smarty Jones had to settle for a respectable second, Big Brown didn't even finish the race.
Welcome to the Heartbreak Hotel, aka. the Triple Crown.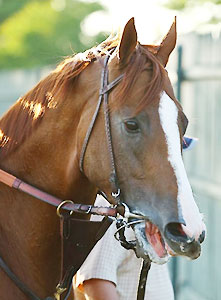 Al Bello/Getty ImagesWill California Chrome become a Triple Crown winner like Seattle Slew?

Now comes California Chrome, winner of his past six races and perhaps the one who can restore faith in the notion that the Triple Crown is difficult, rather than impossible, and in dire need of an overhaul.

It won't be easy for him to fend off well-rested rivals like Commanding Curve and Wicked Strong, a fresh face in Tonalist and a pesky foe from the opening two legs in Ride On Curlin. Yet this year, the past offers hope.

Four years after Tower wrote those words, Secretariat ended the drought at 25 years. Four years after that, Seattle Slew completed the sweep and the year after that, Affirmed did likewise. The feat was shown to be difficult in any era, but not impossible.

In the days before the 1979 Belmont, when Spectacular Bid seemed poised to become the fourth horse in six years to join the fraternity of greatness, the quest actually seemed too easy rather than too hard.

That's a laughable concept these days, but as Saturday approaches, California Chrome has the look of a horse with an exceptional chance to join the best of the best.

He's not as dominant or brilliant as Secretariat. He has yet to be put in a position where his grit could be tested like Affirmed's mettle was by Alydar.

He does, though, have the feel of Seattle Slew. Both won the first two legs of the Triple Crown convincingly but without the flair for drama and electricity Secretariat and Affirmed gave us. They each won the first two classics by a length-and-a-half and a length-and-three-quarters, though in different races.

Though undefeated when he completed the sweep, Seattle Slew was not embraced like Secretariat because he did not face a foe as formidable as Sham, and Big Red's dominance of older horses later in 1973 had placed him on the highest of pedestals.

Seattle Slew was originally viewed as an extremely gifted runner who had little in the way of competition during his sweep of the Derby, Preakness and Belmont Stakes. When your main antagonist is Run Dusty Run and others in the chase are Sanhedrin and Iron Constitution, comparisons with the mighty Secretariat or even Citation have a hollow ring to them.

Even in his first defeat, Seattle Slew lost to J.O. Tobin, who proved to be no match for Alydar, not even Affirmed, in the 1978 Whitney Handicap.

It wasn't until Seattle Slew's 4-year-old campaign, when he beat Affirmed twice and lost by a nose in a heroic effort in the Jockey Club Gold Cup, that the proper respect was bestowed on him.

California Chrome may also be the beneficiary of a weak and injury-riddled crop. In his past three wins, the runners-up have been a horse that was sidelined for the entire Triple Crown (Hoppertunity in the Santa Anita Derby); a 37-1 shot (Commanding Curve in the Derby); and the seventh-place finisher in the Kentucky Derby (Ride On Curlin in the Preakness). That's a group with Run Dusty Run written all over it.

Yet at this moment all that matters is who will face California Chrome in the starting gate on Saturday. Is there someone in the field good enough to beat him? At this point, the answer is no, and even fatigue may not be enough to hold him back as we learned from Seattle Slew, who won by the largest margin of the three jewels -- four lengths -- in the most grueling test of the series.

Facing the prospect of a modest pace and judging by his sharp recent works, California Chrome just might be ready to emulate Seattle Slew and win more easily than he did at Churchill Downs and Pimlico against a group who may need much more than extra rest to catch him.

He's the best of a suspect group going into the Belmont and he may exit it an immortal, which, all in all, is quite fair. No one called Miguel Cabrera's American League Triple Crown in 2012 tainted because of a wrist injury to Jose Bautista. You can only beat who shows up, and on Saturday, those who assemble to tackle California Chrome will have their work cut out for them, in spite of that gut feeling history may give us.

After one trip around Belmont Park's main track in front of more than 100,000 people, we may learn that there's a Birdstone or Lemon Drop Kid or Sarava ready to spring an upset like Arts and Letters did in 1969.

Or we'll find that in the midst of mediocrity, there is one blindingly bright light, just as there was in 1977.

All things being equal, that's surely the better hope.