If California Chrome can win Saturday's $1.5 million Belmont Stakes, it will make him part of racing's most exclusive fraternity.
He will share the bond of being one of only 12 horses to sweep the Triple Crown, yet there will be something unique about him.
Each member of the current slate of 11 -- from Sir Barton in 1919 to Affirmed in 1978 -- had raced at Belmont Park prior to running in the Belmont Stakes.
California Chrome, as his name would indicate, has the Golden State stamped all over him. He was born and bred in California. His first eight races were in the state and he currently trains there at Los Alamitos, a track more commonly associated with quarter horses and $8,500 purses than the world's most accomplished racehorses.
Being new to the surroundings did not seem to bother California Chrome when he won the Kentucky Derby at Churchill Downs and the Preakness at Pimlico rather handily. But in taking their last stand against him in the three-race series, some rival Triple Crown trainers are hoping that home-court advantage over a racing strip known as "Big Sandy" may give their horses the edge they need to upset the 3-5 favorite in the demanding mile-and-a-half Belmont.
"I think it's important to have a race over the track here," said Rick Violette, the trainer of Samraat, a 20-1 shot who landed Post 7 in the field of 11 at Wednesday's post position draw. "Historically there's never been a Triple Crown winner that hasn't run over this racetrack before. Sometimes that's just numbers, sometimes that's a real thing. There's no downside to having a race over the track."
California Chrome, who will break from Post 2, arrived at Belmont from Pimlico on May 20 and has trained superbly. Yet Violette warns training and racing over a track are two distinctly different tasks and there's no telling how the Derby and Preakness winner will find the footing on Saturday when jockey Victor Espinoza asks for a burst of speed.
"You don't know until they run," Violette said. "Sometimes horses spin their wheels on it, even horses who train well on it. Most times when you're training, you're not asking them for their best efforts. There's always a little bit of one foot on the brake. Horses handle surfaces that they hate when they're on the bridle and cruising [in a workout] and you really won't find out until they're off the bridle and you're asking them if they can handle it. [California Chrome's connections] will find out on Saturday [if he can handle it] along with the rest of us."
Aside from the evidence contained in the 11 Triple Crown winners, the value of racing at Belmont Park is reflected in recent results. Three of the past four Belmont winners, and 10 of the past 16, had raced at the Elmont, New York, track previously.
In some cases, that has been a start or two as a 2-year-old, such as Samraat, Ride On Curlin and Wicked Strong, with none of them finishing worse than third in those starts.
Others have used the Peter Pan, Belmont's traditional prep for the Test of the Champion, as a springboard to success in the main event. Drosselmeyer (2010) and Lemon Drop Kid (1999) are the most recent Belmont winners to follow that path to the winner's circle, though neither won the Peter Pan.
On Saturday, Peter Pan finishers Tonalist (first), Commissioner (second) and Matterhorn (fourth) will try to grow up into a classic winner and spoil a Triple Crown dream.
Tonalist was the most impressive of the trio, winning by four lengths over a sloppy track in his first stakes appearance. Whether he can run as effectively on a dry track is a question mark, yet racing and training at Belmont would seem to only help the cause of the 8-1 third choice who drew Post 11.
"As a trainer you always feel good when you have a race over the track," said Christophe Clement, who trains Tonalist. "There's no question that Tonalist is fit."
Wicked Strong, the 6-1 second choice from Post 9, also owns a win at Belmont, which came after a runner-up finish in his career debut, another race that took place at Belmont. Fourth in the Derby despite traffic problems in the stretch, Wicked Strong has trained brilliantly at Belmont during the five weeks since he finished 5¾ lengths behind California Chrome in Louisville.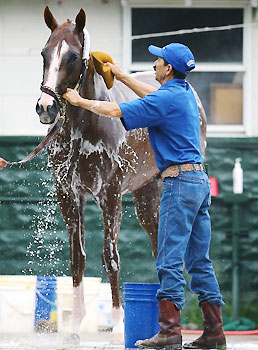 Al Bello/Getty ImagesThe slate will be clean for California Chrome and his 10 rivals in Saturday's Belmont Stakes. Belmont Park is wholly different from the other two Triple Crown jewels.
Trainer Jimmy Jerkens is hopeful what he has seen in recent weeks and in those two starts last fall are indicative of how Wicked Strong will handle the conditions Saturday.
"He seems to like the New York tracks with their consistency," Jerkens said during a teleconference last week. "He seems to bounce off the New York tracks a little better than he did in Kentucky."
He also has a short walk from the stall he calls home to the racetrack, and in that comfort level there's a chance, at least in Violette's eyes, that it might one day be recalled alongside a safety pin, fast pace and mistimed move as a reason why a Triple Crown bid went awry.
"Being here makes it easier to try," said Violette, whose horse finished fifth in the Derby. "We get to stay home. He can sleep in his own stall. It's a racetrack he's won over. If we had to go cross-country to run in this race, I don't know if we would have.
"Home court seems to work in a lot of cases, except if you're the New York Mets. They're the only ones who don't want to be home."
Of course, Violette and company are not facing a sub-.500 baseball team, but a horse with six straight stakes wins -- two of them in the Triple Crown -- who might be worth more than the Mets' 2014 payroll if he can beat his 10 rivals to the finish line Saturday. Perhaps that's why, for the home team, latching on to even the smallest glimmer of hope makes all the sense in the world.
"He has tough shoes to fill," Violette said. "If California Chrome is a great horse, we're all racing for second money. If he's a very good horse, then I think he can be beat."
California Chrome vulnerable? Perhaps. It is, after all, a road game for him.
Here's my exacta: California Chrome over Wicked Strong.
Thirty-six years is long enough. Had him in the Derby and Preakness and can't get off the bandwagon now. Wicked Strong is clearly the one to fear off his late kick and the way he's raced and trained at Belmont.