Another Jerkens takes aim at a giant
June, 6, 2014
06/06/14
11:24
AM ET
If there's anyone connected with the $1.5 million Belmont Stakes who has a pedigree to stop California Chrome, it's Jimmy Jerkens, trainer of Wicked Strong.
Jerkens is the son of "The Giant Killer," H. Allen Jerkens himself, who in 1975 became the youngest trainer to enter racing's Hall of Fame. The very same man who beat Secretariat with Onion and Prove Out, upended Kelso three times with Purple Beau, and stunned Buckpasser with Handsome Boy.
Yet for the seemingly endless list of Allen Jerkens' accomplishments, "The Giant Killer" never did what his son may very well do on Saturday. Eighty-five year-old Allen Jerkens has yet to win a Triple Crown race, and if 55-year-old Jimmy notches his first one on Saturday with Wicked Strong, it will rival some of his dad's most famous work.
Wicked Strong is the 6-1 second choice on the morning line in the Belmont Stakes and rates as the most logical choice to thwart California Chrome's bid to become the 12th Triple Crown champion.
Wicked Strong was the 6-1 second choice in the Kentucky Derby off an impressive win in the Wood Memorial at Aqueduct, but ran into giant-sized problems during the mile-and-a-quarter race. Breaking from the far outside post in a field of 19, he stumbled at the start and raced wide on the first turn. Then he was cut off a couple of times in the stretch. He wound up fourth, 5¾ lengths behind California Chrome, and comments that he could have been closer with a better trip were anything but sour grapes.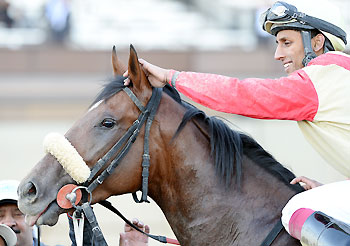 NYRA/Adam CoglianeseCan trainer Jimmy Jerkens crash the Triple Crown party with Wicked Strong in the Belmont Stakes?
"I thought he ran very well to be fourth [in the Kentucky Derby]," Jimmy Jerkens said, "but at the same time, I really can't say if he ran as good as he did in the Wood, either. But we're really happy with how he's training and we expect a big effort out of him [in the Belmont].
"He seems to like the New York tracks with their consistency. He seems to bounce off the New York tracks a little better than he did in Kentucky."
Last week, in assessing what it would take to defeat California Chrome, the son of "The Giant Killer" said it would basically take someone running "the race of their life, and California Chrome will have to throw in a clunker."
Jerkens has no control over the second part of that equation, but he seems to have Wicked Strong headed toward a peak performance.
With the benefit of five weeks of rest -- which has been the ticket to victory in eight of the last 11 editions of the Belmont -- the temperamental Centennial Farm colt has seemingly blossomed since returning to Belmont Park, his home track and the place where he recorded his maiden win last fall.
"He's grown up and learned to handle things, and I really think he's headed in the right direction," Jimmy said.
Wicked Strong impressed clockers with a mile work in 1:39⅖ on May 25, and then was equally sensational in a 59-second drill on June 1.
"He was well off the fence and looked like he was just galloping," Jimmy said of the June 1 workout. "He broke off nice and easy, and [2013 Belmont winner] Palace Malice was working ahead of him, and when he went into that turn he looked like he saw him and he took off. I was watching that and put my hand up because most of the time you like them to run horses down, but I think that might have been a little too much, trying to catch Palace Malice. By the time he got to the wire it would have been at 57 flat or something. I didn't really think he needed that.
"But then he kept going as a surprise. The final time was fast and he galloped out nice. He wanted to keep galloping out. I told him to gallop out about an eighth of a mile further and ease him back, and he did it perfect."
A perfect trip on Saturday could spoil the Triple Crown dreams of a Derby and Preakness winner for the 13th time since Affirmed's 1978 sweep, but it would supply a feel-good story for folks in Boston.
Centennial Farm owner Don Little Jr. is a lifelong Massachusetts resident and originally wanted to name this horse Boston Strong in honor of the victims of the Boston marathon bombing. When he learned that name was already taken, he settled on Wicked Strong.
Now if Wicked Strong, the son of Hard Spun, can live up to his connections' expectations and topple the mighty California Chrome, he can give birth to another name.
After Saturday, instead of calling Jimmy Jerkens the son of "The Giant Killer," dubbing him "Giant Killer Jr." might be more appropriate.