Coburn's proposal is easy way out
June, 9, 2014
06/09/14
4:31
PM ET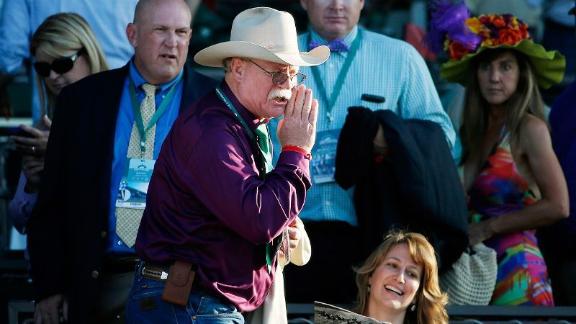 California Chrome's Owner Rants About System
On the eve of the Belmont Stakes, Steve Coburn was viewed in some corners of the racing world as a likable, colorful, outspoken, everyday-type of guy who was reveling in a storybook tale that defied Powerball-like odds.
That was when everything was unfolding perfectly for Coburn, the co-owner of California Chrome, the unfashionably bred colt who won the Kentucky Derby and Preakness and stood a victory in the Belmont Stakes away from ending a 36-year Triple Crown drought.
On Saturday, when faced with adversity, we saw a much darker side of Coburn. After California Chrome's Triple Crown hopes were dashed when he finished in a dead-heat for fourth place in the Belmont Stakes, Coburn turned into a sore loser to rival any heel on the World Wrestling Entertainment circuit.
Coburn became what some headlines called a "Triple Clown" as he labeled some of his horse's rivals "cowards" and accused them of cheating, even though not one of them violated a single rule. Co-owner of a stable called DAP Racing, standing for Dumb Ass Partners, Coburn surely acted the part.
He spouted off about the way the Triple Crown is contested, and the worst part of his rant would be if it actually swayed the powers that be in the sport to listen to him.
Coburn's proposal of allowing only the horses that run in the Kentucky Derby to race in the other two Triple Crown races and not allowing any of those horses to skip the Preakness and run in the Belmont is the worst possible solution to fixing a system that may not need any tinkering at all -- if you look at attendance figures and television ratings for this year's three Triple Crown races.
To start and end the series with only those able to race on the first Saturday in May would turn the Triple Crown into a farce, cheapening it to the point that it would be worthy of the 99-cent bin at any department store. It would embrace the "coward's way out" that Coburn so unjustly affixed to others.
What Coburn basically wants is to be put on the same pedestal as Affirmed, Seattle Slew and Secretariat without overcoming the same challenges they did.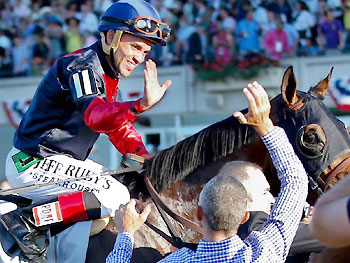 AP Photo/Matt SlocumA lung sickness caused Tonalist to pass on the Kentucky Derby, but he proved he belonged in the field with a
victory in the Belmont Stakes.
Under his plan, the fields for the Preakness and Belmont would be diluted. It would surely make life easier for horses like California Chrome in years to come, but would turn the Preakness and Belmont into punch lines for bad jokes.
If a trainer has a tired horse that lost in the Derby, he's not going to run in the Preakness just to keep his hopes alive of racing in the Belmont three weeks later. This year, only three horses raced in the Kentucky Derby and Preakness, while the previous year saw six move on from Churchill Downs to Pimlico.
With Coburn's restrictions in place, a field of eight would be gargantuan for the Preakness. And who would be left standing for the Belmont?
This year, three horses contested all three legs of the chase, and last year there were also three.
Maybe a sore loser like Coburn would be tickled pink to run for the Triple Crown against two rivals, but after a few years of it, the general public would undoubtedly sour on it.
Some might say that Secretariat and Affirmed both faced only four rivals. This is true, but they scared off competition. More horses could have tried to tackle them in the Belmont, but their connections saw no point in it. That, in and of itself, speaks of the greatness of those horses. Rivals saw weakness in California Chrome, and horses like Tonalist and Commissioner, who sat out the first two legs of the series, tackled him in the Belmont and ran 1-2.
As the old saying goes, to be best you have beat the best. In Coburn's world, those words should be edited to: "To be the best you have to keep on beating the same old horses you beat before."
With the restrictions in place, we never would have seen unforgettable races like the 2009 Preakness -- when filly Rachel Alexandra beat a field of male rivals, including Kentucky Derby winner Mine That Bird -- and the 2007 Belmont, when Rags to Riches did likewise. There's also a good chance that a Triple Crown winner might not be the best 3-year-old in June if you consider an example like A.P. Indy. In 1992, A.P. Indy was the second choice in the Kentucky Derby but was scratched on the morning of the race due to a quarter-crack in his hoof. He returned to win the Belmont Stakes, Breeders' Cup Classic and Horse of the Year honors. Just imagine the outcry and embarrassment if someone swept the Triple Crown while the Derby favorite missed the race with a minor ailment and was then barred from running in the Preakness or Belmont.
Triple Crown implications aside, consider that structure in a year when different horses win the Derby and Preakness and those horses skip or miss the Belmont, which happened in 2012, 2010 and 2006.
Just picture that spine-tingling Belmont Stakes: a field of four, featuring the third-place finisher in the Preakness against three rivals who were unplaced in the first two legs of the series. Is that something anyone would shell out inflated ticket and parking fees for? Or endure huge lines for the betting windows, food stands and rest rooms?
Coburn says he's 61 and he'll never see another Triple Crown winner under the current format. That may be true. The nature of racing has indeed changed, with trainers wanting more time between starts, and it's certainly advantageous to have experience over a racetrack like Belmont Park.
Yet Point Given in 2001 and Afleet Alex in 2005 lost in the Derby but won the Preakness and Belmont in dominant fashion, taking the final leg by a combined margin of nearly 20 lengths. They ran in all three legs and faced fresh horses in the Belmont and got better each step along the way. Why is it so unreasonable to believe that a horse like those two horses, but without the misstep in the Derby, will one day come around?
It's all of these challenging elements that make the Triple Crown so very special, and it's why more than 100,000 people turned out to watch each of the three races this year. Fans keep waiting for that special horse that can separate itself from the 13 others since 1978 that could win two legs of the Triple Crown but not three.
The quest can be infuriating, as it was for Boston Red Sox fans who had to wait 86 years to win a World Series championship and Chicago Cubs fans who are at 106 years and counting for one. Yet looking at their popularity, it makes no sense to believe the gap is going to turn off fans.
Each year, as it does on an annual basis at Wrigley Field, optimism will be renewed that this will finally be the year when a magical horse ends the streak.
In the end, you might kick yourself, wondering why you allowed yourself to be fooled again. But you'll be back next year, and you will not need Coburn's watered-down Triple Crown to make that commitment.
In time, we'll find out where California Chrome stands on the list of the 13 near-misses since 1978. Maybe he'll be another Spectacular Bid, Alysheba or Sunday Silence, who became three of the sport's greatest stars. Or maybe he'll be forgettable, such as War Emblem. Or maybe he'll be seen as in between, like Real Quiet and Silver Charm.
What's certain is that he's not another Secretariat, and there's no disgrace in that.
The only disgrace would be listening to Steve Coburn and making it simple for the next California Chrome to become one.