Untapable's date with the boys still on hold
June, 29, 2014
06/29/14
1:12
AM ET
On the racetrack, Untapable answered the question.
Away from it, trainer Steve Asmussen shied away from it.
After Untapable once again illustrated her dominance of the 3-year-old filly ranks, romping to a 9 ¼-length triumph in Saturday's Grade 1 $300,000 Mother Goose at Belmont Park, Asmussen fielded an inevitable query. After such an easy score in her first start since a 4 ½-length win in the Kentucky Oaks, had the time arrived for Untapable to face the guys?
He didn't say no … but he didn't say yes.
"There's definitely the thought of running her against the boys," Asmussen said. "I think that this was a very good obstacle for her, as far as shipping and running, because of how bad her Breeders' Cup was [a 68 ½-length loss in the Breeders' Cup Juvenile Fillies at Santa Anita]. Maturity, time, confidence, how she acted pre-race in the paddock today, all of those are steps in the right direction, and it will be an interesting conversation with [owner Ron Winchell] after today's win."
Interesting, for certain.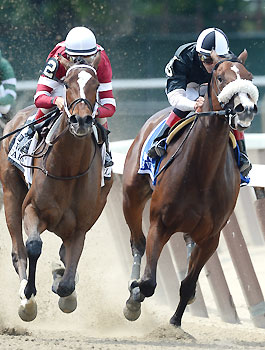 NYRA/Adam CoglianeseUntapable, left, runs by Princess Violet to win the Mother Goose at Belmont Park.
With Untapable's races against fellow sophomore fillies reduced to rich public workouts, the most exciting possibility of the summer is her presence in one of the upcoming classics like the Haskell or Travers where she'll tackle males. Yet that's still up in the air, even after Saturday's blowout that gave her a perfect 4-for-4 record in 2014 with a combined winning margin of 31 lengths.
All Asmussen would say about Untapable's next start is that it would be in either the Coaching Club American Oaks (July 20 at Saratoga) against fellow 3-year-old fillies or one of two races for males, the Haskell (July 27 at Monmouth) or the Jim Dandy (July 26 at Saratoga).
The Haskell, with a million dollar purse, Grade 1 status and neither California Chrome nor Tonalist targeting it, would seem the best option for such a gifted runner, but Asmussen didn't take the bait when that race was dangled in front of him.
"We're aware that [the Haskell] is there and the timing is excellent," Asmussen said. "It's nice to have a horse as good as her so that you can consider races as good as these."
Even mention of Horse of the Year implications wasn't enough to convince Asmussen to book a van ride to the Jersey Shore.
All he would say was, "Every day there's a thought about Horse of the Year because you want to be of that caliber."
As deflating as that may sound, Asmussen added that a final decision will not be made for another "16 to 18 days."
That certainly gives him time to pour over speed figures, give his daughter of Tapit a workout to keep her sharp, consider how well she handled her first "road game" since the Breeders' Cup debacle, and perhaps make a decision that should a ring a bell with him.
In 2009, Asmussen trained Rachel Alexandra, who won the Kentucky Oaks -- like Untapable did -- but then beat the boys in the Preakness. After romping in the Mother Goose by 19 ¼ lengths, Rachel Alexandra then beat Belmont Stakes winner Summer Bird in the Haskell and went on to become Horse of the Year.
The path in front of Untapable may be similar, but from a physical standpoint, Asmussen said the difference between his two gifted fillies was as dramatically different as night and day, perhaps explaining his hesitancy in tackling bigger and stronger competition.
"She's a long-legged filly who moves very easily," Asmussen said about Untapable.
"You look on paper and the [speed figures] are impressive, but she doesn't walk up like it's a street fight. She's very graceful, elegant. She's a special filly. Rachel Alexandra was different physically. When you saw Rachel, you saw she was bigger than the boys, so why wouldn't she beat them? [Untapable] is a lady, a very fast lady."
Fast indeed. But fast enough to beat colts at their own game?
For that answer, we're still on hold.