Another 'Big' success story for NYRA
July, 5, 2014
07/05/14
8:01
PM ET
On a day when some people would like to see the New York Racing Association run the Belmont Stakes, a considerably smaller but nonetheless enthusiastic crowd turned out to watch "a big day" of racing unfold on a beautiful July afternoon.
Granted, there were only 11,184 persons on hand at Belmont Park for the inaugural Stars and Stripes Day -- compared to more than 102,000 on Belmont Stakes Day -- and the purse money was about half of what was at stake a month earlier when the final leg of the Triple Crown was contested. Yet if it is NYRA's goal to create an entertaining afternoon of racing by bundling rich stakes together, it was successful once again -- and this time hopefully without the customer service nightmares that plagued the Belmont Stakes.
There were five graded stakes offered at Belmont Park on the first Saturday in July, with two of them grass races for 3-year-olds carrying a purse of $1 million or more. There was also the $500,000 Suburban Handicap for older horses, plus the $400,000 Belmont Sprint Championship and the $200,000 Dwyer for those 3-year-olds that were late to the Triple Crown dances.
The end result was five great races and a concept that seems to winning over an audience both with fans and horsemen.
Chad Brown, who had every right to a be a very happy man after winning both the $1 million Belmont Oaks with Minorette and $500,000 Suburban with Zivo, said he bases his reaction to NYRA's big days on what he hears from his owners. So far, he said, "all I have heard is positive things about it."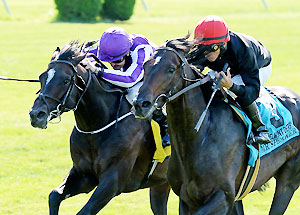 NYRA/Adam CoglianeseMr Speaker will start from post position 2 in Saturday's Commonwealth Cup.
The ability to attract four international runners for the $1.25 million Belmont Derby and five for the $1 million Belmont Oaks certainly reflects well on NYRA's decision to repackage two Grade 1 turf stakes in the fall, the Jamaica for males and Garden City for fillies, into the Derby and Oaks. Helping the cause with bettors is that both races attracted large field and had a pair of attractive payoffs.
Mr Speaker, owned by the famed Phipps Stable and trained by 2013 Kentucky Derby winner Shug McGaughey, won the inaugural Belmont Derby and paid a robust $49 for beating nine rivals.
The Suburban had a field of 11 that Zivo outran and returned $29.40 to his backers.
In the Belmont Oaks, there was a field of 10 and Minorette paid $14.60 for her first victory in three U.S. starts.
Big fields, nice payoffs. In an era when many graded stakes attract only a handful of horses, NYRA has clearly latched on to a winning formula.
"When I saw the [Belmont Oaks], it was replacing the Garden City, a race we had won the last two years. So I liked it where [the Garden City] was," Brown said. "It gave me all year to point to the race and I won it with two Europeans I got in the summer. When I saw this early in the year, I was concerned, but in the end it was a great idea [to move and rename the race]. It's a lot of money and a lot of horses from all over the world came for it, and we were still able to have a horse good enough to win it. Now that we know where it is on the schedule, we'll point to it."
All of which was nothing but sweet music to the ears of NYRA officials like CEO and President Chris Kay.
"Things are going along great," Kay said following the Belmont Derby. "We're very pleased so far. It was a good concept and we're going to try to build on it. We want to make it even more attractive for owners and trainers to run their horses on these big days. We're doing what other major sports do in building up their big days."
Two big days down in 2014, NYRA has plenty of reasons to smile.
With Saratoga around the corner, and stakes bonanzas planned for the Whitney and Travers, fans, too, can take heart. Even without the Triple Crown, racing seems to have a recipe for success.