NYRA's changes may not include Crown
July, 16, 2014
07/16/14
1:04
AM ET
As the New York Racing Association basks in the glow of the success of its first two "Big Days," traditionalists can crack a smile as well.
While discussing NYRA's recent innovations and future plans, Senior Vice President of Racing Operations Martin Panza expressed little interest in outside proposals that would move the Belmont Stakes from its early June spot to the July 4th weekend.
Though Panza did not rule out the possibility of a change, he was far more eager to address the creation of a Turf Triple Crown for 3-year-olds rather than tinker with the sport's most revered trio of races.
In other areas, Panza said:
1. The $8 million Belmont Stakes Day card with 10 stakes -- six of them Grade 1's - would "pretty much stay in place," though there could be changes for the Memorial Day program in the aftermath of moving the Metropolitan Handicap from that day's card to Belmont Stakes Day.
2. While it hasn't been feasible in recent years, New York "needs" to be in the rotation for hosting the Breeders' Cup and that in six months or a year, when a clearer picture of where NYRA is heading emerges, it can move forward on that front.
3. He intends to be a "fan" during his first Saratoga meet, learning from the experience to better address plans for 2015.
4. That "Big Days" and the packaging of major races hold the key to increasing racing's fan base. "We have to think with more of an open mind and create more big events to get people out to the races," he said.
The latest "Big Day" for NYRA took place on Saturday, July 5th at Belmont Park, featuring five graded stakes and the introduction of two new Grade 1 mile-and-a-quarter turf stakes for 3-year-olds, the $1,250,000 Belmont Derby for males and $1 million Belmont Oaks for fillies.
The results were a smashing stakes as nine international runners participated in the Derby and Oaks, and four of the graded stakes had fields of nine or more.
Attendance for Stars and Stripes Day was 11,118, more than double the 5,047 who turned out for a comparable Saturday a year ago. On-track handle was up 56.8 percent to $2,825,797, and total handle jumped 37.2 percent to $18,829,265.
"For putting it together for the first time, we were very pleased," said Panza, who joined NYRA in October after heading daily racing operations at Hollywood Park for the previous 19 years. "It was a really good crowd. It's a big piece of property [at Belmont Park] and when you walked through it there were people in all corners of it and they seemed to be enjoying themselves. It's a day we can build on. It will get stronger. The more the word gets out internationally that it's easy to come into New York and we have these races, it will start to grow."
"

We can sit as Churchill and Pimlico and Belmont and say we might make a change, but if we make a change you have to get a lot more tracks involved. It changes everybody's stakes schedule. Not just these three tracks. It would be a pretty huge task to make that type of movement.

"

-- Martin Panza, NYRA Sr. VP of Racing Operations
The inaugural Stars and Stripes Day came at time when some in the racing industry believe the Belmont Stakes should be contested. Pimlico President Tom Chuckas has proposed increasing the spacing between Triple Crown races so that the Preakness is held in early June and the Belmont moves to the first weekend in July.
When asked about such a change, Panza saw little merit in it based on the success NYRA enjoyed on Belmont Stakes Day, which attracted a crowd of 102,199 and generated a record smashing handle of more than $150 million.
"We have not sat down and talked with Churchill Downs or Pimlico," Panza said. "We certainly would do so in a private setting and have a discussion, but there's a lot of tradition in the Triple Crown and I'm not sure [if a change] is the right thing to do.
"We've all come off pretty much record [Triple Crown] days and I would be nervous to tinker with something that's working. If it wasn't working, I could understand making an adjustment, but certainly we're open for that discussion and nothing is set in stone. We haven't had a discussion along those lines.
"I'm not going to get on the phone tomorrow and call Pimlico because we had a record day. It's pretty hard for me to say there's a problem with this. I don't see it as one. Right now at NYRA [we] have a plan in place and it's working. We're doing some good things and I'd like to give that a chance to grow."
Panza added any change to the dates of the Triple Crown would have a ripple effect on the rest of the industry.
"We can sit as Churchill and Pimlico and Belmont and say we might make a change, but if we make a change you have to get a lot more tracks involved," Panza said. "It changes everybody's stakes schedule. Not just these three tracks. It would be a pretty huge task to make that type of movement.
"Right now if you look at the Triple Crown, a month or three weeks before the Derby is when the preps end and there's really not another big 3 year-old race until a month after the Belmont.
I'm not sure the rest of the tracks in America would be willing to give us a 4-month break with no big 3-year-old races and that's what you would be asking for. I just don't see how that could happen.
"It's a much more complex situation than just those three races and that's why I like Stars and Stripes on July 5th. It works for us and it works from a European standpoint.
"And anything I do at Belmont, I'm also very conscious of not wanting to affect Saratoga. I'm trying to complement Saratoga, not hurt Saratoga, and I think Stars and Stripes Day, the Belmont Derby, the Belmont Oaks, complement Saratoga. For every action, there's a reaction and that was the beauty of Stars and Stripes. It creates another good day of racing and it doesn't affect our next race meet."
Pondering a Turf Triple Crown
In reaction to the positive feedback the Belmont Derby generated from horsemen, Panza said he would like to pursue the possibility of putting together a Turf Triple Crown for 3-year-olds that would start with the Belmont Derby and continue with a mile and three-sixteenths stakes in August and a mile and a half stakes in September to mirror the distances of the revered dirt Triple Crown.
"What's so wrong with an American Turf Triple Crown? Maybe it will be the Belmont Derby at a mile and a quarter and maybe the Secretariat [at Arlington] at a mile and three sixteenths, and I haven't talked to Arlington Park about this, so I'm not trying to shock them into something," Panza said. "Maybe NYRA puts the Hill Prince at a mile and a half on Sept. 15.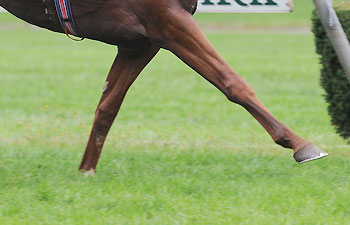 NYRA/Adam CoglianeseWill the Belmont turf play host to a new kind of Triple Crown?
"It probably makes sense. We're kicking around the idea. New York is in a position where we have some purse money and we could be creative so later in the year we might sit down with Arlington and see if they are interested in this and perhaps there's another track interested in hosting the mile-and-a-half race. It would all feed into the Breeders' Cup and we have to think with more of an open mind and create more big events to get people out to the races. It's doable. It's using common sense and getting some people behind it. You can make it happen."
Panza believes with the recent spate of all-sports channels, racing needs to package major events and concepts like a Turf Triple Crown to get more exposure.
"With all these new sports networks out there," Panza said, "they need content. Racing probably missed the first boat with cable television, but we shouldn't miss this one. If we can sit down as an industry and put some things together that make sense and promote them correctly and get them on TV, it can be a very powerful tool for us. There's tremendous room for growth on TV."
Looking back at the Belmont Stakes and the first of his "Big Days" for him and CEO Chris Kay, he believed that in terms of the quality of racing and response from the wagering public, it was a great success.
"Belmont Stakes Day was a tremendous day," Panza said. "It proved people will respond to a quality card. Looking ahead, I think it will pretty much stay in place. The Met Mile vertical wagers on Memorial Day, they did $1.8 million [in 2013], and this year they did a little bit over $7.2 million, so from a financial standpoint it's a no-brainer.
"I need to tinker with Memorial Day and build that day up, which is what I'll end up doing. I was extremely pleased with Belmont Stakes Day. California Chrome was a huge ally for us. At the end of the day, it was a pretty cool day of racing."
Reuniting with the Breeders' Cup
In terms of big days, the Breeders' Cup is the biggest of them all, and it has not visited New York since 2005. Questions about the future of New York racing and its franchise played a major role in that, but with NYRA in the midst of the second year of a three-year period of state control and reorganization, Panza believes it can soon try to bring the championship event back to New York.
"I don't think it's been feasible the last few years with everything that has gone on in New York" Panza said. "Chris Kay just came on board last year and there's been so much turnover it's probably hard for the Breeders' Cup to say they can hold the event in New York. Moving forward, as this staff settles in, most certainly in four or five years from now, we want to be back in the regular rotation.
"That being said, we have some questions to answer. Does Aqueduct stay open? If it closes, are we going to rebuild Belmont? If we rebuild Belmont, when does that take place and what is the time frame for that? If we're doing that, can we host a Breeders' Cup? Probably not.
"We're probably six months to a year from understanding what the future of New York racing is going to look like and once that's done, let's sit down with the Breeders' Cup people and let's try to move forward. Then we can say our house is in order and we really want to host in 2018, 2019 or 2020, whatever year it is and that we want to be a part of the regular rotation.
"I need to make that happen as the Senior Vice President of Racing Operations. New York certainly needs to be a part of it. We're not there yet, but we're not that far away. It needs to happen."
Up next, Saratoga
For now, though, with Saratoga set to open for a 146th season on Friday, Panza's attention will be focused on NYRA's golden goose as he absorbs everything contained in the blockbuster 40-day meet, which will feature NYRA's next two "Big Days," Aug. 2 for the Whitney Handicap, with its enhanced $1.5 million purse, and Aug. 23 for the Travers.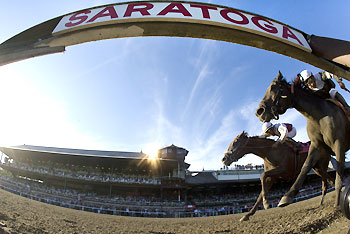 NYRA/Adam CoglianeseTriple Crown winner American Pharoah could add electricity to an already buzzing Saratoga.
"Saratoga is a great place and it's very special and with this first meet I'm trying to stay out of the way and learn as much as I can. I'll know a lot more about it on Labor Day weekend than right now," said Panza, who cut down on the number of races this year, allowing fans more time to enjoy the amenities in the town of Saratoga Springs. "We won't take Travers attendance from 50,000 to 100,000, we know that. But can we get some quality and run less racing. To me the experience of Saratoga is not just the racetrack but the town and being able to go out after the races to one of the restaurants or bars and have a good time in town and take in all that Saratoga has to offer. So there's a fine line between racing and the social experience up there and I want to concentrate this year on understanding it as best as I can and moving it forward.
"The one thing I tinkered with was the Whitney," Panza said. "I looked at Travers Day. We get 50,000 people and handle $40 million. Why can't we do that earlier in the meet? And looking at what we have, the Whitney was the natural race to build around."
To help boost the state's breeding industry, Panza also introduced a package of six stakes for New York State-breds on Aug. 24, the day following the Travers.
It's all part of a climate of change at NYRA, which may ultimately keep the status quo in place for racing's classic three races.