The dawn of the 'Big Day' at Saratoga
July, 31, 2014
07/31/14
5:06
PM ET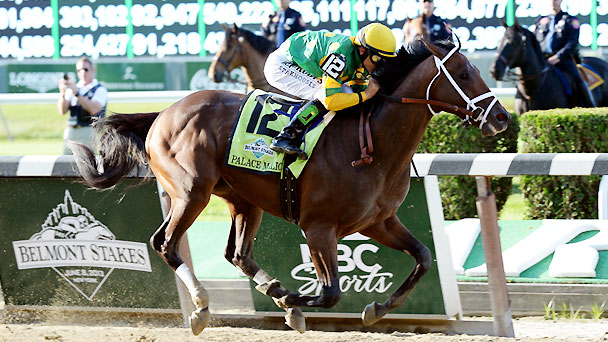 NYRA/Adam CoglianesePalace Malice will be the horse to watch in Saturday's Whitney Handicap.
New is not exactly a term commonly associated with a place with the Victorian charm of Saratoga Race Course. Yet on Saturday the New York Racing Association's newest concept will make its debut at a track with 146 years' worth of history.
NYRA's "Big Day" format, which was a smashing success in its first two editions at Belmont Park, will be unveiled at Saratoga, with the famed Whitney Handicap serving as the biggest race of them all on an intriguing 11-race card.
Given the nature of Saratoga, this "Big Day" does not feature a bevy of graded stakes. With so many major stakes already in place at the Spa, this card offers a "mere" three Grade 1 stakes races.
What's big is the purse money throughout the card, a lure that has attracted large fields, which in turn may equate to increased attendance and wagering figures when all is said and done Saturday night.
The purse for the Whitney was doubled to $1.5 million, pushing it higher than Saratoga's most famous race, the Travers. The result was a field of nine, topped by the pro tempore leader in the Horse of the Year race, Palace Malice.
With that much money on the table and a little luck, NYRA might also have attracted Wise Dan and/or Game On Dude, both of whom have raced well enough on dirt to give it a try on the Spa's main track. But Wise Dan's recent bout with colic and Game On Dude's subpar form this year conspired to prevent them from making it an incredibly big race.
Nevertheless, with Palace Malice taking on last year's 3-year-old champion and Travers winner Will Take Charge and seven other graded stakes winners, the Whitney deserves the big race tag. There's not a slouch in a high-quality field that also includes 2012 Travers co-winner Golden Ticket, last year's Preakness runner-up Itsmyluckyday, 2013 Super Derby winner Departing and 2014 Travers runner-up Moreno.
Supporting the main event are the $500,000 Test and $350,000 Alfred G. Vanderbilt. The seven-furlong Test attracted a field of 12, with Acorn winner Sweet Reason the 3-1 favorite, while eight showed up for the six-furlong Vanderbilt, where Bakken is the 5-2 morning-line choice. With fields that hefty, handicappers should find plenty of value wagering on the graded stakes either separately or in a sequence like the Pick 3 -- even if Palace Malice goes off at his morning-line price of even money.
Overall, the day will provide some much-needed relief for handicappers weary of five- or six-horse fields. The Vanderbilt, with eight entrants, is the smallest of the 11 races and eight of them have 10 starters or more.
The non-graded turf stakes on the card, the $100,000 De La Rose and the $100,000 Lure, both could easily pass for a Grade 3 affair at another racetrack. The De La Rose includes the aptly named Grade 1 winner Dayatthespa and Grade 3 winner Pianist among a field of nine fillies and mares. Dual Grade 1 winner Big Blue Kitten, who captured last year's Grade 1 Sword Dancer at Saratoga, tops a field of 14 males in the Lure (with three main track-only entrants).
Even the allowance and maiden races on the card have been enhanced, with two of the six having purses of $100,000 or higher, and all of them checking in at $90,000 or more. Not surprisingly, there's at least 10 horses in each of them and four have overflow fields of 14 or more.
So as the "big day" concept checks in at Saratoga, don't look for something overwhelming like the 10 stakes on Belmont Stakes Day or something brand-new like the Belmont Derby and Belmont Oaks on Stars and Stripes. That might seem gauche at Saratoga, where tradition rules supreme. Whitney Day has simply taken shape as a great betting card, with a trio of Grade 1 stakes worth a combined $2.35 million, and the nation's best horse headlining the day's best race.
Yeah, you can call it a big day -- even by Saratoga standards.