Top owners stage lively race to the wire
August, 29, 2014
08/29/14
2:00
PM ET
A year ago, the 144th Saratoga meet had an unusual source of entertainment.
The battle for the right to be proclaimed as the leading owner is usually as tepid as room temperature bath water, but 2013 broke that mold. It matched Mike Repole, the three-time defending champion at the Spa, against the formidable stable of Ken and Sarah Ramsey.
The Ramseys had worn the Saratoga crown in the two years prior to the start of Repole's streak. They also started 2013 in a manner unseen in recent memory as they reeled off one title after another at a string of major meets -- most of them in record-breaking fashion.
Ramsey even added a touch of World Wrestling Entertainment bluster to the duel by boldly predicting he would end Repole's reign at the Spa. He voiced it with a chuckle, mind you, instead of clenched teeth like a wrestler, but his words proved prophetic as he won the owner's title with a record-smashing 22 victories. Repole was up the track with just seven wins.
The Queens-born, New York-based Repole responded that with each side having three wins in the last six years, 2014 would be a hotly contested Game 7 in their personal World Series.
Now, as the ninth inning of their 2014 duel approaches, it seems this latest chase for the Spa crown has been as competitive as ever, but without the previous year's banter and electricity. Ramsey has enjoyed a good, but not phenomenal season, while Repole came into this meet with much less ammunition than in previous years and a more realistic approach to the task at hand.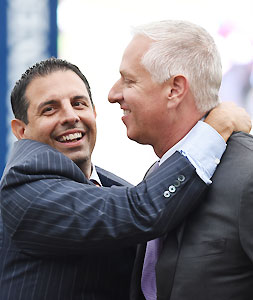 NYRA/Adam CoglianeseOwner Mike Repole, left, and trainer Todd Pletcher celebrate after a win at Saratoga.
"Any time you win three owners titles in a row like I did, there's a little more emphasis to dethrone him and there's pressure on the person defending that title," Repole said. "To me, I'm blessed and thankful for everything I have, and it would be very satisfying to win this title, but that's not because I lost last year. It's about winning titles whenever you can. If I had won three titles over the course of six years as opposed to winning three straight it would have the same meaning to me.
"I didn't think I had a well-balanced enough stable to win this meet, but I'm not going down without a fight.
After Wednesday's card, with five days left in the meet, Repole was tied for first with Michael Dubb, each with 11 wins. Dubb lost the 2011 and 2012 titles to Repole by a single winner each time.
Chester and Mary Broman are third with 10 and the Ramseys are next with 9.
It promises to be a lively battle to the wire, with Repole holding a strong hand. Though he's had just 25 starters at the meet -- well off the pace of his 36 starters last year and 53 in 2012 -- he hopes to close out the meet with a flourish. He plans to enter about 10 horses with trainers Todd Pletcher, Bruce Levine and Mike Miceli in the final five programs and then let the chips fall where they may in a chase that may lack the sizzle of the previous year but which remains as difficult as ever.
"It's harder to win an owner's title at Saratoga than a Grade 1 stakes," said Repole, who has won a pair of Grade 1 stakes at the meet, the Coaching Club American Oaks and Alabama, both with the 3-year-old filly Stopchargingmaria. "If you have three or four horses you can get lucky and win a Grade 1 stakes, but you can't win an owner's title with that many horses.
"It's difficult to win a lot of races at Saratoga. Everybody's going there to win races. Their holding their best horses, waiting for Saratoga. Everybody's pointing for Saratoga races. The fields are bigger. The competition is fierce. Some of the claiming races look like stakes on paper. It's a unique place."
And it is the site of another interesting race for the owner's title, too, even if it lacks the intensity of a Game 7 of the World Series.