The return of Overanalyze
February, 26, 2013
02/26/13
12:53
PM ET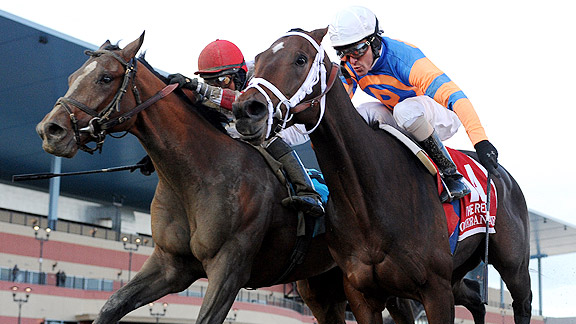 NYRA/Adam CoglianeseOveranalyze looks to score much-needed Kentucky Derby points in Saturday's Gotham.
After Overanalyze dug down and gamely hung on to win the Remsen Stakes last November, it didn't take long for trainer Todd Pletcher and owner Mike Repole to decide on their colt's next race.
"I'd say about four minutes after the Remsen we decided to give him off until the Gotham," Repole said. "It was a logical choice."
The decision to give Overanalyze more than three months of rest and begin his 3-year-old campaign in March was largely based on what had been a busy and successful juvenile season. Though he bypassed the Breeders' Cup, Overanalyze won two Grade 2 stakes, the Belmont Futurity and Remsen, in his five juvenile starts, giving him a solid foundation for the future and -- thanks to the Remsen -- a win at a 9-furlong distance that most Triple Crown prospects have not even attempted.
"Overanalyze had a good winter at Palm Meadows. He did some light jogging and Todd's given him four or five workouts to get ready for the Gotham," the 44-year-old Repole said. "It's an exciting time because you never know what happens when a horse turns from 2 to 3. Three months ago seems like a very long time ago and I can't wait for that day to arrive when he runs again."
The long wait after the quick decision finally comes to an end Saturday, when Overanalyze returns to the races in the $400,000 Gotham Stakes at Aqueduct.
"

And I'll always root for Todd [Pletcher] and his other owners when I'm not in that race. But if I finish second in a race like the Wood or Travers or Kentucky Derby and one of Todd's other horses beats me, sorry, but I'm not talking to Todd for three days.

"

-- Owner Mike Repole
The only horse in the initial ESPN.com Kentucky Derby Contenders Poll yet to race at 3, Overanalyze (ranked 10th) rates as the headliner in a field that is also expected to attract Vyjack, Hutcheson winner Honorable Dillon, Withers runner-up Escapefromreality, Siete de Oros and Ore Pass, among others.
Vyjack is 3-for-3 and won the Jerome at Aqueduct in his last start, but most eyes will be focused on Overanalyze, who displayed an inordinate amount of grit as a juvenile -- a quality that could come in quite handy when faced with a 20-horse field in a mile-and-a-quarter race at Churchill Downs.
The son of Dixie Union's most recent performance, in the Remsen, is the one that stands out most in Repole's mind. In that $150,000, two-turn stakes at Aqueduct, Overanalyze prompted the pace of Delhomme, another talented runner from Pletcher's seemingly endless barn. For the first mile in the mile-and-an-eighth test, Overanalyze could not get past his stablemate. Then, when they reached the eighth pole, Normandy Invasion charged up outside the two Pletcher runners and seemed poised to blow past them.
Instead, when the field hit the wire it was Overanalyze who never slowed down while racing between horses and prevailed by a hard-fought nose over Normandy Invasion, with Delhomme another three-quarters of a length back in third.
"If you could pause the Remsen at the 16th pole, it looked like Overanalyze would finish third, about three or four lengths behind the winner, but he kept fighting," said Repole, who sold his Glaceau beverage company to Coca-Cola for $4.1 billion in 2007 and is now involved in a variety of businesses that include BodyArmor sport drink and Pirate Brands health snacks. "This horse is not short on guts, heart and courage. He's a fighter and you can't place a premium on that in a young horse. In a race like the Kentucky Derby you know a horse is going to be challenged, and Overanalyze will not shy away from a fight."
Repole admits the new point system for allocating spots in an oversubscribed Derby field and sharing Pletcher's services with eight other horses that received points in the first ESPN poll could make Overanalyze's next start a perplexing matter -- one that might require a discussion longer than the time it takes to polish off one of his company's bags of all-natural popcorn.
Under last year's rules, wins in the Remsen and Futurity, a third in the Iroquois at Churchill Downs and a fourth in the Hopeful would have given Overanalyze close to $300,000 in graded stakes earnings and virtually guaranteed him a spot in the Derby. But under the new Road to the Kentucky Derby points system, Overanalyze's 2-year-old campaign netted just 10 points and he'll need a top-two finish in one or both of his preps to earn a spot in the Derby. It's a format that doesn't sit well with the outspoken Queens, N.Y., native.
"I don't think you should win a stakes in August and qualify for the Kentucky Derby, but Grade 1 races like the Champagne, Cash Call Futurity and Breeders' Cup Juvenile should get you in," Repole said. "Shanghai Bobby was the undefeated champion at 2, winning the Hopeful and the Breeders' Cup Juvenile, and yet he has as much of a chance of getting in the Derby as a horse who is 99-1. If Shanghai Bobby doesn't get in the Derby, it's a travesty."
With 50 points going to the winner of the Gotham, a victory on Saturday would virtually assure Overanalyze of a ticket to the Derby and open the doors for numerous possibilities. One option Repole mentioned is that if Overanalyze wins the Gotham, he might skip the next logical step, the $1 million Wood Memorial at Aqueduct on April 6, in favor of the Illinois Derby.
Left out of the Derby points system, the Illinois Derby will be contested on April 20 -- two weeks before the May 4 Kentucky Derby -- at Hawthorne, essentially reducing it to a Preakness prep with a rather enticing $750,000 purse.
"I'm not going to manage my horses around the point system. I'm going to do what's right for the horses and our stable," said Repole, who also owns the filly atop the point standings for the Kentucky Oaks, Unlimited Budget. "Without any points, none of the other major Triple Crown contenders will be in the Illinois Derby. We might go from the Gotham to the Illinois Derby and then run back two weeks later in the Kentucky Derby. We might also go from the Gotham to the Illinois Derby and then skip the Derby and run in the Preakness. I'm not ruling anything out at this point."
While Repole was brash enough to skip last year's Breeders' Cup and run his horses in the Thanksgiving weekend Holiday Fest stakes program at Aqueduct, before any bags are packed for the Midwest, a long look will be taken at the Wood. Having grown up near Aqueduct, Repole ranks the Wood Memorial high on his bucket list of stakes wins and he would love to erase the memory of Uncle Mo's stinging third-place finish in the 2011 edition.
Of course, he might have company there from some of Pletcher's other horses, which could lead to a prickly situation.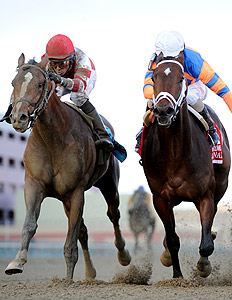 NYRA/Adam CoglianeseOveranalyze, right, got by Normandy Invasion in November's Remsen Stakes.
"There's advantage to working with Todd Pletcher," Repole said. "He's the best in the business. Some of the best races you'll find at a racetrack are when he works his horses in company at 6:30 a.m. Todd is such a great judge of talent. He has so many great horses that it helps you plan because you know where he's sending his horses.
"And I'll always root for Todd and his other owners when I'm not in that race. But if it's a Grade 1 stakes and Todd has another horse, well, things are different. If I finish third or worse, I'm fine. But if I finish second in a race like the Wood or Travers or Kentucky Derby and one of Todd's other horses beats me, sorry, but I'm not talking to Todd for three days."
And that's how life goes on the Triple Crown trail in the Pletcher barn.
It's filled with intrigue and ups and downs, a lesson Repole learned in 2011. Heading into that year, Repole had the consensus Kentucky Derby favorite in Uncle Mo, the undefeated 2-year-old champion in 2010. But a liver ailment, detected after Uncle Mo's shocking loss in the Wood, prevented him from running in any of that year's Triple Crown races. Instead, Stay Thirsty carried Repole's colors in the Derby, finishing a disappointing 12th before rebounding to finish second in the Belmont Stakes and capture the Travers at Saratoga.
Stay Thirsty won the Gotham that year, removing that race from Repole's bucket list. Now, after a quiet year for him on the Triple Crown trail, Repole is back and hoping to make noise again with Overanalyze, a colt he likens to Stay Thirsty.
On Saturday, after less than two minutes of racing, we'll learn more about the validity of that comparison.