Wilkenfeld bets on lucky number 6
March, 11, 2013
03/11/13
2:59
PM ET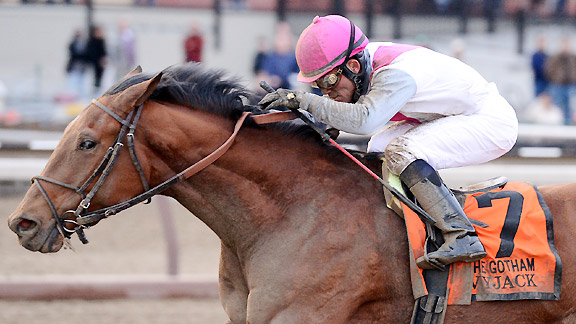 NYRA/Adam CoglianeseVyjack's sixth career win could come in the Kentucky Derby.
Far more than most people, the odds-defying ability to win six horse races in a row has played a euphoric role in the life of David Wilkenfeld.
It all started on a joyous February afternoon in 2008. Wilkenfeld traveled from his Manhattan home to the Meadowlands in New Jersey, where he spent the day playing the races.
About five years earlier, Wilkenfeld had teamed with some friends to collect a substantially cool $1.3 million on the Pick Six at Churchill Downs. But on this day, he ventured in the Pick Six pool alone, investing $4,320 in a carryover-inflated Pick Six at Santa Anita.
Five races into the sequence, Wilkenfeld found himself looking down at a ticket that contained wagers on not only all five winners but nine of the 12 horses racing in the final leg of the wager. Glancing up a television monitor, he saw the lowest of his payoffs checking in at a ritzy $500,000 and several that would make him the lone holder of a ticket worth $3.3 million.
When a 33-1 shot on Wilkenfeld's ticket captured that last race and capped a sixth straight win for the Long Island native it produced the kind of shock that can often come from a sudden and unexpected bolt of lightning -- again.
"I was just stunned that I won," Wilkenfeld recalls. "It was unbelievable."
While lightning is not supposed to strike two or three or four times in the same place, some five years later, the static energy is once again growing stronger in the rarefied air that hovers above Wilkenfeld.
A prosperous businessman long before his Pick Six scores, the 55-year-old Wilkenfeld currently operates a one-horse stable under the name of Pick Six Racing with a 3-year-old colt named Vyjack serving as the stable's color-bearer.
Purchased for $100,000 through the help of bloodstock advisor Sobhy Sonbal, Vyjack was named for Wilkenfeld's parents, Vivenne and Jack, and promptly won his career debut on Nov. 12 at Aqueduct.
Then, in December, he captured the ungraded Traskwood Stakes at the Big A in Ozone Park, N.Y.
He won his third straight race in the Grade 2 Jerome at Aqueduct on Jan. 5.
The winning streak stretched to four when Vyjack took the Grade 3 Gotham Stakes on March 2 in his most impressive performance to date, garnering him attention as a top-echelon Kentucky Derby prospect.
Now No. 8 in the latest ESPN.com Top 10 Kentucky Derby contenders poll, Vyjack is expected to race next in the $1 million Wood Memorial on April 6.
If he's successful there, Vyjack and Wilkenfeld will take their bid for a sixth straight victory to a setting with even more magic in the air than the Meadowlands on that fateful day in 2008 -- the first Saturday in May at Churchill Downs.
Yes, one more win and a horse from Pick Six Racing will attempt to complete a personal Pick Six by winning the Kentucky Derby.
Boom!
"I never even realized that," Wilkenfeld said when told where Vyjack's sixth-straight win could occur. "That would be amazing, for a horse from Pick Six Racing to win his sixth straight race in the Kentucky Derby. Maybe it's fate after all, and there's something to all this Pick Six stuff. "
While "six" may be Wilkenfeld's magic number it was indeed "four" that resonates most with him now and has fueled daydreams about roses and mint juleps.
In taking the Gotham, Vyjack dispatched 10 rivals, including Remsen winner Overanalyze who was No. 10 at the time on the ESPN.com contenders list. He crossed the wire 2 1/4 lengths ahead of 33-1 shot -- there's that number again -- West Hills Giant and earned 50 points in the Road to the Kentucky Derby points standings, which should be enough to sign, seal and deliver a spot for him in the May 4 Kentucky Derby, regardless of whether the winning streak survives the Wood Memorial.
It was an eye-opening win, made even more impressive by conditions that could have conspired against it.
Trained by Rudy Rodriguez, Vyjack had always been an aggressive runner who flashed early speed. Yet in the Gotham, Rodriguez's efforts to instill some patience in the son of freshman sire Into Mischief finally took hold. Racing 10th in the field of 11 after the opening quarter-mile, Vyjack and jockey Joel Rosario were wide throughout, but still managed to blow past foes in the stretch on a day that was ridiculously kind to inside speed at Aqueduct.
"In my mind that was the best Derby prep so far," Wilkenfeld said. "No one except him could win while running wide on that day. It was a very big effort that reflects the great work Rudy has done with him. He put a lot of time into teaching this horse to relax and we're seeing the payoff. If I could, I wouldn't trade places with anyone."
Wilkenfeld said his undefeated colt came out of the Gotham just fine. The Kentucky Derby may be looming boldly on the horizon, but for now it's a race in Queens on the first Saturday in April that can add even more color to a wild dream that is growing less preposterous with each passing week.
A fan of horse racing since his high school days growing up on Long Island, Wilkenfeld's impressive resume for success features owning the internet sales companies promgirl.com and simplydresses.com that have been so prosperous he owns a $16.5 million home in the Tribeca area of Manhattan. His saga also includes a line or two about that Pick 6 score at Santa Anita, and now there's something brewing that might eclipse both in terms of improbability and satisfaction.
"So far, this has been a dream come true," said Wilkenfeld, who last owned a horse outright in 2001. "This is the first 3-year-old I've owned on my own and I have a chance to go to the Kentucky Derby. That's not lost on me. I've been in this game long enough to understand that almost never happens.
"If I tried, I could not write a script better than this one."
Not now, certainly. But if the math continues to work, and four is followed by five and then by six, David Wilkenfeld will no doubt have an even better tale on his hands -- one that reflects the value of having a "sixth" sense.