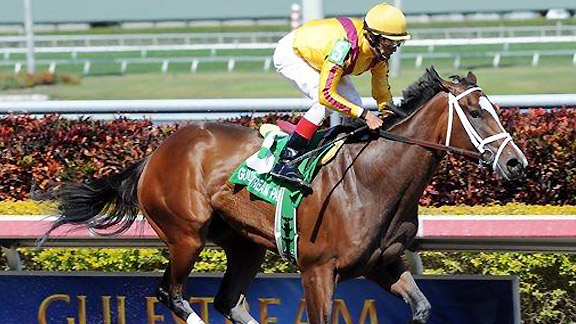 AP PhotoDreaming of Julia came up huge in the Gulfstream Oaks, but what's next for the fantastic filly?
Any time a young filly displays exceptional talent there is generally two main points of comparisons.
Can she be another Zenyatta, or the next Rachel Alexandra?
There was a difference between the two great champions. Zenyatta was practically perfect, winning 19 of 20 starts and losing only her final start -- by a head to Blame in the $5 million Breeders' Cup Classic. Yet she also had a tremendous flair for the dramatic, rallying from the back of the pack and typically winning by a small, measured amount. Rachel Alexandra took longer to reach her potential. She won just two of her first five starts at two. But when everything fell into place at three she was nothing short of awesome, winning by a furlong on her best day, like the Kentucky Oaks which she won by 20 1/4 lengths and Mother Goose by 19 1/4 lengths, both in 2009. Of late, a 3-year-old filly named Dreaming of Julia has been on the receiving end of a ground swell of accolades, which are beginning to fall into the Rachel Alexandra camp for a couple of obvious reasons. For starters, there's her owner. Rachel Alexandra was owned by Jess Jackson who took Stonestreet Stables to unprecedented heights when he won three straight Horse of the Year titles with Curlin (2007-08) and then Rachel Alexandra (2009). Since Jackson's death in April 2011, his widow, Barbara Banke, has kept the stable alive and well, as reflected in Dreaming of Julia and Kauai Katie, among others. Dreaming of Julia was acclaimed as one of the most promising 2-year-old fillies in 2012, but lost some of her luster when she finished third in the Breeders' Cup Juvenile Fillies. A runner-up finish to Live Lively in the Davona Dale in her 3-year-old debut didn't help her reputation much, but after that came a performance that seemed to be clipped from the Rachel Alexandra highlight reel. Not only did she turn the tables on Live Lively in the Gulfstream Oaks, she shattered it like a prop at Wrestlemania. Taking command on the final turn, Dreaming of Julia ran a hole in the wind, winning by a head-shaking 21 3/4 lengths. Besides the lopsided margin of victory, Dreaming of Julia covered the mile-and-an-eighth in a scintillating 1:48.97. To put that performance in perspective, some two hours later at Gulfstream, Orb, the No. 1 choice in this week's ESPN.com Top 10 poll, needed 1:50.87 to cover the same nine-furlong distance in the Florida Derby. Based strictly on final times, Dreaming of Julia would have beaten one of the favorites to win the Kentucky Derby by nearly 10 lengths had she raced in the Florida Derby. Off a performance like that it's not unreasonable to ponder how Dreaming of Julia might fare in the Kentucky Derby rather than the Kentucky Oaks, but it won't happen. Under the new system for securing a starting spot in the Kentucky Derby, Dreaming of Julia has no points because they are only allocated in preps for males. Dreaming of Julia has only raced against fillies and unless Tonya Harding's boyfriend starts "visiting" top-ranked 3-year-old colts by the dozens the next stop for her is the Oaks -- which is also the most logical decision. Even if the rules were different it would make little sense to run her in the Derby. To compare times is one thing, but winning for fun against five female rivals over a speed favoring surface is another. It's a totally different thing to face 19 males at a grueling mile-and-a-quarter distance -- especially after a race that will be virtually impossible to either duplicate or improve on. And let's not think for a moment that Dreaming of Julia is 10 lengths better than Orb. The game isn't that easy, folks. Yet at this moment in time, the comparison between her and her illustrious Stonestreet predecessor is becoming more compelling. If she does indeed win the Oaks, like Rachel Alexandra, it will be interesting to see if she's wheeled right back in the Preakness, like Rachel Alexandra. Whether she can win the Preakness, like Rachel Alexandra, is getting way, way ahead of ourselves. But it's at least interesting to ponder at this point. Rachel Alexandra caught the perfect storm in 2009 and we'll have to wait three more weeks to see if all of the right elements can fall into place for "Julia." Four years ago, after an easy time in the Oaks, Rachel Alexandra returned on short rest in the Preakness against a tired group of colts who were exposed by a 50-1 shot who beat them in the Derby and then never won another race. The competition for Dreaming of Julia could be much more formidable. We'll see. Plus there could be an interesting dynamic in that she's trained by Todd Pletcher instead of Steve Asmussen who trained "Rachel." With Verrazano (
No. 2 in the ESPN poll
) and Revolutionary (No. 3) already in his stable, Pletcher could very well be heading into the Preakness with the Derby winner and that could lead to some interesting conversations on Pletcher's cell phone in the days after the Run for Roses. But for now, the Oaks will help determine whether Dreaming of Julia will be a freak, like Rachel Alexandra, or simply a horse that enjoyed one rather freaky afternoon in late March. Either way, this just might turn out to be an incomparable Triple Crown chase.