A rivalry brewing in the Belmont?
June, 4, 2013
06/04/13
3:59
PM ET
If you're waiting for horse racing to celebrate the arrival of another Triple Crown champion, then set your alarm clock for 2014 when an exasperating drought will stretch into a 36th year.
But for now, with the Belmont Stakes this weekend and a Triple Crown sweep out of the picture, there's something that can come out of Saturday's Test of a Champion that can be fairly important to the sport. It's best known as a rivalry.
Running along the slow, inside portion of the racetrack may have compromised his chances and jockey Joel Rosario's ride was less than memorable, yet Orb's failure in the Preakness seemed to have roots deeper than a tactical error.
Through two legs of the process, the Triple Crown has not revealed much about this year's crop of 3-year-olds that wasn't known before the first Saturday in May.
Orb was considered the best of the bunch before the Run for the Roses, and he still holds that position nearing the end of a tumultuous five-week period.
Since May 4, Orb's stock has risen and dropped like a roller coaster. In the aftermath of an impressive win in the Kentucky Derby, he was dubbed the sport's next great champion and pictured as a likely addition to the relatively short list of Triple Crown champions. That all changed at Pimlico, where Orb was quite ordinary in finishing fourth, nine lengths behind Oxbow, in the Preakness.
Running along the slow, inside portion of the racetrack may have compromised his chances and jockey Joel Rosario's ride was less than memorable, yet Orb's failure in the Preakness seemed to have roots deeper than a tactical error. He ran like a shell of the horse that won the Derby convincingly, perhaps regressing off an effort in the Derby that was good as we'll ever see him.
Meanwhile, after finishing sixth in the Derby, 9¾ lengths behind Orb, Oxbow awoke to win the Preakness in a 15-1 shocker. Yet his 1¾-length triumph left behind nearly as many question marks as Orb's dud. Is Oxbow really that good, or did jockey Gary Stevens merely catch his fellow riders napping and capitalize on slow, unpressured fractions that he and Oxbow may never see again in a Grade 1 stakes?
The Belmont should answer most of those nagging questions about Orb and Oxbow and let us know if we have a quality rivalry on our hands or if we're facing another year in which there will be a muddled race for an Eclipse Award.
There's certainly ammunition for both sides of the argument.
It's asking a lot to steal both the Preakness and Belmont Stakes, and with a field for the final leg of the series that might rival the turnout for a Miami Marlins game, it's unlikely that Stevens will be allowed to merrily cruise along by himself on the front end once again.
Rest assured, a victory in the Belmont will come with a greater degree of difficulty for a horse that has just three wins in 11 career starts.
As for Orb, the Belmont will cement his place in Triple Crown lore, for better or worse. Perhaps he'll romp in the Belmont and will be remembered much like Point Given, who might have been a Triple Crown champion if not for one baffling day at Churchill Downs in 2001. But if he flops again, he'll go down as another Triple Crown tease, falling into the category of an Uncle Mo or Fusaichi Pegasus who, for one reason or another, didn't even come close to the greatness that was expected of them.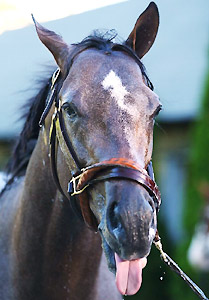 Al Bello/Getty ImagesWill Preakness winner Oxbow be a one-hit wonder?
Orb will most likely be the favorite in the Belmont, and it's reassuring that trainer Shug McGaughey was willing to run him in the mile-and-a-half classic as opposed to targeting the Travers or Haskell. Still, at this point, there's also room for doubt. As much as McGaughey was pleased with Orb's final work Sunday, the final time of the work in and of itself said little about what's left in Orb's tank. His time of 48.30 seconds for four furlongs was the 11th best of 46 workouts that day at the distance and was a clocking that a claiming horse can match.
Given the prospective size of the Belmont field, there will be ample opportunity for someone else to sneak into the mix and become the division's "now" horse.
Golden Soul and Revolutionary were second and third, respectively, in the Derby and in theory should benefit from skipping the Preakness.
Maybe Palace Malice will sit back this time and fire his best shot on the turn instead of setting suicidal fractions like he did in the Derby.
Freedom Child looked like the second coming of Conquistador Cielo in taking the Peter Pan at Belmont by 13¼ lengths on a sloppy track, and it has to please his connections that long-range forecasts call for a chance of rain Friday and Saturday.
Of course, banking on a weatherman's forecast is about as risky as backing a turf writer's selections, so let's not pack an umbrella for the final leg of the Triple Crown just yet.
What hopefully will come with less risk is the notion that the Belmont will showcase two horses -- whomever they might be -- that can headline the division's major tests in the summer and perhaps prove to be worthy adversaries in the fall for older horses like Game On Dude.
Yes, we won't see a Triple Crown winner Saturday, but at least we can hope for a nice consolation prize like a good rivalry. With a wait that dates back to 1978 on our hands, it seems like a fair request.