Will it be the year of the filly?
June, 6, 2013
06/06/13
5:41
PM ET
If someone had the spunk to enter a filly in the Belmont Stakes and then say it was an easier spot than a Grade 1 stakes for fellow fillies, it should come as no surprise that it was done by none other than Mike from Queens, Mike Repole.
The outspoken 44-year-old native New Yorker entered not just one horse in Saturday's $1 million final jewel of the Triple Crown, he accounted for 21.4 percent of the 14-horse field by entering three Todd Pletcher-trained runners.
"Some people get Kentucky Derby fever. I get Belmont Stakes fever," said Repole, who made his billions by selling his beverage company Glaceau -- think Vitaminwater -- to Coca-Cola for about $4.1 billion in 2007. "I've been coming to Aqueduct and Belmont Park for 30 years and the No. 1 race I want to win is the Belmont Stakes."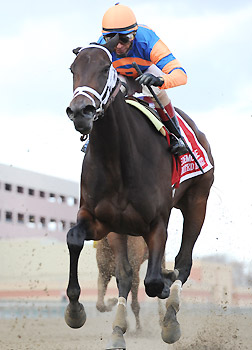 NYRA/Adam CoglianeseThe Belmont against the colts may be the easiest spot for filly Unlimited Budget.
Repole came close to winning the Belmont in his very first try when Stay Thirsty finished second by three-quarters of a length in 2011. He handled the defeat, in his own estimation, pretty well.
"I only go to therapy once a week now. It's probably another year, year and a half," he deadpanned. "It was the toughest loss of my life."
After sitting out last year's Belmont, Repole has returned with a vengeance, becoming the first owner since 1875 to run three horses in the race.
In looking over his trio, each falls into a different category. Overanalyze, who won the Grade 1 Arkansas Derby and was 11th in the Kentucky Derby, seems a logical fit. He's 12-1 in the morning line.
Midnight Taboo, who has never started in a stakes and has been victorious only in a maiden race, is a reach. He's 30-1.
Then there's the field's most intriguing horse, who comes with a script Hollywood will love. It's a filly, Unlimited Budget, who will be ridden by a female jockey, Rosie Napravnik.
She's 8-1, which says a great deal about her owner and this year's battle of the sexes in the 3-year-old division.
In Unlimited Budget, you have the perfect storm of an owner willing to gamble, a year in which the top 3-year-old fillies might be as good as the boys, and a female jockey whom the owner called a good fit for his horse not because she's a good female rider but because she's simply a "good jockey."
It's unknown how the possibility of rainstorms on Friday and Saturday will fit into this tempest brewing at Belmont Park, but clearly the mere presence of a filly in the field is quite noteworthy in another non-Triple Crown year.
Few fillies have run in the Belmont and significantly fewer have won it.
There have been 22 distaff starters in the first 144 editions of "The Test of the Champion" and only three have crossed the finish line ahead. The first was Ruthless in 1867. Then came Tanya in 1905. The next was 102 years later, in 2007, when Rags to Riches beat a field that included future two-time Horse of the Year Curlin.
Pletcher trained Rags to Riches, so he understands the challenge. But it wasn't necessarily his idea to enter Unlimited Budget. When asked if Unlimited Budget would have been entered if someone other than Repole owned her, Pletcher said, "It depends. Some of my owners are very patient. Others, like Michael Tabor and Derek Smith [the owners of Rags to Riches] would be willing to try it."
With Repole in the mix, there wasn't much hesitation and little argument, either.
"Todd's always thinking. Even if I suggested it, Todd was thinking about it," Repole said. "If he thought running the filly was a bad idea, we wouldn't be running her."
As much as recent female champions like Zenyatta, Rachel Alexandra, Havre de Grace and Rags to Riches are proof of how successful fillies can be against males, Unlimited Budget is not as accomplished as those others. Rachel Alexandra and Rags to Riches used a victory in the Kentucky Oaks as a springboard to wins in the Preakness and Belmont, respectively. Unlimited Budget was only third in the Kentucky Oaks, 2½ lengths behind the victorious and highly surprising 38-1 shot Princess of Sylmar.
Before that, though, Unlimited Budget was perfect, winning her first four starts, including the Grade 2 Fair Grounds Oaks and the Demoiselle. Her promise early in the year had encouraged Repole and Pletcher to nominate her to the Triple Crown, just in case an opportunity presented itself, like the Belmont.
"I have a filly who has won four of five starts, three of them graded stakes. She deserves to be here," Repole said.
Apparently, in Repole's estimation, she should have company. In a tip of the hat to the strength of the 3-year-old filly division, Repole said the final leg of the male's Triple Crown is an easier spot than some upcoming Grade 1s for females.
"I think it's going to be easier to win this race than beating Dreaming of Julia [in the Mother Goose]," Repole said at Wednesday's post position draw.
And Dreaming of Julia, though the 3-2 favorite in the Kentucky Oaks, was only a troubled fourth in the Grade 1 classic.
"I think this is the one year the fillies are just as good as the colts. The numbers [speed figure] say that. You look at the Kentucky Oaks, it was one of the best Kentucky Oaks out there," Repole said.
But good enough to beat the boys at a mile and a half for only the third time in nearly a century and a half? Time will tell.
Pletcher was asked to compare Rags to Riches and Unlimited Budget and said both had size in their favor.
"They are both big fillies," Pletcher said.
Repole, of course, was more descriptive.
"[Unlimited Budget] is not like a filly. The first six minutes I looked at her at the sales I thought she was a colt," he said. "She's going to be bigger than 50 percent of the field in the Belmont. She's a big, big filly."
Pletcher, though, voiced a warning over Unlimited Budget's breeding.
"She's not as strongly bred on the dam side as Rags to Riches. Still, I think she's ready to go and will give us all that she's capable of," said Pletcher, who will be represented by a record five starters in the Belmont.
Repole views Unlimited Budget's breeding as tantamount to a coin flip in regards to her chances of handling the grueling mile-and-a-half distance. Her sire, 2007 Kentucky Derby winner Street Sense, "could run 2 miles," Repole said. Her dam, Unlimited Pleasure, as a daughter of Valid Appeal, "could run a mile," Repole said.
"We'll know if she favors the sire or the dam by then," Repole said, looking out at the top of Belmont's long and demanding stretch.
Those final few furlongs will indeed prove decisive on Saturday and answer the questions about Unlimited Budget's distance capabilities -- and Repole's decision to run her.
It's a gamble some owners wouldn't take. Dreaming of Julia is also trained by Pletcher and he and the filly's owners, Stonestreet Stable, had no interest in racing this weekend. But before voicing surprise about a certain party taking a swing for the fences, remember, it's the Belmont Stakes, in a town where if you can make there, you can make it anywhere, and an owner who no doubt knows every line of that Frank Sinatra tune about the Big Apple.
The surprise would be if Mike from Queens let the opportunity slip away.