Owners ready for battle at Saratoga
July, 19, 2013
07/19/13
5:10
AM ET
Historic and picturesque Saratoga Race Course has been a proving ground for champion Thoroughbreds since the long ago days of the Civil War. But this year, in the grand 150th racing season at the Victorian Spa, the most intense race just might be the statistical tussle for leading owner honors. In one corner, there's Mike from Queens, Mike Repole the reigning three-time champ at Saratoga and scourge of Breeders' Cup officials.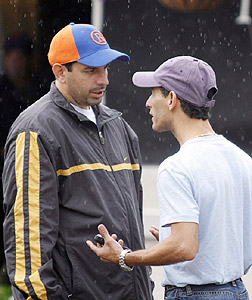 Horsephotos.comRepole looks to rain on the Ramsey's Saratoga parade.
In the other, there's the Pride of Blue Grass country, Ken and Sarah Ramsey, the grandparents of six who are coming off record-breaking meets at Keeneland and Churchill Downs where they combined for more wins than the national champion Louisville Cardinals men's basketball team. Though others like Drawing Away Stable or two-time runner-up to Repole Michael Dubb could sneak into the picture, the top spot in the end figures to be a no-holds-barred duel between the Ramseys, who won the Spa owners title in 2008 and 2009, and the food and beverage magnate who has won it every year since then. "The way I see it, to the Ramseys this like a seven-game series," Repole said. "They won the first two games, I've won the last three and now they're determined to win Game 6. If they do, there's going to be a great winner-take-all Game 7 next year. If I lose to them, I will definitely go all out to win again in 2014." For his part, Ken Ramsey is not shying away from a battle with Repole, on the racetrack or in the press. Last month, after winning the owners' title at the Churchill Downs spring meet with a record 32 wins, Ramsey did not hesitate to engage in some smack-talking. "Repole's reign is getting ready to come to a screeching halt," said Ramsey, who also won a record 25 races at the Keeneland spring meet. "You can tell them to look out at Saratoga. It's the 150th anniversary and I'm bringing enough horses up there to win the owners' title. I know I'm going to have some competition up there, but I think you might be talking to the leading owner at Saratoga for the 150th anniversary meet." Interestingly, the last time the Ramseys won a spring meet at Churchill Downs was 2009, when they went on to win their last Saratoga crown. With numbers like that staring him the face, even someone as competitive as Repole admits he's facing an uphill struggle to stay on top in what should an intense but friendly battle. "I would say the Ramseys are the heavy morning line favorite to win the title," said Repole, a Queens native and lifelong New York Mets fan who knows a thing or two about being an underdog. "I'm sure he'll do everything he can to win. He's very aggressive and I love that and I also love Mr. Ramsey. He's so good for the game.
"

"Repole's reign is getting ready to come to a screeching halt.

"

-- Ken Ramsey, Thoroughbred owner
"My mentality this year, though, is different. We've won the most historic meet in all of racing in three straight years and there's a lot of pride in that and you feel very blessed and fortunate. My mind set is that I want to win as many races as possible but if I don't make it four in a row that's fine. I wanted three more than two because I don't think anyone had ever done that before. That was a very important accomplishment for me." Hurting Repole's cause was an inability to stock up on claimers during the recent Belmont Park meet. Trainer Bruce Levine, who played an integral role in Repole's 2012 Spa title by saddling five winners of Repole's 13 winners at the meet, was unable to secure any horses in recent weeks that could have padded Repole's win total in the coming weeks. "A year ago, we added six or seven horses in the weeks before Saratoga that helped get us some wins ," Levine said. "This year, the last eight or nine times I've dropped a claiming slip I've been in shakes with other trainers and lost out on the horse. Plus four of the last five horses I ran were claimed away from me." Repole, though, should find some help in his stakes, allowance and 2-year-old runners with trainer Todd Pletcher. He'll send out Unlimited Budget, who's in the thick of the chase for the 3-year-old filly championship, in Saturday's Grade 1 Coaching Club American Oaks. He also hopes to start Overanalyze in the Travers, though Repole says that one may prep for the Mid-Summer Derby in the West Virginia Derby instead of the Jim Dandy at Saratoga. Repole has enjoyed great success with this 2-year-olds at Saratoga, winning with horses like Uncle Mo, Overdriven and Overanalyze in recent years, and he hopes to get off to a fast start once again. On Friday's opening day card he has both Stopchargingmaria (another in a line of horses named after his wife Maria's prodigious shopping habits) and Our Amazing Rose. As of Thursday afternoon, he was uncertain of which one would run, but he believes neither will be a maiden for long. Other than the two fillies, Repole's only other starter on the opening card is Midnight Taboo, a main track only starter in the first -- and the weather should be fine. The Ramseys, meanwhile, have horses in the first, second and 10th races with primary trainer Mike Maker and one in the eighth with Wesley Ward. One day in, and already the battle lines are drawn. "I know Ken is going to go all out to beat me," Repole said. "He probably has my picture on a dart board. I know he's very focused and I would say if you're going to box the exacta in the Saratoga owners' race it will be Ramsey and Repole. It should be great meet." A meet, too, in which a couple of owners might put on a show as good as any of the horses will.