Taking 'Charge' in Pennsylvania
September, 22, 2013
09/22/13
10:01
PM ET
A rematch of the $1 million Travers was staged Saturday at, of all places, Parx Racing in Bensalem, Pa. Travers winner Will Take Charge and runner-up Moreno, separated by an inch or two in the Mid-Summer Derby, squared off again in the $1 million Pennsylvania with the same result. Only this time around, Will Take Charge won more decisively. He crossed the wire 2 ¼ lengths ahead of Moreno in a finish that validated the Travers in at least one sense. Of course, in a week from now, who knows what might arise from that race. The Travers certainly generated a jolt nearly a week after it was contested when Eric Guillot, Moreno's trainer, watched a tape of the race and theorized that the reason why Will Take Charge was able to surge in the final yards and catch his horse was because the winner's jockey, Luis Saez, used a battery to prod his mount.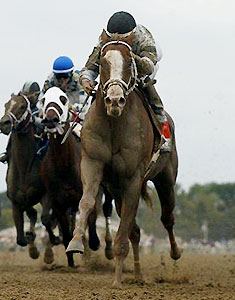 Equi-Photo/Bill DenverThe Penn Derby victory puts Will Take Charge in line for a division title.
An investigation is still on-going, and the passage of time has done little to substantiate Guillot's claim, but the Travers and the tempest in a tea pot that ensued served as a nice backdrop for the Pennsylvania Derby -- which proved educational. It showed that Will Take Charge is improving at a highly opportune time and despite 8th-, 7th- and 10th-place finishes in the three Triple Crown races, he might well very end up as the champion 3-year-old at year's end, which would be an impressive feat, even for Hall of Fame trainer D. Wayne Lukas. As for Guillot, he wasn't even at Parx for the race. He watched it from California, and so far, said most of the right things. Speaking by phone, Guillot was quoted in the New York Daily News as saying, "It set it right up for Will Take Charge, who was the best horse today." Of course, letting go isn't easy, and Guillot had to resurrect the past when asked if there was anything questionable this time around. "I don't know," he said in the Daily News story, "I didn't see a late surge like I saw in the Travers." What he saw in the Travers is debatable, though what can be said with more certainty is that Guillot would have been better served if he had been less verbose after the Travers. While he was within his rights to file a complaint with the New York State Gaming Commission, Guillot crossed a line in his comments about the incident. He served as judge, jury and executioner in issuing numerous comments that Saez was guilty beyond a shadow of doubt -- and in the end, his tone may wind up tarnishing his own reputation if the case is dismissed. Until then, after watching Moreno come up short against Will Take Charge in their rematch, it's reasonable to conclude that the best horse won both the Parx race and the Travers -- and that Guillot would be wise to avoid a career switch to a film critic. Races like the Breeders' Cup Classic will tell us more about Will Take Charge and perhaps Moreno, but for now -- barring a surprise bigger than the 31-1 payoff Moreno could have triggered in the Travers -- Will Take Charge certainly looks like a horse that doesn't need the help of a PED, in this case a Performance Enhancing Device. Let's hope that this time, that perception will not change in a week.