Point of Entry takes to comeback trail
October, 29, 2013
10/29/13
4:52
PM ET
There are many ways a horse can prepare for the Breeders' Cup.
Some get prep races over the racetrack. Others run against top-flight competition. Then there's Point of Entry.
His path to the starting gate for the Breeders' Cup Turf on Nov. 2 follows the comeback trail. It features a five-month gap between races, with rest and recuperation after surgery to repair a condylar fracture of his left hind leg tossed into the equation.
It's hardly the typical preparation for a $3 million race, but then again Point of Entry is anything but your run-of-the-mill horse.
One of the top turf runners in 2012, he won four straight graded stakes that year before he finished second in the Breeders' Cup Turf at Santa Anita, costing him a chance to be named the year's champion turf male or possibly Horse of the Year.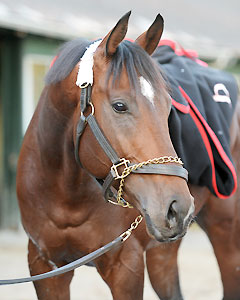 NYRA/Adam CoglianeseWill Point of Entry be ready to tackle the Breeders' Cup for trainer Shug McGaughey?
Three months later, he started 2013 with an impressive victory over 2011 Kentucky Derby winner Animal Kingdom in the Grade 1 Gulfstream Park Turf Handicap and four months later he posted a second straight Grade 1 win when he captured the Manhattan at Belmont Park.
The condylar fracture, which was detected a few days after the Manhattan, seemed to make the rest of 2013 a moot point, but trainer Shug McGaughey voiced a belief Point of Entry could make it back in time for a return trip to Santa Anita for the Breeders' Cup. It turns out he wasn't kidding.
Without the benefit of a prep race, Point of Entry will return from a five-month layoff to face a collection of the world's best grass runners in the BC Turf, and McGaughey believes his horse is fit and ready for the challenge awaiting him at Santa Anita -- even if he did not follow a traditional path to California.
"Point of Entry is doing excellent," McGaughey said. "I couldn't be happier." While McGaughey would have ideally liked to get a prep race into Point of Entry, the time frame gave McGaughey no choice but to use a series of works to get his horse back in shape to face Grade 1 competition, like 2012 BC Turf winner Little Mike, 2013 Arlington Million victor Real Solution and the European filly The Fugue.
"He was going to take us [to the Breeders' Cup]," McGaughey said. "If he stumbled at some point along the way, we would have pulled the plug. But so far every time we did something with him, he did it better than the time before."
Point of Entry started his comeback with an easy 37.55-second, three-furlong work on Sept. 14 and steadily progressed to the point where he registered a sharp 1:00.66 five-furlong breeze on Oct. 27 that underscored McGaughey's belief in his horse's ability to be a major factor in the mile-and-a-half BC Turf.
"I think he'll be fit enough," McGaughey said. "He's a high-energy horse. He did quite a bit at Ocala [after the surgery] and we've done quite a bit with him. If it was a deep track it might worry me, but on a hard track out there that I know he'll like, I think he'll be ready."
Given the quality of the field Point of Entry will be facing, ready might not be enough. Yet one thing's for sure, if someone can get a horse ready for a mile-and-a-half Grade 1 stakes against international competition off works alone, it would probably be McGaughey.
Earlier in the year, he won his first Kentucky Derby with Orb, using time-honored preps like the Florida Derby and Fountain of Youth.
Now he'll chase his first win in the BC Turf in a more unusual manner, hoping to illustrate for all to see that there's more than one way to arrive at the winner's circle.