LEXINGTON, KY -- The Kentucky Derby is only nine days away now, and I'm starting to get really excited! Union Rags is a fantastic horse. I've ridden him twice in 2012, and he's really impressed me both times. Even in the Florida Derby, despite the fact that he lost, I don't think the race took a lot out of him. The main thing is that he came back sound.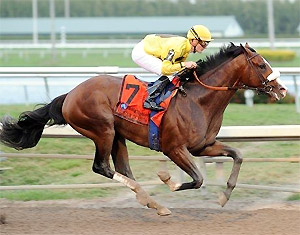 AP Photo/Gulfstream ParkUnion Rags and jockey Julien Leparoux win the Feb. 26 Fountain of Youth.
I participated in the NTRA Communications conference call the other day, and one of the reporters asked me if I felt pressure because of the criticism that I faced after the Florida Derby -- but I'm really past that now. My focus is on getting Union Rags in a position to win. Hopefully, he'll be good enough. This race seems like it sets up really well for us. Hansen, Trinniberg, Bodemeister, and Take Charge Indy all figure to be on or near the lead. There's definitely going to be some pace for us to run at; there always is in the Derby. When he's making his run, I feel he has the ability to find another gear if he gets stopped in traffic. And once he gets in the clear -- watch out! His kick is just awesome. As far as the distance, ten furlongs is a question for us just like it is for the rest of the field, but I like my horse's chances at staying on. The key to going that far is to get a good, clean start. If you can get a good start, your chances at staying the distance are a whole lot better. It's a very exciting time for me. Not only is the Kentucky Derby coming up, but I'm also finishing up the meet at Keeneland as leading rider and getting ready to move my tack to New York. I rode the New York circuit a little bit as an apprentice and I've been riding at Saratoga the past few summers, but this is the first time as a journeyman that I'll be there full-time. It's going to be a tough challenge since there are so many great jockeys who ride in New York, but I feel I'm ready. I made a lot of connections with the New York based trainers when I was down at Gulfstream this winter. I'm hopeful that I'll be able to attract a lot of business, but that'll be next down the road after Louisville. Right now, the Derby is the thing. I hadn't even seen the Derby on T.V. until 2002. They had never shown it in France, where I grew up. And of course, it was a treat to watch. Seeing it in person for the first time in 2004, though, took my love to a whole new level. It was amazing to watch. Ever since then, it's been the race I've dreamed of winning.