BALTIMORE -- It's a pretty easy flight from New York to Baltimore -- about an hour long. I got here around 6 p.m. Thursday and was already looking forward to heading out to the track to see my Preakness horse and the other runners I'll ride at Pimlico this weekend.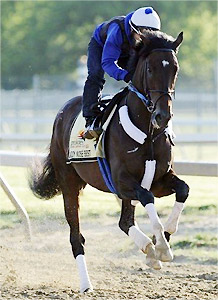 AP PhotoDaddy Nose Best works under exercise rider Mike Callahan.
This week in Baltimore is always fun because of the whole Triple Crown atmosphere. Everybody is still excited, thinking maybe we'll have a Triple Crown winner every time the Derby winner is entered. Then if the Derby winner takes the Preakness, it's an even better atmosphere. If not, you can almost feel an attitude of disappointment after the race from everyone except the connections of the horse that wins. Fans want a Triple Crown winner, and a lot of people in the sport do too. The first time I rode in the Preakness was in 2008. I finished second to Big Brown that year on Macho Again. My horse won the Derby Trial at Churchill Downs before that, and I remember the race I rode at Pimlico on him. I came from behind on the outside around the second turn and finished as the runner-up. That was the best finish so far -- my other Preakness mounts have been ninth (General Quarters in 2009), 11th (Pleasant Prince, 2010) and fourth (Dialed In, 2011). This Saturday, I'm reunited with Daddy Nose Best. I won the El Camino Real Derby and the Sunland Derby on him earlier in the season. Both times he came from mid-pack to take the victory. I think the horse has matured a lot from a 2-year-old to a 3-year-old. He's a big, happy horse, and I remember in the post parade he was always feeling full of himself -- like I said, happy. When he was a 2-year-old, he acted like a big baby. He got over it this year. He's growing up. This horse is very good on dirt and I think the distance will help him a lot. Any race at a mile and an eighth or over is going to be right for him. The connections have been clear that the horse came back from the Derby in excellent shape, and I think he's got a great shot to be competitive and hopefully win the race. The owners and trainer Steve Asmussen wouldn't run a horse back from a 10th-place finish in the Derby unless they thought he had a really great chance, so it's a good sign for me and a good sign for the betting public. I haven't studied the past performances of every horse in the race yet, but I know two things for sure -- Bodemeister will be in front of me, and I've got to be in the middle of the pack. We'll go from there!