Category archive:

HorseRacing
The taxi man didn't quite get me to Churchill Downs. Something about not having the right sticker. Who knows if this was even a cab. It was yellow, anyway. The man dropped me a half-mile from Churchill's main entrance. It was going to be a long walk. It was going to be a long day.
All the umbrella sales were taking place on the opposite side of Central Avenue. Crossing the road was not allowed. Something about barricades and police. I hadn't taken the weather reports seriously. I didn't listen. Entering the track with my suit soaking wet would be the least of my regrets.
Just before going in, I heard someone on the street yelling through speakers that I would pay for my sins.
Preach.
That man was talking about eternal damnation for entering the gambling establishment. I'll have to deal with that issue later. Today the payment for my sins was that I got nothing out of the deal when a friend won the Kentucky Derby.
Well, I mean I'm happy for her. I'll think of that a lot when I go to an ATM and have money again.
I've known Daisy Phipps-Pulito for about 15 years. We used to work together back when I was doing live horse race coverage for ESPN and she was running the TV department for the National Thoroughbred Racing Association. Her dad is Dinny Phipps, chairman of the Jockey Club and a successful horse owner for decades. The Phipps family name has been prominent in industry, commerce and racing for a century or so. They're probably in that 39.6 percent tax bracket. Even so, to us, Daisy was always the girl next door. Probably in a house next door that was larger. But still. She didn't act privileged. She held a regular job, she downplayed her family's successes. In fact, when one of the Phipps Stable horses was running, she never boasted about the horse's chances.
Except one time.
It was the Breeders' Cup of 2005, Belmont Park. Daisy asked me to come up to the family's box and meet her mom. Then she let me know that they really liked Pleasant Home in the Breeders' Cup Distaff. I'd already made my expert analysis of the field and Pleasant Home had little chance of hitting the board, much less winning this thing. The favorite, Ashado, looked like an easy winner.
Good luck with that, Daisy. Nice to meet you, mom.
Pleasant Home won by nine lengths and paid $63.50.
Daisy had done everything but stand in line for me to bet. But I didn't listen.
I was real happy for her, though.
She called me down to the winner's enclosure to be in the picture. There were a lot of people in that picture. A picture's worth a thousand words. A lot of people in that picture had won thousands of dollars. I was just in the picture.
A picture's worth a thousand words. A lot of people in that picture had won thousands of dollars. I was just in the picture.
When Orb won the Florida Derby, I was happy for Daisy once more. She'd taken over as the racing manager for her father's stable. Orb's win was as impressive as any in the Derby preps. I'd found my Derby horse and had a direct link to the colt. The Phipps family owns Orb with a cousin, Stuart Janney. Neither had won a Kentucky Derby. Nor had the family's trainer, Shug McGaughey, whose patience with horses had him passing on entering most years when others might have forced the issue. The fact these connections had a Derby starter at all this year was thus a sign of great confidence. The first person I saw when I checked in to my hotel Wednesday night was Shug. All smiles. Not a care in the world. He was days away from sending out the morning-line Derby favorite. "We feel really good about him."
I saw Daisy the very next morning on the backstretch. "Feeling good about your animal?" I asked. She nodded in such a way that suggested she was saying, "Remember that time I told you to play Pleasant Home in the Breeders' Cup, but you were really stupid and didn't listen and then when she won and we took that picture, you were the only one in the picture who didn't bet a lot of money on her?" I'm certain she said all that through her simple nod.
I asked if she was surprised Orb had been made the favorite over unbeaten Verrazano.
"No."
With a nod and a word, I had all I needed. I already liked the horse a lot. The stride analysts suggested Orb had looked better than any other in the Churchill workouts, and now Shug and Daisy said and didn't say all the right things. Just then, as Orb was jogging out slowly, along came Normandy Invasion in an unplanned and out of control three-furlong sprint. The invasion the horse was named for was good. The invasion into Orb's space wasn't. Daisy was suddenly not feeling good at all about her horse. A collision was averted by mere inches. Those in the Orb camp were relieved. Crisis averted. Daisy felt good about her horse again. She didn't even have to nod.
The horse I liked next most was Goldencents, winner of the Santa Anita Derby. It just so happened we would end up working on a couple of stories Thursday and Friday that included the trainer of Goldencents, Doug O'Neill. In a horse racing version of Stockholm Syndrome, I began to identify with my interview subject captor over those two days. Goldencents looked very fast and would likely be placed toward the front end of the Derby. The question was whether he could stay the mile and a quarter. That didn't seem to be a question at all with Orb. But then I started looking again at the times and the speed ratings and began to wrestle with the fact Orb's numbers seemed just a little off -- no matter how impressive his Florida win was and how he'd conducted himself once at Churchill.
Goldencents stopped running about the time Orb started. Goldencents appeared to be going backwards on a treadmill.
I would end up using Orb on top of some exotic tickets but the eventual runner-up, Golden Soul, was a throwout.
Goldencents was my true key horse. The rains and sloppy track would only increase the advantage of his front-running style. Orb and the others wouldn't care for all that muck thrown in their faces. Goldencents stopped running about the time Orb started. Goldencents appeared to be going backwards on a treadmill. Coming from the back of the field, Orb and jockey Joel Rosario were obscured by all the slop thrown at them, but they could always be cleaned up before it was time to take a picture. Goldencents finished 17th.
As I was making my departure from Churchill Downs, I crossed paths with Daisy and her family. Hugs and kisses and a meaningful handshake with her brother. I got to meet her mom again. No one brought up Pleasant Home. I told you they don't brag about their horses.
As she walked away Daisy turned and asked, "Do you want to come to the party?" I had work to do so I'd be late. Late to the party. Too late also to change my betting strategy (which merely deprived me of a trifecta worth more than $6,000).
I'm happy for Daisy. I am. I can go to an ATM.
The man telling me I'd pay for my sins wasn't outside when I left the grounds. It wasn't necessary. I knew. Preach, Daisy.
Over at the Doug O'Neill barn after the Preakness, everyone hugged everyone. Some people even made their fist bumps blow up. The mood was stirring. Not as stirring as a Kentucky Derby winner taking down the Preakness in the final jump, but what do you expect from humans? Much is now expected of I'll Have Another. Dozens of people stood and watched him take a bath outside the barn. They laughed and pointed and took pictures. They did this because they want to be able to say to their grandchildren, "I saw a Triple Crown winner rinsed off with a garden hose." There's that much at stake. I know because I laughed and pointed and took pictures. As he was led into his stall, the significance of what's on the line now was revealed to I'll Have Another. First, of course, the call came in from the president of these United States. President Barack Obama: It's a significant accomplishment you made today. I'm running for re-election. I'll Have Another: I am ineligible to vote. I'm only 3. Plus I'm a horse. President Obama: Still, it was something. Good luck in New York. A lot of people are counting on you. IHA: I'm aware. The grandchildren speech. Big Brown and Smarty Jones called in together. Big Brown: Don't let the humans objectify you. IHA: Too late. A bunch of humans who have nothing to do with Team O'Neill took pictures of my privates. Then they made fist bumps blow up. Smarty Jones: They're so stupid. Don't fall for that pressure they'll put on you. I had the weight of the whole industry on my back when I turned for home. Big Brown: No wonder you lost a four-length lead. Smarty Jones: At least I didn't quit. IHA: Guys. Smarty Jones: They're gonna tell you a Triple Crown will save the game and bring racing back to its glory days. Big Brown: Like we want to live through another Depression. Smarty Jones: The only thing a Triple Crown will do is sell a few more magazines and books. You already did your job in Baltimore. Big Brown: You created buzz, son. Smarty Jones: You put fannies in seats. New York is gonna be a zoo. Wish I could be there. Big Brown: Wish I hadn't quit. Smarty Jones: Don't be so hard on yourself. You got the first two. The third one is for the humans. IHA: I think I see what's going on here. Thanks, men. Smarty Jones: Horses. Big Brown: Animals. Back at the O'Neill barn, people got close to the stall and took more pictures. They were told not to use a flash. The handlers didn't want I'll Have Another spooked. Too late.
May, 5, 2012
05/05/12
10:12
PM ET
When Bob Baffert had his heart attack a little over a month ago in Dubai, I sent him a get well text. He came back with, "Can't have sex for 30 days." His humor intact and his heart repaired, Baffert got back to work trying to win his fourth Kentucky Derby. A couple weeks after being allowed to live some more, Baffert was blessed further. His horse Bodemeister put on the single-most talked about move in the Derby prep season, when he found a fifth gear in the stretch of the Arkansas Derby and won by nearly 10 lengths. It was either a one-time adrenaline rush for the horse and the game or we had a superstar on our hands, in Baffert's hands. I asked him the night before the Derby if he was as confident about Bodemeister as he was in 2001 with Point Given. "I know I have the best horse in the race," he said. Point Given got a little too close to a ridiculous pace and ended up fifth in that Derby, before going on to win the Preakness and the Belmont. It got ridiculous again Saturday. But this time Baffert's horse wasn't close to the pace. He was setting it. Bodemeister and jockey Mike Smith ran like they were being chased by wild dogs. It was just the 9 horse, Trinniberg. He wasn't really scary at all, folding to finish 17th in the field of 20. Bodemeister ran the half-mile and six furlong fractions just a shade slower than Songandaprayer's record times from 2001. But by the top of the stretch, when Trinniberg was dropping anchor, it didn't seem to matter. Bodemeister looked like a superstar, conventional times be damned. He opened up on the field and was about to give a guy who almost died six weeks previous something more to live for, the first leg toward the first Triple Crown since 1978. Bodemeister looked that invincible. Just a couple days ago, for our ESPN.com profiles on the 20 Derby horses,
Baffert got philosophical with us
. When you almost die on a trip to Dubai for the purpose of making a horse run in a circle, getting philosophical comes with the territory. Baffert said the experience made him a better person. The way he treats others, the way he treats himself. What it seemed to do most is get him to recognize he needs to let go of things over which he doesn't have control. For instance, he can't control Mike Smith and Bodemeister from believing they were being chased by wild dogs. It was just Trinniberg. Damn Trinniberg. Without that sprinter in this field, maybe Bodemeister would have been able to relax a bit, carve out more reasonable fractions and come home invincible. Instead the pressure really did get to Bodemeister and the SA Derby winner, I'll Have Another, gave trainer Doug O'Neill his first Kentucky Derby win. Afterward O'Neil mentioned that Baffert had told him when you win a Kentucky Derby there's absolutely no feeling like it. And now Baffert can explain to O'Neill how when you almost die of a heart attack in Dubai while there to make a horse run in a circle and then almost win another Kentucky Derby six weeks later after your horse has been chased by wild dogs and runs too fast … there's nothing like it. Before the heart attack, Baffert would have been devastated to lose a Derby this way. He might have had strong words for his jockey -- even if the jockey explained, well, the thing about the wild dogs. Baffert would have second-guessed himself, eaten more bad food quickly and replayed in his mind again and again what could have been. These days he's taking care of himself better, beginning with his perspective on wins and losses. Even Kentucky Derby wins and losses. I sent him another text Saturday night: "Second place isn't bad for a guy who wasn't feeling very well a month or so ago." Baffert said Trinniberg's pressure did him in, but it was without malice. "That's racing," he said. Trinniberg had earned the right to run a mile and then walk the final quarter. Baffert ended simply: "I'm happy." Happy no wild dogs can harass his horse any longer. Happy to be second-best on Saturday. Doesn't mean he has lost his ambition. It means his ambition no longer controls him. The trip to Dubai was the worst and best thing that ever happened to him. Bodemeister losing his lead is what happened on one Saturday.
June, 11, 2011
06/11/11
6:13
PM ET
Editor's note: Kenny used all caps so as to be noticed. NOT SAYING ESPN THOUGHT LITTLE OF MY HARD WORK THIS WEEK, BUT IF I'M NOT MISTAKEN, MY 12 LITTLE VIDEO HITS FOR THE 143RD BELMONT STAKES WERE FOUND UNDER "OTHER SPORTS." HOW WOULD I KNOW? I DON'T EVEN OWN A COMPUTER ANY LONGER. THE LAST FIVE BLEW UP, AND I'M NOT GOING TO SUPPORT A DYING INDUSTRY ANY LONGER. DID SOMEONE SAY DYING INDUSTRY? THAT'S WHAT THEY SAY OFTEN ABOUT MY SECOND-FAVORITE SPORT (TO TACKLE FOOTBALL, C'MON). EACH YEAR, THE LAME STORY IS TROTTED OUT ONCE AGAIN … SADLY … EVEN BY THOSE WHO CLAIM TO FOLLOW THE GAME, THAT HORSE RACING NEEDS A TRIPLE CROWN WINNER SO AS TO SAVE ITSELF. YOU MIGHT BE WONDERING HOW I AM TYPING THIS IF I DON'T OWN A COMPUTER. I MAKE FAST FRIENDS. FRIENDS FAST. PLUS, THE GIRL WHO REALLY OWNS THIS MACHINE IS A HORSE NUT. SHE'S HERE AT BELMONT PARK. SHE EVEN PUT OUT AND WORE A HAT. THAT'S DEDICATION. HATS ARE MEANT FOR THE KENTUCKY DERBY OR MAYBE THE PREAKNESS, WHEN THERE'S STILL HOPE FOR SAVING THIS SPORT. BUT NOT NOW. NOT HERE. WITH THE SPLIT OF THE FIRST TWO LEGS (ANIMAL KINGDOM, THEN SHACKLEFORD), THERE AGAIN WOULD NOT BE A TRIPLE CROWN WINNER, AFFIRMED BEING THE LAST TO PULL IT OFF BACK IN 1978. THING IS, WHETHER THERE HAD BEEN ANOTHER TRIPLE CROWN WINNER THIS YEAR OR NOT, THE ONLY IMPACT AFTER THE FACT WOULD BE THAT TIME MAGAZINE WOULD PUT THE ANIMAL ON ITS COVER. THE U.S. SPORTING PUBLIC WOULD NOT HAVE RUSHED OUT THE DAY AFTER TO THE LOCAL TRACKS, SO INSPIRED OVER THE FEAT. LIKEWISE, WHEN SUNDAY COMES AROUND, THOSE WHO WERE GOING TO GO ARE GOING TO GO, THOSE WHO WERE GOING TO BET ON THEIR COMPUTERS OR THEIR PHONES OR IN LAS VEGAS ARE GOING TO DO THAT. THAT IS TO SAY, THE THRILL IS IN THE CHASE. PRETTY MUCH LIKE ANYTHING ELSE. WITH NO TRIPLE CROWN ON THE LINE SATURDAY AT BELMONT PARK, THE BEST THE RACING PR MACHINE COULD KICK OUT WAS THE OBVIOUS -- A RUBBER MATCH BETWEEN THE DERBY AND PREAKNESS WINNERS. NOTHING WRONG WITH THAT, BUT I MIGHT HAVE GONE WITH SOMETHING EVEN MORE SELF-EVIDENT. THE SELLING TOOL I WOULD HAVE USED IS: 12 HORSES ARE GOING TO RUN A MILE AND A HALF AT STORIED BELMONT PARK, SITE OF SECRETARIAT'S ROMP, IN SOMETHING CALLED THE BELMONT STAKES. IT'S A GRADE 1. IT'S WORTH A LOT OF MONEY. THOUSANDS WILL COME, MILLIONS WILL WATCH. AND SUNDAY, SOME OF THEM WILL COME BACK AND WATCH LESSER HORSES HERE AND AT LESSER TRACKS. FOR SOME REASON, PROBABLY A COMMITTEE WAS INVOLVED, THE RACING GAME HAS FOR YEARS AND YEARS CONCERNED ITSELF GREATLY WITH ALL THOSE WHO DON'T CARE FOR HORSE RACING RATHER THAN CONCERNING ITSELF WITH THOSE WHO DO. (IDEA NO. 1 -- FREE ADMISSION) I'M JUST ONE GUY HERE FROM KENT, WASH., BUT I DID GROW UP GOING TO A HELL OF A TRACK SOUTH OF SEATTLE. IT WAS CALLED LONGACRES. THE BOEING COMPANY BOUGHT IT ONE DAY AND TORE IT DOWN. BOEING DOES MAKE NICE AIRPLANES. IT WAS BOEING'S PROPERTY. BUT IN ALL MY YEARS GROWING UP NEAR SEATTLE, I'D NEVER HEARD ANYONE COMMENT ON BOEING'S LOVE FOR HORSE RACING (OTHER THAN HAVING A STAKES RACE NAMED FOR IT). IT'S A BIT LIKE HOW THE STARBUCKS GUY SOLD THE SONICS TO PEOPLE WHO AREN'T FROM SEATTLE. IN OTHER WORDS, TWO OF THE GREAT LOVES OF MY LIFE WERE SOLD TO PEOPLE WHO HAD ABSOLUTELY NO INTEREST IN CONTINUING THOSE PROPERTIES IN MY HOMETOWN. THEY HAD MADE INVESTMENTS, SURE. BUT THEY WEREN'T INVESTED IN THE IDEA OF MAINTAINING THOSE TWO GREAT TRADITIONS. THERE ARE ALL SORTS OF HORSE RACE FANS WHO ARE FULLY INVESTED. SOME OF THEM INVEST TOO MUCH (PAY YOUR REAL BILLS FIRST, KIDS), BUT NEARLY ALL OF THEM HAVE AN UNENDING APPRECIATION OF THE TRADITIONS AND THRILLS THIS SPORT HAS TO OFFER. THEY'RE EVEN READING THIS RIGHT NOW, EVEN IF ESPN BURIED IT UNDER "OTHER SPORTS." HOW WOULD I KNOW? I DON'T HAVE A COMPUTER. PLUS, I WROTE IT. THIS STORY IS DEAD TO ME. BUT THE SPORT ISN'T. NO MATTER WHO WON, I WANTED MASTER OF HOUNDS TO CROSS THE LINE FIRST. Editor's note: Kenny picked at 6:05 p.m. ET. LIKE ZENYATTA'S (YOU CAN GOOGLE HER) TRAINER JOHN SHIRREFFS TOLD ME A FEW WEEKS BACK, "WE NEED TO STOP LAMENTING THE FACT THE GAME ISN'T AS POPULAR AS IT ONCE WAS BUT KEEP IN MIND IT'S BEEN GOING FOR FIVE OR SIX HUNDRED YEARS. WE'RE STILL GOING." THAT WE ARE. WITH RULER ON ICE THE WINNER OF THE 143RD BELMONT STAKES. NEXT YEAR WILL COME THE WINNER OF THE 144TH BELMONT STAKES. MAYBE HE'LL HAVE WON THE TRIPLE CROWN. MAYBE SHE'LL HAVE DONE SO. I'LL WATCH IF I AM THE LAST ONE. TRADITIONALIST.
BALTIMORE -- With no TV to do this week, I spent a lot of time around the Preakness Stakes barn. There was plenty of information to be had. The difficulty, of course, was determining which of it to use. I am walking out of the track in better shape -- not financially. I don't have to tell my wife to choose plastic for flooring when we move, but neither are we paying for upgrades with any investments made Saturday. I am doing better thanks to the trainer of Mr. Commons, John Shirreffs. He took pity on my limp Friday (an arthritic condition from a fracture-dislocation, plus eight surgeries) and brought me into his barn. First he applied some liniment (just like I was a slower and smaller version of Zenyatta), then he brought out the magic machine -- not "a machine." Those are illegal horse zappers. This was for therapy only. And it worked. God knows what it does but I trust John Shirreffs. Something about electrons and cells. I think he said that. I took it for the night and walked it back to John trackside at 6 a.m. Saturday. Walked it back pain free. Pain came later. Back at the barn mid-card, I checked in with Dale Romans. "I'm alive on the pick four," I told him. "Your horse is a single, right?" The pick four is simple as it sounds: Pick four winners in a row. The favored way is to single a horse (or more) along the way, leaving money management space to play multiple horses in other legs and catch a large price. So, I asked Romans if his horse was good enough to be a single choice. I was speaking, of course, of heavy favorite Paddy O'Prado in the 11th race. But Romans responded "Shackleford?" And he didn't seem to be kidding. He didn't seem to be kidding at all when I asked, "Are you kidding?" I knew that because he said, "No." That's the kind of information I like to use. In stories. Later. Long after it would have made me 12-1 money. I was already using the obvious animal. The Derby winner Animal Kingdom made sense and missed by a half-length. Mucho Macho Man seemed logical but was good only for sixth place. All week I was looking for a bigger-price horse and Romans had given it to me, singly. He was the only one who said it quite that way. But he did nothing for my ankle. Shirreffs doesn't enter Grade 1 races to get his name in the paper. Certainly not for the mere Internet. He had to be here for a reason. I mean, how did he know my ankle sucked? I played his horse a bit. He came home in eighth place. I'm going home with a wealth of knowledge. We can take money out of a machine and feel better about how some of mine was distributed to others. Pain free, guilt free, I am walking out of here -- in the direction of Belmont Park. Even Dale Romans can't say that for sure.
You want to end your day filling out forms. The government kind. Always bring your Social Security card to the track because you'll need it to cash trifectas and superfectas like the ones from today's Kentucky Derby. But I was filling out forms at 9:30 a.m. I'd hit the front end of the Oaks/Derby double, thanks to Bob Baffert's Plum Pretty on Friday. Minutes later, I wanted to brag to Hank Goldberg of my position in racing except I had no ticket to show. It was in the garbage, I believe, under plates of press box food. My pal Rolly Hoyt slyly moved the can around the corner and out of view of the scribes so I could dig through. Having worked in the garbage industry in my youth, I liked my chances. As I pulled tickets from the inside of ham sandwiches, I felt no humiliation. In fact, the only embarrassment was that I'd worked on the can away from the other members of the working media. Each and every one of them would have dug through a landfill in order to secure a ticket with a chance at being worth something north of $1,000. Before any pride surfaced I learned there's a way to recover a lost ticket other than digging through a garbage can away from the view of people who would also dig through that same can were they alive to five horses in the Kentucky Derby. The good people of Kentucky informed me a visit to Guest Services would begin the process toward recovering my investment. Only the Guest Relations office had closed. At 9:30 it was wide open. Forms filled, I was nearing complete recovery. Master of Hounds, Mucho Macho Man, Midnight Interlude, Soldat and Nehro were my five. When once I was deep into a barrel of trash, I was now just nine hours from world domination, a winner of the Oaks-Derby double. Johnny Velazquez was low Friday as well. Not trash bin low, but low. His runner, Uncle Mo, the runaway winner of the Breeders' Cup Juvenile here at Churchill last November, had scratched. This was a horse many once believed to be a true Triple Crown threat, something not accomplished since Affirmed did so in 1978. Uncle Mo hadn't looked like that 2-year-old phenom this spring and now an unexplained illness had Velazquez without a mount. But longshot Animal Kingdom needed a rider. Robby Albarado was injured this week and the Animal Kingdom connections called on Velazquez to step in. This Derby had been described as being wide open. Just like a bunch of them. Just like the one in which Barbaro won by 6½ lengths. But this time people meant it. The players didn't seem to know what to make of it because by the time the gates opened, it seems the fans had voted more than wagered. The female jockey, Rosie Napravnik, good as she is, had drawn all sorts of support from people who like female jockeys. Pants on Fire, once 20-1, closed at 8-1. Calvin Borel, good as he is, and winner of three of the last four Derbys, took action to make his 20-1 horse Twice the Appeal an 11-1 proposition as well. Animal Kingdom received support, I guess, because of the TV show, Animal Kingdom. Wait, that was Wild Kingdom. He moved from 30-1 to 20-1 at the close. This was his fifth lifetime start and his greatest accomplishment to date had been a Grade 3 win at Turfway Park, close by Northern Kentucky Airport, if you ever miss a flight. But other than that there was little to recommend. Animal Kingdom had never raced on dirt. Turf and fake dirt, sure. But not the kind of dirt God had intended animals to run on while humans gambled. Stupid, digging-through-garbage humans. One of my five was Nehro. And turning for home it appeared the trash experience and the time spent filling out the 1040-style Customer Services form was well worth it. Corey Nakatani had my horse moving toward the lead in deep stretch. Five times the $2 Oaks/Derby double would be mine, to say nothing of complementary plays in the exacta and trifecta arenas. But John Velazquez had no interest in any of that. Johnny V had never won a Kentucky Derby, and he'd lost his best chance to date at winning one when Uncle Mo scratched. But now he had Nehro measured. He had my tickets in the trash, something that'll be long forgotten at Pimlico in two weeks. For, as Nick Zito often says, "you can't even lose if you don't enter." He did, with the favorite, Dialed In, and finished eighth. But then, Dialed In only won the Florida Derby. Animal Kingdom won the damn Spiral at Turfway Park. Plus there was that TV show. To say nothing of Johnny Velazquez, whose Friday was long forgotten on Saturday. Me? I'm about to throw more tickets in the trash. There's no shame in betting the 12th and 13th races after the Derby. I'm fully entered in this Triple Crown. The Preakness is just two weeks away.
November, 6, 2010
11/06/10
10:39
AM ET
LOUISVILLE, Ky. -- Thoughts from Churchill Downs, Saturday at 9 a.m.
• Breeders' Cup bosses probably don't want a jockey fight in every race, but in their hearts they know they owe Calvin Borel a consulting and/or promotional fee. If people didn't know about the Breeders' Cup before, they do now.
• If the stewards are always supposed to make a ruling that results in the fairest thing possible, maybe there should have been a refund for anyone holding tickets on Life At Ten in the Ladies' Classic. She ran like Life At One Hundred Ten. Her jockey, Johnny Velazquez, gave no assurance in the warm-up that she'd perform any better. Those who suffered for owning worthless tickets on her yesterday ought to be blessed with good fortune today.
• Looking forward to our annual discussion with Britain's ambassador of racing, John McCririck. He'll liven things up as only a jockey fight can.
• I'm likely rooting for but betting against Zenyatta. Blame is most logical to upset. Why logic has any place in this argument, I have no idea. No matter the results … their coats will be shiny. I left mine at home. It's 32 degrees. Time to get hot.
November, 4, 2010
11/04/10
10:11
AM ET
LOS ANGELES INTERNATIONAL AIRPORT, Wednesday, 9:20 p.m. PT
-- Another Santa Anita Breeders' Cup would have been so convenient, racetrack conditions aside. But I'd fly overnight via Charlotte to be a part of this. I would take a four-stop, Southwest Airlines-seating Zone 5 flight just to be in on this. It's the Breeders' Cup, damn it! It means so much that I am blogging about it on a hand-held Google machine and still making the effort to put the apostrophe after the S in "Breeders'."
A misplaced apostrophe is the least of our identity problems. I ate lunch today at my new favorite barbecue spot, The Smokin' Joint. The manager asked how I liked the food, then said, "I don't know if you're into sports, but on the weekend we show all the games." I told him I don't live here and said I'd be at the BC. He asked, "What's that?"
Those who get it really get it. We get that these are far and away the two best days of the year in racing. Maybe the two best days period.
But the shared experience means so much more. So until that BBQ manager, who asked
me
whether I like sports, comes on board with us, it will be a lot like the first few days after someone buys a new album. (You remember those.) You make your friends listen to it. You want them to get it with you. I recall doing this in the early 1970s when my dual loves of racing and Stevie Wonder were just beginning. Oddly enough, Wonder was being shown in concert on the same big screen that will show sports this weekend while BBQ is served. I should have told that BBQ manager to listen to my music. Listen to Jeff Beck tear it up for Stevie. Maybe we could have been in agreement on our appreciation of the music I listen to. And maybe we could have agreed that when they show a lot of sports there this weekend, a race or two will get high consideration. We'll cover the placement of apostrophes over ribs another day.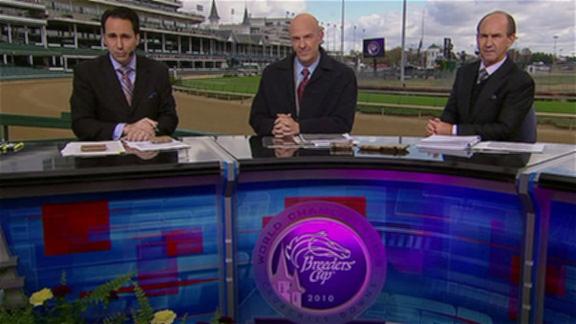 When Martin Garcia was introduced at the news conference that followed the Preakness it was noted that the winning rider used to work at a deli. This is relevant to me because right now I have in my pocket just enough to buy a ham sandwich. I do not have enough in the event Martin is charging for cheese. I didn't believe in Lookin At Lucky, whose bad racing luck seemed to be a by-product of some of the things he hasn't been able to do in his races as much as what has happened to him. I've been wrong before. Right now the key question is whether I take the last fourteen dollars and buy a sandwich or attempt one of the greatest comebacks in gaming history by playing Race 13. As I write, Bob Baffert is speaking about racing luck. He was given a ticket at a deli this morning for breakfast that read "7." His horse broke from the 7 post. Seven is such a lucky number. Except after the point has been established in casino craps, then seven is bad. This reminds me of the time Joe Tessitore threw the dice and one of them was sandwiched against some chips on the side of the table. The lady running the table called "seven-out." Joe then pointed out how the lady also could have called it a four or a nine, anything but a seven. Wait. Someone is asking about Garcia and the deli again. I'm getting hungry. Race 13 approaches. Someone just asked Garcia "when did you know you'd won the race?" Garcia said, "After my horse crossed the wire." Baffert's son Bode just picked up someone's tape recorder and walked off. I can fill the guy in if he is on deadline. Baffert thinks seven is a lucky number. Garcia used to work at a deli. Joe Tessitore lost at craps. Wait. We're on to one serious point. What happens to Lookin At Lucky next? Baffert just narrowed it down to shipping him to Belmont Park, California or Kentucky. I'm assuming if he sends him to Kentucky it's to ask for a do-over of the Kentucky Derby. That way we might have another Triple Crown winner. It's been awhile. The episode in the Derby wasn't Baffert's fault, it wasn't the horse's fault and it wasn't the fault of Garrett Gomez, who today could have won the Preakness. It's due to the fact it was the Kentucky Derby. A very hard race to win. Twenty horses in the field. Big crowd. A mile and a quarter for the first time. Odd things happen. Odd things, like the best horse doesn't always win. As was the case with Point Given, who finished fifth as the beaten favorite in the 2001 Derby, Baffert had to make a choice whether it was worth it to head to Baltimore and try to prove Lookin At Lucky's value. He not only decided to do that, he also decided to fire one of the best jockey's in the country in Gomez, and reach out to young Martin Garcia. Garcia used to work at a deli. Wait. You knew that. I'm hungry. You knew that too. The 13th race just went. There'll be no gaming comeback today. Maybe there will be at the Belmont, where Ice Box will be waiting for Lookin At Lucky. I wonder if Baffert will really roll the dice and switch back to Gomez. I wonder if Joe Tessitore will get a better call on the dice next time. Seven isn't always lucky. It was today. Matter of fact, 7-11 as the exacta was even luckier. ($188.60) The news conference just ended. Bode Baffert still has the tape recorder. Who needs to hear any of the tape now anyway? It would only be a bunch of words. Words are unnecessary when the picture here was so clear. A young jockey caught a break, his horse finally caught up with some luck. And while Baffert and Lookin At Lucky seemingly stopped a horse's Triple Crown bid, it appears more accurate to say such a thing had already happened back in Kentucky.
I arrived at Pimlico Thursday afternoon. The place still needs a fresh coat of paint. No one listens to me. Plus the media elevator was broken. As I climbed four flights of stairs I wondered if we'd have to airlift Hank Goldberg onto the roof. He's weighed down by that much money. I can recommend to you Basil's Lamb Chop House off the Jersey Turnpike. I know this because I followed my friend Thomas Kintner's advice to drive from Hartford to Baltimore rather than take the Southwest shuttle. Nothing against Southwest … even if in group E, facing backward. The theory is that the drive down I-95 takes more or less the same amount of time as everything that goes into a one-hour flight. Thomas Kintner is an idiot. And so am I for ever taking the advice of others when contemplating key horse racing decisions. Having talked my way past security without any credentials, I obtained my Preakness credentials which would allow me full run of the place. The first place I needed to go was the stand where they sell the Daily Racing Form. That's going to go down as a $7 expense. I could have cut it to $6 if I hadn't been so egotistical. Not far from the stand where they were selling Daily Racing Forms, a dollar bill sat on the floor. Pretty clean-looking bill for having been washed at Pimlico. I walked past the dollar but then decided to conduct a social experiment. I decided to time how long it would take for someone else to pick it up. It took five seconds. My first thought was how did it take so long? Had it been a hundred, there might not have been any social experimentation going on. But at a dollar, I had to uphold what's left of my reputation. What did we as a society learn from this experiment? We learned that some guy saw a dollar bill and decided to pick it up. He followed his instincts. He didn't worry about what others thought. That's how I went down the wrong path two weeks ago at Churchill Downs. In the end I would have been wrong with my selection. But I would have been wrong my way. I liked D. Wayne Lukas' horse Dublin to act as my key horse underneath some exotic wagering. Dublin hadn't won in some time but he had proved himself a consistent runner to at least hit the board, to keep running to the wire. I stopped by the Lukas barn at Churchill and he confirmed my theory. He told me the post (17) wouldn't matter nor would the weather. Dublin would fire on Derby day. Everyone else I spoke with about Dublin told me that D. Wayne Lukas had lied to me. I heard everything from "he's sore" to "he ought to be scratched." For a couple days I wrestled with the notion that D. Wayne had played me. I started to believe his horse was a deadbeat and D. Wayne had entered him just to be a part of the event. It seemed D. Wayne had seen a dollar bill on the floor and picked it up. The day before the race I ran into Lukas in the Churchill paddock. I called him out on it. "D. Wayne," I said, "you told me Dublin is doing great and ought to run big, but everyone else I talk with tells me the horse looks terrible in the mornings and is clearly off." D. Wayne looked upset. "The horse is fine," he said. "You tell those people to go ahead and bet on other horses." Turns out most of them did. Turns out I did, too. But although his horse didn't hit the board, Lukas was proved right and the others were proved wrong. Dublin finished a respectable seventh in the slop and now, because of Bob Baffert's decision to bench his Lookin At Lucky rider, Lukas has picked up Garrett Gomez. And now Gomez says he likes what he feels under him. I'm staying away from those people who would tell me Gomez is lying this week. But just to make sense of it, I sought out Lukas at the Preakness Stakes barn this morning. He was talking with Baffert. I think they were talking about "Dancing with the Stars." I guess after so many years in the horse game they've probably said all there is to say about horses. I asked Lukas if he remembered our conversation in the paddock at Churchill and he did. "So it looks like you were right and the others were wrong," I said. He looked proud. But then he confused me some more. "What do you expect a trainer to say after a bad work? 'My horse is doing poorly and probably won't run well in the race?'" I interjected that "even Gomez is quoted as saying he likes what he feels." It was at that point Baffert jumped in and said, "What's he gonna say? 'The horse is terrible and I don't want the ride?'" They both laughed and then we talked some more about "Dancing with the Stars." I started to leave but had to turn back. "Dublin is fine, right?" D. Wayne smiled and said, "he's doing great." That's what I was looking for, one sincere answer. He really sounded like he believed what he was saying. As I walked out of the barn area, one security guard called out to another, "What are you up to?" "Just trying to make a dollar," the other guard said. Tell me about it. I headed back to the press room. The Otis Elevator guys appeared as confident as D. Wayne. The stairway didn't look so bad. But like D. Wayne they pulled me in with their charm. I reasoned that I came to this track to gamble. I might as well show some faith in those who are telling me good stories. "It's doing better than yesterday," the Otis Elevator guy said. I don't ask much from my trainers or my Otis Elevator guys. Just say something positive, please. The elevator made it all the way to the fourth floor. So what if they had to pull the door open with their hands to allow me out? I'm here, right? Believing in what and who I want to.